Found December 21, 2012 on Games We Play: A sports blog for girls:
So word on the street - and by street, I mean everywhere - is that Tim Tebow won't be returning to the New York Jets next season.First of all, why is this news?Why would the Jets want him back? They never used him. (Case in point, when they decided to bench Mark Sanchez in this upcoming Sunday's game, they leap-frogged over Tebow to third string QB Greg McElroy to start).Why would Tebow want to come back? They never used him.This acquisition never made sense to me. Yes, Sanchez struggled, and yes, Tebow struggled while in Denver, but what team with a big name starting QB (Jets & Sanchez) acquires another big name starting QB (Tebow) without getting rid of the first?Sure, there were intriguing possibilities before the season started - with 2 QBs, the Jets could maybe run a more effective Wildcat. With 2 QBs on the field at one time, it could add great versatility to the team's offense. But did any of these possibilities pan out? Nope. Tebow spent much of the season on...
Original Story:
http://gamesweplaysportsblog.blogspot...
THE BACKYARD
BEST OF MAXIM
RELATED ARTICLES
The New York Jets' acquisition of Tim Tebow turned into as big of a disaster as many expected it to be. And now, a few days after it was announced that Greg McElroy would replace Mark Sanchez as the team's starting quarterback, multiple reports say the Jets will trade or release Tebow after the season. The New York Post, Newsday, and New York Daily News all cited sources saying...
The 2012 season has been a forgettable one for the New York Jets. From the Tim Tebow media frenzy to Fireman Ed's early retirement, the franchise and fan base have dealt with enough madness for one season. Unfortunately, it's still alive and kicking.There will be no Cinderella story for the Jets this year. It's another missed opportunity with no playoff appearance. After...
Remember those comments ESPN President John Skipper made about the network finally seeing the light and realizing their obsession with Tim Tebow was way too much for way too long?  Let's take a look back, shall we? "I said, 'Guys, we didn't handle this very well.' Going to training camp wasn't a problem. We just stayed on it relentlessly and too long...
The New York Jets' quarterback position continued to draw attention Wednesday. Coach Rex Ryan did not directly address questions about Tim Tebow's future with the team and Mark Sanchez, benched as the starter this week in favor of Greg McElroy, received death threats on Twitter that later were deleted by the sender. According to reports, Tebow will asked for a trade or...
Rex Ryan had higher expectations for the New York Jets' wildcat-style offense with Tim Tebow, and says things haven't ''panned out'' the way he or the backup quarterback anticipated.
The New York Jets will consider all their options regarding quarterback Mark Sanchez in the offseason, a person with knowledge of the situation tells The Associated Press. The person, who requested anonymity because the team's personnel plans are private, tells the AP on Thursday that the Jets have not made any determinations involving Sanchez. That means the benched quarterback...
Recently benched quarterback Mark Sanchez has been "coddled" by the Jets and would be a "bad apple" as a backup in New York next season, one former teammate says.
FLORHAM PARK, N.J. — Mark Sanchez knows he won't be the New York Jets' starting quarterback this week. Beyond that, the one-time face of the franchise won't say whether he thinks he'll be back with the team next season. "I really haven't even thought about it," Sanchez said Friday. "Honestly, I'm a Jet. That's all I've known." Sanchez struggled mightily...
Rumors running rampant that the Jets are looking to trade Mark Sanchez, Tim Tebow may play in the CFL and Michael Vick to the Jets? Erik Talks about what the future holds for the Jets.
The Jets' season has come to a floundering halt after their Monday night loss to the Tennessee Titans 14 -10. Mark Sanchez looked like a klutz, once again, throwing 4 interceptions. This was another in a string of clumsy games that have involved Sanchez this season. He has 24 turnovers total this season, 17 INT and 7 fumbles lost. Everyone's favorite fumble was the &quot...
FN FolliesEvery week, I try not to write about the New York Jets or the San Diego Chargers. But every week, these two teams seem to find one way or another to make it into this column. And yet again, this week is no exception.Good news, Chargers fans – despite your team's pathetic performance in a 31-7 loss to the Carolina Panthers last Sunday, your team will be spared this week...
College Football AJ McCarron has a doppleganger that looks just like him – Throw The Flag Ole Miss has unprecedented ticket demand for Compass Bowl – Saturday Down South Virginia Tech's Drab Matte Maroon Helmets Sum Up Their Awful 2012 Season – The Big Lead Is the Lakers biggest problem really Kobe Bryant? No. – Pro Basketball Talk Other Sports Jerry Jones Doubts the Redskins...
Jets News

Delivered to your inbox

You'll also receive Yardbarker's daily Top 10, featuring the best sports stories from around the web. Customize your newsletter to get articles on your favorite sports and teams. And the best part? It's free!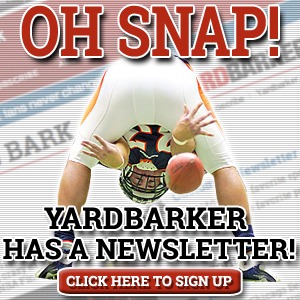 Latest Rumors
Best of Yardbarker

Today's Best Stuff

For Bloggers

Join the Yardbarker Network for more promotion, traffic, and money.

Company Info

Help

What is Yardbarker?

Yardbarker is the largest network of sports blogs and pro athlete blogs on the web. This site is the hub of the Yardbarker Network, where our editors and algorithms curate the best sports content from our network and beyond.