Found August 23, 2012 on The Victory Formation:
Tim Tebow fancies himself a quarterback, and he isn't afraid to stand up for himself either. Earlier this week, radio show host and former New York Jets' QB Boomer Esiason continued his campaign to have Tebow excommunicated from the franchise. On Thursday, Tebow was a guest with Boomer and his co-host, Craig Carton, and did not back down from the criticism from Esiason, and feels justified in his performance and qualities as an NFL player.
Courtesy Sports Radio Interviews
Does it mean more to hear people say Tim Tebow NFL quarterback or Tim Tebow NFL player?

"I think more than anything you would want someone to say 'there's someone that helps the team win football games.' That's ultimately why you play the game is to win and however I can help a team win football games, that's what I want to do. It's been my dream since I was six-years-old to be an NFL quarterback and I'm very thankful I have gotten the opportunity to live that dream and I'm continuing to live that dream."

How he would classify himself:

"I consider myself a quarterback that they ask me to do other things to help this team. If I have the ability and attributes to go do something else and help this team then I'm going to put my heart and soul into doing that."

If he felt the playoff win over the Steelers was the validation he was looking for:

"I don't think it was just that moment. I think it was the six game winning streak, I think it was some of the come-from-behind wins, I think it was helping lead my team to a playoff game and then it was great playing the number one defense in the NFL in our stadium and being able to win a big playoff game and then go play Tom Brady and the Patriots but there were a lot of special things last season. That's in the past."
For what it's worth, Tebow is an NFL QB, he has proven that. Is he a good one? Not really. And that is more to Boomer's point. But Jets fans really don't care how it happens, but they just want their team to win. If that means Tebow takes over for Mark Sanchez, they really don't care how he does it, just win.
You can listen to the interview here.
Also from The Victory Formation
NBA team moving across the country?
Giants owner downplays locker room incident
Photo: NFL commissioner not welcome at NFL player's restaurant
Original Story:
http://www.thevictoryformation.com/20...
THE BACKYARD
BEST OF MAXIM
RELATED ARTICLES
SportsCenter has thankfully dialed back their stalking of Tim Tebow and Jets camp in the past week.  (Maybe Tebow finally got that restraining order filed?)  But c'mon now, ESPN can't go cold turkey on dumb Tebow stories!  The latest breaking news comes from ESPN2's SportsNation with the incredibly significant topic of Tim Tebow throwing a football into a trash can...
I completed the first of several fantasy football drafts last night and some of my competition is probably snickering into their fists right about now.Some of you reading this article may be chuckling shortly as well when you learn that I did indeed draft New York Jets quarterback Tim Tebow.Before you discount Tebow as a pick entirely, and probably my opinion as well, allow me to...
New York Jets @ Philadelphia Eagles Thursday. Tim Tebow? Yeah, no. Tebow won't play in final preseason game, according to Ryan. McElroy, Simms will share QB duty in Philly. #jets— Rich Cimini... Full story at Bob's Blitz ~ http://www.bobsblitz.com
New York Jets backup quarterback Tim Tebow will not play in the team's exhibition finale at the Philadelphia Eagles on Thursday. ESPN.com reported Saturday that Jets coach Rex Ryan does not play starters in the final games of the preseason, meaning Mark Sanchez will not play, either. That leaves Greg McElroy and Matt Simms at quarterback against the Eagles. The Jets will...
Today, Tim Tebow told Boomer Esiason that he believes last year's performances validated him as an NFL quarterback (Credit: AP Photo) Former NFL quarterback Boomer Esiason is so skeptical of Tim Tebow's ability to play quarterback that Esiason thinks the Jets should cut Tebow. But today, when Tebow joined Esiason for a radio interview, Tebow said he believes he has already...
AP New York Jets quarterback Tim Tebow told Boomer and Carton on WFAN The Fan in New York via SportsRadioInterviews.com that he felt like leading the Broncos to the playoffs last year validated him as an NFL quarterback. "I don't think it was just that moment," said Tebow. "I think it was the six game winning streak, I think it was some of the come-from-behind wins, I think...
Ugh. I'm utterly sick of seeing the New York Jets and Tim Tebow being covered far too much on ESPN, so I had to suck it up to throw together this piece. What a surprise, huh? Analyst and former NFL quarterback Tim Hasselbeck says Tim Tebow has made little improvement. As if Hassy has any room to talk, but I digress. Reports out of Jets camp have said that Tebow has improved on...
While Cam Newton says he's a big Tim Tebow fan, he downplays the reunion on Sunday night with his former college teammate. Newton says his focus this week isn't on old friendships but rather keeping the offense looking sharp when the Panthers visit the New York Jets in what'll certainly be his last significant playing time of the preseason. Newton says he ''...
AP According to Michael Hiestand of USA Today, former Jets quarterback and CBS analyst Boomer Esiason has now come out and stated that he doesn't believe Tim Tebow can even be an everyday back up quarterback in the NFL. "I don't believe Tebow can be your everyday backup quarterback," said Esiason. "Sanchez is clearly your starter, and (Greg) McElroy will be the backup....
In his third season as head coach of the New York Jets, Rex Ryan saw his team take a step back, failing to reach the playoffs for the first time during his tenure. How did the Jets respond during the offseason? They added one of the most polarizing figures in the NFL today: Tim Tebow. Just having Tebow on the sidelines is reason enough for fans to show up on most Sundays, but New...
Carolina Panthers quarterback Cam Newton says he learned a lot from Jets quarterback Tim Tebow when he was at Florida. "There's a lot that I've learned from Tim and his professionalism," Newton said to NFL.com. "You know how his approach is to this game and that's one thing everybody has to respect about him -- and I certainly do." Newton and Tebow...
The sizzle yesterday may have been for Boomer Esiason and Craig Carton to interview Jets backup QB Tim Tebow after Esiason's cut him quote. The steak was the B&C duo ripping ESPN bonehead Skip 'How... Full story at Bob's Blitz ~ http://www.bobsblitz.com
Jets News

Delivered to your inbox

You'll also receive Yardbarker's daily Top 10, featuring the best sports stories from around the web. Customize your newsletter to get articles on your favorite sports and teams. And the best part? It's free!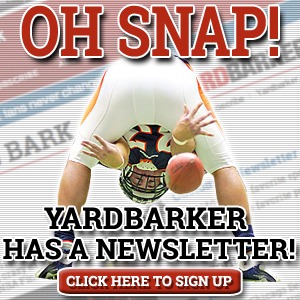 Latest Rumors
Best of Yardbarker

Today's Best Stuff

For Bloggers

Join the Yardbarker Network for more promotion, traffic, and money.

Company Info

Help

What is Yardbarker?

Yardbarker is the largest network of sports blogs and pro athlete blogs on the web. This site is the hub of the Yardbarker Network, where our editors and algorithms curate the best sports content from our network and beyond.