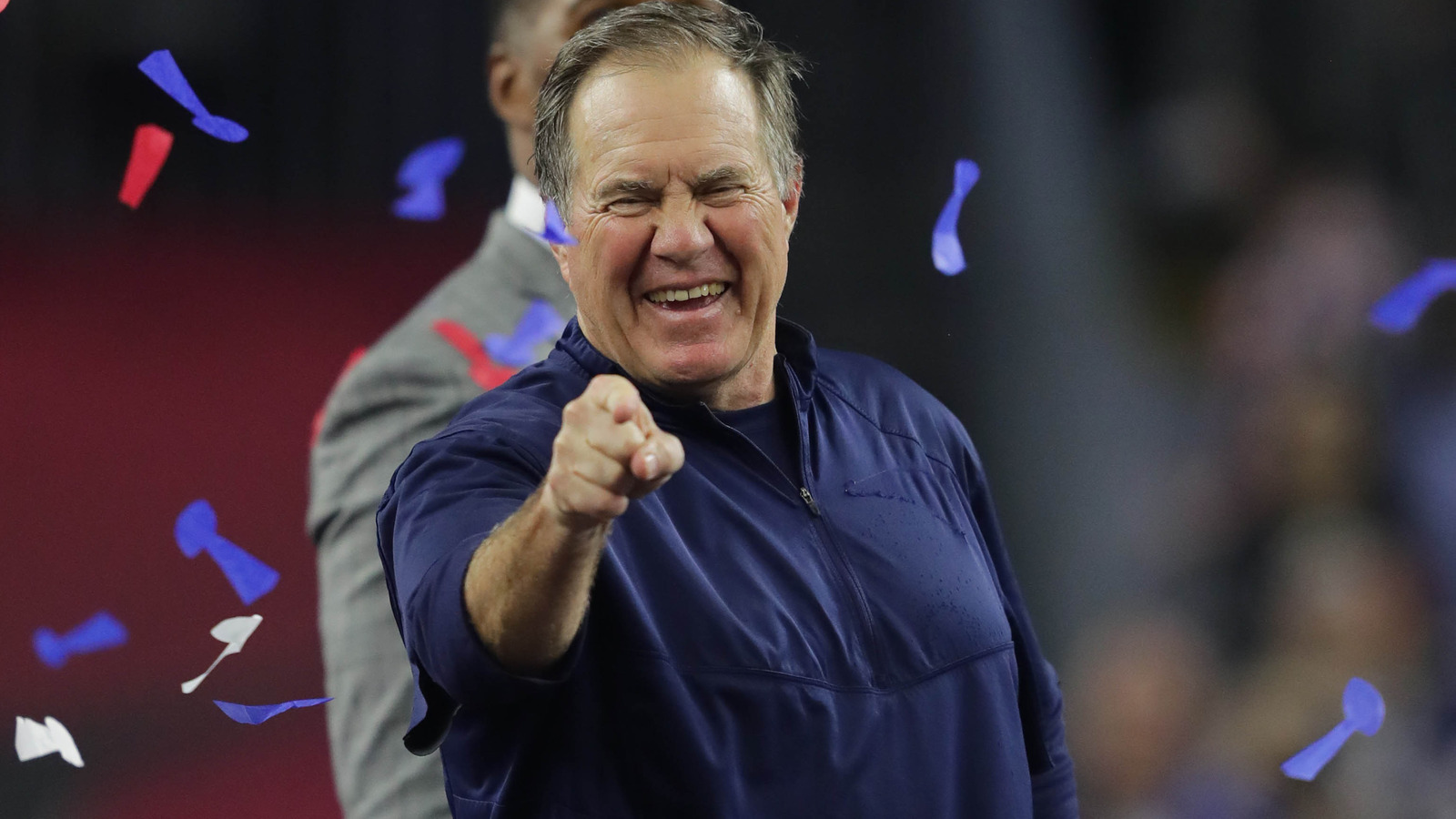 What Bill Belichick and the Patriots decide to do on Thursday will go a long way in determining how the 2017 NFL Draft shakes out. 
Dan Powers-USA TODAY Sports
The 2017 NFL Draft is right around the corner. Teams are making their final preparations. The draft's best prospects are converging on Philadelphia, each of them ready to find out what the future holds for them. It's the most-exciting time of the NFL offseason.
It also brings a ton of question marks.
Without a clear-cut No. 1 quarterback in the draft, it will be interesting to figure out what happens in the top 10. Will teams go with need over value or will these top signal-callers have to wait to hear their names called?
Picking No. 1 overall, the Cleveland Browns are in prime position to land the consensus top player in the draft in former Texas A&M defensive end Myles Garrett. Will the team pull the trigger on the former Aggie? If not, what will happen at two with an equally interesting San Francisco 49ers team and a brand-new front office calling the shots?
These are among the 10 burning questions heading into the 2017 NFL Draft.
1. Where do the quarterbacks go?
This is going to be among the most drama-filled NFL drafts in terms of quarterbacks that we have seen in some time. In reality, each of the first four teams selecting on Thursday night could look at add a franchise signal-caller. There's also a scenario in play here that suggests multiple quarterback-needy teams will pass up on that position in what is considered a weak class.
It starts with the Cleveland Browns at No. 1 overall. Will the team pass up on a generational talent in Myles Garrett in an attempt to fix a 20-year problem at quarterback? If you have been reading the reports in recent weeks, that surely is a possibility (more on that here).
We then have the San Francisco 49ers picking at two. They are seen as the biggest wildcard of the draft (more on that below). It's long been believed that San Francisco would pass up on a quarterback while going with Brian Hoyer as a stop-gap option under first-year head coach Kyle Shanahan. San Francisco is also said to be looking to move down from this spot.
Heck, recent reports suggest that it's a real possibility the 49ers could draft North Carolina signal-caller Mitch Trubisky at two. Though, that seems to be more of a smokescreen than anything. In reality, we have absolutely no idea what the 49ers are going to do. That sets up a tremendously interesting situation atop the draft.
Then, there's some reason to believe that San Francisco and Cleveland could potentially work out a trade. Said deal would include the Browns moving up to two as a way to guarantee themselves both Garrett and Trubisky — the two players Cleveland's front office most covets.
Throwing a wrench into this entire situation is the fact that the Chicago Bears are also said to be looking quarterback at three. Initial suggestions were that they might favor Clemson's Deshaun Watson over Trubisky. That was somewhat thrown out the window over the weekend with a report linking the team to Trubisky.
One thing we do know here. It wouldn't be a surprise to see the Browns hoodwinked into yielding a huge bounty to secure the services of both Garrett and Trubisky. This would give the 49ers and first-year general manager John Lynch a tremendous base upon which to rebuild one of the most talent-stricken rosters in the NFL.
A bit further down on the totem pole, DeShone Kizer, Pat Mahomes and Davis Webb have also been bandied about as potential first-round picks. Depending on how the top of the draft plays out Thursday night, that could become a reality. The interesting dynamic here is just how those teams in the top five will address their quarterback issues.
Maybe one or two of them look go move up from the top of the second to the end of the first in order to secure one of the three second-tier options. Either way, the quarterback situation promises to be the most compelling aspect of Thursday's first round.
2. What veterans will be on the move?
It seems that the veteran trade market has dwindled some heading into the draft. Seahawks general manger John Schneider indicated earlier in the week that they have moved on from a potential Richard Sherman trade. Meanwhile, Patriots backup quarterback Jimmy Garoppolo seems to be firmly off the market.
All the while, New Orleans doesn't seem prepared to offer New England what the defending champs might want for Malcolm Butler.
Most of this has to be taken with a grain of salt. It's all about creating leverage through leaks to the media. We're also at that time of the offseason when smokescreens become a valuable commodity for NFL teams.
With that said, it would be a surprise to see either of those aforementioned Patriots players or Sherman moved during the draft. Instead, there are some other veterans of lesser status who will likely be dealt.
To say that the Jets have had Sheldon Richardson on the trade block for some time now would be an understatement. The biggest question here is whether they will receive a solid enough offer to move the Pro Bowl-caliber defensive lineman.
Depending on how the top of the draft plays out at this position — specifically Jonathan Allen and Malik McDowell — it would not be a surprise to see someone offer a second-round pick or something equivalent for the defensive tackle.
Both Mychal Kendricks and Jason Peters could be had in Philadelphia for the right price. Though, neither one will likely net the Eagles more than a mid-round pick.
It could be enough for general manager Howie Roseman and Co. to pull the trigger, especially if moving these veterans enables Philadelphia to trade up for its top target at either running back or cornerback.
To a lesser extent, we might continue to hear rumors of a potential Kirk Cousins trade to San Francisco. That's been shelved for some time now, but the 49ers have shown themselves to be desperate to move down from the second pick. Could Lynch and Co. offer Washington a bounty they might not be able to refuse? The same could potentially be said for the Cincinnati Bengals and A.J. McCarron.
It will surely be interesting to see if any of these names pop up in trades during the draft. We can also expect veterans who have not been bandied about to be moved during the three-day event.
3. What are the Cleveland Browns' plans?
We're not even sure the Browns have any idea what they are doing atop the draft. What we do know is that general manager Sashi Brown has four picks in the first two rounds in which to work with this week. They also boast four picks in the first two rounds of the 2018 NFL Draft.
The working assumption has been that Cleveland would take Myles Garrett No. 1 overall and potentially look to swing a deal for Jimmy Garoppolo for its second first-round pick (12th overall). That was said to be the team's "dream scenario." Unfortunately, New England has thrown a wrench into this plan by apparently taking Garoppolo off the trade market.
That has left Cleveland scrambling for a potential franchise quarterback — something the team's front office really wants to accomplish during the draft. It's in this that there's a scenario in play suggesting Cleveland could take Mitch Trubisky No. 1 over Myles Garrett. Rumors are also swirling that the Browns might look to move up in order to nab both Trubisky and Garrett.
As if this weren't enough, what the 49ers do at two (more on that below) could very well dictate the remainder of Cleveland's draft plans after the first pick.
Coming off a one-win season and with a ton of draft capital, the relatively inexperienced Browns front office is under a tremendous amount of pressure to ace the draft. It could lead to the team making a snap decision in a trade up or dropping the ball altogether. It could also lead the Browns shaping how the remainder of the draft itself plays out.
4. Are the 49ers the biggest wildcard?
Flush with a first-year head coach and a rookie general manager, San Francisco's plans in the upcoming draft are not known. This is somewhat magnified by the fact that GM John Lynch had never worked in an NFL front office before being hired from the broadcast booth earlier in the offseason. Simply put, other teams have no idea what the 49ers' plans are here.
There's a couple ways this could impact the 2017 NFL Draft. First off, San Francisco picks No. 2 overall. What it does with that selection could have a trickle-down effect of epic proportions as the rest of the first round plays out Thursday.
Secondly, Lynch is a former member of the media. He also comes from the John Elway school of teaching, which means smoke and mirrors leading up the draft is likely the name of the game in Santa Clara. So when reports surface that the 49ers are desperate to trade down, like Jamal Adams, would consider Leonard Fournette and are seriously contemplating a quarterback, you have to take it with a grain of salt.
What we do know here is that the 49ers are coming off a franchise-worst two-win season. And while they were the most active team in free agency, it's a roster that remains pretty barren across the board. This leads us to believe that a trade down makes the most sense.
Unfortunately for other teams, there's no indication in which direction San Francisco might go at two should it stay put. This makes trade discussions all that much more interesting and could lead to a doozy of a deal when the 49ers find themselves on the block at two. Then again, the team could simply look to find Kyle Shanahan his franchise quarterback, creating even more confusion for teams in need of help at that position. Yeah, what the 49ers do will be among the biggest questions come draft day.
5. How will off-field issues impact prospects?
Even as the draft itself neared, top prospects were not spared from more off-field issues. It started late last week when reports surfaced that former Alabama linebacker Reuben Foster failed a drug test at the NFL Scouting Combine earlier in the year. This came after Foster himself was involved in an altercation with a hospital worker during the annual event in Indianapolis.
Long considered one of the top-five prospects in the draft, there's now a chance Foster himself could drop completely out of the first round. That's only magnified by continued concerns over his health (more on that here).
Then, on Monday, another report came out suggesting that former Michigan linebacker/safety Jabrill Peppers also failed a drug test with a diluted sample at the combine. Considering Peppers himself is seen as a tweener and has been a divisive prospect during the pre-draft process, this could knock him way down that board come draft time.
With all that said, these two players face nowhere near the same criticism as others slated to fall down the draft board this week. Former Florida defensive tackle Caleb Brantley was charged with assault over the weekend after he allegedly knocked a woman unconscious. Brantley was seen as one of the top-three interior defensive linemen in the draft class. He's now likely going to have to wait until Day 3 to hear his named called.
The same could pretty much be said about former Oklahoma running back Joe Mixon. By now, we already know the story here. A video surfaced late last year of an incident back in 2014 in which Mixon is depicted as punching a woman during a fight at a bar (more on that here).
Initial reports were that Mixon would fall completely out of the draft. But after he took several visits with running back-needy teams, suggestions came about that the star ball-carrier might end up going in the second round. That has since changed, but we really have no idea where the former Sooner will land.
As the NFL world continues to face backlash over its handling of off-field situations and the further we get away from the most serious of those incidents, some wonder whether teams will continue to avoid troubled prospects. The 2017 draft will surely give us an understanding of where teams stand on this.
6. First-round surprises?
There are always massive surprises in the first round. Last year was no exception. The Baltimore Ravens moved up to No. 6 overall in order to select offensive tackle Ronnie Stanley.
The expectation all along was that Baltimore would pick up former Mississippi tackle Laremy Tunsil with that selection. But the video of him allegedly smoking marijuana that surfaced right as the draft started precluded this from happening.
Other surprises last year included Eli Apple finding himself as a top-10 pick of the New York Giants and San Francisco trading back into the first round for Stanford guard Joshua Garnett. The former Cardinal standout was never even bandied about as a first-round pick before then 49ers general manager Trent Baalke made the move.
Look for much of the same this year. As we mentioned at the onset of this article, there could be as many as five quarterbacks selected on Thursday. That number could also be limited to two or three. What happens there will likely set the stage for other positions. But outside of quarterback, what are some surprises we can expect during the opening round?
Look for cornerback Gareon Conley to potentially find himself drafted over former Ohio State teammate Marshon Lattimore. That would be an absolute shocker, especially considering Lattimore has been considered the consensus No. 1 corner in the draft. Though, there have been recent concerns over a hamstring injury as it relates to Lattimore (more on that here).
Meanwhile, Conley has more game tape and is seen as a pro-ready starter. This could make the difference for teams looking at help in the defensive backfield.
On offense, it really would a surprise to those on the inside if running back Dalvin Cook from Florida State and former Western Michigan wide receiver Corey Davis both fell out of the first round. Each one of these skill position players is seen as an elite-level talent.
There are also some underlying concerns here. Is Cook that much better than the second-tier options at running back, including Tennessee's Alvin Kamara and Oklahoma's Samaje Perine? If not, teams might look for more value at a position that's taken more lesser significance in the NFL. This doesn't even take into account the possibility that Joe Mixon goes higher than expected.
One last note here. Let's just go ahead and project that a veteran quarterback will be moved either late Thursday or earlier Friday. Despite reports to the contrary, it's sill our working belief that the Patriots would trade Jimmy Garoppolo for the right price. While that's pure conjecture, it really does seem to make a lot of sense. Are the Pats really willing to place the franchise tag on their backup in order to keep him off the open market next March? The answer to that is highly debatable.
If not Garoppolo, maybe Washington likes how it sees the first round play out at quarterback and decides to move on from Kirk Cousins completely? The same can be said for a Bengals team that has a solid asset in A.J. McCarron.
7. Any help for Cam?
There's been some talk of Carolina attempting to move up to two in order to select former LSU running back Leonard Fournette. That would surely provide Cam Newton the balance he desperately needs on offense. After all, Carolina seems to be banking on an old Jonathan Stewart to hold down the fort in the backfield. That's not necessarily what we'd call a recipe for success.
While running back itself might be a major need here, Carolina must also find the 2015 NFL MVP even more help along the offensive line. Sure signing Matt Kalil to play left tackle give the team a body, but he's been among the worst pass protecting tackles in the NFL over the past few seasons. Kalil also missed the entire 2016 campaign with a hip injury.
Add in the fact that Michael Oher has not yet been cleared from the concussion protocol after missing all but three games of last season, and that's magnified even further.
Simply put, Carolina has been unwilling to exhaust the draft capital on offensive linemen to help protect their franchise quarterback. Now that Newton himself is sidelined for the entire off-season program after undergoing shoulder surgery, it seems to be common sense to get him some help there.
This is where picking at eight overall is rather interesting. Carolina could stand pat and hope Fournette falls onto its lap there. It could then decide to trade up from the top of the second round to pick up one of the better offensive tackles later on Thursday. By moving up to the final pick in the second round in the Kony Ealy trade, Carolina has given its self some flexibility here. It's now up to the team to actually use it in order to get Newton some help.
8. McCaffrey or Fournette?
Normally, this wouldn't even be debatable. That's until we realize what teams are looking for in today's NFL from running backs is completely different from past eras. They want a two-dimensional player — someone that can contribute both through the air and on the ground.
Look at last season for example. The two Super Bowl teams (New England and Atlanta) saw their running backs combine for 190 receptions. All said, 12 different running backs compiled 50-plus receptions. Compare that to 10 years earlier when six running back hit that plateau. This tells us a story of a league that's transitioning away from the one-dimensional back.
It's also in this that McCaffrey seems to provide more value than his counterpart from LSU. This isn't to say Fournette is incapable of catching the ball out of the backfield. He only put up 41 receptions in three seasons with the Tigers, but has displayed soft hands throughout the pre-draft process. It's all about McCaffrey's elite-level receiving ability.
The former Heisman finalist caught 99 passes in his three seasons down on the farm, continually displaying tremendous hands. It's so much of a focus of teams that he was utilized more as a wide receiver than a running back during Stanford's pro day earlier in the spring.
The balance teams will have to find in choosing between the two is whether they want a workhorse back like Fournette or someone with game-changing ability in three different aspects of the game. It's also all about scheme. As to where a team like San Francisco may prefer McCaffrey in a two-back system, the Carolina Panthers might want to add a back that can tote the rock 20-plus times on a consistent basis to take pressure off Newton.
This is going to be one of the most-interesting aspects of Thursday's first round. As mentioned above, it will also likely lead to some wheeling and dealing. But our projection is that both Fournette and McCaffrey end up going within the top-12 picks. That would definitely buck a trend from recent drafts.
9. Defense heavy?
Let's take a gander at the NFL.com big board for a second. Of the top-five prospects, four reside on the defensive side of the ball with Fournette being the only exception. Of the top-50 prospects, more than half are defensive players. This tells us a story of a draft that's stacked with talent on that side of the ball.
None of this really matters in the grand scheme of things. Sure, teams would love to draft value over need most of the time. And those organizations who have actually picked well in recent years will be able to do just that. Unfortunately, this list is limited to less than a handful of squads. The rest will surely have to find a happy medium between the two.
The real question here is whether teams like Cleveland, San Francisco and Houston will pass up on offensive needs (quarterback) in order to find value on the other side of the ball. Despite the Browns and 49ers boasting two of the worst offenses in the NFL last season, there's surely a scenario in play where each team goes strictly defense early on. That would include Cleveland's second first-round pick (12th overall) and the top two overall picks in the second round.
If we were to pinpoint how the top 10 might play out, Myles Garrett, Solomon Thomas, Jamal Adams, Malik Hooker and Marshon Lattimore all have to be considered locks on defense. After that, it wouldn't be a major shock to see defensive tackle Jonathan Allen, pass rusher Derek Barnett and cornerback Gareon Conley all sniff the top 10.
Surely this will depend on what happens at both quarterback and running back. Though, as experts have said recently, the wide receiver position seems to be relatively weak in this class. That could push the likes of Mike Williams, Corey Davis and John Ross down to the late teens, early 20's. Again, it's definitely something to keep an eye on.
10. What are the Pats' plans?
Without a pick in each of the first two rounds, most figure the defending champs will not be busy come Thursday night. We are here to throw that whole idea out the window.
While it appears neither Jimmy Garoppolo or Malcolm Butler will be moved during the draft, that can change in a heartbeat. All it takes is one team panicking after the board doesn't play out to its liking. What happens if there is a run of cornerbacks before teams like the Lions, Dolphins and Raiders pick in the 20's? Could that force one of those teams to offer up a first and change to the Pats for Butler?
The same can pretty much be said for Garoppolo at quarterback. Working under a theory that Mitch Trubisky, Deshaun Watson and Pat Mahomes are all off the board after Arizona picks at 13. This would put the Texans (25th overall) in an unenviable position of having to decide between reaching for DeShone Kizer or Davis Webb. Why not then call up the Pats and see if Garoppolo could be had?
If we know one thing about the Patriots' MO since they began their current dynasty, it's that they have a forward-thinking mentality. Butler will become a free agent next March and is likely to demand top dollar. After signing fellow corner Stephon Gilmore to a massive free agent contract, it seems absurd to think New England will throw more cash at that position.
For his part, Garoppolo is also set to become a free agent after next season. Why in the world would New England turn down a first-round pick for him when it has Tom Brady dead set on playing for five-plus seasons?
With the Pats, it's all about expecting the unexpected. As the first round plays out on Thursday, it would not be a surprise to see this team get in on the action.
MORE FROM YARDBARKER
NFL News

Delivered to your inbox

You'll also receive Yardbarker's daily Top 10, featuring the best sports stories from around the web. Customize your newsletter to get articles on your favorite sports and teams. And the best part? It's free!