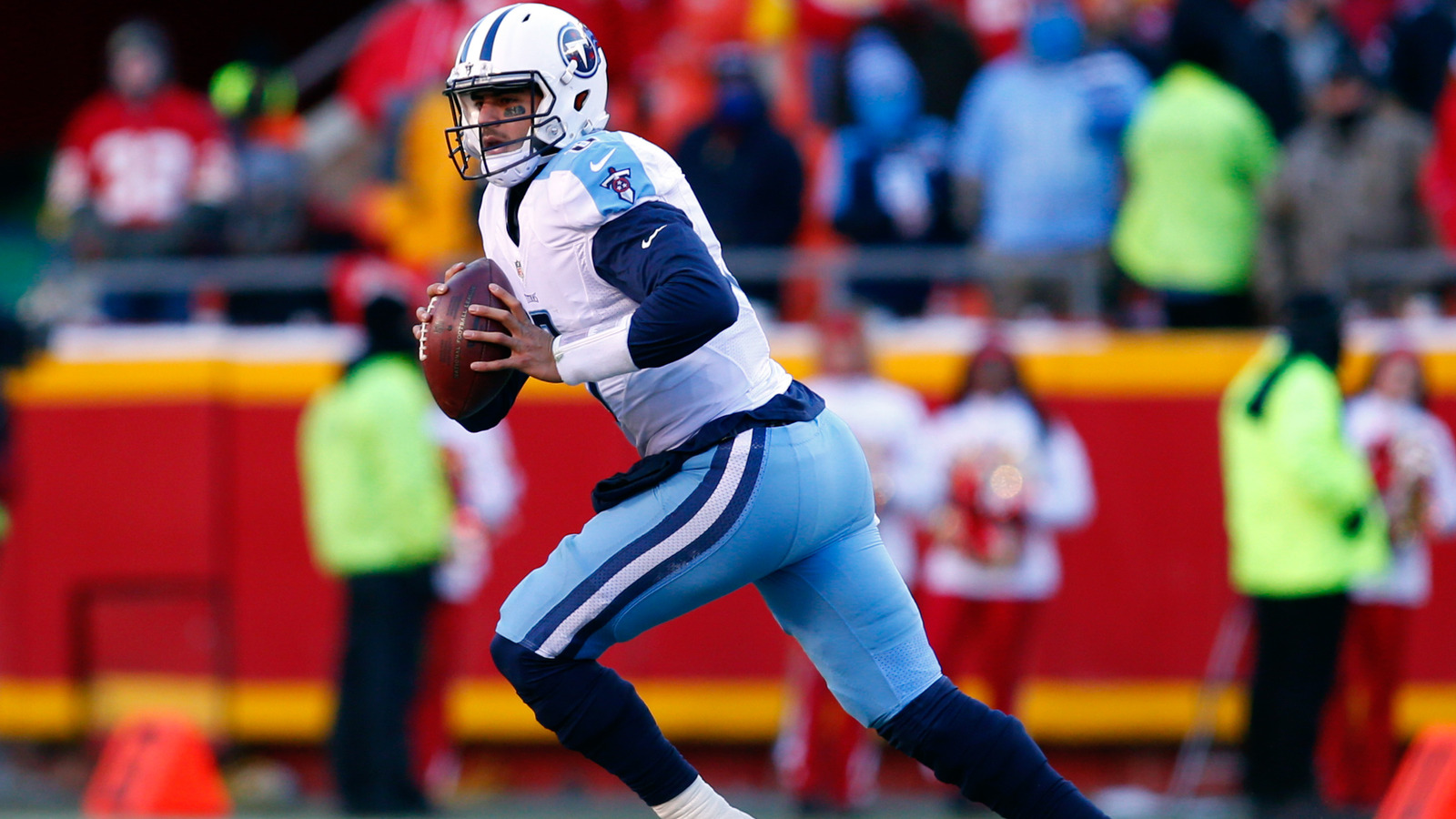 Is Titans quarterback Marcus Mariota poised to be the next NFL superstar signal-caller?
Jay Biggerstaff-USA TODAY Sports
This past season in the NFL displayed a ton of young talent taking that next step to elite status. What Ezekiel Elliott and David Johnson did as young running backs was nothing short of extraordinary. And now after just three combined seasons in the NFL, they are seen as the two biggest superstars at that position.
The same argument can be made for Derek Carr of the Oakland Raiders and Dallas Cowboys signal-caller Dak Prescott. Despite being extremely inexperienced for quarterbacks in the NFL, these two youngsters led their squads to surprise playoff spots. For Carr and the Raiders, it looked like they were legit title contenders before he went down with a late-season injury.
Now, heading into the 2017 season, there are other youngsters set to make their mark and emerge as superstars.
From Super Mario in Tennessee to a man named Winston in Tampa Bay, here are 10 NFL players set to emerge and take the league by storm during the 2017 season.
Marcus Mariota, quarterback, Tennessee Titans
Mariota has seen each of his first two NFL seasons come to a premature end due to injury. More than anything, that's the biggest key for the former Oregon standout. He needs to stay on the field in order to take that next step. When actually healthy, Super Mario has proven himself to be a legitimate top-end quarterback.
This past season saw Mariota put up nearly 3,800 total yards with 28 touchdowns and just nine interceptions. That interception total came with Mariota attempting 451 passes. Not bad at all.
Tennessee also made sure to go out there and get the young quarterback a potential No. 1 receiver he needs. That came in the form of 6-foot-3 pass catcher Corey Davis from Western Michigan with the fifth overall pick in April's draft. Davis has an absolutely huge catch radius and made lesser opponents look silly with his route-running skills in college. He should be able to make an immediate impact for Mariota.
The better news here for those looking for superstardom from Mariota is what he has behind him in the backfield. DeMarco Murray and Derrick Henry combined to put up 1,777 rushing yards and 14 touchdowns last season.
Meanwhile, Jack Conklin performed extremely well at right tackle as a rookie. These are all indicators that Mariota should be more than ready to take that next step in 2017. If he's able to stay healthy, this former No. 2 overall pick will dominate in the AFC South this upcoming season.
Jordan Howard, running back, Chicago Bears
Most of the talk surrounding rookie running backs last season involved Ezekiel Elliott. And for good reason. Elliott was among the most dominating first-year backs in the history of the NFL, putting up nearly 2,000 total yards and 16 touchdowns for Dallas. Still, there was a lesser-known rookie making his impact known for an otherwise horrible Bears team.
Howard, a fifth-round pick out of Indiana, took on Chicago's starting role after Jeremy Langford went down to injury in the team's second game. He responded by putting up 100-plus rushing yards in two consecutive games and didn't look back. All said, Howard would tally seven 100-yard games en route to gaining over 1,600 total yards. He averaged 5.2 yards per rush and added 29 receptions for good measure.
Now that the Bears have moved on from last season's disastrous quarterback situation, there's a good chance Howard will have more help through the air. That will likely come in the form of free agent signing Mike Glennon. Though, if he struggles, rookie No. 2 overall pick Mitch Trubisky could see the field.
The amazing aspect of Howard's rookie season is that it came with the trio of Jay Cutler, Brian Hoyer and Matt Barkley holding down the fort at quarterback.
That led to teams stacking the box against the run. Despite this, he was still able to put up a Pro Bowl season as a rookie. With what promises to be a better quarterback situation and after having a full offseason of workouts, look for Howard to hit superstardom as a sophomore in 2017.
DeForest Buckner, defensive line, San Francisco 49ers
Defensive linemen don't necessarily get a ton of press, but their importance really can't be understated. The idea of putting pressure on the quarterback from the EDGE or interior of the defensive line has taken on a whole new meaning in today's pass-first league. This is where Buckner can be extremely valuable to the rebuilding 49ers moving forward.
At 6-foot-7 and 291 pounds, Buckner is a mountain of a man. He also has a ridiculous first step off the line off scrimmage. This was evident during the former first-round pick's rookie season when he tallied 73 tackles and a team-best six sacks.
Now likely tasked with playing multiple positions in Robert Saleh's hybrid front, we can expect San Francisco to move Buckner around a whole lot here. He will play defensive end in base downs, move inside on passing downs and could be asked to play the LEO position that was made popular by Saleh's former Seahawks team.
It would not be an absolute shock to see Buckner double his sack total this upcoming season. That's only magnified by the fact that San Francisco plays in an NFC West with two of the five worst offensive lines in the NFL. Coming off a darn good rookie season, Buckner is set for stardom in this new defense.
Jay Ajayi, running back, Miami Dolphins
Despite being one of the most athletically gifted running backs of the 2015 NFL Draft class, this former Boise State standout dropped to the fifth round. The overwhelming concern here was multiple knee injuries he suffered in college and questions over the running back's ability to play over the long term.
After taking a back seat to Lamar Miller as a rookie in 2015, Ajayi broke out big time as a sophomore. He put up two consecutive 200-plus yard performances in his first two games seeing extensive action in the NFL. Ajayi then followed that up with an absurd 206-yard performance in an all-important late-season game with playoff ramifications against the Buffalo Bills.
The explosiveness is surely there. And in reality, it looks like concerns over Ajayi's knees have been quieted after he tallied 1,272 yards on 260 rush attempts last season.
We fully expect Miami's passing game to be more dynamic this season after Ryan Tanenhill progressed leaps and bounds in 2016. Add in one of the most underrated offensive lines in the game, and it would not be a surprise if Ajayi were able to cross the 2,000 total yards plateau in 2017. This is how highly we think of the young running back.
Jalen Ramsey, cornerback, Jacksonville Jaguars
Ramsey has a not-so-quiet confidence about him. It could be this type of swagger that enabled him to jump on to the scene as a rookie and perform at a Pro Bowl level.
Picked No. 5 overall in 2016, some openly wondered whether Ramsey would be a corner or a safety in the NFL. That question was answered immediately, as he earned one of Jacksonville's two starting corner jobs. By the time the regular season arrived, he was the team's best cover guy.
Ultimately, Ramsey would record 65 tackles, 14 passes defended and two interceptions on an improved Jaguars defense. He would do so going up against the likes of Steve Smith, T.Y. Hilton, Amari Cooper and DeAndre Hopkins throughout the season. He did so with elite-level ability on the outside.
Now teaming up with high-priced free-agent signing A.J. Bouye, Ramsey will have a true running partner for the first time in either college or the NFL.
This will enable Ramsey to play more of the ball-hawking role, especially with the Jaguars not having to throw double teams to the other side of the field. That will equate to more turnovers and Ramsey finding himself on the radar of the entire NFL. Look for huge things from him in 2017.
Michael Thomas, wide receiver, New Orleans Saints
There's a reason New Orleans shipped Brandin Cooks off to New England earlier in the offseason. Sure, acquiring a first-round pick helped. Cooks' issues with his role on the Saints also had an impact. But GM Mickey Loomis and Co. would not have moved their top receiver if they didn't have another player ready to fill the void.
A second-round pick out of Ohio State last year, Thomas was absolutely brilliant as a rookie. He recorded 92 receptions for 1,137 yards and nine touchdowns. The former Buckeye also caught an absurd 76 percent of the passes thrown in his direction and averaged 9.4 yards per target.
Let's put this into perspective for a second here.
In no way is Thomas up to the level of Odell Beckham Jr. just yet, but those are some amazing splits from such a young receiver. Now set to take on the role as Drew Brees' No. 1 receiver in what should still be a pass-happy offense, Thomas will break out big time here.
In fact, it would not be terribly shocking if Thomas led the NFL in receptions this upcoming season. A simple uptick of about four targets per game would bring his reception total to 120-plus. Think about that for a second before discounting Thomas as a potential superstar in 2017.
Shane Ray, EDGE, Denver Broncos
With DeMarcus Ware now in retirement, the Broncos are going to ask a whole lot more of this former first-round pick. It's not necessarily a bad thing considering Ray himself tallied eight sacks in limited playing time as a sophomore last season.
It also appears Denver is excited about giving Ray more of a responsibility, at least if you ask former Super Bowl MVP Von Miller.
"Shane's been ready. He's been ready for a long time," Miller said back in April.
There's just too much to like about Ray here not to consider him a superstar in the making. Here's a dude that was among the most efficient pass rushers in the NFL a season ago.
Add in the fact that he's learned behind the likes of Ware and Miller over the past two seasons, and there's no reason to believe he won't make a Pro Bowl-caliber impact out of the gate as a three-down player. Heck, here's a dude that improved leaps and bounds while still taking on a part-time role in 2016.
We fully expect Ray to reach the double-digit sack plateau. In fact, it would not be a shock to see him put up 15-plus sacks, leading the Broncos in that category in the process.
Christian McCaffrey, running back, Carolina Panthers
A superstar before he's even played in one single NFL game? People probably balked at similar articles prior to Ezekiel Elliott dominating the league's landscape as a rookie in 2016. We choose McCaffrey over fellow rookies Leonard Fournette and Dalvin Cook for one reason. He's able to make an impact in three different areas of the game.
Even if the 202-pound running back were to struggle running between the tackles as a rookie, there are certainly other areas he will excel in. One of the most-athletic first-round running backs to enter the NFL in decades, this former Stanford standout can get out on the edge in a heartbeat.
Now factor into the equation Cam Newton in Carolina's backfield, and we can easily envision a scenario where McCaffrey breaks off a ton of huge runs in the read option. That's only magnified with physical blockers on the outside in Devin Funchess and Kelvin Benjamin ready to knock helmets.
McCaffrey's running style is similar to Barry Sanders in that he can find a hole and dart through it. He's different in that Sanders had more of an ability to break tackles and McCaffrey can get to the second level at a quicker speed. Talk about being dynamic.
"Multidimensional runner with flex appeal for teams looking for a player who can carry the ball 20 times or catch it 10 depending on the game plan," NFL Media's Lance Zierlein said leading up the draft." McCaffrey's size, power and speed are just average, but he is able to create yardage for himself with his vision and elusiveness."
When we factor in McCaffrey's ability in both the kick return and punt return games, he will have an immediate impact on a Panthers team that needs this type of flexibility. We would not be shocked to see him put up 1,000-plus rushing yards and 700-plus receiving yards with as many as 70 receptions as a rookie. That's the definition of superstardom.
Danielle Hunter, defensive end, Minnesota Vikings
Hunter will have turned 22 once the 2017 regular season comes calling. He's also coming off a 12.5-sack performance for Minnesota last season. He was 21 — just old enough to drink alcohol legally in the States. This is how talented the former LSU star is. And that doesn't even take into account his awe-inspiring tape from a season ago.
Some might argue Hunter is already a superstar. But that is far from the case right now. He's started a grand total of one game in two seasons and has been tasked primarily with a pass-rush specialist role. Expect this to change in 2017.
In reality, there's absolutely no reason for Mike Zimmer and Co. to keep Hunter off the field for anything more than a breather. He's the most gifted defender Minnesota has and boasts 20-plus sack potential. This young kid is an absolute stud, and he's going to be well on his way to superstardom in 2017. There's no other way to go about it.
Jameis Winston, quarterback, Tampa Bay Buccaneers
Cutting down on his mistakes. If there's any criticism we can throw Winston's way after two tremendous seasons it's that he still makes the bad pass. He still struggles with reads. And he's still late with some of his throws. That might work at Florida State. But throwing late and to the outside in the NFL is a recipe for disaster.
Outside of that, Winston has more than proven himself to be a franchise-caliber quarterback. Last season saw him put up nearly 4,100 passing yards with 28 touchdowns and 18 interceptions. And after being picked eight times in his first four games, Winston threw just 10 interceptions in his final 12 outings.
Tampa Bay also did a tremendous job finding this young signal-caller even more talent on offense — potentially leading to championship contention in the NFC South. It started with the signing of DeSean Jackson to team up with No. 1 receiver Mike Evans on the outside. It then continued with the pick of former Alabama tight end O.J. Howard in the first round of April's draft. These are two huge additions for Winston in the passing game and should help him take that next step in 2017.
As much as it wouldn't be a surprise to see Tampa Bay challenge for the NFC South title in 2017, the onus is on Winston to up his game. Everything seems to be in place for that to happen. Look for him to do just that.
MORE FROM YARDBARKER
NFL News

Delivered to your inbox

You'll also receive Yardbarker's daily Top 10, featuring the best sports stories from around the web. Customize your newsletter to get articles on your favorite sports and teams. And the best part? It's free!