Found January 24, 2013 on The Sports Headquarters:
PLAYERS:
Tim Tebow
,
Brandon Weeden
,
Cam Newton
,
Alex Green
,
Aaron Rodgers
,
Dwight Freeney
,
Pete Carroll
,
Alex Smith
,
Ryan Clady
,
Colin Kaepernick
,
Larry Fitzgerald
,
Dwayne Bowe
,
Steve Smith
,
Dominique Rodgers-Cromartie
,
Roman Harper
,
Malcolm Jenkins
,
Drew Brees
,
Michael Vick
,
Jairus Byrd
,
Matt Flynn
,
Mark Sanchez
,
Russell Wilson
TEAMS:
New York Jets
,
Cleveland Browns
,
Green Bay Packers
,
Indianapolis Colts
,
Seattle Seahawks
,
Atlanta Falcons
,
San Francisco 49ers
,
Denver Broncos
,
Arizona Cardinals
,
Kansas City Chiefs
,
Carolina Panthers
,
Philadelphia Eagles
,
New Orleans Saints
,
Buffalo Bills
,
Detroit Lions
,
Tampa Bay Buccaneers
,
New York Giants
The offseason is already here for 30 NFL teams, and free agency and the NFL Draft are right around the corner. Every offseason, countless phone calls are made and a hundreds of athletes will call a new city their home. For teams like the Chiefs and the Jaguars, the offseason is a key opportunity to sign new players who can help turn their franchise around. Between the madness of the draft, free agency, and trades, it is nearly impossible to predict where anyone will end up; but here are the Ten Offseason Moves I Hope Happen in 2013.   1. QB Tim Tebow to the Cleveland Browns Anyone who wants to disregard this because of Tim Tebow's poor throwing mechanics, keep reading. While Tim Tebow can't pick a team apart from the pocket, or throw for 300 yards week in and week out, Tim Tebow can win. Throw all the stats away and look at what he did for the Broncos during the 2011 season. He took a 1-4 team to the playoffs and threw for 316 yards in an overtime win against the heavily-favored Steelers in the first round. Tebow is far from an elite quarterback, but he can give an undermanned team the spark they need to win. With a new general manager being brought in, Brandon Weeden's job is not secure and Tebow could fit well in new head coach Rob Chudzinski's system. Chud was previously an offensive coordinator in Carolina, where the read option and QB Power became offensive staples with Cam Newton. While Tebow is not as good of a passer as Newton is, they are both big quarterbacks that can carry the ball efficiently and be used in the same way.   2. RB Steven Jackson to the Green Bay Packers The Packers rushing attack was mediocre at best this year, sitting at 20th in the NFL at just over 106 yards per game. Alex Green led the Packers with 464 rushing yards on the season; only two teams' leading rusher had less yards. Quarterback Aaron Rodgers leads of one of the NFL's most robust passing attacks, but their lack of a run game makes them one dimensional. Steven Jackson would bring over 10,000 career rushing yards to the team and eight straight 1,000 yard seasons (Packers have only had three 1,000 yard rushers in that span) behind what ProFootballFocus.com grades as the fourth-worst offensive line in the league. With a running back like Jackson complementing Aaron Rodgers' arm, the Pack has a good chance to make another title run.   3. DE Dwight Freeney to the Seattle Seahawks After losing in the divisional round to the Atlanta Falcons, Seattle coach Pete Carroll said that the team needed more pass rushers. Enter Dwight Freeney. Freeney has been one of the NFL's most feared pass rushers since his 2002 rookie debut when he accumulated thirteen sacks. Over the span of his eleven year career, Freeney has built quite the résumé which includes over 100 total sacks including eight seasons with ten or more. While his production took a fall last year, he was burdened by making the transition from a 4-3 down lineman to a 3-4 outside linebacker. If Dwight moved to Seattle he could play the position he is most comfortable in, and hopefully return to his old form. He could be a huge improvement to an already stingy defense.   4. QB Alex Smith and OT Ryan Clady to the Arizona Cardinals This two-for-one could turn the Cardinals right around. While Alex Smith's contract is not up, it is clear that the 49ers have chosen Colin Kaepernick as their man moving forward and will not want Alex Smith's salary sitting on the bench. The Bruce Arians-headed Cardinals would be good for an established veteran like Alex Smith, who has had great success with a stable coaching staff. He would have one of the best targets in the league in Larry Fitzgerald and a young, aggressive defense to back him up. Besides the quarterback position, Arizona's biggest weakness has been their offensive line. According to ProFootbalFocus.com the Cardinals adding Clady would put the second most efficient pass blocker in the league on the team with the worst offensive line, and possibly return Arizona to playoff contenders.   5. WR Dwayne Bowe to the Carolina Panthers The lack of Cam Newton's success this year is often blamed on the lack of weapons he has at his disposal. While he is backed by the triple-headed monster that is Carolina's running back core, he has yet to find a consistent number two receiver to complement the ageless Steve Smith. Dwayne Bowe stands at 6'2", 221 lbs. and makes for a great target in the red zone. He possesses all of the intangibles needed to be a legitimate weapon in this offense, and should see his production increase since he won't draw double teams he did in Kansas City.   6. DE Osi Umenyora to the Tampa Bay Buccaneers In 2012, the Tampa Bay Buccaneers defense gave up a league-high 297.4 passing yards per game and only accumulated 27 sacks (T-29th in the league). See the correlation? If you don't put pressure on the opposing quarterback, they will pick you apart. Osi Umenyora can single-handedly help turn this defense around. He has made it clear that he will not be returning to the Giants when his contract expires, and Tampa will utilize him to his full potential. Umenyora had 43 tackles and six sacks this year, despite only starting in four games.   7. CB Dominique Rodgers-Cromartie to the New Orleans Saints The Saints defense gave up over 290 yards passing and 28.4 points per game, both second worst in the NFL. While New Orleans passed for a league-high 312 yards per game and averaged 28.8 points (3rd highest), their defense ultimately doomed them to a 7-9 record and a trip home to watch the playoffs. Eagles CB Dominique Rodgers-Cromartie is a young, speedy coverage man with good size and a knack for making plays on the ball. The Saints have a solid pair of safeties between Roman Harper and Malcolm Jenkins, but they desperately need an upgrade at cornerback if Drew Brees is going to get another ring.   8. QB Michael Vick stays on the Philadelphia Eagles While this may not technically be a "move" being made, I would really like to see Vick stay in Philly to resurge his career. He was an MVP candidate during the 2010 season, and Chip Kelly's system is just what he needs to return to that caliber of play. While Kelly's offense will need some adjustments to work at the professional level, it is assured to be fast paced and reliant on the speed of the skill players and mobility of the quarterback. With Vick as the signal caller, McCoy as the tailback, and Jackson and Maclin as the two wide outs, the Eagles may have the fastest offense in the NFL. With no big-name scramblers entering the draft or entering free agency, Vick is the Eagles' best bet. For now.   9. FS Jairus Byrd to the New York Giants Another secondary that could use help. While Byrd will likely be franchise tagged by the Bills, it would be nice to see him take his talents to a team with a legitimate shot at winning the Super Bowl. Byrd is recognized as one of the better safeties in the league and plays the ball superbly when it's in the air. The Giant's 28th-ranked pass defense allowed over 250 yards per game through the air this season. With one of the best defensive lines in the league and two solid cornerbacks, the addition of Byrd could improve the Giants defense enough to bring them back into the playoffs and contending for another championship.    10. QB Matt Flynn to the New York Jets The Jets quarterback situation panned out to be one of the NFL's major storylines in 2012, as they quickly became the league's laughing stock. Mark Sanchez finished with a quarterback rating of 66.9, the lowest out of any quarterback with at least 300 attempts. He threw for 18 interceptions (T-3rd highest) and only 13 touchdowns. Perhaps his biggest highlight of the season was running into his offensive lineman's butt, fumbling it, and having the Patriots return in for a touchdown during a Thanksgiving Day shellacking (a play which has since been dubbed the "buttfumble"). The Jets are on a slippery slope to a rebuilding stage, and a new quarterback is the first thing this team needs to take a step in the right direction. In the only start of Matt Flynn's professional career, he gauged the Detroit Lions for 480 yards and six passing touchdowns. While he had a poor 2012 preseason and was eventually outworked by Russell Wilson, he is better than any QB on the Jets roster now.
Original Story:
http://feedproxy.google.com/~r/TheSpo...
THE BACKYARD
BEST OF MAXIM
RELATED ARTICLES
JUST NOT HERE
Broncos vice president of football operations John Elway continues to say nice things about Tim Tebow despite the fact he traded away the quarterback.
It's no surprise Tim Tebow gained a reputation as a great teammate because he's a great person.He's friendly, respectful and always ready to accommodate media and fans.He's a man of faith who actually appears to practice what he preaches.Tebow is the NFL's gold standard for generosity.He brings hope to children suffering from illness and injury through his foundation. He...
When it comes to Tim Tebow the human being, there are few, if any, complaints. He is a man who is true to his faith and brings out the best in others.As a man, any mother or father would be proud to have a son like Tim Tebow.However being a great person has little to do with the skills needed to succeed in the National Football League. As a quarterback in the NFL, Tebow has a career...
Welcome to New York, new Jets general manager John Idzik. Your first job? Trade Tim Tebow for something more than peanuts. Your second job? Try to understand the circus that is the New York Jets. While it's no secret that the Jets are interested in moving on from quarterbacks Mark Sanchez and Tebow, what has been interesting this offseason is how they're trying to go about...
New York Jets owner Woody Johnson claims that he was forced to trade for quarterback Tim Tebow.  It now sounds like he wasn't telling the truth. According to the New York Post, even though it was former general manager Mike Tannenbaum's idea to acquire Tebow, Johnson owns the team and could have easily put his foot down and blocked the move. A league source with direct knowledge...
Denver Broncos vice president John Elway, the man who dealt Tim Tebow before the 2012-13 season, said that his team's former player has potential as an NFL quarterback. "If that's what he wants to do, in the right situation, I think it's a possibility," Elway told New York's WFAN radio. Elway remains tepid on his evaluation of the former University of...
I might as well start by saying…."this is pathetic". When are people going to get it through their heads that New York Jet's "3rd string" quarterback Tim Tebow is not an NFL quarterback. Check out the song below, "Call Me Maybe – the Tebow Version". Although this song has a good beat and I will [...]
10) As bad as the 2012 Eagles offense was, it's still better than what the Jets ran out there 9) Kept a straight face during the interview when the club said the words "Tim Tebow", "Wildcat" and "Buttfumble" 8) Promised to smuggle some WRs with him on the way out of Philadelphia 7) Since the Rex Ryan Era probably only has one more year to go,...
John Elway always made good choices as a quarterback and he's made even better ones as an executive.  When Elway had to the chance to upgrade his quarterback situation by signing Peyton Manning, he didn't think twice about it. With that process he had to jettison Tim Tebow to the New York Jets. Elway has no regrets about that trade, and while speaking to WFAN's Boomer &amp...
"I haven't scripted any answers to any questions. This is the real Tyrann right now." The New York Post neglected to add, "…as he hit the jumbo slow so it sizzled. Smoke filled the air around the reporters as he coughed and offered it up. 'Yo somebody hit this. I gotta go cover some outs and slants.'" Of course the Jets are interested in Lue. Why not? It makes sense...
NFL News

Delivered to your inbox

You'll also receive Yardbarker's daily Top 10, featuring the best sports stories from around the web. Customize your newsletter to get articles on your favorite sports and teams. And the best part? It's free!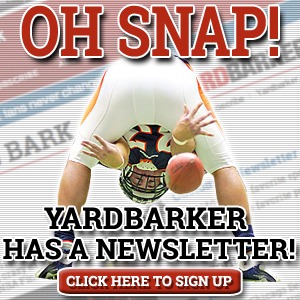 Latest Rumors
Best of Yardbarker

Today's Best Stuff

For Bloggers

Join the Yardbarker Network for more promotion, traffic, and money.

Company Info

Help

What is Yardbarker?

Yardbarker is the largest network of sports blogs and pro athlete blogs on the web. This site is the hub of the Yardbarker Network, where our editors and algorithms curate the best sports content from our network and beyond.