Found November 15, 2012 on Turn On The Jets:
New York Jets fans have been subjected to a generally crap product this season. However, these ten things in particular stand out as things they never need to stomach watching again. Fans of other teams…consider yourself lucky you don't have to watch them on a weekly basis - 1. The Kyle Wilson Finger Wag Everybody who has followed the Jets since 2010 knows Kyle Wilson is a textbook first round bust. At first the excuse was that he was being forced to play in the slot and "didn't have the sideline to help him"…even though he was equally awful on the outside. The thing about Wilson is that he doesn't know how to play the ball in the air, has terrible footwork and not much make-up speed. The most infuriating thing? His tendency to wag his finger after incompletions. He does it after he is beat by 10 yards and the wide receiver drops it. He does when he interferes with the receiver. He does it after he is beat for a touchdown earlier in the game and then somehow forces an incompletion later in the game. I look forward to Wilson not being brought back next year and settling into to a comfortable career of being Jacksonville's 4th corner. 2. The Stephen Hill Flag Beg Hill is a very raw rookie with a good amount of potential. However, he hasn't yet mastered how to get open in the NFL. Actually he isn't even really close yet. That is okay, most of us expected that in his first year. What we didn't expect was Hill incessantly begging for a flag after an incompletion thrown his way, including on ones where there is clearly no penalty or he just drops the ball. I wonder where Hill learned to beg for a flag like that, hmmm…. 3. Calvin Pace Rushing The Passer The Jets paid Pace about $500 million dollars before the 2008 season to be their elite pass rusher (that number is only a slight exaggeration). He posted 7 sacks in 2008, then improved to 8 sacks in 2009. Here he comes! Not really, since then he declined to 5.5 sacks, 4.5 sacks and now only 2 sacks so far this year. Every year Pace gets just a little slower as we are forced to watch him struggle towards the quarterback while the quarterback calmly makes a sandwich in the pocket before lofting a pass over to the wide receiver old "Finger Wag Wilson" is covering. 4. Tim Tebow 2 Yard Runs The Jets have been utterly clueless about how to use Tim Tebow this season. However, lost in the shuffle is how generally crappy he has been running the football when given a chance. He has 27 carries for 92 yards, for a whopping 3.7 yards per carry. What is worse is that when you take out his one outlier 22 yard scamper against Pittsburgh, he is averaging 2.5 yards per carry! Of course Tebow can always silence the criticism after his runs by flexing and yelling at the sideline. Things like that make announcers weep with joy…"My God…what a FOOTBALL PLAYER." 5. Shonn Greene 2 Yard Runs Followed By The SLOWWWW Get-Up Shonn Greene is the Webster's definition of "Plodding," after Greene plods for a 2 yard run to set the Jets up with 2nd and 8, he has a tendency to get up extremely, extremely slow giving off the appearance of being hurt. He then lumbers back to the huddle, as the Jets frantically shift personnel so they could set up for their inevitable 2nd and 8 miscommunication/incompletion followed by the 3rd down sack. Where's the punt team?!! 6. The Mark Sanchez Pump Fake Sanchez frequently chooses to pump fake when he has a wide receiver wide open in order to give the defensive back a chance to get into place for an interception. Whenever Sanchez starts pumping, if you listen closely enough you can hear every Jets fan in the tri-state area going "NOOOOOO….JUST THROW IT AWAY! AHHH" 7. The Clyde Gates First Down Point This only happened once but it is the type of thing that drives fans insane. The Jets were down 27-3 in the 4th quarter against Miami when Gates (maybe the worst active WR in the NFL right now) caught a meaningless first down. He immediately got up and gave a prolonged first down point. Where would he learn such an idea? Hmmm…. 8. The Muffed Punt The Jets might have muffed 19 punts and kicks in the last 2 seasons. It is at the point now, where I'd be more comfortable if they just sent 11 at the punter and didn't put a returner deep…but that would likely just lead to an Eric Smith personal foul for roughing the kicker. 9. Eric Smith What are your five most memorable Eric Smith plays with the Jets? Mine are botching the blitz on Tebow against Denver last year (FOOTBALL PLAYER!), missing the tackle on Victor Cruz for the 99 yard touchdown (SALSA!), 4,000 helmet to helmet hits blended together for killer 15 yard penalties (HARD NOSED), him draped off Gronk's leg when he caught his 8th touchdown against us on Sunday night last year (SPIKE), and when he had that interception back in 2009 (see this isn't all mean-spirited and bitter). 10. #63 Is Eligible!  Do you know any other team in the NFL that uses an offensive lineman at tight end 20+ snaps per game? I guess the Jets are just smarter than the 29 other offenses they are ranked behind who you know…use actual tight ends and wide receivers in their proper positions. - TOJ TNF PICKS (AFC EAST TURD BOWL) Joe (Bills -2.5) Chris C (Bills -2.5) Rob  (Bills -2.5) Chris G (Bills -2.5) Mike D (Miami (+2.5)
Original Story:
http://turnonthejets.com/2012/11/ten-...
THE BACKYARD
BEST OF MAXIM
RELATED ARTICLES
NAMES NAMES
LaDainian Tomlinson said Wednesday that he thinks he knows the identities of at least two of the Jets players who anonymously savaged Tim Tebow.
On Wednesday, members of the New York Jets locker room semi-shocked the world with their shots against backup quarterback Tim Tebow. Since that initial salvo, various members of the team (including Tebow) have weighed in on the matter but nobody's words seem to feel as honest as running back Shonn Greene's.  Please Click Here To Read This Story
I am pretty sure I lost a bet earlier this season when I predicted Mark Sanchez would be benched by Week 10. At the start of the 2012 season, things were looking okay for the Jets. All they really needed to focus on is getting through a tough first half, fix mistakes during the bye, and storm through a much easier second-half schedule. But, the Jets did not do what they needed to...
Pete Carroll knows a little about the media pouncing on their prey. He took every attack the Boston media threw at him while he was head coach of the New England Patriots. After his dismissal from New England, he went back to sunny Southern California and built a powerhouse USC program that turned him into an icon in those parts. Carroll also knows young quarterbacks and Mark Sanchez...
Per a report from CNN's Sports Illustrated, New York Jets head coach Rex Ryan thinks the player(s) who called Tim Tebow "terrible" are "a cowardly thing."  Ryans comments are in response to an earlier report of over a dozen Jets players and members of the organization anonymously criticizing Tebow. Ryan is absolutely right; if you want to call Tebow terrible, be like the...
The New York jets quarterback controversy took yet another interesting twist this week when many current players said that they had absolutely no faith or confidence in Tim Tebow, opting rather to stick with mark Sanchez as the team's starting QB going forward. As bad as Sanchez has been throughout the entire 2012 NFL season, it says something when the Jets do not even support...
(Eds: Corrects Keller's first name to Dustin in seventh paragraph. With AP Photos.) By JIM LITKE AP Sports Columnist Jets coach Rex Ryan is so competitive that he'd play Satan at quarterback if he was convinced the move would help his team win. But for some reason, he's drawn the line at Tim Tebow. On any other team, with any other backup waiting in the wings, there...
Neither the Jets nor the Rams have been impressive of late. It's been over a month since either team has earned a win. On paper, both teams leave a lot to be desired but there are few factors that will sway the odds in the Rams' favor when New York travels to St. Louis. Here are my three bold predictions for the game.1. The Jets' will help St. Louis get an easy win.On the stat...
It's that time of year again, when Tim Tebow finds a way into the national spotlight, despite harsh criticism from his skeptics. The Jets backup quarterback hasn't played much this season and yet has still managed to make the back […]
Jets News

Delivered to your inbox

You'll also receive Yardbarker's daily Top 10, featuring the best sports stories from around the web. Customize your newsletter to get articles on your favorite sports and teams. And the best part? It's free!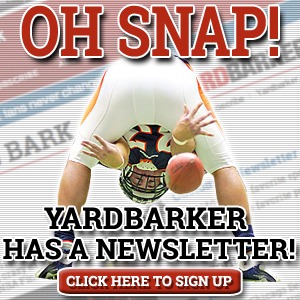 Latest Rumors
Best of Yardbarker

Today's Best Stuff

For Bloggers

Join the Yardbarker Network for more promotion, traffic, and money.

Company Info

Help

What is Yardbarker?

Yardbarker is the largest network of sports blogs and pro athlete blogs on the web. This site is the hub of the Yardbarker Network, where our editors and algorithms curate the best sports content from our network and beyond.