Found May 25, 2012 on Buddy Nixon:
Chris Brown posted a story on the official Bills blog the other day that flew under the radar but could wind up being pretty important: Apparently Terrence McGee isn't sure if he'll be back for camp.
McGee is still rehabing from knee surgery that ended his 2012 season, and said while he can perform all the required "football moves," he still hasn't made it to OTA speed, to say nothing of game speed. Here's what McGee had to say:
It's never been this long for me. I had surgery in November so it's going to be June and I still don't feel ready. I've never been through something like this. I had surgery on my shoulder, but it was just a couple of months and this is a much longer wait and it's getting closer to training camp so your mind does wonder if you're going to make the deadline.
He doesn't sound exactly optimistic, and even if he does, he talked about "competing" for a job. If McGee isn't able to handle a workload, the Bills youth movement at corner will be expedited even more than the cutting of Drayton Florence. While I'm optimistic about the careers of Stephon Gilmore, Aaron Williams, Ron Brooks, and Justin Rogers, they have a combined 7 starts in their career and none have more than a year of experience. The only veteran other than McGee with signficant experience is Leodis McKelvin, who isn't exactly a model of stability.
I think in the long term getting these guys experience will pay off, but in the short term, where the Bills are poised to improve defensively, there could be some growing pains. Let's hope McGee's rehab is successful, and Chris Brown isn't foreshadowing dissapointment for this August.
Original Story:
http://www.buddynixon.com/news/terren...
THE BACKYARD
BEST OF MAXIM
RELATED ARTICLES
When the Buffalo Bills drafted Zebrie Sanders chances were you knew who he was, but just didn't realize it. Remember that viral YouTube video where the offensive lineman just sat there in his stance as the play continued? Yep, that was Sanders. Now he is all grown up and was a four-year starter for the Florida State Seminoles. He capped off his career by earning first team All...
It's all over the place that the Buffalo Bills are on the verge of extending the infamous "Bills in Toronto" series through 2017. The Bills won't make out nearly as well as they did on the first 5 games of the series, which will correspond with cheaper ticket prices. The last deal netted 78 million for Buffalo, which was great compared to the estimated 35 million in revenue...
In the sixth installment of my "Predicting the Bills' breakout players of 2012″ series, I'll take a look at cornerback Aaron Williams. The Buffalo Bills selected Aaron Williams out of Texas with the No. 34 overall pick in the 2011 NFL Draft, despite concerns regarding whether he was better fit as a safety or at cornerback. Buddy Nix & Co. didn't mind the nitpicking...
Getty Images According to a blurb over at USA Today, Buffalo Bills wide receiver David Clowney tweeted his HIV test result earlier today. Clowney was pleased to share that he tested negative; "Got My HIV Results Back!! Thank God for keeping my body healthy and safe," he said on his page. At first glance, one might wonder why in the world he would do such a thing. But Clowney...
Start the ticker-tape parade and drop confetti from the rooftops people!  It's May 25th and I'm ready to make a declaration: The Bills won the off-season.  Talking heads in the NFL have given the Bills a lot of love this off-season and the only other team getting more praise seems to be the Broncos.  That being said, I think the Bills topped everyone when you look at everything...
Fully aware that Kill Kill Kill has been decidedly lion-heavy of late, but I insist you place the blame on YouTube users. I'm trying to find kill videos that don't already have 12 million views, but the preponderance of animal death videos being posted lately are either strictly lions killing things or some deceptively titled trolling like "DOG SAVAGELY MURDERS CAT" that...
The Buffalo Bills made a lot of moves this offseasons, most notably upgrading their defense with the additions of Mario Williams and Mark Anderson. They signed quarterback Vince Young as well to back up Ryan Fitzpatrick as well. However, despite being deep at almost every position across the board, there are still some additions that could be made to improve the roster, especially...
David Clowney, that every year 4th/5th string WR for a NFL team, of the Buffalo Bills, this offseason, made his couple hundred female followers in Buffalo find out that they could **** him without a condom. If a MLB player did this, then I'd be surprised. NFL/NBA athletes have free thumbs when it comes to tweeting the world their **** life stories. [Follow me @TravisHouser]
There are few times I feel compelled to let my betting picks be known and this is one of them. I don't (hope) think this will reach enough people to move the line and as an active contributor to the site, I think it's my duty to write this blog. Ok, enough of the sappy stuff. Each week I write a football column here called "Payne's Perspective" that you can find...
Buffalo Bills quarterback didn't get much love in a recent NFL.com ranking of the league's top quarterbacks, coming in at No. 24 out of 32 on the list. The ranking said of Fitz: "Look at his stats and you see a late-career bloomer. Look at his stats after his first 16 NFL games and you see why he's rounding out the bottom third. Defensive coordinators know...
Several current and former Buffalo BIlls will take part in the Triple-A All-Star Game Celebrity Home Run Derby. Bills running back Fred Jackson and CEO Russ Brandon will take part in the derby, the Buffalo Bisons announced.
Toronto will be treated to five more years of Buffalo Bills games after the NFL's International Committee allowed the club to extend its agreement with Canada's largest city. The Bills have committed to play one regular season game each year north of the border up until 2017 and it's been reported that the tickets will go down in price by a significant margin. Along with playing...
NFL News

Delivered to your inbox

You'll also receive Yardbarker's daily Top 10, featuring the best sports stories from around the web. Customize your newsletter to get articles on your favorite sports and teams. And the best part? It's free!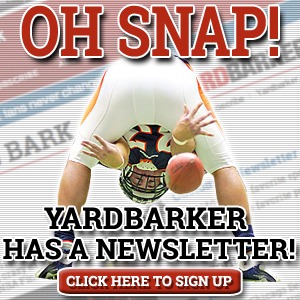 Latest Rumors
The Backyard

Today's Best Stuff

For Bloggers

Join the Yardbarker Network for more promotion, traffic, and money.

Company Info

Help

What is Yardbarker?

Yardbarker is the largest network of sports blogs and pro athlete blogs on the web. This site is the hub of the Yardbarker Network, where our editors and algorithms curate the best sports content from our network and beyond.