The on-the-field Panthers (i.e. the boring old decent at football ones) have some work to do to rebuild an offense, and it will be some time before they see at least one of the parts. Via Jourdan Rodrigue of the Charlotte Observer, wide receiver Curtis Samuel needed surgery to repair the left ankle injury which [more]
Jourdan Lewis wasn't just getting into it with former Ohio State QB Cardale Jones. The former Wolverine put former OSU and Carolina Panthers RB Curtis Samuels on blast: " class="wp-smiley" style="height: 1em; max-height: 1em;" />" class="wp-smiley" style="height: 1em; max-height: 1em;" /> " class="wp-smiley" style="height: 1em; max-height: 1em;" />" class="wp-smiley" style...
The rookie wide receiver is finally playing at "full speed," and the Panthers hope to take full advantage.
Panthers rookie wide receiver Curtis Samuel is dealing with his second injury of the preseason. Samuel left Thursday night's game against the Steelers with an ankle injury. Samuel was playing in his second game of the summer after missing the first two while recovering from a hamstring injury early in training camp. Samuel had two [more]
It's Tuesday night. Let's hang out. What's up everyone? How are things this Tuesday night? If you're sitting around with nothing else going on, feel free to hang out here and chat about whatever (as long as it doesn't violate the ToS...so no religion and/or politics) with others who are bored and on the internet. Here's a question to get tonight's conversation started. How many...
Speedy rookie receiver, drafted by Panthers in the second round, doesn't want to rush back too soon.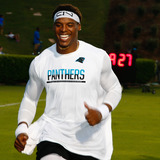 The Carolina Panthers may have added a few weapons on offense, but don't expect that to have much of an impact on Cam Newton's playing style.Newton, who is recovering from a rotator cuff injury, has been the subject of much talk regarding how he will play upon his return. He's been one of the most hit quarterbacks in the league over the past few years, due to his ability to extend...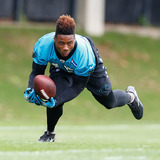 The jokes are going to be swirling surrounding Curtis Samuel's choice of transportation to training camp.Samuel, a rookie wide receiver out of Ohio State, rolled up to training camp fresh out of his mother's car. While his teammates arrived in $100K+ automobiles, Samuel proudly got up out of his mother's car and made his way to join the rest of the pack. Meanwhile, Jonathan Stewart...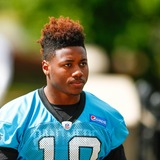 Carolina Panthers rookie receiver Curtis Samuel didn't show up to training camp in a flashy ride. He took the humblest road possible instead, allowing his mom to drop him off at the team dorm on Tuesday. She proudly watched her baby boy move into the next phase of his life. While Samuel might get a bit of good-natured shade thrown his way by his new teammates, we absolutely love...
The upcoming 2017 NFL season is an important year for many players, whether it's due to age, injuries, or performance. The following 25 players could be seeing their final opportunities this season.
MORE STORIES >>
Panthers News

Delivered to your inbox

You'll also receive Yardbarker's daily Top 10, featuring the best sports stories from around the web. Customize your newsletter to get articles on your favorite sports and teams. And the best part? It's free!