This is Part Five of our Training Camp Preview which will be released throughout the week.   We have talked players and the roles in the upcoming season, now we asked our readers who they are looking forward to the most on seeing when the Houston Texans open training camp in less than two days.   See who the fans want to see.     The Roll Call  
@SOTTexans I'm looking at RG. Not sold on Caldwell, he couldn't crack 1st string before. I want to see if Brooks the one or just hype. — The Halby(@the_halby) July 27, 2012
@SOTTexans Lestar Jean and Roq Carmichael, maybe one or both of these becomes useful — Texanmaniac (@Texan_maniac) July 27, 2012
SOTTexansLester Jean — Justin (@justinvondoom) July 27, 2012
@SOTTexans Fangupo — bwlrbrown805 (@bwlrbrown805) July 27, 2012
@SOTTexans I am really looking forward to seeing how Rashad Butler steps up and handles the starter role. — Tony (@dsgruntled_goat) July 25, 2012
@SOTTexans Matt Schaub of course!His health is key for any playoff run.I want to see for myself he's fine! — Lydia Hardison (@lydichay) July 25, 2012
@SOTTexans I'm looking at the new RG. Not sold on Caldwell, he couldn't crack 1st string before. I want to see if Brooks is all the one.

@SOTTexans I'm looking at RG. Not sold on Caldwell, he couldn't crack 1st string before. I want to see if Brooks the one or just hype. — The Halby(@the_halby) July 27, 2012

  — Drake Eckhart (@DrakeWasLike) July 25, 2012
@SOTTexans I am looking forward to Fangupo because if he has the ability to play two gaps it will allow Wade to do more exotic packages on D — Texan Takeover (@texantakeover) July 25, 2012
@SOTTexans A Healthy 52 man roster!!! — #BULLSAWAKENED (@TEXBIG12) July 25, 2012
@SOTTexans Lestar — Frobeus (@Frobeus_NS) July 25, 2012
@SOTTexans not going to be able to make it, but counting on you guys to let me know how Martin and Posey are looking. — Stephen Naron(@stephennaron) July 25, 2012
@SOTTexans Posey and Newton — Jay Dale (@jay_dale) July 27, 2012
@SOTTexans Roc Carmichael CB from VT, drafted last year and got hurt, also Lester Jean #Texans — Brandon Fritts (@texans90) July 27, 2012
@SOTTexans Fang — TX Cleaver (@TXCleaver) July 27, 2012
@SOTTexans I'm looking at @jamescasey86. He is my favorite player for many reasons. Of course he went to #Rice but in his college days he — Fernando Aguayo (@NandoAccordion) July 25, 2012
  You can see Part One of our training camp Primer here and don't forget Part Two. , Three.  and Four.   You can follow Patrick on Twitter.  He is the Editor of State of the Texans and is a draft analyst on Sideline Scouting.
Original Story:
http://www.stateofthetexans.com/?p=6305
MORE FROM YARDBARKER
Texans News

Delivered to your inbox

You'll also receive Yardbarker's daily Top 10, featuring the best sports stories from around the web. Customize your newsletter to get articles on your favorite sports and teams. And the best part? It's free!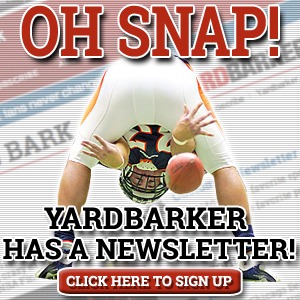 Latest Rumors
Best of Yardbarker

Today's Best Stuff

For Bloggers

Join the Yardbarker Network for more promotion, traffic, and money.

Company Info

Help

What is Yardbarker?

Yardbarker is the largest network of sports blogs and pro athlete blogs on the web. This site is the hub of the Yardbarker Network, where our editors and algorithms curate the best sports content from our network and beyond.