Found November 29, 2012 on The Hazean:
PLAYERS:
Ray Rice
,
Sean Penn
,
Jimmy Graham
,
Andre Johnson
,
Lindsay Lohan
,
C.J. Spiller
,
Chad Henne
,
Jeff Fisher
TEAMS:
Baltimore Ravens
,
New Orleans Saints
,
Houston Texans
,
Buffalo Bills
,
Jacksonville Jaguars
,
New York Jets
,
New York Giants
Did anyone watch the Chargers/Ravens game last week? If you saw last week's Backdoor Cover you know I had the home San Diego. What a way to lose a game. Much was made of Ray Rice converting a 4th and 29 to keep the game alive. He didn't even make it I mean, by at least a yard. By the time it was reviewed, the chains had already moved so the refs didn't know where exactly they were originally. I just don't see how in this day and age where I can order pizza online and watch it being cooked, or Kathrine Heigl is a movie star or even ESPN expands "First Take" to Saturdays that we can't tell on multiple video angles where Ray Rice's knee went down accurately. It's all still Norv Turners fault regardless. #FireNorv Heading down to Hazean home base territory by going to a bachelor party in New Orleans this weekend. While I am extremely excited about the chance to go to one of my favorite cities in the whole world and because of whom the trip is honoring, I can't help but feel a bit of sadness. People: If you ever get the chance to go please don't spend all your time on Bourbon street. Please do not eat at the Acme Oyster House or Bubba Gump Shrimping Co. and call it a weekend. Drink something besides Bud/Miller/Coors. I realize that everyone is a snob about places they really like, but damnit New Orleans is different. I, on the other hand, will spend my weekend drinking 3 – for -1 Coors light on Bourbon street while listening to karaoke of Joan Jett. It comes with the territory of not being in charge. Let me be your warning: Go eat at Cochon, visit Frenchman street, slip into the Maple Leaf and just explore*. I used to think this was all public knowledge but apparently not. *explore = places you won't get shanked. You'll know, trust me. Speaking of the Hazean, he is coming up to my normal stomping grounds to run in the St. Jude Marathon. High-fives to everyone who participates in this event. In a world of cynical jokes about everything, St. Jude literally might be the greatest place on Earth. Which is saying something, because it deals with the worst things on Earth. If you plan on being charitable at all this giving season, I hope you put St. Jude Children's hospital at or near the top of your list. Thanks. On to the picks! Season record (47-37-3) Last week (6-3-1) NFL NEW ORLEANS +3.5 vs. Falcons – Can you imagine how mad professional athletes who get paid millions of dollars are going to be when they find out someone egged the Saints' team bus? Has Sean Penn arrived on the scene yet to start the healing process? What time does the U2 egg benefit concert start? Obviously, the yoke is going to be on the Falcons when the Saints keep it within a field goal. Jimmy Graham goes off in a big way, chalk it. HOUSTON -6 vs. Titans – Being a Denver fan, I would love to think the Titans can pull the upset here and win but unfortunately, I can do math. As impressive of a showing as TN had last week losing at Jacksonville, I can't support them stopping the Texans ground game especially with the threat of Andre Johnson keeping teams from stacking the box. This represents a step up from competition from the Titan's previous games. Blowout. NEW YORK JETS -4.5 vs. Cardinals –  I have bet against the Jets so much this year. So, so much. However, this sets up brilliantly for the fighting Tebows to get a decisive victory. I don't have much analysis other than some trends and the AZ QB situation is the equivalent of Lindsay Lohan's accent in the new Lifetime movie "Liz and Dick". It's the best train wreck TV since Chicago Fire! BUFFALO -5.5 vs. Jaguars – This isn't so much a pick for the Bills doing great, I just don't think the Jaguars can cover three straight. The Bills have been a mystery to me, underperforming when I thought they would be at least decent. C.J. Spiller is an elite talent and I think he'll make a big impact on this game. Of course I picked up Chad Henne in my leagues where I have Kaepernick to give me options so what do I know. ST. LOUIS +7 vs. 49ers – I just love betting on St. Louis. They win for me. A lot. I find myself leaning towards the same teams some times. One of the things I want to do is go back and see my record with each team to know if I'm telling the truth or not. In the past couple of weeks, it is just assumed that San Francisco has won the NFC Championship. Not on Jeff Fisher's watch they haven't. SAN DIEGO +2 vs. Bengals – I cannot believe I am back on this incompetent clown ride of a football team. There is a 50% chance I'm still on tilt from losing with them last week. They remind me of a Blockbuster video store in 2013. They have outlived their usefulness. There is so many better ways to spend your day in San Diego I bet than keeping up with this group. #FireNorv  #endthehype4AntonioGatesRyanMatthews DENVER -7 vs. Buccanneers – My Broncos have been on fiyah and so have I betting on their games. Last two weeks I've gone against them and cashed. I guess that's what has contributed to the popularity of taking the Bucs this week. They have been playing overrated and cupcake teams. They aren't going to know what hit them. I'm telling you – Denver by 17 here. NEW YORK GIANTS -2 vs. Redskins – This is just two different teams that have similar perception but there is actually a large gap in team talent. I have no problem taking the Giants on the road to cover the short number. Let the RGIII MNF hype build, but I'll take the group that has been there and done it, including demolishing a Green Bay team last week. After not taking the Monday game a few weeks, it's time I get over my fears and pick a side. Good luck!  
Original Story:
http://thehazean.com/2012/11/29/the-b...
THE BACKYARD
BEST OF MAXIM
RELATED ARTICLES
ThePittsburgh Steelers may be only 6-5 entering this weeks game against rival Baltimore, but it's not unfamiliar territory for the six-time Superbowl champs. In 2005 the Steelers were 7-5 after three straight losses and rallied together to win out the remainder of the season and eventually go on to win the Superbowl. There is one more situation that is becoming eerily connected...
Any NFL team has its share of crazed fans, whether it's the guy that dresses like the team's mascot for every home game, or wears nothing but team colors all week at work, or the guys that constantly harass anyone wearing another team's colors. After reading a lot and browsing through friend's posts on Facebook I've come to realize there are four main points people make...
Season 3, Episode 49 of The Terrible Podcast is up and co-host David Todd and I start by talking about the Ray Rice incident with the Terrible Terrible from two weeks ago after hearing his side of the story. Was Rice respecting the towel instead of disrespecting it? We invite your comments on this as well. We also both agree that it really doesn't feel like "Ravens Weeks...
Despite never considering the implications of the products hilarious name, the Jacksonville Jaguars have begun to sell team towels known as a "Jag Rag" (Credit: Dead Spin) In case you have not had enough news about NFL towels recently, we have one more. From Ray Rice "disrespecting" the Pittsburgh Steelers terrible towel to LaMarr Woodley "warning" Ray Rice over his treatment...
As the Ravens prepare for Steelers Week Part Two, one of their players won a weekly award for his performance last week. Running back Ray Rice has been named the AFC Offensive Player of the Week, according to reports. Rice single-handedly helped the Ravens win against the Chargers because of his conversion on 4th-and-29 last Sunday afternoon. And now for the injury report. For the...
All my Vanderjacked fans were asking about week 11′s award…well with Thanksgiving around the corner I didn't feel it would be nice to single out one kicker when I am thankful for all kickers! This week all we heard about was Ray Rice making a 4th and 29 late in the game against the lowly Bolts, and as Rice said, "Hey Diddle, Diddle Ray Rice up the middle!" Well, Ray Rice...
Last week: 7 (+0) Record: 9-2 Net points per drive: 0.39 (9th) DVOA: 13.7% (9th) Weighted DVOA: 12.6% (9th) Tier 2: Quasi-Contenders Studs RB Ray Rice: Rushed for 97 yards (65 after contact) on 22 attempts, 5 broken tackles, caught 8 passes for 67 yards on 9 attempts, 1 drop, allowed 1 quarterback hurry on 10 pass block snaps WR Torrey Smith: Caught 7 passes for 144 yards on 11 attempts...
Fantasy owners are faced with numerous difficult choices at running back in this final week of the regular season. - Do you trust DeMarco Murray or Darren McFadden in their return to the field? - Do you dare dive into the Pittsburgh backfield after last week's eight-turnover debacle? - Are you fearful of Marshawn Lynch and Matt Forte in a battle of NFC playoff hopefuls? The...
This Sunday, in NFL Week 13's late afternoon headliner, the 9-2 Baltimore Ravens have the opportunity to all but lock up first place in the AFC North division by knocking off the 6-5 Pittsburgh Steelers at M&T Bank Stadium in Baltimore. The Ravens look to cap off an undefeated three-game stretch, which has been described as the most difficult part of their schedule. They...
NFL News

Delivered to your inbox

You'll also receive Yardbarker's daily Top 10, featuring the best sports stories from around the web. Customize your newsletter to get articles on your favorite sports and teams. And the best part? It's free!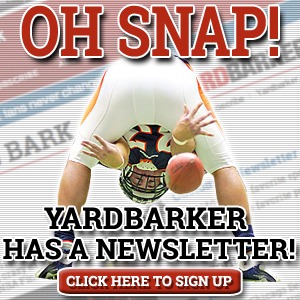 Latest Rumors
Best of Yardbarker

Today's Best Stuff

For Bloggers

Join the Yardbarker Network for more promotion, traffic, and money.

Company Info

Help

What is Yardbarker?

Yardbarker is the largest network of sports blogs and pro athlete blogs on the web. This site is the hub of the Yardbarker Network, where our editors and algorithms curate the best sports content from our network and beyond.