Found September 07, 2012 on Grits Blitz:
PLAYERS:
Matt Ryan
,
Julio Jones
,
Harry Douglas
,
Asante Samuel
,
Dunta Robinson
,
Brent Grimes
,
Jacquizz Rodgers
,
Michael Turner
,
Jamaal Charles
,
Eric Berry
,
Dwayne Bowe
,
Dirk Koetter
TEAMS:
Atlanta Falcons
,
New Orleans Saints
,
Kansas City Chiefs
Alright Falcon fans, here we go! I know it has been a few weeks, but I am ready to hit the ground running. My thoughts on the preseason are irrelevant, because I do not put much stock in anything I saw. I witnessed our new coordinators showing off some new schemes, but overall I was not floored. I am extremely optimistic this season because I cannot foresee a scenario in-which Atlanta does not make it to the post season (barring injury). Here are a few things that I feel comfortable discussing.   *I went to a few of the camp sessions and really liked the way Matt Ryan was throwing the ball. He was a sniper during the preseason. Can he pick up where he left off? We will know Sunday. *Julio Jones is without a doubt the most interesting player on the roster. He is just screaming "Superstar" status. I predict a healthy Julio is going to put up 1,200-1,400 yards this season. Matt Ryan needs to trust his gut and just let it rip. Was drafting Julio worth it? Hell yes it was! His "just go home" quote may have been the confidence we all have been waiting for. Julio is a humble player, and if he is talking there is a good reason for it. * I am a huge Harry Douglas fan, and I believe he is a key cog in this offense. He is going to easily catch 40-50 passes this year. The defenses will have to pick thier poison. The elephant in the room is the offensive line. *The Saints are coach-less, and have lost a lot in their defense. The Panthers are a hot team due to Scam Newton, and the Bucs look to be last year's Eagles. My thoughts on the NFC South are simple, only the winner will be making it to January. I see the wildcard coming out of the East and North. *Asante Samuel, oh #22. Everyone has such high hopes for Asante, but we watched A.J. Green turn him into a punch line a couple weeks back. The Falcons look to have one of the top corner combos in the NFC this season, but Dunta Robinson and Asante need to keep pace with Brent Grimes. Asante brings swagger, we all saw it in camp… but now swagger needs to be replaced with production. *Jacquizz Rodgers is going to be touching the ball more than you think this year.  Coach Smith is calling him an "every down back". Therefore, all of the Michael Turner "haters" now have a new man to cheer for. I expect Jacquizz to have a very productive season splitting carries with #33.
*Kansas City- the Chiefs are a very interesting team. Jamaal Charles, Eric Berry, and Dwayne Bowe are all extremely talented players. Charles is coming back from an ACL injury that shattered the Chiefs early last season. They picked up Peyton "strep throat" Hillis in free agency and now have a powerful 1-2 punch to catapult them into the playoffs. This is an interesting game because of Dirk Koetter and Mike Nolan, both are calling their first games for Atlanta. Nolan is going to be using a lot of nickel this week. Our depth at linebacker is a glaring weakness, and going into nickel will hide it. Koetter should be calling a lot of "explosive" plays. If we learned anything in the preseason it is that Atlanta wants to throw it to Julio Jones. This should be an offensive shootout, but I have Atlanta winning 30-17 on the road in Arrowhead. As always, I want to hear your feedback via Twitter @ColossalChicken or below! Remember to RISE UP! [follow]
Original Story:
http://gritsblitz.com/2012-articles/s...
THE BACKYARD
BEST OF MAXIM
RELATED ARTICLES
Tyler Palko was never expected to fill Matt Cassell's shoes in the Kansas City Chiefs offense, but he also wasn't expected to be selling them. Just a few months after starting six games at quarterback for the Chiefs, Palko has apparently found himself in the middle of South Dakota selling shoes. According to Palko's Google profile, the 29-year-old backup quarterback is...
The Atlanta Falcons have re-signed cornerback Dominique Franks, less than a week after he was cut by the team. To make room for Franks on the 53-man roster Thursday, the Falcons waived-injured receiver Tim Toone. Franks was a fifth-round pick by the Falcons in 2010 and started four games last season. He was beaten out during the preseason by Christopher Owens and Robert McClain...
The Atlanta Falcons signed cornerback Dominique Franks and waived-injured wide receiver Tim Toone Thursday.  Franks was selected as a fifth round draft choice (135th overall) by the Falcons in the 2010 NFL Draft. In two seasons, the 6-0, 197-pound defensive back recorded 22 tackles (14 solo) with three interceptions and six passes defensed. Last season, Franks posted 20 tackles...
It was just about a week ago when the Falcons parted ways with second year corner back Dominique Franks. It was a bit of a head-scratcher because many thought he would be our punt returner and thought that he had a lot of upside at corner. Franks is back with the Falcons In a strange twist of fortunes the Falcons cut Tim Toone. Toone was a surprise to make the team and according...
As we close in on the season opener for the Falcons one thing is crystal clear. Both the Falcons and the Chiefs will rely heavily on their young players to get the job done. Not only are they being relied upon, but these young players are going to make their presences felt in a big way on Sunday. Ready to make an impact for the Falcons For Atlanta it all starts on the defensive...
For the last five seasons, the Kansas City Chiefs have selected three defensive linemen in the first round of the NFL draft in Glenn Dorsey, Tyson Jackson and Dontari Poe. Dorsey and Jackson, were also top five first round picks in 2008 and 2009, with neither of them playing up to the expectations they have [...]
KANSAS CITY, Mo. (AP) -- The Chiefs' replacement for one of the NFL's most feared pass rushers this Sunday will be an unheralded veteran linebacker out of tiny Wheaton College. It won't be the first time Andy Studebaker has started a game, but it'll surely be like none other: It's the season-opener against the Atlanta Falcons, and Studebaker will be taking the...
KANSAS CITY, Mo. There may never be another tight end as good as No. 88 in Chiefs' red. And this Sunday, Tony Gonzalez will revisit the place Arrowhead Stadium where his illustrious career started, this time wearing No. 88 in the red and black of the Atlanta Falcons. It will be the first time Tony G has returned to Arrowhead since requesting a trade after the 2008 season...
While preparing to write this article, the first thing I had to do was take a look at the Chiefs' schedule to begin my research. What game would I want to go to? What game will tell us how the Kansas City Chiefs are going to do this year?  I expected to pick a game against the Broncos or the Raiders, but my eyes stopped right at the top of the schedule.I knew what home game...
The Chiefs 2011 season was derailed early on by injuries to RB Jamaal Charles (blew out his ACL in week 2), TE Tony Moeaki and CB Eric Berry. KC added Peyton Hillis this offseason and both he and Charles will look to return to their fantasy beastliness of 2010. Reports have surfaced that the Chiefs intend to get the 1-2 backfield punch in upwards of 500 touches - which would give...
Often when people look to see if a team has improved, they will measure it with wins and losses. And while that is not a bad way to do so, it is not a true measure of a team's ability. Because you're not playing the same schedule year to year, and even the teams that you do play annually aren't always the same quality as they were in previous years. Every NFL season brings...
Atlanta at Kansas City This game could turn into a thriller with Matty "Ice" Ryan threading the needle quite a bit to his two superstar wide receivers, Julio Jones and Roddy White. The Chiefs have a solid devastating as well in their backfield. Jamaal Charles and Peyton Hillis can move the chains in a variety of ways, and it is Matt Cassel's job to take care of the ball and...
NFL News

Delivered to your inbox

You'll also receive Yardbarker's daily Top 10, featuring the best sports stories from around the web. Customize your newsletter to get articles on your favorite sports and teams. And the best part? It's free!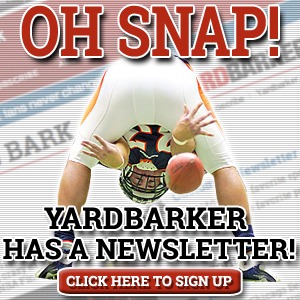 Latest Rumors
Best of Yardbarker

Today's Best Stuff

For Bloggers

Join the Yardbarker Network for more promotion, traffic, and money.

Company Info

Help

What is Yardbarker?

Yardbarker is the largest network of sports blogs and pro athlete blogs on the web. This site is the hub of the Yardbarker Network, where our editors and algorithms curate the best sports content from our network and beyond.