Found August 12, 2012 on The Sports Headquarters:
The Good, The Bad and The Ugly.
By Eric Judd
Chicago 3 – Indianapolis 38
The Good
The real deal
Andrew Luck. Yes, he is as good as everyone said he was. And even better. I can only come up with, perhaps 4 teams that WOULDN'T, in a heartbeat, trade their QB for Luck, right now. And another 4 that would give it serious thought. He might not (yet) have the weapons around him to compete for the AFC, but no matter what happens, Jim Irsay has himself the most important piece to build around. And he's got him for less than half of his competitors.  Indianapolis will, very quickly, have one of the best teams in the AFC South, just as the wheels start to fall off in Houston.
The Bad
"Don't let me get killed, on 2. Ready? HUT HUT!
Rams Big Men. Poor Sam Bradford. Other than a certain #12, no recent #1 overall pick has had the pedigree or the expectations of Sam Bradford. He's going to end up like David Carr. All the skills in the world and no time to use them. I wouldn't be surprised to see Sam Bradford as a inexpensive backup in the next 5 years. He can't stay healthy because he is constantly under duress. If Fisher and his staff can't put together an offensive line that can give Bradford more than two seconds to do anything, they will be back to square one as a franchise. No QB, Steven Jackson, while a beast, has steel belts sticking out of his radials. The defense on the other hand had their hands full with a makeshift Colts o-line and a bunch of backups. No pass rush. Sloppy Containment. Something needs fixing, and quick. On the bright side, if Janoris Jenkins can stay out of trouble, the Rams might have found themselves a steal in round 2.
The Ugly
So, band practice is that way?
Andrew Luck. Someone please help this guy. Queer Eye for the Straight Guy. Extreme Makeover: QB edition. Someone. This guy is going to be the face of the NFL for the next decade. That could be a problem. It has absolutely nothing to do with his on-field ability, his skills as a football player, or his personality…well, maybe a little. He's a goofy looking guy. He's part chipmunk and part band-nerd. He might be the next great "field general", he also looks like he's had a swirly or two is his life.
Il brutto secondo
The NFC West and the Screen Pass.
A recently leaked memo from an unnamed NFL coach: "To the other 27 teams not in the NFC West, a quick piece of advice. Throw more screens. They can't stop them. They know they are coming. They can see them develop. They just can't do anything about it. Trust me."
Original Story:
http://feedproxy.google.com/~r/TheSpo...
THE BACKYARD
BEST OF MAXIM
RELATED ARTICLES
POSITIVE SIGN
Andrew Luck is playing his first preseason game with the Indianapolis Colts against the St. Louis Rams. He already threw a dump off pass for a touchdown. He just now throw for his second touchdown to Austin Collie. The former Stanford Cardinal is really having a breakout first game performance. Luck connected with Austin Collie for the score. Indianapolis is up 14 on the Rams....
Indianapolis -- After a debut lasting four possessions that produced three touchdowns -- including a 63-yarder on his first NFL pass -- Andrew Luck left the distinct impression he was more upset about his lone mistake than pleased by everything else. After Luck connected with Quan Cosby on a 32-yard bomb to the Rams' 1-yard line, the Colts tried some trickery. Offensive lineman...
There's good news, and there's bad news for Colts fans. The good news is that Andrew Luck looked nothing short of impressive in his first start for his new team. The bad news is he looked great against the St. Louis Rams. Luck's numbers were impressive. He started the game by tossing a 63 yard touchdown pass, and he finished 10 of 16 for 188 yards and 2 touchdowns...
Andrew Luck takes the field for the first time. A brand new offense and defense do as well. You know what they say about first impressions... GO COLTS!
Stanford QB Andrew Luck was the first overall selection of the Indianapolis Colts in the 2012 NFL Draft. He came with the highest of expectations with comparisons made to him with Peyton Manning and former Denver Broncos QB John Elway. In this era of social media hype, it's easy to get players expectations highly inflated. After watching the first few series of Luck with his new...
Last year, Curtis Painter was 0-8, while throwing 6 touchdown passes and 9 interceptions. He completed 132 passes and was really, just tremendously unpleasant to endure watching. I went to Purdue, as did Painter, and I thought he was a bad, pity choice by the Colts, drafting a local guy to fill a roster spot that wouldn't be used, necessarily. Dan Orlovsky, he of running out of...
It did not take long for Indianapolis Colts rookie quarterback Andrew Luck to throw his first touchdown pass. The No. 1 overall draft pick hit running back Donald Brown for a 63-yard TD on his first pass attempt of the preseason. Luck took 24 snaps in his debut, completing 10 of 16 passes for 188 yards with two touchdowns in the Colts 38-3 rout over the visiting St. Louis Rams...
No sooner had the NFL debut of his newest franchise quarterback matched - bettered, actually - that of his previous franchise quarterback, the Indianapolis Colts' owner turned to his Twitter account. "The legend has begun!!!!!!!!'' Irsay wrote. Yes, it has. For at least one half, Andrew Luck was the real deal. The successor to Peyton Manning, Luck directed the Colts...
It did not take long for Indianapolis Colts rookie quarterback Andrew Luck to throw his first touchdown pass. The No. 1 overall draft pick hit running back Donald Brown for a 63-yard TD on his first pass attempt of the preseason. But most of the heavy lifting was done by Brown. Luck threw the ball behind the line of scrimmage less than five yards to Brown, who caught it and...
Let's not get ahead of ourselves. The first week of preseason games are over. And the speculation begins. As Marcelllus Wiley of ESPN said on NFL32, "In the first week when it is good it's good, but when it is bad it is not so bad." So here are four games that were good.  And four players that were better and could be the best bet for your fantasy football team...
Quarterbacks   St. Louis: A slightly improved offensive line with Scott Wells gave Sam Bradford more time; after giving up 55 sacks a year ago, Bradford was comfortable under center, hardly using shotgun during his first couple drives.  Despite going 7-for-9, Bradford still makes high throws when rushed. The backup line struggled in pass blocking for Kellen Clemens, nearly getting...
ST. LOUIS (AP) -- Jeff Fisher has conveyed cool, calm leadership from the start of his first training camp with the St. Louis Rams. That can't hurt a team coming off a 2-14 season. Quarterback Sam Bradford said after Friday night's practice that Fisher, rebuilding the franchise after a year away from the NFL, has not changed a bit so far. The Rams open Sunday at Indianapolis...
NFL News

Delivered to your inbox

You'll also receive Yardbarker's daily Top 10, featuring the best sports stories from around the web. Customize your newsletter to get articles on your favorite sports and teams. And the best part? It's free!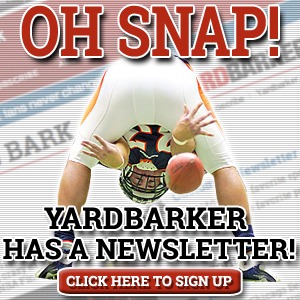 Latest Rumors
Best of Yardbarker

Today's Best Stuff

For Bloggers

Join the Yardbarker Network for more promotion, traffic, and money.

Company Info

Help

What is Yardbarker?

Yardbarker is the largest network of sports blogs and pro athlete blogs on the web. This site is the hub of the Yardbarker Network, where our editors and algorithms curate the best sports content from our network and beyond.