Found February 17, 2012 on Fox Sports Detroit:
PLAYERS:
Matthew Stafford
,
Tony Scheffler
,
Brandon Pettigrew
,
Mikel Leshoure
,
Jahvid Best
,
Louis Delmas
,
Ben Roethlisberger
,
Matt Schaub
,
Jay Cutler
,
Jerry Angelo
,
Peyton Manning
TEAMS:
Detroit Lions
,
New Orleans Saints
,
Baltimore Ravens
,
Pittsburgh Steelers
,
Houston Texans
,
Chicago Bears
,
Indianapolis Colts
Just imagine how Lions management would have reacted a year ago at the sight of quarterback Matthew Stafford throwing passes off the roof of a building while shooting a commercial video. Sound the panic alert! Surround the building with crews holding safety nets, in case Stafford tumbles over the side. Dispatch the franchises entire medical and training staff orthopedists, athletic trainers, rehab specialists and somebody with a well-worn set of worry beads. But that was a year ago, after Stafford had suffered through two injury-shortened seasons, and this is the 2012 season with Stafford the picture of health and dominance. The image Stafford displays in the promotion video is one of a healthy athlete who is supremely confident and comfortable. Stafford launched pass after pass, all of them long, tight spirals. His motion was effortless, similar to how he torched defenses in 2011 in throwing for 5,038 yards and 41 touchdowns to lead the Lions to a 10-6 record and their first playoff appearance since 1999. The image of Stafford in the video is a reflection of the reality of the Lions 2011 season. Gone were the injury clouds that hovered over the Lions and Stafford causing him to miss 19 of his first 32 games with injuries to one knee and both shoulders. The Lions had a healthy quarterback and a relatively healthy team in 2011. As a team, the Lions ranked near the top of the NFL for fewest games missed by starting players due to injury. According to research compiled by Dallas Morning News columnist and author Rick Gosselin, the Lions had starters miss 22 games to injuries. Only two teams did better. The Eagles led with 18. The Saints were next with 20. The Ravens also had 22 missed games. (An explanation of how the statistics were compiled is below.) Some of it is pure luck. There is no discounting that. But in the Lions case, it also can be considered a byproduct of how the Lions have been fully committed in recent years to a weight-training and conditioning program. Even in losing seasons a losing decade, actually there never has been a question about the Lions work ethic. That was especially important last year, when rules imposed during the owners lockout of players banned any team-supervised workouts in the offseason. The team leaders organized workouts, and players worked out religiously once they reported. A number of things are going on with us, said Jason Arapoff, the Lions head of the strength and conditioning program and in his 12th year with the team. One is that coach (Jim) Schwartz has been very specific of how he wants it done, Arapoff said. Thats great. That makes our job more defined. Theres some definition to it, and some specifics to it, that I think make it more effective. Schwartz has often stated his philosophy on injuries that the reality of life in the NFL is that its not if a team incurs injuries, but how it reacts after they happen. No team gets through a season unscathed. And in Staffords case, he had two documented injuries but was able to function with both a broken right index finger that required him to wear a protective splint for three games, and a sprained right ankle that limited his mobility. Ultimately, the success of a conditioning program rests on the players commitment, and the Lions are self-motivating in that regard within the programs structure. We have a team thats been together, Arapoff said. Theres some continuity of how we want things done. Theyre able to take care of themselves when we werent necessarily around each other, but they knew what expected of them when they returned. And theres another element talent. We have a team thats become more talented, Arapoff said. Talented players and Ive said this before -- know how to play and get in and out of bad situations on a play. They can feel it coming. They have a sense of whats going on around them -- an awareness, an innate ability to escape some situations. They know how to play the game. We have an elevated level of talent that also shows up in their ability to take care of themselves. Once the lockout ended, the Lions hit the ground running and lifting, and doing all the other things required to achieve and maintain a high conditioning level. We lifted every day in training camp, Arapoff said. Following is an explanation of how the Dallas Morning News compiled its injury research, and how it applies to the Lions and other NFL teams: It was based on each teams 22 players who were regarded as opening-day starters on offense and defense. In the Lions case, they also consider tight end Tony Scheffler a starting-caliber player because of his interchangeability in passing formations, but Brandon Pettigrew is the starter and he did not miss a game. Rookie running back Mikel Leshoure missed all of the season with a torn Achilles sustained early in training camp. Leshoure is not included in the statistics because he was never on the opening-day roster. Running back Jahvid Best had the most impact on the Lions final total, missing the last 10 games because of a concussion sustained in Game 6. There are no doubles in the accounting process. There is only one starter at a given position. If the backup also misses a game, that doesnt count as a missed start. Safety Louis Delmas was next on the Lions games-missed list with 5. There is a general correlation between injuries and won-lost records, but there are exceptions. The Super Bowl champion Giants were 26th with 68 games lost to injuries. The Patriots, who lost in the Super Bowl, were 29th with 83. However, 12 of the 14 teams that had the fewest injuries had .500 records or better. Winning teams had healthy quarterbacks. In the NFC, all six playoff teams had quarterbacks who did not miss a game because of injury. In the AFC, the Steelers Ben Roethlisberger missed one start with an ankle injury. Houstons Matt Schaub missed six games, but the Texans had such a big lead in the AFC South that they still won the division despite finishing with a three-game losing streak. In the NFC North, the Bears were 7-3 when Jay Cutler went out with a broken thumb. They collapsed, gong 1-5 the rest of the way and missed the playoffs. GM Jerry Angelo was fired, in part for not having an adequate backup. The Colts were a prime example of how a team relied on its quarterback. Peyton Manning missed all 16 games because of a neck injury. The Colts plummeted to 2-14, and the franchise has undertaken an extreme makeover. The bottom line: dont fall off the roof, Matthew Stafford. You worked too hard to get healthy.
Original Story:
http://www.foxsportsdetroit.com/02/17...
THE BACKYARD
BEST OF MAXIM
RELATED ARTICLES
Sniping season continues for retired NFL stars who are taking potshots at the Lions star quarterback-receiver duo of Matthew Stafford and Calvin Johnson. Johnson was in the cross hairs early in the season when Cris Carter did not rank him among the NFLs top five receivers in an interview on ESPN. Carter later changed his mind about Johnson -- in a presidential election year, well...
After making some critical comments about Suh the week before the Super Bowl, it's clear Sapp still thinks very highly of the Lions' defensive tackle.
According to Dave Birkett of the Detroit Free-Press, the Lions will do whatever it takes to not lose defensive end Cliff Avril in free agency and that means they'll place the franchise tag on him if they have to. Avril has already come and said he's looking to get paid and doesn't believe in giving the Lions a hometown discount, which might force them to tag him. I think the...
I could throw for 5,000 yards in today's NFL T... According to Marshall Faulk throwing for 5,000 yards in the NFL these days ain't no thang.  He has publicy come out and said how unimpressed he was with the season Matthew Stafford had this season. "Throwing for 5,000 yards in the NFL right now is nothing. I don't want to take anything away from it. As much as people...
By all accounts, Detroit Lions quarterback Matthew Stafford was impressive by throwing for over 5,000 yards last season. Hall of Famer Marshall Faulk, however, wasn't exactly blown away by the accomplishment. "Throwing for 5,000 yards in the NFL right now is nothing," Faulk said, per MLive.com. "I don't want to take anything away from it. As much as people...
Defensive end Cliff Avril isn't sure what the Detroit Lions plan to do with him.
Former Ohio State left tackle Mike Adams could replace Detroit Lions' Jeff Backus if the team drafts him in April, according to NFL Network's Mike Mayock.
TECHNOLOGY Former Google CEO Eric Schmidt plans to sell up to 2.4 million shares of stock currently worth nearly $1.5 billion.
The GOP-controlled House has passed a bill renewing a payroll tax cut for 160 million workers and jobless benefits for millions more, backing the main items on President Obama's jobs agenda in a rare burst of bipartisanship.
Congress Sen. Max Baucus, D-Mont., said the House and Senate have sealed a final agreement on legislation to renew a 2-percentage-point cut in the payroll tax and jobless benefits for millions of unemployed workers. Baucus announced the agreement late Wednesday, capping a long day of wrangling over final details of the measure.
NFL News

Delivered to your inbox

You'll also receive Yardbarker's daily Top 10, featuring the best sports stories from around the web. Customize your newsletter to get articles on your favorite sports and teams. And the best part? It's free!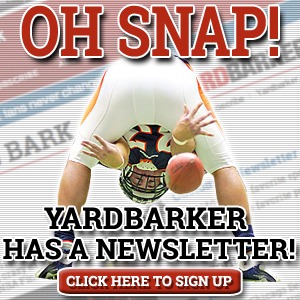 Latest Rumors
The Backyard

Today's Best Stuff

For Bloggers

Join the Yardbarker Network for more promotion, traffic, and money.

Company Info

Help

What is Yardbarker?

Yardbarker is the largest network of sports blogs and pro athlete blogs on the web. This site is the hub of the Yardbarker Network, where our editors and algorithms curate the best sports content from our network and beyond.