Found November 30, 2012 on WhoDeyFans:
PLAYERS:
A.J. Green
,
Andy Dalton
,
Geno Atkins
,
Jermaine Gresham
,
Clint Boling
,
Michael Johnson
,
Kevin Zeitler
,
George Lucas
,
Marvin Lewis
TEAMS:
Cincinnati Bengals
,
Houston Texans
,
Baltimore Ravens
After being picked by nearly every pundit on the planet (and much of the fan base) to go 0-16 on the low side to 4-12 on the high side last year, there is no doubt that the 2011 season was perceived as a resounding success in all circles. But with improved performance comes increased expectations. And that leaves me wondering as we come down the stretch: what constitutes "success" for this season in your eyes? Multiple Pro Bowl Selections. Only A.J. Green was made the team on his own. But the Bengals sent 3 more — Andy Dalton, Geno Atkins and Jermaine Gresham — as injury replacements. This year, Green and Atkins would seem to be near locks for the team. Several others could make a case for joining them. Clint Boling, Michael Johnson, Kevin Zeitler and Jermaine Gresham come to mind. But if the Bengals send several guys to Hawaii but end up 8-8 this year, how satisfying is thiat really? Back-to-Back Winning Season. This hasn't happened since the 1981 (12-4) and strike-shortened 1982 (7-2) seasons. For back-to-back winning complete seasons, we have to go back to 1975 (11-3) and 1976 (10-4) and 1977 (8-6). That was the heart of the Big Red Machine era, and the Star Wars franchise finally became more than just an idea in George Lucas' head. Current;y being three wins away from this mark, I'd say that matching 2011′s record has to be the bare minimum for success. It would mean that TV commentators could no longer cite the records above, which would be a small gift in itself. Is that enough for you to use the word "success" with this team? Back-to-Back Playoff Appearances. It's only happened once in team history: 1981 & 1982. I'd love the team to make the talking heads at ESPN shut up about this one as well. But with three one-and-done playoff appearances in the past seven years, would you be OK with a fourth? A Playoff Win. The Texans are in the driver's seat for tops in the conference and a bye, so it's unlikely we have to consider them as a matchup. How anxious are you to see a Bengals-Patroits matchup? If the D-line could pressure Brady consistently without help, they'd have a shot. But if this matchup could be avoided, I'd prefer that. I think the team would do better in a Bengals-Broncos rematch now that their mojo is working again. Ask me if I think they have a good shot at beating Manning the Elder, though, and I'm gonna hedge my bets. Doable? Yes. Probable? Uhhh… Call me crazy, but I say the Bengals' best path to a playoff win is to draw a 4-5 (or 3-6) matchup against the Ravens. [How strange would it be to play the same team in Week 17 and in the first round of the playoffs for the second time in four years?] I know they got blown out in Week 1, but a lot has changed since then. The team has finally gelled. The Ravens' offense is oddly mediocre. Their offense is not as potent as they were in the first 6 weeks of the season. They have yet to play the Broncos, the Giants and the Redskins in addition to ending the season in Cincinnati. A couple of late losses by the Ravens could be just what a surging young Bengals team needs. A Trip To New Orleans. The recent past has taught us that the hot teams beat the good teams. If the Bengals keep their focus and poise, they could become one of those hot teams. Does Marvin Lewis and his team garner the label of "success" from you for 2012 only if he takes the team to their 3rd ever SuperBowl game? Hoisting The Lombardi. I know a few cynics out there feel this way. How about for you? Will you only be satisfied with World Champions? Remember, my question is not what you hope to see happen in 2012. We all want the Lombardi if we can get it. I want to know what it will take to get you to say to a follow Bengals fan, "You know, the Bengals had a good year this year. I'm on the bandwagon! I can't wait for 2013."
Original Story:
http://whodeyfans.com/2012/11/30/the-...
THE BACKYARD
BEST OF MAXIM
RELATED ARTICLES
Bengals fans have been heartened by many things over the last 3 weeks, but one of the most pleasant changes (aside from winning games) has been the ongoing development of WR Mohamed Sanu.  After scoring 4 touchdowns over the last 3 weeks, Sanu has emerged as the primary #2 receiver, and a huge target in the red zone.  He showed up as "limited" on Cincinnati's injury report...
According to Joe Reedy of the Cincinnati Enquirer, Bengals wide receiver Mohamed Sanu suffered a stress fracture in his left foot and will likely be out for the remainder of the season. Rookie wide receiver Mohamed Sanu suffered a stress fracture to the fifth metatarsal in his left foot. Head coach Marvin Lewis said after Friday's practice and before the team left for San Diego...
The Cincinnati Bengals announced today that wide receiver Mohamed Sanu suffered a stress fracture during practice Thursday, reports Joe Reedy of the Cincinnati Enquirer, which will require surgery that is expected to sidelined him for the remainder of the season. Lewis says Sanu suffered a stress fracture during practice on Thursday. Surgery on Monday — Joe Reedy (@joereedy)...
CINCINNATI (AP) -- Andy Dalton's demeanor hasn't changed since coach Marvin Lewis challenged him to become more of a leader, even if it meant going against his character and being a jerk sometimes. The quarterback's numbers, though, have gotten much better. The Bengals have won three of the four games since Lewis publicly challenged Dalton to lead the offense and middle...
Cincinnati wide receiver Mohamed Sanu will undergo potential season-ending surgery Monday for a stress fracture. Bengals coach Marvin Lewis said via The Cincinnati Enquirer on Friday that the injury occurred during practice Thursday and that Sanu likely will be out for the year. He is expected to be placed on injured reserve. Sanu, a rookie from Rutgers, emerged as a pass-catching...
Bengals receiver Mohamed Sanu, who was becoming a big weapon for quarterback Andy Dalton, won't be one this Sunday or the remainder of the season after suffering a stress fracture in his foot at Thursday's practice.Fantasy Spin:Sanu had caught a touchdown pass in three consecutive games and will finish the season with 16 catches for 154 yards and four scores. He also threw...
Bengals receiver Andrew Hawkins, who was inactive in Week 12 due to a sore knee is listed as probable for Sunday against San Diego.Fantasy Spin:He's caught 34 balls for 394 yards and three touchdowns this season, but his production has faded after a hot start as Mohamed Sanu had become the primary receiver playing opposite A.J. Green. But Sanu will miss the remainder of the season...
Last week: 20 (+1) Record: 6-5 Net points per drive: 0.4 (8th) DVOA: 4.6% (10th) Weighted DVOA: 7.9% (10th) Tier 5: Teams many predicted to make the playoffs at the beginning of the season, but that are long shots now Studs RB BenJarvus Green-Ellis: Rushed for 129 yards (35 after contact) and a touchdown on 19 attempts, allowed 1 sack on 6 pass block snaps, caught 1 pass for 9 yards...
The NFL fined five players involved in a brawl during the fourth quarter of Sunday's Bengals-Raiders game in Cincinnati. Offensive lineman Andrew Whitworth was the only Bengals player to receive a $26,250 fine, NFL.com reported Friday. Four other Oakland players were not named but fined the same amount. Whitworth charged after Raiders defensive lineman Lamarr Houston for...
Cincinnati Bengals (6-5) at San Diego Chargers (4-7) Last week, I took the Chargers for a big play for several reasons. Philip Rivers was 31-19 ATS in week 11 or later. In the last 3 years, as mediocre as they've been, they were still 10-5 ATS in week 11 or later, including a cover the week before in Denver. As underdogs, as they were last week, Rivers was 12-4 ATS in week 11 or...
It only took one pass play for the tone to be set Sunday. Palmer's first dropback, BOOM, Geno Atkins threw him to the ground. At that point we ALL knew what kind of day it was going to be for Mr. Quitter himself. Speaking of quitting, did you see that Palmer's Raider teammate Rolando McClain wants out of Oakland? Haha! Thanks for the draft picks. I'd much rather have the young...
NFL News

Delivered to your inbox

You'll also receive Yardbarker's daily Top 10, featuring the best sports stories from around the web. Customize your newsletter to get articles on your favorite sports and teams. And the best part? It's free!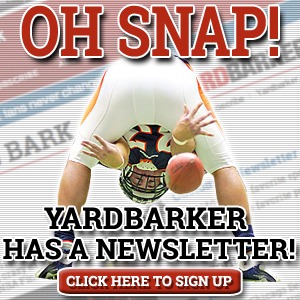 Latest Rumors
Best of Yardbarker

Today's Best Stuff

For Bloggers

Join the Yardbarker Network for more promotion, traffic, and money.

Company Info

Help

What is Yardbarker?

Yardbarker is the largest network of sports blogs and pro athlete blogs on the web. This site is the hub of the Yardbarker Network, where our editors and algorithms curate the best sports content from our network and beyond.