The NFL combine is extreme vetting that amounts to little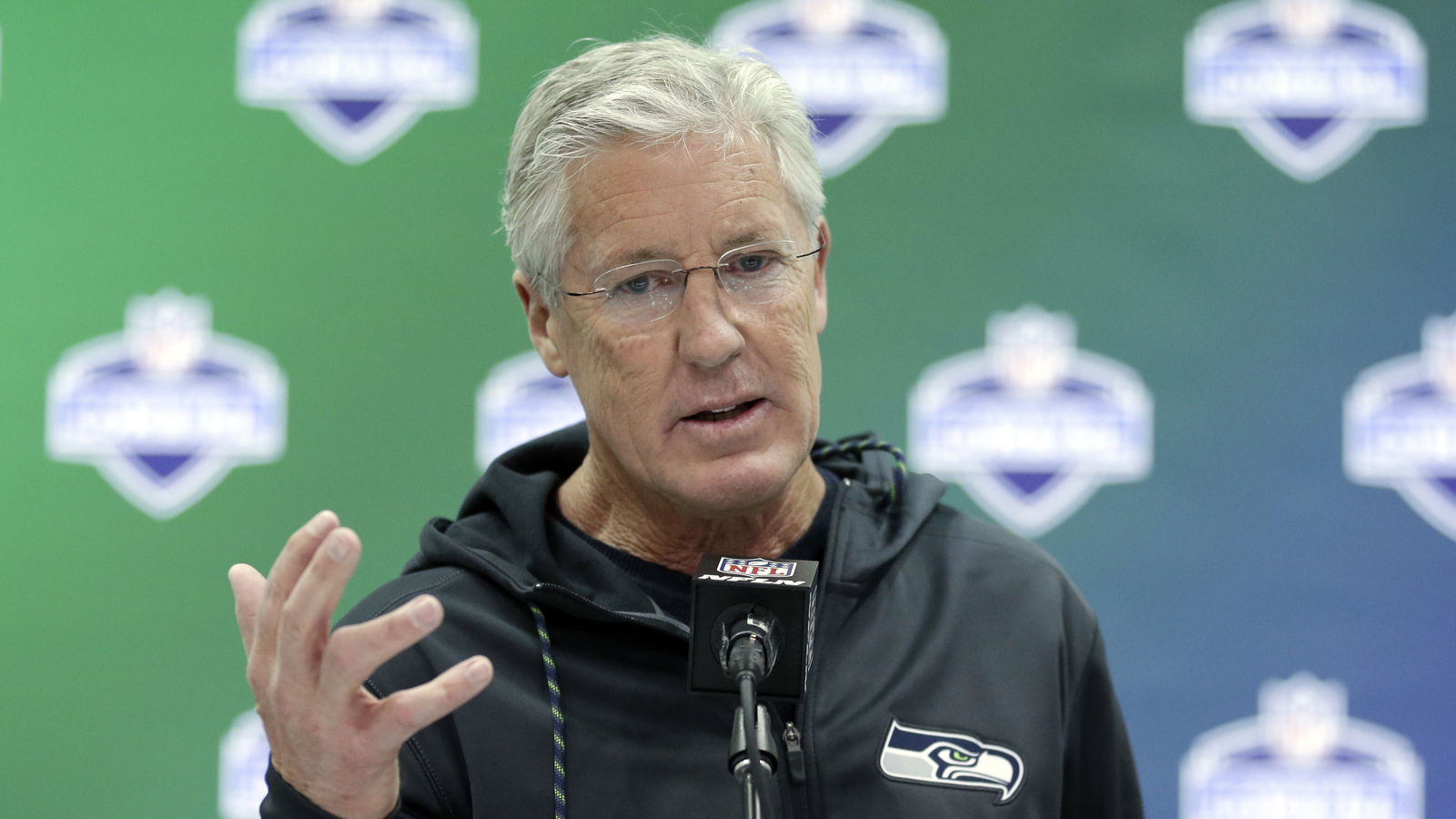 Seattle Seahawks head coach Pete Carroll speaks during a press conference at the NFL Combine in Indianapolis, Thursday, March 2, 2017. Carroll said, "We're looking for guys that have the right mentality, guys that are willing to be challenged, guys willing to know that they're on the hot seat and that they're going to have to bounce back and be very resilient."
AP Photo/Michael Conroy
Outside of maybe the Pro Bowl, you won't find a more maligned annual NFL event than the combine. Reporters decry it as massively overhyped, some fans describe it as humiliating and exploitative for the prospects who take part. Seasoned NFL veteran players have no glowing comments to make, either.
From the television broadcast, you can easily get a sense of what they mean. Right there's a player lying face down, his arms stretched upwards, though his back, getting measurements taken, not even as though he showed up off the street and hadn't been playing football for several years elsewhere, but as if he was being detained and recorded. That might be the thing with the worst optics, yet everything else on display is hardly less of an abasement. Players are quantified, distilled into a small array of significant numbers that don't ultimately matter much at all.
It's true that what you actually watch at the combine on TV is the least important aspect of the event. It's the interviews, conducted behind closed doors, that matter most to prospects and teams. That's why, as the Wall Street Journal reported, a growing practice for prospects is making use of firms dedicated to getting players ready for the grilling from scouts and team execs. Among the topics covered is "focusing during film sessions in case teams want them to evaluate tape" and interview training, in which players are coached on "posture, tone of voice, and looking people in the eye when they speak." Sounds like boardroom boot camp.
What that amounts to is a more invasive version of a common job interview sprinkled with bits of athleticism. Teams do actually care about 40 times, broad jumps, and shuttle runs, though far less than assessing the acumen of prospects. The myths of the combine perpetuate its role in the insane draft process. While good showing have lifted the stock of some players, it's never quite as much as the narrative would have you believe. The most notorious example of a workout warrior who went on to NFL-bust ignominy was Mike Mamula, who ended up being taken with the seventh overall pick of the '95 Draft by the Eagles, after they traded up from 12 to get him, passing on future Hall of Famer Warren Sapp. The benefit hindsight grands a great many things, but none of them let you get to say Mamula was objectively bad. He was a Week 1 starter as a rookie and played pretty well until injuries ravaged what was a promising career. For sure, he was no Warren Sapp, but he was no washout either. It's also instructive to point out that teams had Mamula on their radar well before the combine. A good showing may have been the final push for the Eagles to trade up, Mamula still would have been a first-round pick for somebody.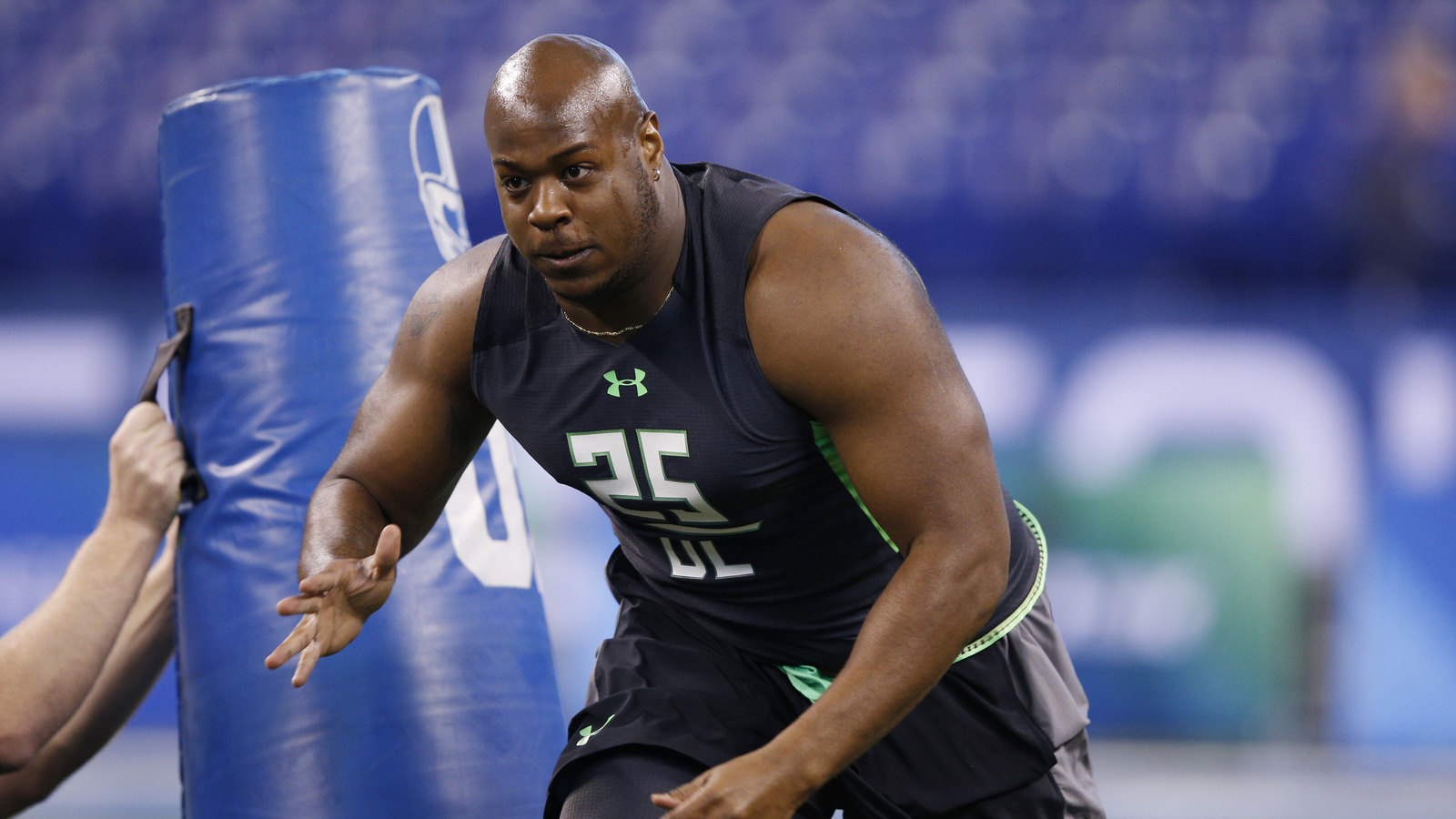 Seattle Seahawks defensive lineman Quinton Jefferson in action during the 2016 NFL Scouting.
Joe Robbins/Getty Images
If the lesson is, then, that all these drills are worthless, which is something the vast majority of people already knew, so what drives viewers to watch this thing? Well, I can't speak for others - but I can say it makes solid background viewing - something I scarcely have to pay attention to unless a remarkable thing happens. It's sedate, and a month removed from the conclusion of the previous season. The NFL seldom fully goes away, but February is one of the times that it mostly does. With the combine start moved back a week, the distance feels even more pronounced. I miss football; I'm hardly alone in that sentiment. The NFL says, "here's a football-like thing", with some bearing on what's to come, even if it's less than we'd like to believe.
With a year-long football media industrial complex encouraged to churn out something about it, there's plenty of reminders that the combine exists. The reminders aren't positive, but they're there, and that's enough to pique curiosity. Even with a slightly declined audience, the NFL is still big enough to draw people into its most worthless, fabricated events. That's a testament to its health more than anything.
As for fans who travel to attend the combine, I'm left to wonder whether Indianapolis is that much of a draw. Reporters had nice things to say about a walkable downtown when the Super Bowl was in Indy a few years back, so perhaps I'm underestimating its charms. That said, even coaches in attendance at the combine look extremely bored, so how can you expect fans to enjoy themselves? Perhaps if you forked over your own money to get there, you're likely forcing yourself to believe you like the experience more than you actually do. One nice perk this year is that once you've gotten yourself to Indianapolis, getting into the combine is free for attendees. It would be nice to know that someone is enjoying the combine. Otherwise why are we doing this every year?
MORE FROM YARDBARKER:
QUIZ: Name every quarterback in the Hall of Fame who never won the Super Bowl
There are a number of NFL quarterbacks who have had great careers without ever winning a Super Bowl, but only seven Hall of Famers have never won it all. Can you name them?
Clue is the year of Hall of Fame induction.
MORE FROM YARDBARKER
NFL News

Delivered to your inbox

You'll also receive Yardbarker's daily Top 10, featuring the best sports stories from around the web. Customize your newsletter to get articles on your favorite sports and teams. And the best part? It's free!