Found August 21, 2012 on StraitPinkie.com:
PLAYERS:
Peyton Manning
,
Kevin Kolb
,
Aaron Rodgers
,
Ryan Fitzpatrick
,
Jay Cutler
,
Philip Rivers
,
Matt Cassel
,
Ben Roethlisberger
,
Matt Schaub
,
Eli Manning
,
Michael Vick
,
Tony Romo
,
Carson Palmer
,
Drew Brees
,
Tom Brady
,
Matt Leinart
,
Vince Young
,
Rex Grossman
,
J.P. Losman
,
Josh McCown
,
Joey Harrington
,
David Garrard
,
Donovan McNabb
,
Marc Bulger
,
Matt Hasselbeck
,
Chad Pennington
,
Jake Delhomme
,
Steve McNair
,
Jon Kitna
,
Damon Huard
,
Jeff Garcia
,
Brett Favre
,
Trent Green
,
Mike McMahon
,
Chris Redman
,
Daunte Culpepper
,
Jake Plummer
,
Brian Griese
,
Kerry Collins
,
Kelly Holcomb
,
Drew Bledsoe
,
Jay Fiedler
,
Gus Frerotte
,
Mark Brunell
,
Kurt Warner
,
Shane Matthews
,
Vinny Testaverde
,
Robert Griffin III
TEAMS:
Arizona Cardinals
,
Green Bay Packers
,
Buffalo Bills
,
Chicago Bears
,
San Diego Chargers
,
Kansas City Chiefs
,
Pittsburgh Steelers
,
Houston Texans
,
New York Giants
,
Philadelphia Eagles
,
Dallas Cowboys
,
Oakland Raiders
,
New Orleans Saints
,
New England Patriots
,
Washington Redskins
,
Miami Dolphins
,
Minnesota Vikings
,
Baltimore Ravens
,
Tennessee Titans
,
Atlanta Falcons
,
Detroit Lions
It's not just a quarterback-driven league. The NFL is a young quarterback-driven league.
There are words we associate with elite quarterbacks: experience, presence, poise under pressure. We assume that a requirement of the most pressure-packed position in sports with time –the sorts of things a boy can't learn in college. The speed is different. The playbooks are more complicated. The burdens on their shoulders more numerous than ever before.
Despite all of that, 2012's NFL seems to have a new set of expectations. They still expect presence and poise. They still place the weight of a franchise on the shoulder-pads of their signal callers. But, instead of experience, it seems that NFL teams simply require pubescence from their quarterbacks.
As week one approaches, it's possible that 14 quarterbacks age 25 or younger will start for their respective teams; Ryan Tannehill, Mark Sanchez, Andrew Luck, Andy Dalton, Blaine Gabbert, Robert Griffin III, Jake Locker, Matthew Stafford, Christian Ponder, Cam Newton, Josh Freeman, John Skelton, Russell Wilson, and Sam Bradford. If all of these young men start the opening games of the season, that's 44% of all starting quarterbacks that will clock in at 11 years (or more) younger than the league's oldest starter (Peyton Manning, 36).
That's four rookies, five sophomores, and a lot of fresh faces. Let's put it this way; all of them were teenagers as recently as 2006. It seems, then, that NFL teams are increasingly willing to put the ball in the hands of young, untested players. Despite the immense pressure, almost half of the teams are turning to promise over experience. This is a new phenomenon.
Forget the days of yore. This is a new phenomenon in recent history. If you take 2012's projected starters (including Kevin Kolb/John Skelton, Russell Wilson/Matt Flynn in undecided races), the average age of this season's quarterbacks will be 27.4. As we've mentioned, 14 of those 34 quarterbacks are under the age of 25; only 11 are 30 or over.
2012 Proj. Starters
Age
Andrew Luck 22 Blaine Gabbert 22 Robert Griffin III 22 Cam Newton 23 Russell Wilson 23 Sam Bradford 24 John Skelton 24 Christian Ponder 24 Matthew Stafford 24 Jake Locker 24 Andy Dalton 24 Ryan Tannehill 24 Mark Sanchez 25 Matt Flynn 27 Kevin Kolb 27 Matt Ryan 27 Joe Flacco 27 Alex Smith 28 Aaron Rodgers 28 Brandon Weeden 28 Ryan Fitzpatrick 29 Jay Cutler 29 Philip Rivers 30 Matt Cassel 30 Ben Roethlisberger 30 Matt Schaub 31 Eli Manning 31 Michael Vick 32 Tony Romo 32 Carson Palmer 32 Drew Brees 33 Tom Brady 35 Peyton Manning 36
Only five years ago, the landscape of the NFL Quarterback was drastically different. In 2007, the average age of a starting signal-caller was 28.7, over a year and a half over the projected average of 2012. That may seem like a small number, but considering that there are only 32 starting quarterbacks, the fact that quarterbacks have, on average, gotten two years younger (five years later) is significant. Only nine quarterbacks five years ago were 25 or younger, and 13 were older than 30. As you can see from the table below, the spreadsheet was much different back then:
2007 Wk-1 Starters
Age
Alex Smith 23 Matt Leinart 24 Vince Young 24 Derek Anderson 24 Jay Cutler 24 Tavaris Jackson 24 Philip Rivers 25 Ben Roethlisberger 25 Eli Manning 26 Rex Grossman 26 Matt Schaub 26 JP Losman 26 Carson Palmer 27 Tony Romo 27 Josh McCown 28 Joey Harrington 28 Drew Brees 28 David Garrard 29 Donovan McNabb 30 Tom Brady 30 Marc Bulger 30 Matt Hasselbeck 31 Chad Pennington 31 Peyton Manning 31 Jake Delhomme 32 Steve McNair 34 Jon Kitna 34 Damon Huard 34 Jeff Garcia 37 Brett Favre 37 Trent Green 37
Go back in time a single decade and you will see that this NFL youth movement is rather unprecedented. The quarterback breakdown of 2002 is even more dissimilar to the new trend of fresh faces beneath the helmets. In 2002, you were more likely to find grizzly veterans. The average age of starters a decade ago was 29.6 (2.5 years/seasons older than today!). Once again, only 9 starters were 25 or younger, with more trending toward 25 than 22. Subsequently, 14 of the quarterbacks were over 30; that's the same number, in 2012, of starters that could be under 25.
2002 Wk-1 Starters
Age
Michael Vick 22 Mike McMahon 23 David Carr 23 Quincy Carter 24 Chris Redman 25 Daunte Culpepper 25 Donovan McNabb 25 Tom Brady 25 Peyton Manning 26 Aaron Brooks 26 Matt Hasselbeck 26 Jake Plummer 27 Brian Griese 27 Kerry Collins 29 Kelly Holcomb 29 Steve McNair 29 Kordell Stewart 29 Drew Bledsoe 30 Jay Fiedler 30 Gus Frerotte 31 Jim Miller 31 Mark Brunell 31 Kurt Warner 31 Jeff Garcia 32 Trent Green 32 Shane Matthews 32 Brett Favre 32 Brad Johnson 33 Rodney Peete 36 Rich Gannon 36 Vinny Testaverde 38
So what's behind this drastic change? Some will point to more colleges implementing pro-style offenses. Others will mention the rise to prominence of camps, training, and mentors that prepare college stars for the NFL game. And these are certainly factors. But there's something else revealed by these tables that may shed light on the youth sensation.
Teams want elite quarterbacks. And they want them now.
Just look at the immense turnover at the quarterback positions in a something as small as a five-year interval. From 2002 to 2007, only nine (28%) of quarterbacks maintained a starting job. From 2007 to 2012, that number was only 11 (34%). As the pressure to acquire an elite quarterback increases, so too does impatience. Teams are less willing to spend time developing quarterbacks; the search begins and ends almost simultaneously.
Over the past several years, more and more veterans have been tested. The new pool of talent no longer resides in the NFL –those faces have been placed beneath the helmets and failed to pass the tests of higher standards. The new faces of promise are in the lower levels, the college ranks, the NFL's minor leagues. It's why the draft is more important than ever.
But as we can see from the recent past, finding the promise of tomorrow isn't easy. Simply seeing some of the names that coincide with the ages of 25 or younger puts in perspective how many misses come alongside the shooting stars. For every Peyton Manning that is thrown into the fray and into a Hall-of-Fame career, there are more names like these: Chris Redman, Mike McMahon, Quincy Carter, David Carr, Derek Anderson, Matt Leinart and Tavaris Jackson.
It's proof that potential isn't always realized –that all of these young shoulders can't bear the burdens placed upon them.
Eighteen quarterbacks started week one games in 2002 and 2007. Seven of them still have starting jobs, today. Only three of them have Super Bowl victories. If those trends don't increase with the increasing youth movement, we should only expect five or six of 2012's young guns to still have jobs in 5-10 years, and if they're lucky, two will have championships.
There are words we associate with the search for elite quarterbacks: experience, presence, poise under pressure. But perhaps that verbiage should change.
As the faces grow younger beneath the facemasks and under center, and the search continues, experience, presence, and poise gives way to the dangers of expectation …promise…potential.
Original Story:
http://www.straitpinkie.com/sports/pr...
THE BACKYARD
BEST OF MAXIM
RELATED ARTICLES
Vince Young is using the Eddie Murphy RAW excuse in dealing with his lockout loan lawsuit. He is basically saying…. "IT WASN'T ME…" His defense on why he shouldn't pay the money back is because he didn't take out the loan and someone pretending to be him took out the loan in his name. Right………………….. In papers filed in New York State Supreme...
Vince Young is seeking a protective court order to stop a company from collecting nearly $1.7 million on a loan the Buffalo quarterback says he has no knowledge of ever taking out. In papers filed in New York State Supreme Court in Manhattan on Monday, Young says he has never dealt with the loan company, Pro Player Funding. He adds, he doesn't recall agreeing to or signing documents...
AP According to the Associated Press via Black Sports Online, the bill collectors that have been trying to collect the lockout loan that Buffalo Bills quarterback Vince Young took out last season attempted to serve him lawsuit papers at training camp. Here's the story from the AP: In papers filed in New York State Supreme Court in Manhattan on Monday, Young said he never dealt...
1. The backup quarterback competition is over. Vince Young made at least one, possibly multiple impressive plays during Friday's game, which was enough to distance himself from Tyler Thigpen for the number two quarterback job. Young's most notable contribution was a 64-yard bomb to rookie receiver T.J. Graham in the third quarter. Thigpen, on the other hand, threw an interception...
Rookie Cordy Glenn has won the Bills' starting left tackle job. The second-round pick has received the bulks of the snaps over Erik Pears with Chris Hairston moved to right tackle. Glenn played guard and tackle at Georgia, starting 50 games of the 53 in which he played. Some scouts viewed him as a better prospect inside, but Buffalo drafted him with the intention of playing...
A few months ago, Matthew Stewart and I had a lively discussion about whether the Vince Young signing would create a QB controversy. We went back and forth for a bit and at one point, Matthew made a great point about Young. I'm paraphrasing, but it went something like this: "Buffalo loves athletes who are famous. Young sucks but he's famous. That's why we are...
NFL News

Delivered to your inbox

You'll also receive Yardbarker's daily Top 10, featuring the best sports stories from around the web. Customize your newsletter to get articles on your favorite sports and teams. And the best part? It's free!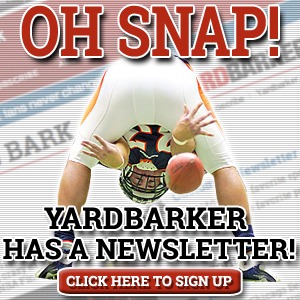 Latest Rumors
The Backyard

Today's Best Stuff

For Bloggers

Join the Yardbarker Network for more promotion, traffic, and money.

Company Info

Help

What is Yardbarker?

Yardbarker is the largest network of sports blogs and pro athlete blogs on the web. This site is the hub of the Yardbarker Network, where our editors and algorithms curate the best sports content from our network and beyond.