If you've ever walked out of a casino penniless you've likely felt Gambler's Regret.  You look back on what just happened trying to pinpoint where it all went wrong.  Maybe you were up a little bit at some point and thought about leaving, but ultimately pushed your luck a bit too far.  Maybe you played perfect strategy at a table, but then the dealer turned over a brutal card and you went broke.  Maybe that damned slot machine just kept missing by one reel.  Maybe it just wasn't your night and you should have stayed home.  Whatever it was that caused it, all gamblers have felt it. First things first, I can't count.  Obviously.  We've covered this ground before.  I was 6-6-1 last week, not 6-5-1.  I missed a game when I added up the record, so I was officially still at exactly .500 (37-37-3) before the Week Six picks kicked in.  However, after Week Six, I am not .500.  In fact, I'm not really even that close. Again.  Bad week.  Bad, bad 4-7-2 week… Pick that was so easy I shouldn't really get credit for it: BEARS (-1) over Vikings.  The line settled at Chicago (-3), but still… this one was a layup.  This was the biggest overreaction line I've seen in quite awhile – both teams were coming off of their most extreme performances of the year to date, Chicago in a loss, Minnesota in a win.  The betting reflected that; I have no idea how Chicago wasn't at least a seven-point favorite. Pick I screwed up so badly that in hindsight it almost looks like I was picking the other team: Saints (-4.5) over BUCS:  The line actually posted at Bodog at Saints (-7) which is where I got in on it; it was being withheld when I wrote the picks on Thursday.  Thanks to Sean Payton getting Paterno'd on the sideline, the New Orleans offense stumbled through the game, and the Saints never had a chance.  Three Drew Brees INTs, including the completely inexcusable last one (in the end zone, with an unbelievably wide open Robert Meachem on the other side of the field – 25 second mark, top of the end zone) didn't help the Saints' cause.  And they certainly didn't help mine, as my "big bet" of the week was a 300-unit bet on a three-way money line (just winners) parlay paying about 3/2: Patriots, Raiders, Saints.  Awesome. Moment that had Las Vegas Sportsbooks EXPLODING:  It actually came on Saturday, in the South Carolina/Mississippi State, um… slugfest?  Sure, why not.  Anyway, Sakerlina came into the game as three point favorites and held a 14-10 lead with a fourth down from their own 9-yard line and enough time for one snap.  A kneeldown would have stopped the clock and given the ball over on downs.  A punt would have allowed a chance for a runback or a fair catch and hail mary.  So the Gamecocks did the only smart thing – took the snap, ran around for a couple seconds, then ran out of the end zone for a safety. The play ran out the entire remaining clock, and gave Mississippi State one of the most ridiculous backdoor covers you'll ever see. This is why we can't have nice things: Not only because Sean Payton got Paterno'd and killed the Saints' offense (as well as two of my parlays and one teaser), but also because Ron Zook is a horrible person who should not be in charge of anything more complex than an office water cooler.  Saturday morning, I had set up a beautiful 5-team parlay – all spreads, which pay off higher – with Michigan State (-1.5), Miami (+3), Auburn (+2), Clemson (-9), and Oklahoma State (-8.5)… and then I decided that there was no way that Illinois could lose to Ohio State, at home.  In fact, I managed to convince myself that the jump from about a 25/1 payout to almost a 50/1 payout was worth taking Illinois (-3.5)…  And so, the Zooker only actually "cost" me a 50-unit bet, but the loss deprived me of a 2,500-unit payout.  Also known as "enough of a win to cash out for a couple weeks" This is why we can't have nice things – Part Deux: (Updated after MNF) So… I tried to cover my ass with two bets on the Jets/Dolphins game.  Jets (-7) seemed like a mortal lock.  But I don't trust my instincts nearly enough, so I got fancy.  I already had a 6-point double teaser on both the Jets (down to -1) and the Dolphins (up to +13).  Like I said, this felt like a 27-16 game to me.  I gave Miami far too much credit.  I hammered a 7-point teaser on the Jets (down to a Pick-Em)… and the Over (down to 35.5).  And then I watched as the Miami Dolphins stopped giving a **** about winning the game somewhere between "Land of the Free" and "Home of the Brave".  I actually spent the fourth quarter praying for the Jets to either slip into a prevent defense and give up the cheap TD, or keep playing tough and take one back for a pick six. I got neither.  Those two "CYA" bets on Monday Night would have returned about 400-units combined – 90 on the double teaser, 300 on the Jets and the Over.  Would have been enough for me to just call it a bad week, and not an apocalyptic one.  So, the final tally for the week: 31 bets placed. 4 bets won (including a 6/1, 3-team college parlay with FSU, OKSt and Auburn), and yet I still managed to lose more than 2/3 of my entire season's bankroll.  Essentially, The Saints, Dolphins and Ron Zook have now made my 2011 **** list.  I'm thinking next week might just be one, single, massive bet on a two-team parlay or teaser.  Win big or walk away. Line I wrote that I wish I could delete from the Interwebs: From LIONS (-4.5) over 49ers: "Although Detroit has the short week, I still like them to win this game easily – San Fran still hasn't really beaten a good team yet, and they could easily be looking ahead to the bye week."  Mea Culpa, CBH.  You were absolutely right.  I overlooked the Niners, and overvalued the Lions because I had seen more of their games.  It won't happen again. (NOTE: It will almost definitely happen again.) Line I wrote that I should probably pat myself on the back for:  From BENGALS (-7) over Colts: "Don't look now, but Cincy just might be an 8-8 team this year.  Which is probably the biggest NFL upset of 2011 so far." If the playoffs started today, the Bengals would be tied with the Bills, Steelers and Raiders for the two AFC Wild Card spots.  Three of those teams weren't expected to even be anywhere near a .500 record this season.  Now they all have legitimate playoff dreams.  I love the NFL. Holy Crap – was that an accurate prediction!? Only one writer correctly picked the Packers as the last undefeated NFL team (/ NotSoHumbleBrag). Three people had Miami as their "Last Team to get a win", while none had the Colts or Rams.  Seems like it's going to be a lot longer before we determine which team will be holding that distinction…  Miami's best (and probably last) chance to get a win is actually this coming week when the Broncos come to town.  Indy still gets to play Jacksonville twice, while the Rams still have the Browns, Bengals, and all six NFC West Divisional games on their schedule… My best guess for 0-16 is… your Miami Dolphins!  Trey must be proud. Real life moment that crushed my fantasy hopes and dreams: Pending whatever Plaxico Burress did last night (it's 5:30p on Monday afternoon as I write this), I either went 2-2 or 3-1 in fantasy leagues this week.  But no matter what, the one guaranteed fantasy loss was avoidable if not for a last minute switch (and a complete overreaction on my part).  I had to choose between the Vikings and Bears defenses for their Sunday Night football game.  I had the Bears as my starting defense all week, and for most of the day Sunday.  As the day progressed, I got more and more worried about not hearing any updates about Julius Peppers' health, so after seeing the Detroit Lions shred the Bears' offensive line last week, I took the chance that Jared Allen could do the same.  Well, the Vikings are not the Lions, Peppers started (and had a great game), and the Bears D outscored the Vikings D by a score of 17-2.  I lost that match-up by 4 points. Snap Judgment of the week, #1:  Either Kyle Orton or Carson Palmer is going to look strange in the Raiders' silver and black next week.  UPDATE:  Looks like it's Palmer… for one and possibly two first round picks?? That might just be the most Raiders trade that ever happened.  I suppose it could have been worse.  It could have been Vince Young… And, leave it to ESPN to be all over both sides of the story, so as to be certain that at least one report will be right… Snap Judgment of the week, #2: There are three early lines for Week 7 that I would like to get on immediately: Pittsburgh (-4) at ARIZONA, TAMPA BAY (+1) "hosting" the Bears in London, and DETROIT (-4) hosting Atlanta.  All three of those feel like I'm missing something. Snap Judgement of the week, #3: Is it possible that the Patriots actually have a defense?  Or did the Cowboys just roll out the red carpet with their penultimate drive on Sunday?  How do you run it into the middle of the line three straight times against a defense that couldn't stop a pass with fifteen men on the field? Snap Judgement of the week, #4: I am not about to dismiss the Saints after that loss.  They're still one of the three or four best teams in the NFC – I firmly believe that if Sean Payton had been coaching on the sidelines instead of watching from the locker room, they would have won that game. Snap Judgement of the week, #5: ESPN has gotten royally screwed over this year with the Monday Night Football schedule.  Seriously – who pissed off Goodell over in Bristol?  Next week we get Baltimore at Jacksonville… yikes.  Going forward, Weeks 9, 12, 15 & 16 might be decent on Monday.  Somehow, Jacksonville got two home MNF games this season… against the Ravens and Chargers.  Must be showcasing them for LA. PatPhish vs. Big D Weekly "I Bet You" Update: Perhaps unsurprisingly, Pat took the week off with a vacation up North, leading to no bets on Sunday as he had to "catch a flight".  I'm sure he was just afraid of getting his ass whooped in back to back weeks.  I was thinking about proposing a "How many teeth will Pat knock out of Dolphins' fans mouths at dinner on Monday Night" Over/Under prop, but then I remembered that most Dolphins fans don't have any teeth.
Original Story:
http://www.thevictoryformation.com/20...
MORE FROM YARDBARKER
NFL News

Delivered to your inbox

You'll also receive Yardbarker's daily Top 10, featuring the best sports stories from around the web. Customize your newsletter to get articles on your favorite sports and teams. And the best part? It's free!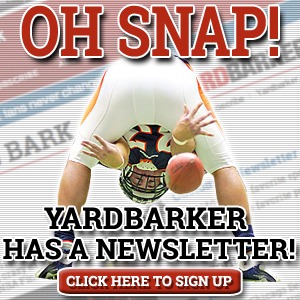 Latest Rumors
Best of Yardbarker

Today's Best Stuff

For Bloggers

Join the Yardbarker Network for more promotion, traffic, and money.

Company Info

Help

What is Yardbarker?

Yardbarker is the largest network of sports blogs and pro athlete blogs on the web. This site is the hub of the Yardbarker Network, where our editors and algorithms curate the best sports content from our network and beyond.