Found March 18, 2012 on SteelerAddicts:
Before we get on to the topic at hand we should note that with the 49ers signing of free agent Mario Manningham, there isn't much left for the Steelers Mike Wallace.  The hoopla at the start of free agency, with all the suitors that he would have banging down his door at 4pm on March 13th;  is all just an afterthought now. The Steelers appear, for the time being at least, pretty comfortable with the situation as it is with him.  He'll sign his first round tender at some point and with any luck they'll be able to get a long term deal done with him before training camp is over. Everybody knows the Steelers are never big players in free agency and most are pretty content with that mindset. They always keep their eyes on the market for value and depth though and this year is no different.  Even if they don't have much cap room to lure in outside prospects, there is one guy they should be prioritizing,  and that's Jerricho.  They've talked with Cotchery's agent and both sides ...
Original Story:
http://www.steeleraddicts.com/2012/03...
THE BACKYARD
BEST OF MAXIM
RELATED ARTICLES
Steelers Free Agent Wide Receiver Jerricho Cotchery has a meeting scheduled with the Kansas City Chiefs.  The meeting will hold place over Monday and Tuesday of next week.  The Chiefs have been big players in free agency this year.  They have been upgrading their offense in all aspects.  They brought in Free Agent Tackle Eric Winston to sure up the offensive line.  They also...
By Jeremy Hritz We are moving closer to the NFL Draft, and closer to the conclusion to the Mike Wallace speculation. Once Wallace signs his tender or new contract with the Steelers, or once he signs with another team, the direction of the Steelers in the draft will become clearer. For now, considering all of the releases, other roster moves, and external factors such as player visits...
Quarterback Peyton Manning has now handed out his free agent bachelor rose to the Denver Broncos, and with the flurry off big named free agency signings now behind us, the full force speculation will now turn back to Pittsburgh Steelers restricted free agent wide receiver Mike Wallace, and if the Broncos will pursue him with a large front loaded offer sheet and their first round...
As many of you probably know, Mike Wallace is a restricted free agent. The Steelers and their fans love this guy, and they won't him to stay in Pittsburgh, but it's still possible for a team to swoop in and sign him. The downside for that team is that it would cost them a first round pick. As Alfie Crow correctly pointed out at BCC, the compensatory pick that is given to...
By Cian Fahey After the San Francisco 49ers took a flier on Randy Moss early on in free agency, and now the New England Patriots now signing Brandon Lloyd, the Pittsburgh Steelers are all but certain to retain Mike Wallace for the coming season at his lowest RFA salary. Now the focus for the Steelers shifts from the immediate future, to locking Wallace up for the long-term. Many...
The Steelers have tendered restricted free agent Mike Wallace a sizeable chunk of money with a 2.7 million dollar offer that i hope leads to Mike getting a deal done. The Steelers really need Mike, because he's got the one thing you can't coach, speed. You are right when you say that Mike needs to [...]
The Mike Wallace market looked to get a little slimmer yesterday.  The New England Patriots and San Francisco 49ers both signed free agent Wide Receivers.  That should fill both of their rosters at Wide Receiver.  Adding Wallace to either team could cause a log jam at the position. The Patriots signed Brandon Lloyd yesterday.  Lloyd wanted to remain with Josh McDaniels who is...
According to Peter King of SI.com, if the San Francisco 49ers end up losing quarterback Alex Smith in free agency, they would end up saving about $8 million dollars in cap room.  In that case they might decide to go after Pittsburgh Steelers restricted free agent wide receiver Mike Wallace. The 49ers would likely have to pay Wallace around $8 million a season and give up the 30th...
The Pittsburgh Steelers and WR Mike Wallace have had a nice partnership for the past three seasons.  The Steelers took Wallace in the third round (84thoverall pick) of the 2009 NFL Draft, a pick that has proven to be a wise one.   In his rookie season, Wallace led the league with a 19.4 yards-per-catch average.  He totaled 756 yards and 6 TDs on 39 receptions.  The Mississippi...
Alfie Crow at BCC pointed out today that a team cannot trade down in the first round and use that new, lower pick to compensate the Steelers for Mike Wallace. Compensation must be with the signing team's highest original first round pick.
I do not hink so but the second to last scenario that I think could happen with Mike Wallace has finally come about.  I was wandering where Peyton would sign and how it could affect Wallace.  Peyton has chosen to go to Denver according to ESPN's Adam Schefter.  Of the three teams that Peyton was looking to join I thought Denver would be the least likely that Wallace would consider...
The Denver Broncos convinced Peyton Manning to choose signing with them over the Tennessee Titans, San Francisco 49ers and countless other teams who pursued the future Hall of Fame quarterback. John Elway has demonstrated that he is all in for the team to get back to the Super Bowl, as they made a tremendous upgrade at the most important position on the field. This is...
NFL News

Delivered to your inbox

You'll also receive Yardbarker's daily Top 10, featuring the best sports stories from around the web. Customize your newsletter to get articles on your favorite sports and teams. And the best part? It's free!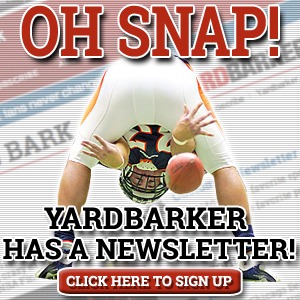 Latest Rumors
Best of Yardbarker

Today's Best Stuff

For Bloggers

Join the Yardbarker Network for more promotion, traffic, and money.

Company Info

Help

What is Yardbarker?

Yardbarker is the largest network of sports blogs and pro athlete blogs on the web. This site is the hub of the Yardbarker Network, where our editors and algorithms curate the best sports content from our network and beyond.