Found November 13, 2011 on Boston's Bettah:
PLAYERS:
Rob Gronkowski
,
Tony Dungy
,
Zoltan Mesko
,
Rex Ryan
,
Mark Sanchez
,
Tom Brady
,
Nick Folk
,
Brian Waters
,
Chad Ochocinco
,
Kyle Wilson
,
Deion Branch
,
Andre Carter
,
Bill Belichick
,
Devin McCourty
,
Plaxico Burress
,
Joe McKnight
,
Donald Strickland
,
Bon Jovi
,
Danny Woodhead
TEAMS:
New England Patriots
,
New York Jets
Rob Gronkowski was a star for the Patriots offense tonight It's the Patriots vs. the Jets. It's a battle for the AFC East. The Patriots are reeling, the Jets are streaking, and everyone thinks that the Patriots are coming to an end. You know what that means? That's right! It's time for a running diary! Let's see what transpired: 8:16- Welcome Live to Potomac Dorm 448, or as myself and the roommates have started calling it "The 4-4-8". It gives us street cred or something along those lines. I don't know, it just sounds cool. Anyway let's get to something that matters, the football game. I'm alone right now. Sully's with his family for his father's birthday and Will, well I actually haven't seen Will all day. I hope he's okay, but not really because I don't really want to watch the game with a Jets fan. 8:20- The most underrated invention in sports might be this Sunday Night Extra Web Program. Instead of having to suffer through the ghost of Tony Dungy on "Football night in America", I can go on the internet and watch Zoltan Mesko hit warm-up punts from the cable cam. He better keep practicing. I have a feeling field position will be huge in this game. Just don't call a fake punt please. 8:23- I still friggen' hate the Sunday Night Football theme song. No amount of "Sunday Night Extra" can prevent me from hearing this song. Only the mute button can save me. It would be at this point where Sully will tell me "Hey, I actually like this song" to which I would smack him across the face and tell him to shut-up. 8:26- Cable cam update. Rex Ryan looks hungry. I hope for Mark Sanchez's sake he doesn't start throwing interceptions. Jabba might feast on one of his thighs. 8:28- Does anyone else realize that everybody is picking the Jets tonight? First of all, I don't understand this at all. Yes, the Patriots aren't playing well, but it's not like their getting blown out or something. They just aren't really executing. That's not the important part. The important part is that we are finally the "Nobody believes in us!" team! This hasn't happened since 2006! I like it! We are the underdogs again! Tom Brady is totally going into 'eff you mode tonight. Just watch. 8:32- Kickoff. Okay, I'm actually kind of nervous. That kick-off didn't help matters either. 8:34- Remember when I said In the first game that the Jets didn't throw the ball enough against the Patriots? They unfortunately listened to me. Three of their first four plays are passes and all three went for a first down. Somebody get me a drink. 8:36- Holy **** an incomplete pass for the Jets. Even better, it was forced by good coverage! We can build on this! 8:37- Holy ****, another incomplete pass. These are new things. I find it sad that I have to get excited over incomplete passes. 8:38- And Nick Folk shanks it left! "Bend but don't break" never fails! When did Kyle Brotzman and Nick Folk switch uniforms? 8:41- Brian Waters down. We can't really afford any more injuries to our offensive line, especially considering that waters has been our best one so far. 8:45- Holy ****, it's a Chad Ochocinco sighting! How many times will I start a sentence with "Holy *******? We are at three right now. I'm setting the over/under at 6.5. 8:47- A too many men on the field for the Patriots puts us in a 3rd and 17 and then Kyle Wilson drops a sure interception, bailing out Tom Brady who badly under threw Deion Branch. Stephen nails a 50 yarder for the lead. This start could have been about 549 times worse. 8:53-Our defense has so many no names on it, that two of our players on the "Starting defenses" video didn't actually have videos to go along with it. 8:55- Andre Carter sacks Sanchez on third down. Holy ****, we forced a punt! We are now at 4 holy *****. I feel like I set that over/under too low. 8:59- Holy ****, another Chad Ochocinco sighting! That over/under was definitely set too low, like I care. Chad's alive! 9:03- Unfortunately, the drive stalled in the red-zone again. Thankfully, our kicker isn't from Boise St and can actually hit field goals. Too soon? 6-0 Patriots. 9:07- We have two sacks, our defense looks respectable. I can't tell if our defense is better or the Jets just suck at offense. Maybe it's a little of both.  End of the first quarter. 9:19- Thank god our defense is playing well and Chad Ochocinco is alive because the offense simply isn't executing right now. Tom Brady just threw into triple coverage for god's sake. 9:26- The Patriot's defense is getting after Mark Sanchez tonight. They just forced Sanchez into an intentional grounding then forcing another sack. As the great Will Brower would say, "I LIKE IT!" 9:33- Another poor possession for the New England Patriots. I don't like it. I feel like we are playing so much better than the Jets right now, yet it's only a 6-0 game. This feels like the playoff game again. If Mark Sanchez turns it on in the second half and Bill Belichick fakes a punt, I'm turning the game off. I'll know how it ends. 9:35- Somehow, Tom Brady has 129 yards passing. This was confusing to me, but then I realized that Chad Ochocinco has 65 yards. 9:37- Devin McCourty takes a shot from Moore as the both try to make a play on Plaxico Burress. We don't really need any more secondary injuries. Not at all. 9:44- Brady commits intentional grounding in our own end-zone. That means safety and that means WHAT THE **** ARE WE DOING! What is going on? This is now three weeks in a row that our offense is looking like absolute dog-****. I don't understand. I need a beer. 9:48- Now the Jets are finally pushing the ball up the field. I hate everything. It's only the second quarter. I might not make it the fourth quarter. 9:54- Okay, another bend but don't break, please? 9:57- Nope, QB Draw Mark Sanchez. Touchdown Jets. ****. 10:01- Finally, Revis gets called for holding Welker. He's been attacking him all night. This actually looks like a good drive for the Patriots. 10:02- And then Gronk fumbles the ball away. Fantastic. Actually after further review, he might be down by contact. I hope he's down by contact. 10:05- Down by contact. Thank the great Tim Thomas. 10:07- TOUCHDOWN GRONK! Our offense finally puts together a good drive and puts points on the board. Key to that drive? Tom Brady looked comfortable for the first time this game. Huge reason for the drive. You know what's even better? We get the ball back at the start of the half. Suddenly, I don't feel nearly as terrible. 10:09- Text from Sully, "Can our offense run the two-minute drill every time"? We might be on to something here. It's clear our offense plays better in the final two minutes. It's been the same thing for the past three weeks. 10:12- So I don't know how to gauge that first half. Offensively, except for the final drive of the first half, we sucked. Flat out couldn't get anything done. Defensively, we were pretty solid except for the Jets one scoring drive. Therefore, I will call it "okay" we have to be better. 10:35- Three and out for the Patriots, three and out for the Jets, three and out for the Patriots. Hey, if this keeps up, we do technically win. 10:36- Joe McKnight fumbles the punt then three different players on the Jets touch the ball but none of them come up with it and the Patriots have it! Huge change in momentum right there. We need points out of this. 10:38- That may have been one of the greatest plays I have ever seen Brady make. Everyone always says that Brady can't scramble, but he is one of the best in the league at moving in the pocket. That touchdown toss just proved it. Avoided the blind-side rusher, stepped too his left, had nothing, stepped back to his right, planted and found his target in the back of the end-zone, all while keeping his eyes looking downfield. Kids, take notes. That's pocket presence. On top of that, that's a huge score for the Patriots. That was just a fantastic, fantastic play. I'm giddy. 10:42- But then on top of that, it's illegal touching on Gronkowski. So what happened to the penalty? Doesn't that get enforced? Dammit. 10:43- Dammit, dammit, dammit, dammit. Now we have to settle for a field goal. At least we got something. 10:46- I don't think that takes away the fact that was one of the best plays Brady has ever made. 10:49- Tip drill. Football pinballs off Greene and then off Mayo and lands in Ninkovich outstretched arms. Let's get another touchdown. Defensively, the Jets might just be bad on offense. This game feels a lot like the first game between these two teams. Offense slowly gaining confidence, defense playing well and the Jets offense just being awful. I like it. 10:50- Jets are back-pedaling against the no huddle offense. Attack, attack, attack! 10:53- Rob Gronkowski boxes out Donald Strickland and makes up for the illegal touching with a touchdown.  Just nasty. I would like to thank whoever hurt Gronk's back at Arizona for letting him fall to the 2nd round for about the 1000th time. 10:58- Hey NBC, we didn't give you the rights to use the George Mason theme song when going back to commercial. I don't care if Bon Jovi is from Jersey. That's our song. Here's a random stat though: Brady is 11-15 with 2 TD's since starting the game 7-16. Also, I don't think we've heard from Chad since his big catches early on. 11:03- Hey look what I found guys! It's the New York Jets offense. Only took them like three-quarters to figure it out.  It's okay to make jokes like that. I root for the Patriots defense. 11:05- Is that another defensive back down? James "I have to look up how to spell your name" Ihedigbo is the one down. Does Chad Ochocinco have to get ready to play defense? 11:09- Apparently we have something called a Rusty Benson at safety. I don't know who or what a Rusty Benson is but I'm telling you it's either a fifth string defensive back or a porn star and nothing in between. 11:11- Touchdown Jets and now it's a seven point game. Time to put together a clinching drive. 11:14- Is that a Danny Woodhead sighting? Definitely don't need to call my doctor, but little Danny Woodhead is there. 11:20- Big third down conversion coming up here. 11:22- Blitz coming, Brady gets it off and… caught Welker. Good for another Patriots FIRST! DOWN! Huge conversion. Just punch it in. 11:23- And there it is. Touchdown Deion Branch. I missed this Tom Brady. Remember this Tom Brady that was wrecking teams for the first half of the season? Well he's back and it's awesome. I told you he would go into 'eff you mode. NOBODY BELIEVES IN US! 11:27- Sully over Facebook: "You realize that people might start believing in us again?" NO! Talking heads! I beg of you! Keep talking ****! Things are better that way! 11:31- Damn almost another Vince interception… wait NINKOVICH PICK SIX! NASTY! Go home Jets! 11:32- Chris Colinsworth just summed it up perfectly: "These linebackers and defensive backs simply got it done in championship moments". And that's been the key for this night, right? All week long we have heard about how the Patriots defense couldn't stop a team of pop-warner kids and that there was a blue-print to stopping the Patriots offense. The Patriots were the team struggling, the dark times for Brady and Belichick were coming and that Mark Sanchez and the New York Jets were about to take over the AFC East. Well what happened tonight? The Patriots defense did what it does best. Bend but don't break, and force turnovers when we need them. On top of that, the Patriots finally got something they haven't gotten all season, a pass rush. They forced Sanchez to hurry and the linebackers and defensive backs stepped up and covered guys. Finally, the Patriots offense struggled early, but found itself in the second half. Just in the nick of time too. We were almost at a point where Patriots fans had to legitimately question whether we had been figured out or not. It turns out that perhaps we haven't. Maybe they went into the locker room at halftime and asked themselves "what the hell is going on"? Maybe they smacked themselves around and said "Let's go". The New England Patriots came back out and returned to their great form from the beginning of the season. There was Gronk, boxing guys out and working down the field. There was Welker, fighting off Revis all day and still coming down with six catches. There was the offensive line, giving Tom Brady all day to throw the ball. Most importantly, Tom ******* Brady returned. He controlled the game, sliced the Jets defense and was the great efficient quarterback that we all know and love. I couldn't be happier. 11:40- Andre Carter. Four sacks. I'm not going to lie, I didn't realize that he had that many sacks tonight. Playing like an absolute beast. 11:41- Four and a half sacks. That's actually a franchise record. Who knew? 11:44- Patriots go for it on fourth down but it doesn't really matter. We are going to be 6-3. For the first time in three weeks, I can sleep well on a Sunday night. ~Benti
Original Story:
http://www.bostonsbettah.com/?p=3529
THE BACKYARD
BEST OF MAXIM
RELATED ARTICLES
Tight ends historically find success against the Jets. They just do. And last night was no exception. The Patriots' Rob Gronkowski just did. Gronkowski tortured the Jets, hauling in eight receptions from Tom Brady for 113 yards and two touchdowns. And the second year, 265-pounder from Arizona saw a third...
EAST RUTHERFORD, N.J. (AP) Tom Brady threw three touchdown passes, including two to Rob Gronkowski , and the New England Patriots took control of the AFC East with a convincing 37-16 victory over the New York Jets on Sunday night.
By Paul Kenyon Tom Brady hit Rob Gronkowski with a 18-yard touchdown pass with nine seconds left in the first half to lift New England to a 13-9 lead over the Jets at the break Sunday night at MetLife Stadium.. The Pats marched 80 yards in six plays after the Jets had scored the game's first touchdown with 1:20 left. A 23-yard pass from Brady to Gronkowski brought the ball into...
Two straight losses were too many for Tom Brady. He and the New England Patriots weren't used to struggling or hearing people wondering if they're no longer the powerhouse they've been for years. Well, just like that, they're back in a familiar spot: all alone at the top of the AFC East. Brady threw three touchdown passes, including two to Rob Gronkowski, and the...
Rob Gronkowski caught his second touchdown pass from Tom Brady to give the New England Patriots a 23-9 lead through three quarters over the New York Jets in their AFC East showdown Sunday night.
Rob Gronkowski From the NBC SNF Facebook page The Patriots did not step onto the field in a great place.  Their defense was last in the league, and they had some key people out- S Patrick Chung, LBs Brandon Spikes, Gary Guyton and Dane Fletcher.  The last thing the Patriots needed was to be thin at secondary.  Things didn't get much better during the game, either.  CB Devin...
Tom Brady threw three touchdown passes, including two to Rob Gronkowski, and the New England Patriots took control of the AFC East with a convincing 37-16 victory over the New York Jets on Sunday night. After the Jets got within a score at 23-16 early in the fourth quarter, Brady coolly led the Patriots (6-3) down the field on an 84-yard drive that was capped by an 8-yard touchdown...
Tom Brady's late touchdown pass to Rob Gronkowski gave the New England Patriots a 13-9 halftime lead over the New York Jets on Sunday night in an AFC East showdown. With Buffalo losing earlier in the day, the winner will have sole possession of the top spot in the AFC East. All three teams entered Sunday at 5-3, with the Jets having won three in a row and the Patriots dropping their past two.
Here are some Patriots who were studs in their Week 10 victory over the New York Jets, and some who were more of a dud.StudsTE Rob Gronkowski. Gronk has really become a force at the tight end position. Tom Brady targeted him 11 times and connected with him 8 times for 118 yards and 2 touchdowns. The connections were also meaningful connections, of course the two touchdowns and several...
Tom Brady threw three touchdown passes, including two to Rob Gronkowski, and the New England Patriots took control of the AFC East with a convincing 37-16 victory against the New York Jets on Sunday night.
EAST RUTHERFORD, N.J. (AP) - Tom Brady's late touchdown pass to Rob Gronkowski gave the New England Patriots a 13-9 halftime lead over the New York Jets on Sunday night in an AFC East showdown.With Buffalo losing earlier in the day, the winner will have sole possession of the top ...
Admittedly, we were worried. Last week, we went over every possible fault the Patriots have and thought that maybe this was it for the 2011 season. Tom Brady single-handedly brought us off the ledge with a performance reminiscent of 2006, when he had to be perfect. He wasn't perfect statistically, but in form, he was stellar. He stood in the pocket and refused to let the Jets...
NFL News

Delivered to your inbox

You'll also receive Yardbarker's daily Top 10, featuring the best sports stories from around the web. Customize your newsletter to get articles on your favorite sports and teams. And the best part? It's free!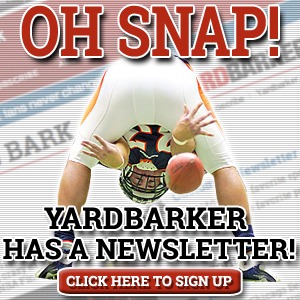 Latest Rumors
Best of Yardbarker

Today's Best Stuff

For Bloggers

Join the Yardbarker Network for more promotion, traffic, and money.

Company Info

Help

What is Yardbarker?

Yardbarker is the largest network of sports blogs and pro athlete blogs on the web. This site is the hub of the Yardbarker Network, where our editors and algorithms curate the best sports content from our network and beyond.