Found August 28, 2012 on State of the Texans:
PLAYERS:
Wade Phillips
,
Owen Daniels
,
Garrett Graham
,
James Casey
,
T.J. Yates
,
Drew Brees
,
Trindon Holliday
,
Matt Schaub
,
J.J. Watt
,
Brian Cushing
,
Shaun Cody
,
Glover Quin
,
Jesse Nading
,
Shayne Graham
,
Donnie Jones
,
Sherrick McManis
TEAMS:
Houston Texans
,
New Orleans Saints
NEW ORLEANS – The third pre-season game against the perennial NFC power New Orleans Saints featured the starters through the entire first half.  It was a matchup that most considered a major test for the Texans' pass rush and secondary.  However, prior to the game, Wade Phillips made it known there would be no blitzing and the defense would operate in its base "vanilla" package.  Phillips kept his word, however the Saints defense was not so kind sending several blitzes from defensive backs and getting ample pressure and sacks on the Texans' quarterbacks.
Offensive Player of the Game:
After one full half of play, the score was tied 24-24 but the statistical edge went to the Texans.  The Texans' ones had their way with the Saints' defense throughout the first half.  It appeared the Texans' three tight end set was open every time and I would venture to guess that if this was a regular season game, we would have seen a lot more of Owen Daniels, Garrett Graham and James Casey.
Coming into this season, there were a lot of fans calling for T.J. Yates to be the starter.  After Saturday night and Schaub's pre-season performances, that chatter should now stop.  Schaub has been on fire, making perfect reads, and throwing with above average accuracy.  Through the first half, Schaub led Drew Brees in all relevant statistical categories going 15 of 18 for 194 yards and 1 touchdown.  In fact, Schaub led an offense that outpaced the high-powered Saints' offense in total yards, passing yards, rushing yards, time of possession, and passer rating – if not for the Trindon Holliday fumble for a touchdown, the Texans would have won the half rather easily.
"I feel good, I'm ready to go.  Everything feels great.  I'm healthy, and just ready to go play Week 1," Schaub said after a stellar pre-season performance in New Orleans.  Schaub was 29 of 38 (76.3%) for 374 yards, 2 touchdowns, 1 interception, 1 sack and a 113.3 passer rating for the entire pre-season.  He will not play this Thursday against the Vikings.
For the reasons above and the notion that Schaub appears to be on a mission, Matt Schaub is the Offensive Player of the Game for the 3rd pre-season game.  Of course, others also performed well, most notably, Garrett Graham with his 4 receptions for 97 yards.  If Schaub can keep this up, it will be very difficult for teams to prepare.
Defensive Player of the Game:
The Texans' defense was tested early and often by Drew Brees and it was pretty clear that J.J. Watt, Brian Cushing and Shaun Cody in the middle were missed.  By not blitzing or pressuring Brees, the Texans' secondary was immediately at a disadvantage (see Texans secondary 2010).  With no sacks and no interceptions all night, it was difficult to find a player of the game for the defense.  Quite simply, no one player stood out, therefore there is no defensive player of the game.
However, it was good to see Glover Quin force and recover a fumble on a solid hit in the open field against the Saints' bigger back.  Then later in the game, Daniel Manning forced and recovered another fumble by stripping the ball carrier in an effort play.  Jesse Nading is a bubble player that is playing for his job and it showed the majority of the game by leading all Texans' tacklers with 7 total tackles. (6 solo,1 assist)
Special Teams Player of the Game:
As a group the special teams play was above average, and despite Trindon Holliday fumbling a kick off return, he was able to bounce back with a 62 yard return later in the game.  This is key to gaining confidence for him because right now Holliday is a high risk high reward player.  The kicking game continued its success as well, and Shayne Graham nailed a 53 yard field goal and is displaying a strong leg in his 11th NFL season.
However, it was punter Donnie Jones who earned this week's Special Teams Player of the Game.  Jones finished the game with 4 punts for 180 total yards (45.0 average) and a 62 yarder.  It was his end-over-end kick that dropped perfectly on the Saints 2 yard line, where Sherrick McManis stopped it from rolling into the end zone, that sealed the Player of the Game distinction.
Winning the special teams play is vital to the Texans success.  If Holliday, Jones and Graham can continue building on their pre-season play, look for this trio to win a few games for the Texans during the season.  Returning a punt for a long run, hitting a 50 yard field goal or stopping a punt on the opponents 2 yard line, will be back breakers for the opposition – watch this trio's contribution in 2012.
Original Story:
http://www.stateofthetexans.com/?p=7126
THE BACKYARD
BEST OF MAXIM
RELATED ARTICLES
Getty According to Jason La Canfora of CBSSports.com, the New Orleans Saints and tight end Jimmy Graham aren't close to getting a contract extension completed. With Gates well into his extension and Gronk and Hernandez locked up,market is set for Jimmy Graham, but nothing is close w/him and Saints — Jason La Canfora (@JasonLaCanfora) August 27, 2012 Graham has emerged as one...
The Saints reduced their roster by 15 to reach the roster limit of 75 players by 4 p.m. ET Monday. The transactions included termination of the contracts for vested veteran defensive tackle Remi Ayodele, a sixth-year pro who won a Super Bowl ring with the Saints, and ninth-year quarterback Luke McCown. The following players were waived: linebacker Aaron Tevis, center Brian Folkerts...
It was confirmed today by Head Coach Gary Kubiak that second year right tackle Derek Newton will be the starter heading into the 2012 Houston Texans campaign. Despite a camp battle with veteran Rashad Butler, it felt like Butler's poor play is what gave way to name Newton the week one starter. Newton did show some bright spots and some potential of being a good NFL football...
The New Orleans Saints practiced downtown on a sunny, 87-degree afternoon Tuesday, their minds not far from what was going on back home. The Saints (No. 9 in the AP Pro32) fled New Orleans on Monday with Hurricane Isaac building in the Gulf. The Bengals gave permission for them to practice on their grass field across the street from Paul Brown Stadium on Tuesday afternoon, after...
When the Saints reported for training camp in late July, they seemed to want nothing more than a fresh start after a rocky offseason that they were more than eager to put in their rearview mirror. After a bounty scandal that rocked the league and an allegation that general manager Mickey Loomis eavesdropped on opposing coaches from his booth in the Mercedes-Benz Superdome a decade...
Two stories have dominated the Saints' summer headlines. The word bounty has taken on negative connotations, stirring up images of Kurt Warner and Brett Favre to name a few, lying face down on the field, have been rocked by a New Orleans' defender, looking to make a few extra bucks. Gregg Williams, and to an extent depending on your point of view Sean Payton, have begrudged the...
Sunday night the Houston Texans reduced their active roster to 75 players after releasing and making other injury-related roster moves with 15 of their former employed. As always there was a mix of surprises and expected cuts. Season threatening/ending injuries always make the decision a bit easier for the coaches, so since four of the fifteen were walking wounded, the Texans coaches...
The Texans have had one of the best offensive lines in the league over the past few years, both in run blocking and pass protection, thanks, in large part, to their scheme and continuity. The scheme is still there, the famous Gary Kubiak zone blocking scheme brought over from Mike Shanahan and the Denver Broncos, where Kubiak was an offensive coordinator from 1995-2005, helping Shanahan...
With the New Orleans Saints hamstrung as a result of the Bounty-gate scandal, they're no longer the overwhelming favorites to win the NFC South. Sure, they have the offensive firepower to beat anyone in the league, but will their defense be able to hold up their end of the bargain? The young Carolina Panthers appear ready to make a run at the Saints, and the Atlanta Falcons head...
The Vikings are playing the Houston Texans, but the competition is more internal than external as final roster dreams will be made and shattered by performances Thursday night. We look at some of the numbers games that will be playing out on the Vikings' roster.
NFL News

Delivered to your inbox

You'll also receive Yardbarker's daily Top 10, featuring the best sports stories from around the web. Customize your newsletter to get articles on your favorite sports and teams. And the best part? It's free!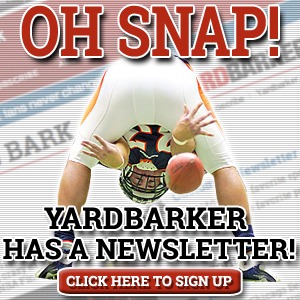 Latest Rumors
Best of Yardbarker

Today's Best Stuff

For Bloggers

Join the Yardbarker Network for more promotion, traffic, and money.

Company Info

Help

What is Yardbarker?

Yardbarker is the largest network of sports blogs and pro athlete blogs on the web. This site is the hub of the Yardbarker Network, where our editors and algorithms curate the best sports content from our network and beyond.