Found December 31, 2012 on Sportz Assassin:
PLAYERS:
Alfred Morris
,
Brian Orakpo
,
Trent Williams
,
Chris Chester
,
Will Montgomery
,
Kory Lichtensteiger
,
Tyler Polumbus
,
Kai Forbath
,
Billy Cundiff
,
Pierre Garcon
,
Santana Moss
,
Sean Taylor
TEAMS:
Washington Redskins
I've been a Redskins for most of my 37 years on Earth.  I started rooting for them as a 7 year old and haven't stopped.  Needless to say that I was a bit giddy watching my Redskins win the NFC East for the first time since 1999 ... when I was a young newlywed all of 24 years old.My wife got me a Griffin III jersey for Christmas.  She also got my 5 month old son and almost-three year old daughter jerseys too.  I have been proud to wear my Skins gear around for the last two months (I always wore it before, but would hear some taunts every now and then).  Of course, RG3 gets all the run.  The die-hards knew ... and the casual fans found out last night ... that Alfred Morris deserves a lot more credit than he gets.  The patchwork defense that lost Brian Orakpo, Adam Character and a slew of safeties early this season has become much more formidable of late.  Despite all the drops, the receivers were a big improvement over the past several seasons.But the two things I've noticed are two things that only die-hard Redskins will find joy in.  A healthy offensive line and a kicker who can actually make kicks.Maybe only the Redskins fans value the offensive line like they do.  Thirty years after The Hogs ruled the trenches, their impact is still all over the franchise.  They are beloved.  And despite the faces and the names changing, The Hogs are a moniker that may be owned by one era of linemen but are slapped on any Skins' really good line.The 2012 line may have not been elite ... or maybe not even that great.  However, they did block for the league's top rushing attack, where two rookies led the team in yardage.  More remarkable, this line stayed healthy for virtually all of the season.  Unreal!  The die-hards know that over the past several years, this line has been anchored by a bunch of aging veterans who would enter each season with a laundry list of ailments and a hot-shot youngster at left tackle that seems to stay in trouble.This year?  Trent Williams, Chris Chester, Will Montgomery, Kory Lichtensteiger and Tyler Polumbus has played virtually every snap together.  No real jumbling of the line.  No playing out of position.  No lack of continuity.  They've stayed on the field together and their zone blocking scheme has helped Morris break out to the 3rd highest rushing total for a rookie in NFL history ... and the top rushing season in Washington Redskins history.  With the names that preceeded Morris, that is quite a feat.  As you saw last night in Dallas, that line and rushing attack can be lethal.The other guy that's helped is Kai Forbath.  Forbath, who hadn't made a regular season squad since coming out of UCLA in 2011.  Forbath made his first 17 field goals in his career ... an NFL record.  That was a far cry from the Billy Cundiff era at the beginning of the season ... or the littany of bad kickers the Redskins have employed over the past decade.  We love our Mark Moseley!  Our Chip Lohmiller!  Our Ali Haji-Sheikh!  For me, it is rare that I feel confident when our kicker walks up to nail a field goal (even though he did knock one off the upright last night).  Unsung heroes, yes.  No one will roll with a Forbath jersey or a Lichtensteiger jersey.  There will be tons and tons of Griffin III jerseys like the one I just got with some of Morris, Orakpo, Pierre Garcon, Santana Moss or even London Fletcher sprinkled in (not to mention the Sean Taylor ones), but all those folks know how important those Redskins linemen have meant to this NFC East championship team.
Original Story:
http://sportzassassin2.blogspot.com/2...
THE BACKYARD
BEST OF MAXIM
RELATED ARTICLES
Redskins tailback Alfred Morris had the game of his life Sunday against Dallas. He finished the night with 200 yards and three touchdowns on a career-high 33 carries as Washington clinched its first division title in 13 years.Fantasy Spin:Morris really picked the wrong year to be a rookie. Just about any other season, Morris' 1,613 rushing yards (2nd in the NFL and also a Redskins...
On the legs of Alfred Morris, Skins claim first NFC East title since 1999. [Boz] Morris stat line: 33 carries, 200 yards, three TDs. Workhorse. [CSNW] Playing second fiddle for perhaps first time ever, RGIII delivered. [USAT] Redskins' Haslett calls great game, including blitz in 4th quarter. [Insider] Skins host Seattle next Sunday at 4:30 in Wild Card playoff game. Yep. [RR]...
Washington Redskins rookie running back Alfred Morris has broken Clinton Portis' franchise record for yards rushing in a season. Morris reached 1,524 yards for the season with a 10-yard gain in the third quarter against the Dallas Cowboys on Sunday night. Portis gained 1,516 yards on the ground in 2005. Morris was a sixth-round draft choice out of Florida Atlantic in this year...
Tonight, the Redskins hosted the Dallas Cowboys in a de-facto NFC East championship game, and the Robert Griffin III led team ground out a a victory, their seventh straight, to win the division for the first time since 1999. The Redskins didn't throw the ball all over the field, but Griffin was efficient when he was called on to throw. Alfred Morris led the Redskins' ground...
LANDOVER, Md. -- And the rookies shall lead them. Usual second banana Alfred Morris ran for three touchdowns and 200 yards, and quarterback Robert Griffin III rushed for another score as the Washington Redskins captured the NFC East championship with a 28-18 victory over the archrival Dallas Cowboys on Sunday night at raucous FedEx Field. Washington (10-6) won its seventh consecutive...
On a night when rookies Robert Griffin III and Alfred Morris led the Washington Redskins to the top of the NFC East, team owner Dan Snyder sought out a long-suffering veteran during the postgame celebration. ''He said you've known how it's felt around here the last seven years,'' defensive lineman Kedric Golston said. ''So this is a sweet time.'...
Handing out labels following Skins games. Today, a 28-18 victory over Dallas. Winners Alfred Morris — That was one of the great games in NFL history. Two hundred yards and three touchdowns in a division championship game against Dallas. It was the most rushing yards in a game by a Redskins rookie, and gives him a) the most yards in a season by a Redskins running back, b) the third...
Now that the fake football season has come to an end, the team here at the Fix chimes in with our annual "End of Season Awards" In part one, we looked at the biggest bust, waiver wire pickup of the year, biggest injury and "Mr. Reliable." Here in part two, we will name the "biggest tease", "rookie of the year", "MVP" and an early top ten for 2013.    Biggest...
Robert Griffin III and Alfred Morris needed only four months to put the Washington Redskins in a place they haven't been this millennium - on top of the NFC East. Led by a pair of rookies serenaded loudly and lovingly as ''R-G-3!'' and ''Al-fred Mor-ris!,'' the Redskins claimed their first division title since 1999, beating the archrival Dallas...
Alfred Morris did a lot of celebrating in 2012, as he danced into the end zone for 10 touchdowns through 15 games. His fantasy owners were celebrating, too. (AP Photo/Rick Osentoski) Every year fantasy fanatics make two lists: sleepers and busts. But how many of those people re-visit those lists? 2012 certainly paid off for those who took a shot on a rookie, with running backs like...
Redskins News

Delivered to your inbox

You'll also receive Yardbarker's daily Top 10, featuring the best sports stories from around the web. Customize your newsletter to get articles on your favorite sports and teams. And the best part? It's free!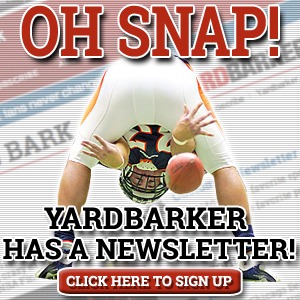 Latest Rumors
Best of Yardbarker

Today's Best Stuff

For Bloggers

Join the Yardbarker Network for more promotion, traffic, and money.

Company Info

Help

What is Yardbarker?

Yardbarker is the largest network of sports blogs and pro athlete blogs on the web. This site is the hub of the Yardbarker Network, where our editors and algorithms curate the best sports content from our network and beyond.