Found August 26, 2012 on State of the Texans:
PLAYERS:
Matt Schaub
,
Gary Kubiak
,
Andre Johnson
,
Owen Daniels
,
Garrett Graham
,
James Casey
,
Lestar Jean
,
Ben Tate
,
Keshawn Martin
,
Justin Forsett
,
Arian Foster
,
Trindon Holliday
,
Glover Quin
,
Chris Ivory
,
Quintin Demps
,
Troy Nolan
,
Drew Brees
,
Derek Newton
,
Rashad Butler
,
Bradie James
,
Brian Cushing
,
Darryl Sharpton
,
T.J. Yates
,
Andrew Gardner
,
Shelley Smith
,
Brandon Brooks
,
Jared Crick
,
J.J. Watt
,
Hebron Fangupo
,
Whitney Mercilus
,
Wade Phillips
,
Alan Ball
,
Jesse Nading
,
Bryan Braman
,
Brice McCain
,
Brandon Harris
,
Shiloh Keo
,
Tim Dobbins
,
Ben Jones
,
Logan Brock
,
Moran Norris
TEAMS:
Houston Texans
,
New Orleans Saints
,
Minnesota Vikings
The final preseason appearance for the majority of the Houston Texans starters saw the New Orleans Saints defeat the hometown team 34-27. The first half of football was action packed with plenty of offense and turnovers in which the turnovers actually proved to be the biggest disappointment for the Texans on Saturday night.
The Texans stayed in their base defense the majority of the night and let the one on one match ups develop and give some real assessment of players. Offensively in the first half, the Texans were clicking on all cylinders and were very precise with their plays and use of the time clock. The up tempo pace of the offense in and out of the huddle was a good sight to see, and seeing the potential of this offense was another positive for the team.
This was a good peek into the personnel decisions for the Texans, especially with the first round of cuts coming before Monday (3 p.m.) when they will have to be at the 75 player mark like the rest of the NFL.
Here are a few thoughts from the New Orleans preseason game:
- Don't look now but Matt Schaub looked confident and in control of the offense the entire first half. He was so good that he was 15-18 for 191 yards and one touchdown, and found 9 different receivers in the passing game. The offense looks more in tune and the other ten players on the field with Schaub share the same focus as he does. He is able to check the offense in certain situations to the correct play and there is no mistake why he is Head Coach Gary Kubiak's quarterback.
Targets for Schaub,  Completions | Targets (1st half)
Andre Johnson  2/5 | one pass interference
Owen Daniels 2/2 | two first down catches
Garrett Graham 3/3 | two first down catches
James Casey 2/2
Lestar Jean 1/1 | one first down catch
Ben Tate 1/1
Keshawn Martin 2/2 | Touchdown Catch
Justin Forsett 1/1 | one first down catch
Arian Foster 1/1
- Talk about some bad timing for Trindon Holliday, who fumbled a kickoff that was returned for a touchdown and later in the game bobbled a punt out-of-bounds. Holliday needed to be perfect, not by returning every kick he touched into touchdowns, but by protecting the football, being smart with returns, and positive return yards. He did answer back after his fumble with a 62 yard kickoff return, which shows he has some fight in him. Two fumbles didn't help his cause but his ability to flip the field might be too good for the Texans to pass up.
- Glover Quin (pictured above) had his best game of the preseason, where he was active in coverage and made his presence felt with a big hit on Saints running back Chris Ivory with a forced fumble and rumble recovery. Quin also had two pass break ups with three tackles in limited snaps, and having him looking like this could prove big for an already deep Texans defense. In a contract year, Quin will be under the microscope from the organization and his versatility within the defense is something often overlooked.
- Garrett Graham had a big day catching the football where he went for 4 catches for 97 yards and looks like he has the ability to stretch the field when needed. The only downside it looks like Owen Daniels might be called upon to block a little more until Graham can prove he can do it consistently. Pass catching is a plus and Graham could grow into an important piece for the Texans offensively as the season approaches.
- Quintin Demps has moved up the depth chart with seeing him with the first team nickel package replacing Troy Nolan. Demps looked like he had an interception of Drew Brees down by the goal line, but it wasn't challenged. He has been active the past two weeks deflecting passes and being exceptional with the ball in the air. His tackling needs much improvement and he has been deficient in that area by totally missing ball carriers in one on one situations. We will want to see if Demps stays ahead of Nolan heading into week one.
- The revolving door at right tackle seems like there is not a clear-cut leader right now. Both Derek Newton and Rashad Butler had their positives and both had some negatives against the Saints. Butler let an inside rusher get to Schaub, where Newton had a bad holding call when he got blown up into the back field, which are just a small sample size of their games. We have a feeling that there might be a platoon system heading into the season which might not be a bad idea right now for the offense.
- Inside linebacker Bradie James showed a little life after a suspect game last week. James was in coverage and even showed some toughness coming downhill on ball carriers. Still there is a reason to be concerned with the lack of real depth at inside linebacker, and without Brian Cushing next to James, there is a real weakness on the inside. Now with Darryl Sharpton starting the season on the PUP list, there is more concern for a not very deep position.
- Keshawn Martin had a rough day with two unfortunate fumbles, with one on an extra effort play and the other on a big hit. Martin did not look too worried but you can bet Gary Kubiak was not a big fan of what he saw. Martin did have his first professional touchdown catch, which doesn't count, and has done things pretty perfect up until last night. It will be interesting to see if Kubiak holds this one game against him because, if there is one thing we have learned from going out to training camp, putting the football on the ground is not acceptable in Kubiak's eyes.
-  The second team offensive line looked over matched last night protecting T.J. Yates and pass protection communication was not very good. Andrew Gardner, Shelley Smith, Brandon Brooks and Rashad Butler all struggled and all were responsible for giving up sacks and hits on Yates. With backup positions yet to be determined, this group will have to come out with a better showing this coming Thursday against the Minnesota Vikings.
- Jared Crick looks much better than last week's game against the 49ers and looks like he might be able to spell J.J. Watt when needed during the season. Crick, when using his hands to keep defenders off of him, is a good-looking prospect and his ability to provide some run defense will be good for the defense. After being down on him last week for his performance, Crick has gotten plenty of snaps the past few weeks to catch him up to speed.
- Two of our favorites since the beginning of camp Jonathan Grimes and Hebron Fangupo have gotten their chance to prove they belong on the Texans roster. Grimes started last night with the first team kickoff team and recorded two tackles, and his special teams ability might have given him a realistic shot of being on the final 53. As for Fangupo, he needs to learn to play low consistently, but his overall strength is something the Texans have never had at the nose position. He is able to hold up at the point of attack and take on double teams from the offensive line with ease. He does get beat at times but there are more positives in his game than negatives. It will be interesting to see where Fangupo ends up, but practice squad seems realistic at the moment.
- Whitney Mercilus has been very quiet the past two weeks and he did have a sack against the Saints, when he was left unblocked. There was little rotation in the front seven in either halves of football and Mercilus got zero snaps with the first team defense. It looks like Wade Phillips is not interested in showing any of his personnel packages during preseason and is saving them for week one. Expect to see Mercilus' role expand when the season gets here and put into position to rush the passer often.
- Notes to pay attention to.
First team Kickoff Team (excluding kicker)
Alan Ball, Sherrick McManis, Jesse Nading, Bryan Braman, Quintin Demps, Jonathan Grimes, Brice McCain, Brandon Harris, Shiloh Keo, Justin Forsett
First Kickoff Return Team
Troy Nolan, Garrett Graham, Tim Dobbins, Ben Jones, Shelley Smith, Shiloh Keo, Bryan Braman, Logan Brock, James Casey, Moran Norris, Trindon Holliday
You can follow Patrick on 
Twitter
.  He is the Editor of State of the Texans and is a draft analyst on 
Sideline Scouting
.  
Original Story:
http://www.stateofthetexans.com/?p=7017
THE BACKYARD
BEST OF MAXIM
RELATED ARTICLES
It was confirmed today by Head Coach Gary Kubiak that second year right tackle Derek Newton will be the starter heading into the 2012 Houston Texans campaign. Despite a camp battle with veteran Rashad Butler, it felt like Butler's poor play is what gave way to name Newton the week one starter. Newton did show some bright spots and some potential of being a good NFL football...
Sunday night the Houston Texans reduced their active roster to 75 players after releasing and making other injury-related roster moves with 15 of their former employed. As always there was a mix of surprises and expected cuts. Season threatening/ending injuries always make the decision a bit easier for the coaches, so since four of the fifteen were walking wounded, the Texans coaches...
Houston Texans coach Gary Kubiak says Derek Newton has won the starting job at right tackle, beating out Rashad Butler. The 6-foot-6, 318-pound Newton was a seventh-round draft pick in 2011. Butler, entering his sixth season with Houston, was sidelined much of last season with a left triceps injury. Kubiak met with both players on Monday before announcing his decision. The Texans...
Getty According to Jason La Canfora of CBSSports.com, there's a chance the Houston Texans could get an extension done with linebacker Connor Barwin before the end of this season. Before i get out of Houston, still a good chance Texans get extension done for Connor Barwin, but very unlikely Schaub deal done in 2012… — Jason La Canfora (@JasonLaCanfora) August 28, 2012 Barwin...
Getty According to Jason La Canfora of CBSSports.com, the Houston Texans likely won't sign quarterback Matt Schaub to a contract extension before the offseason. Before i get out of Houston, still a good chance Texans get extension done for Connor Barwin, but very unlikely Schaub deal done in 2012… — Jason La Canfora (@JasonLaCanfora) August 28, 2012 Schaub wont be going anywhere...
Houston Texans coach Gary Kubiak announced Sunday that rookie kicker Randy Bullock will be placed on injured reserve and is out for the entire season because of a torn muscle in his groin area. It means Shayne Graham, 34, will be the Texans' kicker. He's 5-for-5 on field goals during the preseason, including boots from 48, 49 and 53 yards. "It had been bothering...
This is a good time to see if we can put together a legitimate 53 man roster for the Texans in our second prediction of the preseason. We released our first prediction at the beginning of last week, now we give it another crack. Take a look at our second prediction of the 53 man roster   Offense (24)   Quarterbacks (3) Matt Schaub, T.J. Yates, John Beck Notes: Only change is the...
Matt Schaub and Drew Brees look ready as ever for the games that will count. The defenses they picked apart might feel differently about the work they have left to do in a short couple weeks. The star quarterbacks for Houston and New Orleans combined for 373 yards passing in a high-scoring first half, and Joseph Morgan's touchdown catch late in the fourth quarter lifted the...
Matt Schaub and Drew Brees looked sharp in a high-scoring first half, and Joe Morgan's touchdown catch late in the fourth quarter lifted the New Orleans Saints to a 34-27 preseason victory over the Houston Texans on Saturday night. Schaub completed 15-of-18 passes for 194 yards and a touchdown, but three turnovers by Houston (No. 4 in the AP Pro 32) helped the Saints (No. 9...
NEW ORLEANS (AP) -- Matt Schaub and Drew Brees looked sharp in a high-scoring first half, and Joe Morgan's touchdown catch late in the fourth quarter lifted the New Orleans Saints to a 34-27 preseason victory over the Houston Texans on Saturday night. Schaub completed 15-of-18 passes for 194 yards and a touchdown, but three turnovers by Houston (No. 4 in the AP Pro 32) helped...
NFL News

Delivered to your inbox

You'll also receive Yardbarker's daily Top 10, featuring the best sports stories from around the web. Customize your newsletter to get articles on your favorite sports and teams. And the best part? It's free!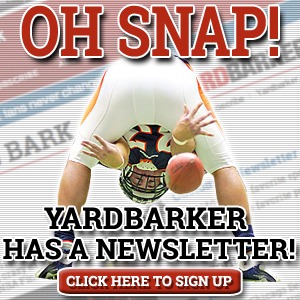 Latest Rumors
Best of Yardbarker

Today's Best Stuff

For Bloggers

Join the Yardbarker Network for more promotion, traffic, and money.

Company Info

Help

What is Yardbarker?

Yardbarker is the largest network of sports blogs and pro athlete blogs on the web. This site is the hub of the Yardbarker Network, where our editors and algorithms curate the best sports content from our network and beyond.