Found December 05, 2012 on Turn On The Jets:
The New York Jets are staying with Mark Sanchez as their starting quarterback this Sunday against the Jacksonville Jaguars. While this has come as a shock to many, we detailed here yesterday how there was a reasonable argument for this to happen. Not surprisingly many Jets fans are acting like the sky is falling right now…threatening to abandon the team…cursing out Rex…cursing out Sanchez etc… Here is the simple reality – Mark Sanchez is getting paid 8.3 million dollars from the Jets next year regardless of whether he is on their team, another NFL team or laying on a beach in California. The Jets are finishing up a playoff-less season against four mediocre football teams. The hope is that he plays well in these games, builds some measure of confidence back up and becomes a reasonable option to start in 2013 (he should still be forced to compete with a veteran next summer). Believe it or not, this team is going to give every chance possible to a former first round pick who has won more playoff games than any other quarterback in franchise history. Is it worth the risk of playing him the last four games when you are 5-7 and nearly half your team won't be back next year? Yes…it probably is. If you want to get mad at somebody, get mad at "cap expert" Mike Tannenbaum for how he structured Sanchez's contract. Get mad at him for the contradicting actions of doubling down on Sanchez in 2013 and then supporting him by bringing in a PR circus as a backup quarterback and not upgrading running back, wide receiver or offensive line this off-season. Sanchez already took a step back last year but the Jets front office greased the skids on his regression this season by having an awful off-season. Sanchez has been generally terrible this season but the Greg McElroy infatuation only comes from his last name not being "Sanchez." Ask yourself this, if McElroy's fourth quarter interception stood (like it should have) and the Jets lost 9-7, is this debate so heated right now? If McElroy is the savior that many are exaggerating to call him and Sanchez is truly that awful. Guess what? Sanchez will be benched at some point in the next four gams and McElroy will get his chance. As for the ongoing pity party Jets fans are throwing for themselves. Get a grip on reality. Look around the NFL. Since 1997 the Jets have 12 seasons at .500 or better, 7 playoff wins, 3 AFC Championship Game appearances and yes despite it being over 40 years ago…the Jets have won a Super Bowl. How do you think Bills fans have enjoyed the last 15 years? Lions fans? Eagles fans? Chiefs fans? Browns fans?! The list goes on. Mark Sanchez starting a week 14 game in a 5-7 year is the straw that broke the camel's back in your support of this team? Really? Not letting the roster go to crap after  back to back AFC Championship Game appearances? Not the PR-stunt Tebow trade? This is the decision? And people wonder why the general perception of Jets fans is so negative. There is no reason to be overly optimistic that Sanchez is going to turn it around and have a brilliant final four games but that doesn't mean there wasn't logic behind this decision. It also means the most logical thing for any Jets fans to do is root for Sanchez to succeed…otherwise go become a Bills fan. A couple of appropriate Godfather clips
Original Story:
http://turnonthejets.com/2012/12/the-...
THE BACKYARD
BEST OF MAXIM
RELATED ARTICLES
In case you don't know it refers to this stellar Mark Sanchez play from the Jets-Pats game last week. Spotted at the Jets game vs. Arizona was this über creative fan sporting a custom made jersey honoring the aforementioned comical play that occurred seven days earlier in a blowout loss to the Pats.  Sure to be a favorite this gift giving season for the New York Jets fan in your...
Mark Sanchez remains the starting quarterback for the New York Jets. Coach Rex Ryan deliberated before the team made the announcement Wednesday that Sanchez received the nod over Greg McElroy, the third-string quarterback who rallied the Jets to a 7-6 victory over the Arizona Cardinals. Sanchez was pulled in the third quarter after his third interception. Ryan said Monday he...
One day after benching quarterback Mark Sanchez, New York Jets coach Rex Ryan said he needs a little more time to decide who will get the starting nod calling signals Sunday against the Jacksonville Jaguars.I don't need a little more time to guess what that means. Sanchez's benching against the Arizona Cardinals, following a three-interception first half, was the first time...
Current Seattle Seahawk, former NY Jets wide receiver Braylon Edwards took to Twitter to defend Mark Sanchez and blast his old team's management hierarchy. "Don't blame Sanchez. I played there. Blame... Full story at Bob's Blitz ~ http://www.bobsblitz.com
Mark Sanchez statistically ranks as one of the worst starting quarterbacks in the NFL, but coach Rex Ryan still believes the embattled signal caller gives the New York Jets the best chance to win. Despite being benched during another dismal performance, Sanchez will be under center to start the Jets' road matchup with the Jacksonville Jaguars on Sunday. Ryan's faith in...
When New York Jets coach Rex Ryan benched his quarterback Mark Sanchez on Sunday he made a statement. Initially the statement seemed to be 'forget Sanchez and Tim Tebow, I am going with the kid that went to Alabama: Greg McElroy.' That thought was confirmed as a misfire on Wednesday when Ryan declared that he would return to Sanchez to start this Sunday's game against the...
After mercifully benching the inept Mark Sanchez with 4:48 remaining in the third quarter, third-string quarterback Greg McElroy led the New York Jets to an unsightly 7-6 victory over the floundering Arizona Cardinals yesterday in front of a sparse crowd … Continue reading →
The quarterback controversy in New York appears to have no end in sight. And another wrinkle just made it even more complicated. Mark Sanchez is keeping his starting job, for now. But after being benched for third-stringer Greg McElroy last week, and chants for Tim Tebow continuing to fill the stands at MetLife Stadium, Sanchez may not have that job for very long. Now, as the Jets...
Surprise hero Greg McElroy described himself as an even keeled player to reporters after the Jets 7-6 comeback win over Arizona. During a post game press room scene that rarely calls for the thoughts of any third string quarterback. With second stringer Tim Tebow out nursing broken ribs, and embattled starter Mark Sanchez floundering late in the third quarter, head coach Rex Ryan...
All year long we've heard about the QB situation in New York. It's either been Mark Sanchez or Tim Tebow. But now, following Sanchez' benching vs. Arizona, a new name has risen, and that's Greg McElroy. The Jets' seventh round pick from the University of Alabama was thrown into the spotlight Sunday after Rex Ryan benched Mark Sanchez (The one and only time Tim Tebow was...
  Recently,  Braylon Edwards took to twitter telling Jets fans that they should lay off of Quarterback Mark Sanchez. Edwards tweeted: "Don't blame Sanchez. I played there. Blame the idiots calling shots. Mark is a beast and will probe it when given a proper chance." Although I do have to agree that the entire Jets [...]
NFL News

Delivered to your inbox

You'll also receive Yardbarker's daily Top 10, featuring the best sports stories from around the web. Customize your newsletter to get articles on your favorite sports and teams. And the best part? It's free!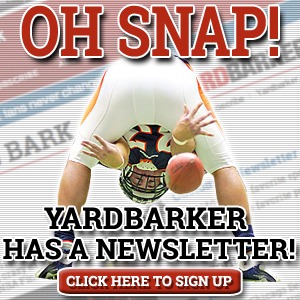 Latest Rumors
Best of Yardbarker

Today's Best Stuff

For Bloggers

Join the Yardbarker Network for more promotion, traffic, and money.

Company Info

Help

What is Yardbarker?

Yardbarker is the largest network of sports blogs and pro athlete blogs on the web. This site is the hub of the Yardbarker Network, where our editors and algorithms curate the best sports content from our network and beyond.