Found December 05, 2012 on Rams Herd:
  After the win against San Francisco, I would have expected numerous positive tweets and message board posts about Bradford's play in the game. However, I saw something entirely different. The STLtoday Rams board was full of negative Bradford posts. People on twitter were wondering about the lack of touchdowns. Other fans saw Russell Wilson throw a touchdown pass to win the game, they saw Andrew Luck throw a touchdown pass to win a game and they saw Robert Griffin III hailed as the next big thing on Monday night football (notwithstanding his college offense and non-impressive throwing stats). Those fans were asking why Bradford couldn't throw a touchdown pass in the game, or why he couldn't be the hero in the spotlight as opposed to the kicker.  This article is directed at those fans that are disillusioned, disappointed or even angry regarding Sam Bradford's play. Last week, I asked for perspective. I noted all of the issues, in detail, that are holding back Sam Bradford. This week, I intend to illustrate how the Arizona game and more specifically the San Francisco game are signs of tremendous improvement and growth for Sam Bradford. One of the biggest issues/excuses for Sam Bradford in the past was the lack of any truly elite targets on the team. The argument was he can't play well because his wide receivers, tight ends, and/or running backs cannot do what they need to do for him to succeed. His detractors argued that Bradford should make the players around him better. I tended to argue against that point because there is very little you can do when they can't get open, they drop the ball at crucial times, or they are not where they are supposed to be. The San Francisco game has ended the argument. Sam Bradford is learning to play well even without exceptional talent. He had the drops in the game.  He had receivers that couldn't get open. He had many other excuses. Nevertheless, Sam Bradford did what elite quarterbacks do. He overcame the negative and performed when necessary to win the game.  Yes, the Rams won the game because the defense was exceptional and the spotlight was on the kicker when we tied the game and won the game. However, we also won the game because Sam Bradford overcame all of the following to lead the game tying and game winning drive:                 1.            His best wide receiver and safety blanket was out;                 2.            Brandon Gibson was worthless;                 3.            His receivers dropped 5 clearly catchable passes                 4.            3 of those drops were on third down                 5.            Sam did everything he was asked to do to get a first down in overtime and his receiver (Brian Quick) ran a 3 and ½ yard route on 3rd and 4.                  6.            He had only one legitimate option to throw to on the last drive for a first down on 3rd and 4. Fact number 6 may need some discussion. I am arguing that Sam Bradford is responsible for the game winning drive in overtime. Some may say, "What? Steven Jackson had the ball for 5 of the 6 plays".  Yes, but the drive would have ended, but for Sam Bradford's six yard completion to Chris Givens. Yes, one pass, but look at the conditions. He couldn't throw to Kendricks who had dropped the last pass thrown his way and dropped another easy pass earlier in the game. He couldn't throw to Quick who just screwed up the last drive. He couldn't throw to Steve Smith who dropped a third down pass earlier in the game. He couldn't throw to Gibson, because Gibson can't consistently get open and has failed to catch balls earlier this year when covered tightly on drive ending downs. Thus, Sam had only one option and that option was a rookie. The rookie barely got open and Sam threw a perfect pass. No one can minimize the significance of that pass in that situation. Another huge sign of growth for Sam Bradford is: he won a game without Danny Amendola and had historic numbers, when compared to prior games where Bradford did not have Amendola as an option.  How important is Danny Amendola?  Take a look at this chart:     Record Comp/Att Percentage QB rating SB with Amendola 9-11 457-754 61% App. 80 SB w/o Amendola 2-13 290-525 55% App. 66   Sam wins 13% of the games when Danny Amendola does not play.  He won this game without Danny Amendola against our biggest rival who just so happens to have the 2nd best overall defense in the league.  Bradford also completed 66% of his passes and had a quarterback rating of 81.2 without Danny Amendola. Compared to prior results those are historic numbers.  Please also remember that the completion percentage includes five drops and one spike.  In reality, he threw 31 passes that should have been caught out of a 38 attempts which is an 82% completion percentage.  For purposes of the chart above, I did not include the game against Arizona last week.  Why? Danny Amendola was hurt, but he played. Thus, where does it fall?  Also, one of the two wins without Danny Amendola came against Arizona in Game 5 this year. Should Arizona even be considered a legitimate win given their problems this year?  Moreover, I think the Arizona game is another sign of growth for Bradford. Bradford had a tremendous game with his best yard per attempt average of his career and a 106.2 quarterback rating. Finally, the San Francisco game is further evidence that Sam Bradford is making the talent around him better.  Kendricks and Pettis are getting better.  Givens is showing rare growth for a rookie wide receiver. Amendola, when he is healthy, is putting up numbers far beyond anything he did previously.  Given all of this, the San Francisco game is in the top five games for Sam Bradford in the pros. For him to win that game with all of the negatives mentioned above was truly the action of an elite quarterback.
Original Story:
http://www.ramsherd.com/2012-articles...
THE BACKYARD
BEST OF MAXIM
RELATED ARTICLES
ST. LOUIS (AP) Sam Bradford can't help but be excited about the St. Louis Rams' passing attack. After two seasons with some of the least impressive receivers in the league, the third-year quarterback sees his options increasing with each week. His latest favorite target is rookie Chris Givens, who had a season-best 11 receptions in a 16-13 overtime victory against San Francisco...
St. Louis Rams cornerback Janoris Jenkins has scored three defensive touchdowns during the previous two weeks, helping the Rams to a pair of wins. The victories have positioned the Rams, who now have a 5-6-1 record, for a shot at making the playoffs and Jenkins is a huge reason as to why. The guys from The Cruddy Show debated on Wednesday night whether Jenkins should indeed be...
ST. LOUIS (AP) The word "playoffs" isn't being mentioned often around the St. Louis Rams' training facility unless asked by an outsider. "This team is focused on Buffalo. It's our next opponent," coach Jeff Fisher said Monday at his weekly media gathering at Rams Park. "There's too much that could happen right now. I don't even know what...
The San Francisco 49ers announced Tuesday that they have signed linebacker Alex Hoffman-Ellis to the practice squad, and released safety Eddie Whitley. Hoffman-Ellis originally signed with the St. Louis Rams as an undrafted free agent on May 8, and was later released following training camp. The 23-year old played at Washington State.
(Eds: Updates.) By JASON YOUNG Associated Press The St. Louis Rams haven't had a defensive coordinator since Gregg Williams was handed an indefinite ban by the NFL for his part in the New Orleans Saints' bounty scandal. St. Louis' defense also hasn't had a Pro Bowl selection since 2003, but with four games left in the regular season and faint playoff hopes still...
Last week: 22 (+1) Record: 5-6-1 Net points per drive: -0.45 (25th) DVOA: -4.3% (20th) Weighted DVOA: -4.5% (20th) Studs RG Harvey Dahl: Did not allow a pressure on 47 pass block snaps, run blocked for 7 yards on 4 attempts WR Chris Givens: Caught 11 passes for 92 yards on 13 attempts on 43 pass snaps, 3.5 YAC per catch LOLB JoLonn Dunbar: 10 solo tackles, 3 assists, 7 stops, 1 missed...
The Buffalo Bills' heated-up defensive line looks to build on its recent success without a key piece of its front -- defensive end Chris Kelsay. Kelsay re-aggravated a neck injury last weekend that he first initially acquired a month ago in practice. After trying to play through the ailment that kept him out for two weeks, the Bills were forced to place the 10-year pro on the...
The St. Louis Rams will play against the Buffalo Bills on Sunday at 1 p.m. EST. Both teams had expectations before the season began that they would be chasing after a wild card spot when Week 14 rolled around. Instead both teams find themselves riddled with questions. St. Louis has not addressed the issues at wide receiver and have been inconsistent throughout the year. The player...
This weekend, the St. Louis Rams (5-6-1) travel to Orchard Park to take on the Buffalo Bills (5-7). The Bills are coming off of a much needed moral victory in a beatdown of the Jacksonville Jaguars last week. The Bills finally played football the way the fans had wanted it played, and it worked out for the best. We saw a heavy dose of Freddy and C.J., and the duo accounted for 232...
Wow, what a game. It may not have been the prettiest St. Louis Rams win ever, but it certainly was the grittiest. Notwithstanding all of the things that did not go well for the Rams, they still found a way to pull out a victory over the hated San Francisco 49ers. I realize that many Bradford bashers are all over him for failing to score a touchdown, but I plan to write an article...
Russ Salvatore for Wall of Fame! Yes, the Bills making the playoffs are about as slim as me winning the NYS Powerball. They are 5-7 and have a great shot at being one game below .500 with a win. Hooray! This week, they take on the St. Louis Rams. As we do every week, we are joined by the opposing team's blogger. The fine folks over at Rams Herd answer all my questions about...
NFL News

Delivered to your inbox

You'll also receive Yardbarker's daily Top 10, featuring the best sports stories from around the web. Customize your newsletter to get articles on your favorite sports and teams. And the best part? It's free!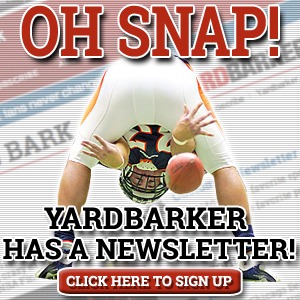 Latest Rumors
Best of Yardbarker

Today's Best Stuff

For Bloggers

Join the Yardbarker Network for more promotion, traffic, and money.

Company Info

Help

What is Yardbarker?

Yardbarker is the largest network of sports blogs and pro athlete blogs on the web. This site is the hub of the Yardbarker Network, where our editors and algorithms curate the best sports content from our network and beyond.