Found February 01, 2013 on Games We Play: A sports blog for girls:
I was happy when the Baltimore Ravens beat the New England Patriots to make it to the Super Bowl - unfortunately, that leaves me pretty much "eh" about this year's competition. At least if the Patriots had made it, I'd have a team to vehemently root against. Of course, if they had made it, then I also run the risk of seeing them win it, so I guess it's good the Ravens are in. It's just not as exciting when there's no one team to root for or against. When you don't really care either way who wins, that's when it's good to buy at least one box in a Super Bowl pool. Restaurants and bars have 'em, if you go to a Super Bowl party, it's likely someone will be organizing one. So you buy one box or a few, and then even if you don't have a team you hope wins, you have a score you can root for, and usually its at the end of each quarter, so it keeps you engaged throughout the game. It's fun to be able to root for something. The most in...
Original Story:
http://gamesweplaysportsblog.blogspot...
THE BACKYARD
BEST OF MAXIM
RELATED ARTICLES
EAT IT UP
It appears that Red Robin is officially on the Colin Kaepernick bandwagon. It appears that word got to Red Robin that Colin loves their burgers, so Red Robin went one step further and are offering him free Red Robin for life if he leads the 49ers to victory on Sunday. Here is the image (via Darren Rovell) of the ad Red Robin is running in tomorrow's SF Chronicle…Hopefully this...
Colin Kaepernick will have more on the line Sunday than just the Super Bowl. If he wins the game, he will cash in on a sweet offer from one of his favorite restaurants. According to sports business reporter Darren Rovell, Red Robin has taken out an ad that will run in Thursday's San Francisco Chronicle offering the 49ers quarterback free food for life if he wins the Super Bowl...
Who knows what will happen on Sunday at the Superdome to add to a challenging week for Colin Kaepernick. It's the biggest week for the man, a moment that he can prove that he's tried, true and tested to handle the demands as a burgeoning quarterback. In a few days the man with the goatee and tattoos will step out of the tunnel to take on the Baltimore Ravens in Super Bowl XLVII...
San Francisco may just be hoarding all the quarterbacks. With Colin Kaepernick looking like the 49ers' starter for some time, the common assumption has been that San Francisco will look to trade away backup Alex Smith. The veteran, who was picked No. 1 in the draft in 2005 but didn't have success as a starter until recently, wouldn't be of much use if the job is Kaepernick's...
We are just a little more than two days away from the final game of the 2012-2013 NFL season, with the Baltimore Ravens and the San Francisco 49ers playing one another in Super Bowl XLVII. All the story lines have been rehashed about 20 times an hour for the last two weeks on SportsCenter and the NFL Network, and we are just ready for some food and football (and commercials). We...
Super Bowl XLVII: Who does this Lady Love in SB XLVII? Who: San Francisco 49ers (NFC) vs. the AFC Baltimore Ravens (AFC) Where: Mercedes-Benz Superdome (home of the Saints) – New Orleans, Louisiana. When: Sunday February 3, 2013 Watch: 6:30pm EST on CBS This is going to be one exciting Super Bowl, or as some have dubbed the Har-bowl as the Ravens and 49ers head coaches are brothers...
New terms like "Read option" and "Pistol" have been introduced to the average football fan's vocabulary. With anything new, there is a period of adjustment that is to be expected. It seemed like only yesterday that successful NFL offenses were slinging the football all over the field and a glorified 7-on-7 drill was the future of the game. Quarterbacks like Drew Brees,...
Super Bowl fever has gripped the Bay Area with the San Francisco 49ers getting set to play in the Super Bowl, and that excitement has found its way onto the ice as well. San Jose Sharks forward Logan Couture paid homage to Niners quarterback Colin Kaepernick on Thursday night after he scored a goal against the Edmonton Oilers. Couture did the "Kaepernick" pose — kissing one's...
NFL News

Delivered to your inbox

You'll also receive Yardbarker's daily Top 10, featuring the best sports stories from around the web. Customize your newsletter to get articles on your favorite sports and teams. And the best part? It's free!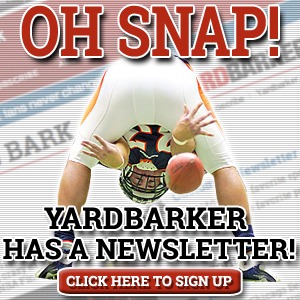 Latest Rumors
Best of Yardbarker

Today's Best Stuff

For Bloggers

Join the Yardbarker Network for more promotion, traffic, and money.

Company Info

Help

What is Yardbarker?

Yardbarker is the largest network of sports blogs and pro athlete blogs on the web. This site is the hub of the Yardbarker Network, where our editors and algorithms curate the best sports content from our network and beyond.