Found August 14, 2012 on A Glam Slam:
September issues reign supreme in the magazine world, as they rank among the top-selling issues of the year. Top celebrities, musicians and models often snag the coveted front spot but men's fashion magazines often choose to give that honor to athletes. Last year GQ tapped New York Jets QB, Mark Sanchez, as its September cover boy. This time around it's his teammate and fellow Jets QB, Tim Tebow, who fronts the magazine. Tebow shares the spotlight with Carolina Panthers QB, Cam Newton, on the publication's NFL kick-off issue. Inside the magazine, fans will find features on both players. Tebow's article is titled "Have You Accepted Tim Tebow as Your QB and Sunday Savior?" Writer and Jets fan, Devin Gordon, gives his account from the team's locker room, as media members interview both Jets QBs at training camp. He also explains how he's coming to terms with Tebow's arrival in New York. For the full piece on Tim Tebow, read on here. Below is an excerpt: When it's my [Gordon] turn, I simply ask him what I want to know myself: What would he say to Jets fans who aren't sold on him, who maybe even consider themselves anti-Tebow? He smiles, locks onto me with his eyes, and speaks without hesitating. "I think if they're a Jets fan, hopefully they'll be rooting for me. I'll do whatever I can to help this team win football games. I'll give my heart and soul whenever I step on that field and even when I'm on the sidelines. And at the end of the day, that's really all you can ask of someone." The magazine also met up with Cam Newton at the Gatorade Sports Science Institute (GSSI), in Bradenton, Florida, where he talks about leaving Florida, his first year in the NFL, and his famous father. Below is an excerpt: When he finally left Florida, he and Cecil endured the long drive to tiny Brenham, Texas, home to the two-year Blinn College. It was the farthest Newton had ever been from home, as humiliated as he'd ever been. "I sometimes cried myself to sleep at night. But I was thinking, 'I've got to grow up. Either I'm doing it right now or I'm going home a screw-up.' I was force-fed it, and I ate it. It was like divine intervention. It was like a whole new core of Cam, of myself, being created," he says. For the full piece on Cam Newton, read on here. Cam's corresponding photo shoot has a larger fashion focus and takes a look at "Newton's Laws of Style." The QB has proven he's capable of scoring points on the style front. He was one of the best-dressed players at the 2011 NFL Draft and since joining the league, he has been recognized for his fashion choices. Below is a preview and you can check out more shots here. (Jacket, $155 by DKNY Jeans. Shirt, $108 by Saturdays NYC. Tie, $15 by The Tie Bar. Cords, $178 by AG Adriano Goldschmied. Boots, $130 by Clarks Originals. Hat by Neff Headwear. Watch by Panerai.) (Henley, $545 by Dolce & Gabbana. Pants, $425 by Gant by Michael Bastian. Jacket, $598 by True Religion. Hat by Blk Pine Workshop. Chain (without dog tag) by Tiffany & Co. Watch by Louis Vuitton.) (Cardigan, $448 by Mark McNairy New Amsterdam. Shirt, $70 by J.Crew. Tie, $130 by Band of Outsiders. Pants, $60 by Gap 1969. Shoes, $140 by Banana Republic. Scarf by Smart Turnout. Watch by Cartier.) (Sports jacket, $395 by Tommy Hilfiger. Hoodie, $65 by Under Armour. Shirt, $325 by Giorgio Armani. Tie, $170, by Salvatore Ferragamo. Pocket square, $8 by The Tie Bar. Pants, $231, by J Brand.) David Beckham is also among the sportsman to appear on a September cover. The footballer fronts British magazine, Esquire UK, as part of its September Style Special. For a behind-the-scenes look at his fashion shoot, visit here.
Original Story:
http://blog.aglamslam.com/?p=14297
THE BACKYARD
BEST OF MAXIM
RELATED ARTICLES
Anyone who has ever had any interactions with children is well aware of the fact that if a baby does not want to be held by a particular person, they most certainly will let you know just how unhappy they are about being put in an uncomfortable position. Still, it is shocking to see that [...]
Curious about how the Jets are planning to use Tim Tebow in their new offense? Well, too bad. The Jets aren't telling -- and they're not letting anyone else spoil the surprise, either. New York practiced its Tebow-led Wildcat offense on Monday, although the team is doing its best to keep that a secret. So much so, they aren't allowing the media to report on the goings...
Tim Tebow is on the cover of GQ Magazine for the September issue.  You can no longer call Mark Sanchez the GQ QB.  They both are, but there is a buzz about the article.  Read it here.  In the spread, there is a photo of Tim in the Jesus Pose and it's probably going to cause a stir.  GQ knows what they are doing, don't they?   Cha-Ching.  Craiq Carton, on his show this...
This week we are crushing on New York Jets Quarterback Tim Tebow, who flaunts his assets in GQ's 2012 NFL Kickoff issue.  The magazine hit stands on August 14th, which was also Tim's 25th birthday.  And apparently, this is his gift … Continue reading →
ESPN has a love affair with Tim Tebow and the New York Jets.  As a Jets fan, I should be really happy about all this coverage, but I'm going to tell you, I would IF the coverage was about football. What's the new cheer in CT these days?  E-S-P-N JETS JETS JETS!! Other than Jets fans, do you think the sports world cares about what movies the Jets saw on their off days, a...
If you think you've seen enough of David Beckham posing in his underwear ever since his risque Super Bowl commercials first hit the air, now you'll get a chance to get a see more of the soccer player in his skivvies— only in revealing statue form. H&M has commissioned nine 10-foot high gleaming images of the tattooed British star in his branded bodywear line and will...
Chad Pennington thinks the New York Jets, Tim Tebow and the wildcat are a perfect fit. The former NFL quarterback would certainly know. He was part of the tricky offensive scheme in Miami, when he played with the Dolphins under current Jets offensive coordinator Tony Sparano. ''If the wildcat allows you to win and be more successful,'' Pennington said Tuesday, ...
DENVER It might not conjure up memories of Tim Tebow, whose No. 15 jersey was worn by legions of fans in Denver. Still, Andre Caldwell was swarmed for autographs after a recent Broncos scrimmage. One man asked Andre Caldwell to hold his baby before pulling out his cell phone for a quick shot of the two. That was something new for me, the wide receiver said of the request. The...
For yet another season, Razzball will be interviewing local NFL beat writers for some in-depth actual football knowledge to sway some insight in our fantasy football knowledge.  Keep your eye out for an interview for every NFL team through the summer and check out each one on the "2012 Fantasy Football Team Previews" link.  This installment comes courtesy of David Wyatt from...
We welcome Mr. Timm Bates back to the program this week. Timm was fortunate enough to get some good seats at last Friday night's preseason opener vs the Jets and tells us a bit about his experience. In this week's show: Timm tells us about his Friday night at PBS Timm says that Tim Tebow, NOT Mark Sanchez, is the better quarterback of the two Injuries plagued the Bengals win...
NFL News

Delivered to your inbox

You'll also receive Yardbarker's daily Top 10, featuring the best sports stories from around the web. Customize your newsletter to get articles on your favorite sports and teams. And the best part? It's free!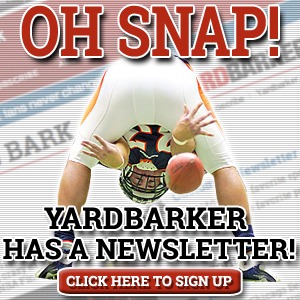 Latest Rumors
Best of Yardbarker

Today's Best Stuff

For Bloggers

Join the Yardbarker Network for more promotion, traffic, and money.

Company Info

Help

What is Yardbarker?

Yardbarker is the largest network of sports blogs and pro athlete blogs on the web. This site is the hub of the Yardbarker Network, where our editors and algorithms curate the best sports content from our network and beyond.