Found October 31, 2011 on Midwest Sports Fans:
A few weeks ago, Verizon Wireless contacted MSF with an amazing opportunity. If I agreed to try out one of their phones (equipped with NFL Mobile) and one of their tablets, and blog about my experiences, they would give me the phone, give me the tablet, and fly me to Chicago to stay in the Hard Rock Hotel and attend the Packers/Bears game. If you are thinking, "No way…that's too good to be true"… you aren't alone. Unbelievably though, there were no "catches," and the experience has been amazing. Over the course of this season, I'll be updating you on my experience with Verizon's products – the good and/or the bad, as my opinions are my own and beholden to no one – but so far so good. ********** I have been a Sprint man ever since I was in high school. I started out with Sprint for one reason: it was what my parents had…and they were paying for my phone. As I grew older, I stayed with Sprint because it was what I was comfortable with. By and large, it was cheaper than all of the other companies, and I didn't feel like trying anything new. Of course, I knew that I would drop calls constantly, and I had heard that other companies had better service…but I was stuck in my ways. Then, about a month ago, Verizon offered me the opportunity to try some of their products free of charge. They handed me the new Droid Bionic, and gave me the freedom to do whatever I wanted with it. As soon as I made the switch, I realized one thing: when it comes to cell phones, you get what you pay for. Really, that's what we all desire every time we make a purchase. It doesn't really matter how much we spend, as long as we get what we pay for, we feel good about it. It's funny that I was so eager to spend $10 less a month on a device that I use almost non-stop throughout the day. Most of us wouldn't spend $10 less a month on a car if we knew it was clearly inferior to another one, but there I was, saving money…and driving myself crazy every time I dropped a call IN MY OWN APARTMENT. One of the greatest things about my new Bionic is that it came with NFL Mobile. What an amazing app. I can turn on the app, start playing the Red Zone channel, and then plug that into my television and watch it in crystal clear HD. In a year that the Colts have been so dreadful, NFL Mobile has saved my season. NFL Mobile has also enabled me to keep tabs on one of my favorite players – Tim Tebow – a little better as well. And how has he fared? Well, I'm sure you've heard. What may surprise you, however, is that I feel completely different about his start. I disagree with what the media is trying to sell you. In my opinion, the Denver Broncos have gotten what they paid for with Tim Tebow…and frankly, it has been mostly good. Comparing Tebow's first 5 games to the best QBs in NFL history Even if we were to forget about the fact that he entered a situation where the incumbent starting QB didn't have the least bit of interest in trying to help him improve…. And even if we were to forget about the fact that before starting his second season he had to transition to a new coach – a coach who doesn't like him by the way – and a new system – in the midst of a lockout that made it impossible for him to immerse himself completely into the offense…. And even if we were to forget about the fact that his team traded away his best wide receiver the week before he was supposed to make his first start (on this team that had a new coach and new system)…. And even if we were to forget about the fact that the media, as a general rule, wants him to fail and has scrutinized him more than any other 25th pick in NFL history…. We could still look at his stats from his first five NFL starts and compare them to every quarterback that's been inducted into the Hall of Fame since the year 2000 (plus two more who will be someday)…and we would realize that the Broncos, so far, have gotten exactly what they paid for. Comps Atts Pct Yards Yards Per Att Passing TDs Ints Rushing Yds Rushing TDs Win/Loss Tim Tebow 57 118 48.31% 891 7.55 7 3 302 4 2 – 3 John Elway 38 79 48.10% 420 5.32 1 5 41 0 2 – 3 Jim Kelly 81 138 58.70% 1127 8.17 6 5 33 0 1 – 4 Troy Aikman 58 125 46.40% 894 7.152 3 8 38 0 0 – 5 Steve Young 72 138 52.17% 935 6.78 3 8 233 1 1 – 4 Warren Moon 66 139 47.48% 1022 7.35 4 3 44 0 0 – 5 Dan Marino 87 144 60.42% 1177 8.17 12 3 10 1 4 – 1 Joe Montana 64 114 56.14% 662 5.80 6 4 40 0 1 – 4 Peyton Manning 93 169 55.03% 1129 6.68 4 12 33 0 1 – 4 Tom Brady 99 159 62.26% 1023 6.43 7 4 8 0 3 – 2
I don't need to write 100 hyperboles about his incredible intangibles. I am not required to discuss his well-publicized faith. It's not necessary for me to bring his incredibly decorated college resume into play. The stats speak for themselves. Tebow has NOT been terrible. He has not been an atrocious disappointment. He also has not been a "savior." What he has been is, simply, a rookie quarterback, which makes him similar to nearly EVERY OTHER great quarterback in history. When compared with the last seven quarterbacks that made the Hall of Fame, plus Brady and Manning just for good measure, Tebow measures up quite well. A few things jump out at you immediately. First of all, Dan Marino was unbelievable. If you think that Cam Newton is insane, just check out Marino's stats, and then adjust them for his era. Wow. Another thing that might stick out is the rushing yardage. Of course Tebow figures to be better here, but he's even far and away better than Steve Young – another guy who was supposedly more of a runner than a thrower early on. But let's look at his passing stats. I'm sure he will finish WELL behind these guys when it comes to actually throwing the ball, right? Nope. For completion percentage, he finishes in the middle of the pack – ahead of Elway, Aikman, and Warren Moon. He looks even better when you look at his yards per attempt. In that category, Elway, Aikman, Young, Moon, Montana, Manning AND Brady all trail the young Bronco. This is where the story actually gets interesting. It will probably startle you to find out that the only QB that threw for more TDs (seven) in his first five starts than Tebow was Dan Marino. John Elway threw a paltry one, and Aikman and Young only had three apiece. When you factor rushing touchdowns into the whole story, Tebow only trails the great Marino by one TD total. But none of those stats were as shocking to me as the turnover story. Unbelievably, Tebow is tied with Marino and Moon for the least interceptions thrown of anyone in the group. Statistically, there is absolutely no evidence that says that any of these guys (besides Marino) looked better than Tebow in their first five NFL starts. Conversely, you could make a pretty convincing argument that many of them have actually looked WORSE than Tebow. The truth about young QBa (including Tim Tebow) Tebow has simply proven what most NFL players, fans, and coaches have believed for years: rookies generally don't come into the league and have success right away. Peyton Manning started every game as a rookie – and set an NFL record for most interceptions in a season. So what? That's what rookies do. Nobody ever considered pulling him. John Elway looked atrocious early on – completing only one pass for 14 yards and throwing a pick in his first game! Nobody second-guessed him. He was a rookie…you get what you pay for. The list goes on and on. Troy Aikman started his career 0-11. Joe Montana couldn't consistently crack the starting lineup until year three. It didn't matter. Rookie QBs have always been given a ton of leeway. That is, until Tim Tebow came along. For years, we have graded rookie QB's on a different scale. We accepted the fact that their stats would be mediocre, and we understood that they would make several rookie mistakes. All we really wanted them to show us was an ability to make big plays at big moments. If a QB could make winning plays, we would overlook a lot of the bad that inevitably came with starting a rookie QB. Could you really, honestly say that Tebow hasn't at least showed us he's capable of making winning plays? Could you really, honestly say that Tebow has shown us he is incapable of winning? Again, out of all of the above QB's, the only two QB's that had BETTER records than Tebow in their first five games were Marino and Brady. That's right…Elway, Montana, Manning, and the rest had worse starts. And if you look at each of these player's teams objectively, you will have a hard time trying to say that Tebow's Broncos are as good as Marino's playoff-bound Dolphins or Brady's Super Bowl winning Patriots. Word on the streets this morning is that the Broncos want to bench him after only two starts (five total when you bring his last three games from last year into play). What an unbelievably dumb decision that would be. Really, it would just be confirmation of something we already suspect: the Broncos don't really want Tebow to succeed…because they aren't really going to give him a chance. Sure, he looked bad against a 6-2 team with one of the best defensive lines in the league. Is that really enough evidence to bench the kid and proclaim he will never be a good player in the NFL? No matter what your thoughts are on Tebow, you have to agree that it's WAY too early to make a judgment on him. I'm not saying he's going to end his career as a Hall of Fame QB. I'm not even saying he's going to end up being a good starter in the NFL at all. What I am saying is that it's way too soon to really know. Let's extend Tebow the same long leash we gave every other rookie QB in history.
Let's at least give him the chance to prove us right…or wrong…whatever the case may be. **********
What do you think? Is Tim Tebow as bad as he is being made out to be, or does everyone (including the Broncos) need to have patience with a guy who has still only made five career starts? Comment below. Jon Washburn @The_Dr_Twitch
Original Story:
http://www.midwestsportsfans.com/2011...
THE BACKYARD
BEST OF MAXIM
RELATED ARTICLES
Tim Tebow's status under center for next weekend's game might be as shaky as one of his passes. The Denver Broncos quarterback was erratic and off-target all afternoon in a 45-10 loss to the Detroit Lions on Sunday. Tebow had the football stripped from his left hand and scooped up for a TD, threw an interception that was returned 100 yards for a score, and was sacked seven...
Well, that was fast. Not only did Tim Tebow's Broncos get housed by the Lions at home yesterday (18/39, 172 yards, 1TD, 1 INT in a 45-10 loss), he got thoroughly humiliated by a group of Lions defenders who reveled in the quarterback's failure. Linebacker Stephen Tulloch went Tebowing right over Tebow's body after a sack. And then many Lions openly ridiculed Tebow'...
They tried to bill this game — with the NFL's tacit approval — as a matchup of good vs. evil. But the reality is, that was never quite right. This was simply good vs. bad. The Lions are a good team. The Broncos are not.
Tim Tebow has been limited to four carries for 15 yards. The Broncos started with 0-for-5 accuracy on third down conversions. The sixth attempt led to a complete pass, Tebow to Eddie Royal, but Eric Wright got the stop just short of the first down. Yet another punt for the Broncos. Add two personal
The Detroit Lions sacked Tim Tebow seven times and turned his two turnovers into touchdowns as they snapped a two-game skid with a 45-10 victory over the Denver Broncos. Tebow followed his Miami miracle with a dud in Denver as the Broncos were blown out Sunday. Cornerback Chris Houston had the fourth 100-yard interception return in team history and defensive end Cliff Avril got a...
Denver Broncos coach John Fox is revamping his offense to include more college-style alignments designed to help new starting quarterback Tim Tebow, Fox Sports reported Sunday. According to the report, Tebow will receive more snaps in the shotgun formation, which could make him more dangerous as a dual-threat option. The offense may have more spread formations as well, the report...
For those on either side of the fence in the Great Tim Tebow debate of 2011, it would appear that everyone will have the second-year quarterback to discuss for at least another week. Despite some speculation that the Denver Broncos might bench Tebow in favor of either Kyle Orton or Brady Quinn after his sub-par performance in a 45-10 demolition at the hands of the Detroit Lions,...
Sports Illustrated senior writer Peter King said on the Rich Eisen Podcast that he thinks Denver Broncos quarterback Tim Tebow will not be the team's starter by the Week 11 matchup against the New York Jets.
The NFL's Web site billed it as Good vs. Evil, and as Ndamukong Suh said after the Lions blitzed, battered and mocked Tim Tebow, "Evil prevails." The Lions flustered Tebow with a season-high seven sacks and snapped a troublesome two-game losing streak in grand fashion Sunday, beating the Broncos, 45-10, at Sports Authority Field.
Noted comedy professional Dwight Howard posted this picture to his Twitter account on Saturday evening. If you are unsure what the Orlando Magic center is doing, then I'd like to welcome you to sports blogs. Sometimes the things that happen here are fun! As I'm sure you all know, Howard is "Tebowing," a posing practice that takes its name and inspiration from Tim...
NFL News

Delivered to your inbox

You'll also receive Yardbarker's daily Top 10, featuring the best sports stories from around the web. Customize your newsletter to get articles on your favorite sports and teams. And the best part? It's free!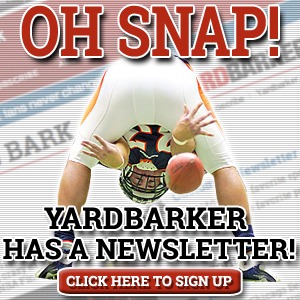 Latest Rumors
Best of Yardbarker

Today's Best Stuff

For Bloggers

Join the Yardbarker Network for more promotion, traffic, and money.

Company Info

Help

What is Yardbarker?

Yardbarker is the largest network of sports blogs and pro athlete blogs on the web. This site is the hub of the Yardbarker Network, where our editors and algorithms curate the best sports content from our network and beyond.