Found September 13, 2012 on NFL News & Rumors:
Just one game into the 2012 campaign, questions on Tim Tebow's long term future with the Jets are already beginning to pile up, and while he's been careful to toe the company line during his time thus far in New York, the signs are beginning to point towards Tebow pushing his way out of town at season's end.
Citing an NFL source, the New York Daily News is of the belief that the longer Tebow remains the backup for the Jets, the more he'll desire to extricate himself to a team in need of a starting quarterback in the off-season. Their reasoning is based on Tebow's reputation as a "football-aholic" and it makes sense that he would want to do anything he could to get himself into a more favorable position with a club going forward.
The Jets, for their part, seem content to keep Tebow on a short leash, using him in a variety of ways but rarely as a passer, preferring instead to stick with Sanchez for the time being on that front. What they do when the going gets rough though is anyone's best guess, as it will be tough to keep Tebow on the bench if Sanchez is unable to lead them to post-season success.
In any case, Tebow's future is firmly in the hands of the Jets management for better or worse, and any playing time he gets will be based solely on the ups and downs of Sanchez, rather than his own hard work and effort on the field. Forcing the Jets hand will require a different approach than we're used to with Tebow, as he'll have to make his case publicly and drop his team-first attitude to make it more advantageous for New York to send him elsewhere in the off-season.
©2012 NFL News & Rumors. All Rights Reserved.
.
Original Story:
http://nflnr.com/2012/09/tim-tebow-ex...
THE BACKYARD
BEST OF MAXIM
RELATED ARTICLES
NEW YORK'S NOT MY HOME
According to reports out of New York, Tim Tebow may request a trade from the Jets at season's end if he continues to be utilized in the manner he was been by the team.
An anti-climactic, plodding showing by Tim Tebow in Week One's trouncing of the Bills isn't deterring the media from relinquishing the hype. On Tuesday, NFL.com released its first Power Rankings of the 2012 regular season, listing the Lions at No. 11, Steelers at 12, and … Tebow at 13? Yes, the Jets' backup quarterback/Wildcat handler/personal punt protector has officially...
A couple of days ago a report surfaced from the New York Daily News that Jets quarterback Tim Tebow may end up requesting a trade if he doesn't become the starter at some point this season. According to Bart Hubboch of the New York Post says Tebow denied the report on Friday. https://twitter.com/HubbuchNYP/status/246663563832344577\ Of course Tebow is going to deny any thoughts...
Tim Tebow's big debut with the New York Jets was a quiet one. The backup quarterback saw limited action in the season opener last Sunday, but a sprinkling of Tebow and the wildcat package turned out to be more than enough against the Bills. What his role will be at Pittsburgh on Sunday remains to be seen. Rex Ryan says the Jets will never put a number on how many plays Tebow...
Tim Tebow and the New York Jets provided a massive letdown to the New York and national media with their blowout win over Buffalo on Sunday.  In fact, Sunday's 48-28 victory was pretty much the doomsday scenario for sensationalistic, over-the-top, Tebow-centric media coverage.  Mark Sanchez played well throwing for 3 TDs and Tim Tebow was used sparingly.   So what...
On Wednesday NY Daily News writer and constant Giants-apologist Gary Myers wrote about Tim Tebow wanting out of New York (or New Jersey, whatever). Tim Tebow is a divisive character within the realm of sports. Some love him, some hate him, and a lot of that has little to do with how he performs on [...]
Tebow Mania is a beast of its own kind. Everyone wants to be a part of it.  It 's guaranteed ratings, and guaranteed to get everyone involved some attention. So four days after Mark Sanchez looked really damn good in a blowout of the Bills, Tebow again is the lead story. Gary Myers of the New York Daily News provided us with a report from a source who states that Tim...
As Tim Tebow and the New York Jets set their sights on the Pittsburgh Steelers, how many Wildcat plays can fans expect on Sunday?
Would Tim Tebow ask for trade from Jets over playing time?
Joe Namath has bashed the Jets over the course of the off-season. He's questioned the motive of the coaching staff for bringing in Tim Tebow by referring to it as a publicity stunt and even went as far as saying the team is more interested in making headlines than winning football games. Now the former Jet is back at it again, discussing none other than Backup QB Tim Tebow (no...
I know what you're thinking (WTF), there is no way the New York Jets will start Tim Tebow this Sunday against the Pittsburgh Steelers. But here is why it would be smart for the Jets to split the time between Sanchez and Tebow. The Bills are not the Steelers: The media has been over-exaggerating Sanchez's performance against the Bills. Sanchez has been consistently praised for...
Many sports writers (myself included) ate their words when the New York Jets demolished the Buffalo Bills in Week 1. After struggling throughout the preseason the Jets scored on five consecutive possessions against Buffalo and did not allow a sack. Mark Sanchez was on his game, completing passes to eight receivers.But beating the Bills is not enough to convince fans that the Jets...
Jets News

Delivered to your inbox

You'll also receive Yardbarker's daily Top 10, featuring the best sports stories from around the web. Customize your newsletter to get articles on your favorite sports and teams. And the best part? It's free!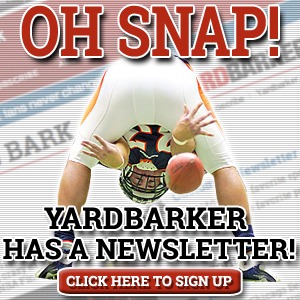 Latest Rumors
Best of Yardbarker

Today's Best Stuff

For Bloggers

Join the Yardbarker Network for more promotion, traffic, and money.

Company Info

Help

What is Yardbarker?

Yardbarker is the largest network of sports blogs and pro athlete blogs on the web. This site is the hub of the Yardbarker Network, where our editors and algorithms curate the best sports content from our network and beyond.