Found July 02, 2013 on Pro Football Zone:
According to the Orlando Sentinel, former University of Florida quarterback Tim Tebow tried to break up a bar fight involving Aaron hernandez who was a teammate of his at the time. Tim Tebow tried to stop Aaron Hernandez from getting into a violent bar fight in 2007 while both were football players at the University of Florida, according to Gainesville police records. Hernandez, then a 17-year-old freshman, punched a bouncer in the head causing a broken ear drum on April 28, 2007, according to the police report.   When a police officer could not find Hernandez at the scene of the altercation around 1 a.m., the report states he interviewed Tebow about it.   The report stated the following: A waitress at The Swamp bar allegedly brought Hernandez two "alcoholic drinks," which he consumed but refused to pay for. That's when Hernandez got into a fight with a bouncer at the bar. Hernandez told police [bouncer Michael] Taphorn got in his face and began yelling at him. As Taphorn turned to walk away, Hernandez punched him in the side of the head. Taphorn declined medical treatment but the next day doctors discovered his right ear drum had burst and the injury would take four to six weeks to heal. When the officer could not find Hernandez immediately following the incident, he interviewed Tebow and Shaun Young. "Tebow stated that he witnessed the dispute," the officer wrote. "… Tebow stated that he went over to try to help resolve the conflict." Tebow went on to say he urged Hernandez to leave peacefully and tried to make arrangements to pay the bill. Two hours later, another officer found Hernandez and spoke with him about the incident. Tebow was present during the interview. The officer wrote Hernandez did not appear to be intoxicated and was, "very polite and professional." Hernandez told the officer both he and Tebow had already called then-UF football coach Urban Meyer and informed him about the incident. A day later, the investigating officer told Hernandez's attorney, Huntley Johnson, he would not be pursuing charges in connection with alcohol served to minors at the restaurant, but he wrote, "it would be noted in the report so the coaches could handle it internally."   Gainesville police recommended Hernandez be charged with a felony, but it is unclear how the case was resolved because all of Hernandez's other juvenile records are sealed. However, Hernandez still end up punching the bouncer. It's not a surprise that all of these incidents involving Hernandez are now coming out.  But it is interesting that former Florida head coach Urban Meyer stepped in and protected Hernandez from the law.  Now smart on Meyer's part because it helped Hernandez avoid consequences he probably needed to face.   Need NFL Tickets? The post Tim Tebow forced to break up bar fight in 2007 that involved Aaron Hernandez appeared first on Pro Football Zone.
Original Story:
http://feedproxy.google.com/~r/ProFoo...
THE BACKYARD
BEST OF MAXIM
RELATED ARTICLES
In an interview for Extra roughly two months ago former Patriots tight end Aaron Hernandez claimed to be a "role model" for Hispanic people. In a few short weeks the Aaron Hernandez saga has gone from bad to worse, and the young man is as far from a role model as can be. Of course, the only reason this video is of any note is because Hernandez and two others were arrested just...
According to Kelly Naqi of ESPN's Outside the Lines, authorities from Massachusetts who are investigating the murder case involving former Patriots tight end Aaron Hernandez have reached out to the police in Gainesville, Florida in an attempt to find out if Hernandez was involved in a 2007 shooting that resulted in two men being seriously injured. The 2007 Gainesville shooting...
Last offseason, Aaron Hernandez was staying in a rental house in Hermosa Beach, Calif., when police responded to a complaint. A neighbor called the police to report a domestic disturbance between Hernandez and his fiancee, according to TMZ. The neighbor said the tight end and Shayanna Jenkins were fighting inside their house. When police arrived, Jenkins said she was OK and did not...
There are run-of-the-mill-bizarre Craiglist ads, then there are dregs-of-society-bizarre Craiglist ads. This is clearly the latter. In the aftermath of the Boston Marathon bombings, one of the oddest storylines was the outpouring of support for alleged domestic terrorist Dzhokhar Tsarnaev — largely among admiring teenage girls. In the wake of Aaron Hernandez's arrest for the...
We reported earlier today that Boston authorities have been in contact with Gainesville police in order to gather more information about a 2007 shooting that took place down in Florida. The Gainesville police have released a statement denying that they've been contacted by Boston authorities. The Gainesville Police Department is aware that members of the national media are reporting...
The Hartford Courant is reporting that three men were arrested early Saturday morning at a West Hartford, Conn. diner following a fight that reportedly involved the yelling of Aaron Hernandez's name. According to reports, someone at the Golden Roc Diner shouted "Hey, Aaron Hernandez" after seeing a man they thought was the jailed former tight end of the Patriots. After...
One of the many "Aaron Hernandez has always been a jackass" stories that have surfaced on Tuesday involves his alleged involvement in a 2007 Gainesville bar fight, during which Hernandez reportedly punched a bouncer in the head and ruptured his ear drum. The story has been circulating rapidly since the Wall Street Journal obtained the [...]
The piece by Jason Whitlock today on Aaron Hernandez was very well written, I encourage you to read it. In short, it blames America's violent culture and hero worshipping of thugs for the creation of individuals like Aaron Hernandez.  Whitlock used names like Jay-Z, Tony Soprano, Scarface, Al Capone, Tupac Shakur and Christopher Moltisanti to strengthen his point that this...
Massachusetts State Police recently searched an apartment owned by Aaron Hernandez, uncovering some new evidence in the murder case against the former Patriots tight end. Police enacted search warrants on a condo Hernandez owned in Franklin, Mass., which just over a dozen miles from his $1.4 million North Attleboro home, in late June, according to the Boston Herald. The search turned...
For the past two weeks, the biggest story in the wide world of sports has been the Aaron Hernandez murder charge. Hernandez, a pro bowl tight end who previously played tight end for the New England Patriots pleaded not guilty to first-degree murder and five firearms charges, more than a week after the body of Odin Lloyd was found near his Massachusetts home. Before he was officially...
Welcome to the Fallout - Cuatro de Julio edition. Happy Fourth of July, y'all. Hope you take time to remember the freedoms you're celebrating, and those servicemen and women who are defending it. The elephant in the room. Zach Travis discusses Ohio State head football coach Urban Meyer's connection to former New England Patriots tight end Aaron Hernandez...
There's no doubt about it, one team in particular going into the 2013 NFL training camps, will have a lot of problem solving to do.  During The New England Patriots' off-season the team had a number of arrivals and departures of key players.  So crucial in fact that a few stories have made big news not only around the league, but the nation as well.  Aaron Hernandez has...
Patriots News

Delivered to your inbox

You'll also receive Yardbarker's daily Top 10, featuring the best sports stories from around the web. Customize your newsletter to get articles on your favorite sports and teams. And the best part? It's free!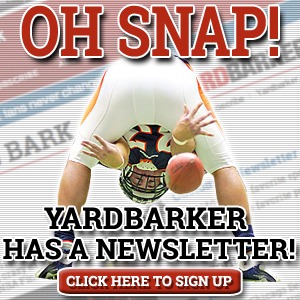 Latest Rumors
Best of Yardbarker

Today's Best Stuff

For Bloggers

Join the Yardbarker Network for more promotion, traffic, and money.

Company Info

Help

What is Yardbarker?

Yardbarker is the largest network of sports blogs and pro athlete blogs on the web. This site is the hub of the Yardbarker Network, where our editors and algorithms curate the best sports content from our network and beyond.