Found May 18, 2012 on Losers Bracket:
So… it's May 18th.
Don't be afraid to take Megatron super early this year.
It is well past the losersbracket.com deadline for our first Fantasy Football 2012 mock draft.  We are not insane, I mean we will only go about a round here.
Well… since it's past due let's get right to it.
Non-PPR, QB 6 point league, 2 wr, 2 rbs and a flex.  Normal other ****.
#1.  Aaron Rodgers.  He had the 2nd most fantasy points, 8% less than Brees but played one game less.  And he doesn't have the bounty gate over his head.  I will go with the ultra safe Rodgers at #1 as he is in the prime of his career with no end in sight.  And a little homerism here.
#2.  Calvin Johnson.  Yes, a WR.  Not since Jerry Rice, well not even Jerry Rice, has a WR gone this high.  Moss at 4 or 5 from what I recall.  Calvin Johnson had THE most points as a WR by a staggering 34%.  Holy **** bat man.   (Wes Walker #2).  No downside  or much risk here either.  So rock it out.  I'm dead serious.
#3.  Arian Foster.  Ray Rice had more points but Arian Foster missed a few games early.  To have Arian Foster on your roster puts you in the playoffs.  Do I really have to say more?  100 yards and a touchdown by halftime.  Which is nice.  Also the chance for a "Priest Holmes" game, 100 yards running and 100 recieving.  Nice.
#4.  Ray Rice.  They use him like a mule.  Which is great for you, not for the mule.  If he is your keeper good year to dump him, not much left in the tank with this kind of work load.  Flacco sucks mules, I mean donkeys.  Doesn't really matter though, they give Ray the ball, he does stuff with it.  It's a pick you are going to be happy with at #4.
#5.  Brees.  #1 overall fantasy player last year.  So at 5 could be a considered a steal.
#6.  Brady.  Just a tick off from Brees and Rodgers.  Steal 2.0.
#7  Stafford.  Run on QB's.  Too much to pay?  Seriously… coming back you might get stuck with Mark Sanchez who had 75% less points last year.  Ouch.  Next best QB is Eli, so I jump here.   Possible reach, yes.
#8  Lesean Mccoy.  MJD had 10% more points last year, but I got Lesean.  The Eagles were gaining momentum last year.  I like it.  MJD can't do it again with the crappy Jags can he?
#9  Cam Newton.  Fine.  Someone will take him here.  It won't be me.  But someone will.  I think his 1 yard plunges will be stopped this year bringing his value way down.  I was wrong on Cam last year in a big way… so probably will be again.  Somebody will bite though.
#10  MJD.  So the THIRD finest RB in all the land goes 10.  Man oh man how life in the NFL and fantasy has changed.  This isn't a RB league any more and fantasy football is finally going to show it.
#11  Gronk   Look he's a tight end.  I get that.  He is also the 8th best non QB player last year in fantasy football.  8th.  And he has done it two years in a row and rarely has a bad week.  Mr. Consistent.  24% better than Jimmy Graham (#2 te) and 80% BETTER THAN THE THIRD BEST TE!  More on this in a bit.
#12  Wes Welker  2nd best WR and has done IT for a few years now.  Grab him without fear.
Ok… and right no Adrian Peterson.   Which is pretty amazing.  Not sure where to take him and his broken leg and horrible team.
How about Michael Turner? NO NO NO
Here is one intriguing theory … try to get Gronk AND Jimmy Graham in a flex league.  You could do A HELL OF A LOT WORSE.  And instead of a #3 WR that is bust or boom go with guys that are 80 and a touch every frickin week.
And there you go!
Original Story:
http://losersbracket.com/2012/05/time...
THE BACKYARD
BEST OF MAXIM
RELATED ARTICLES
Click here to view the embedded video. Thank to my extra-innings package, I came across this commercial while watching the Brew-Crew the other day. As football season is still in hiatus, Brewer and Packer fans alike hail Rodgers at every opportunity. I would actually be curious to get Rodgers on the mound to see how fast he could sling it. Watch the snippet above great great great...
Ray Rice is making the most of a relatively solitary offseason. Working out on his own away from Ravens headquarters due to his unresolved contract status, the unsigned franchise player has maintained his high standard of conditioning. The diminutive former Rutgers star is still checking in at a chiseled 5-foot-8, 212 pounds. "Training is something that I never worried...
That is the question that has plagued the Ravens and running back Ray Rice's agent all offseason. Is it Arian Foster/LeSean McCoy value or Adrian Peterson/Chris Johnson? Who really knows? Rice is the most dynamic player on the Ravens' offense, but he's not the best. That distinction belongs to quarterback Joe Flacco. The running back sealed the AFC North with two long touchdown...
In a conversation that must have felt totally natural and heterosexual to him, Aaron Rodgers went on a Canadian podcast this last week called "Cabbie Presents: Softcore Gay Porn Talk The Podcast" and just talked about how much he loves dude's butts. Well, at least dude's butts that belong to his former and current centers. No joke: "There's two main...
Round 1 1)   Aaron Rodgers- Rodgers should without question be not only the first QB selected in the draft, but the first player overall selected. Last year, Rodgers kept fantasy owners in every game by averaging a gaudy 25.6 fantasy points per game. No matter what other players owners surround Rodgers with, they can expect to win every week. 2)   Arian Foster- After a slow start...
Supply is outpacing demand when it comes to quarterbacks. That's evident in the NFC North, with Aaron Rodgers, Matthew Stafford, Jay Cutler and Christian Ponder being building blocks of their franchises. That means a quality quarterback class might be bypassed for the 2013 draft.
Here's an early look at Fantasy Running Backs. 1 Arian Foster 2 Ray Rice 3 LeSean McCoy 4 Matt Forte 5. MJD 6 Demarco Murray 7 Chris Johnson 8 Darren McFadden 9 Marshawn Lynch 10 Frank Gore 11 Ryan Matthews 12 Jamaal Charles 13 Adrian Peterson 14 Steven Jackson 15 Ahmad Bradshaw 16 Michael Turner 17 Fred Jackson 18 Darren Sproles 19 Roy...
The five-year, $45 million extension signed by Philadelphia tailback LeSean McCoy on Thursday -- with the raw numbers provided by "a league source" otherwise known as agent Drew Rosenhaus, seeming to check out as accurate -- merited considerable attention. And deservedly so. But the megadeal, hinted at earlier in the week by Eagles' coach Andy Reid, also cast...
Editor's Note: This list was compiled in early-May 2012. Because four heads are always better than one, each member of the FOXSports.com fantasy department created their own 2012 Top 200 Fantasy Football Rankings . The four individual player rankings were added together, divided and produced overall composite scores. The rankings are geared towards owners competing in 10-12...
NFL News

Delivered to your inbox

You'll also receive Yardbarker's daily Top 10, featuring the best sports stories from around the web. Customize your newsletter to get articles on your favorite sports and teams. And the best part? It's free!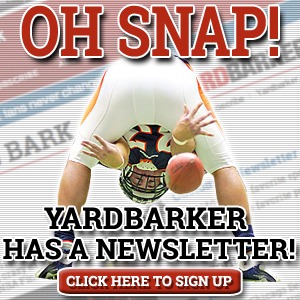 Latest Rumors
Best of Yardbarker

Today's Best Stuff

For Bloggers

Join the Yardbarker Network for more promotion, traffic, and money.

Company Info

Help

What is Yardbarker?

Yardbarker is the largest network of sports blogs and pro athlete blogs on the web. This site is the hub of the Yardbarker Network, where our editors and algorithms curate the best sports content from our network and beyond.