Found October 17, 2012 on Fox Sports Tennessee:
NASHVILLE -- When Titans cornerback Jason McCourty was burned by Pittsburgh's Mike Wallace for an 82-yard touchdown reception in the first quarter last Thursday, he had a similar memory from his days at Rutgers to draw upon. McCourty, in his fourth season, said that he allowed the bad play in college to affect him the entire rest of the game. "I told myself at that point: Never again," he said. When Wallace allowed the long scoring play, the Titans were 1-4, were on pace to give up the most points in NFL history and falling down 10-3 early on an explosive play to a perennial playoff team like Pittsburgh could crush the soul of even the strongest of heart. However, in the Titans' 26-23 victory over Pittsburgh that head coach Mike Munchak and numerous players said they believe can help to turn their season around, McCourty made a number of big plays that were integral to the outcome. "So definitely being able to bounce back and being able to make a play for this team was real important to me," McCourty said. "I just love the feeling of being able to help us win." Munchak said he has enjoyed watching the development of McCourty, who is now a captain on defense. "I think that's what makes a player special," Munchak said. "If you play corner, that's going to happen. You know what? Guys are going to have a bad play or two. Guys are going to make a play on you. There's some pretty good receivers in this league. You need to have a short memory, which I think he showed you (last Thursday) he had." Before the first quarter had ended last week, McCourty made one of those big plays to help get his team back on top. Tim Shaw blocked a punt as time expired in the quarter and McCourty recovered it at the Steelers' 1-yard line. Two plays later, the Titans took the lead, 13-10. Then, with 1:31 remaining before halftime, he intercepted Roethlisberger, who again was going deep -- 50 yards downfield -- but this time for Antonio Brown. The Titans took over at their 32 and ended up kicking a 47-yard field goal with four seconds left before halftime to take a 16-10 lead at the break. Munchak spoke of McCourty, 25, as a leader. Last season, the former sixth-round pick ranked second on the team in tackles (107), first in passes defended (13) and tied for the team lead in interceptions (2), as he started 15 games, the most of his career. In the win over Pittsburgh, he also posted five tackles and two passes defended. "That's an example we need everyone on our team to see," Munchak said. "You know what? You're going to make bad plays, man. You're going to get run over. You're going to get embarrassed in this league. I don't care who you are. You've been through it, but how do you respond to that? How do you respond when you had a bad play and everyone knows that you had a bad play? "By that -- by how he did it. He's a perfect example of that and he came out and played a strong game." McCourty accepted all of the blame for allowing the touchdown to Wallace, refusing to say that he should have had help from a safety on the deep route and that another teammate blew a coverage. Irrespective of the outcome, he said he should not have allowed that play. "It was all me," he said. "I got to play that better. No matter what happens in the rest of the game, I have to play that play better. I can't let him get behind me. "The most important thing is just being able to bounce back. I think it was a little bit encouraging for the other guys on defense to see me bounce back. It just kind of gave the guys faith in me so they could believe that I can still get the job done." Even though the Titans had won once before the Pittsburgh game, Thursday's victory was the defense's best performance, allowing seven fewer points than its next best showing (a 30-7 loss to Minnesota the week before). The team is still on pace to give up the most points in league history, but when factoring in that the offense has given up 21 points, that is not the case. While holding the Steelers to 10 points in the first half, including shutting them out in the second quarter, McCourty said it was important to continue that effort in the second half. "Yeah, I mean the last few weeks we've made stops, we just haven't been able to maintain it," he said, "so when we came in at half we said to ourselves the most important thing for us to do is finish. It's not good enough to play a good half of football and give our offense opportunities in the first half, but in the second half give up touchdowns. So I think it was just important for us to come out and not let up at all and just continue to place our foot on the pedal and continue to play well." The Titans did that. On Pittsburgh's final drive of what was then a tie game, the Titans held the Steelers to a four-yard pass play on first down, Derrick Morgan's 1-yard tackle-for-loss on second down and then forced an incomplete pass on third. That forced a 54-yard field goal try, which failed. Then the Titans' offense came up with some heroics of its own to earn an emotional victory. McCourty is hoping it's something the team can build upon. "We've already given away four games," he said after the game. "At this point, it's a matter of being able to win out. We're moving on the right track. It's just important for us to be smart with these days off and come back, refocus and continue to do what we do. We knew all along that we were more talented than what we were showing on tape and it's up to us to show that."
Original Story:
http://www.foxsportstennessee.com/10/...
THE BACKYARD
BEST OF MAXIM
RELATED ARTICLES
NASHVILLE -- When Titans cornerback Jason McCourty was burned by Pittsburgh's Mike Wallace for an 82-yard touchdown reception in the first quarter last Thursday, he had a similar memory from his days at Rutgers to draw upon. McCourty, in his fourth season, said that he allowed the bad play in college to affect him the entire rest of the game. "I told myself at that point...
MIke Martin was selected by the Tennessee Titans in the third round (82nd overall pick) of the 2012 NFL Draft. Martin was the first player from the Michigan Wolverines to be selected in the 2012 Draft. He is one of three Michigan Wolverines and 41 Big Ten players drafted. After being selected by the Titans, Martin said: "Actually, I have really good family friends that live in...
Besides the obvious fact that they would have been 1-5 as opposed to being 2-4, the Tennessee Titans 26-23 victory over the Pittsburgh Steelers could prove to be a turning point in their season. They have dealt with big injuries early on that have significantly affected their ability to win games, with Jake Locker still unlikely to play this week against the Bills, and with receiver...
Titans receiver Kenny Britt is absent from the Week 7 injury report, according to ESPN.com.Fantasy Spin:Britt has been plagued by knee and ankle injuries but he seems to be healthy coming off his best fantasy performance of the season, a four-catch, 62-yard, one-TD game against Pittsburgh last Thursday. Britt gets the Bills Sunday -- Buffalo has allowed 13 touchdown passes, tied...
Kenny Britt feels as if he's finally shaking off the rust from being out most of last season and missing chunks of this year with other leg injuries. The Titans receiver says he hopes the Buffalo Bills try to double-team him on Sunday because he trusts his teammates will make them pay. Britt being healthier than he's been in more than a year gives Tennessee a full group...
Matt Hasselbeck will start another week for the Tennessee Titans in place of injured quarterback Jake Locker reports Dan Hanzus of NFL.com. Coach Mike Munchak announced Monday that Hasselbeck will make his third consecutive start in place of Jake Locker when the Titans visit the Buffalo Bills in Week 7. The Titans have decided to take a more conservative...
Atlanta, Denver, Kansas City, Miami, Philadelphia and San Diego are all on bye in Week 7. That's a lot of fantasy firepower owners won't be able to...
This week, we are joined by the boys over at Total Titans to help dissect this match-up. Want to know about Matt Hasselbeck's play? Chris Johnson's sluggish season? Strengths and weaknesses? The coaching job? Of course you do. If you want to read my responses to their questions, check out their site. 1)If you were the Bills offensive and defensive coordinator, how would...
Tennessee Titans (2-4) at Buffalo Bills (3-3) These two teams are actually very, very similar. Tennessee ranks 29th in yards per play differential and Buffalo ranks 30th. Buffalo also ranks 30th in rate of sustaining drives differential, while Tennessee ranks 31st. I picked both teams for big plays last week because, in addition to other reasons, both teams were coming off back to...
By Christopher DiMarino Steelers Versus Titans Recap: It's been a whole week now but the feeling hasn't quite left yet. The best way to describe the feelings I experienced after Rob Bironas kicked thru the 40 yard field goal that spelt game over was frustration mixed with doubt. Frustration due to the apparent decline in team ability and the futility associated with losses...
Below is the week 6 offensive line breakdown for the Pittsburgh Steelers game against the Tennessee Titans. It's amazing how much better you can see the offensive line play via the All-22 view. The first few times through the regular game tape I don't focus too tightly in on the offensive line because I am looking at defenses and individual schematics of plays mostly....
NFL News

Delivered to your inbox

You'll also receive Yardbarker's daily Top 10, featuring the best sports stories from around the web. Customize your newsletter to get articles on your favorite sports and teams. And the best part? It's free!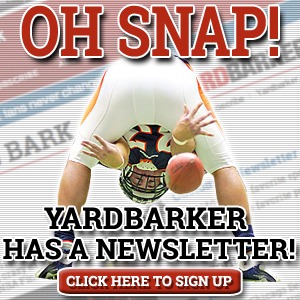 Latest Rumors
The Backyard

Today's Best Stuff

For Bloggers

Join the Yardbarker Network for more promotion, traffic, and money.

Company Info

Help

What is Yardbarker?

Yardbarker is the largest network of sports blogs and pro athlete blogs on the web. This site is the hub of the Yardbarker Network, where our editors and algorithms curate the best sports content from our network and beyond.