Found July 26, 2013 on Fox Sports Tennessee:
NASHVILLE, Tenn. -- It's not like he pulled his players around the campfire for storytime, but Titans head coach Mike Munchak can surely relate what training camp was like back when he played compared to the way it is now. "I think it was that you could put an itinerary on one page, that every day was exactly the same," Munchak said of training camp during his playing days from 1982-83 before the start of Titans training camp here Thursday at Saint Thomas Sports Park. "I think that some of the hitting we did was senseless," he added. "It probably cost me two, three years maybe of playing time. Some of my best hits were in training camp. "I wish I saved some of those because there were a lot of fights, a lot more was allowed to happen. There wasn't a concern for a lot of those things people didn't hear about." Two-a-day, or even three-a-day, practice sessions were the norm, plus weight lifting and other conditioning requirements. In large part, players came to camp to get into shape. Now, players are expected to report to training camp already in shape and be ready to fine tune what they worked on during nine weeks of spring drills before taking a five-week hiatus. Under the current collective bargaining agreement between players and the league, two-a-days were abolished. Day 1, which was Wednesday for the Titans, includes physicals, testing and meetings, but no on-field activities except for running and conditioning. Teams are allowed to practice on Days 2 and 3 of camp, but without wearing pads and with no contact. The first padded practice with contact comes on Day 4, which is Sunday night for the Titans, but they can't last more than three hours. Teams are allowed a walk-through on the same day of a practice, but there must be a wait of three hours between the two. Players can't be on the field more than four hours on any given day. During training camp, there are five mandatory off days and one in every seven days. A padded practice that goes more than 60 minutes and is cancelled still counts as a full practice. "So, it's different," said Munchak, whose team's first preseason game is a week from Thursday night against the visiting Redskins. "It was just a different time. I tell these guys some of those stories sometimes. You remember just like our parents tell us, you can never appreciate what you have and how much harder it was for us. "But, again, I think a lot of the changes that happened were necessary and are good for the game, because we didn't have an offseason the way we have now." While many NFL teams take training camp on the road -- the Cowboys are holding theirs in Oxnard, Calif., for example -- the Titans conduct theirs at the the team's Nashville facility. However, players, coaches and staff members are all sequestered the first 15 days of training camp at a nearby hotel. "Everybody had rather stay at home and sleep in their own bed," ninth-year left tackle Michael Roos said. "But it is what it is. Everybody is doing it. All the coaches are there. Every player is there. Doesn't matter what year you are in the league." With the addition of 16 free agents, the incoming draft class of eight players and several more undrafted free agents, there is a lot of melding to do on both sides of a ball for a team that is trying to improve on last season's 6-0 debacle. That includes just getting to know teammates through time spent together. "I think it's good to bring that cohesiveness and have everybody doing the same thing and on the same page," Roos said. "You are coming in every night. You are staying at the hotel. You have curfew (at 11 p.m.). And every morning, you come in just like everybody else and get ready to work." While they might understand being sequestered at the hotel for 15 days at the start of training camp, it does put a cramp in some players' styles. For example, fifth-year cornerback Jason McCourty has a baby girl at home who'll be missed by the proud papa. "It's devastating," McCourty said with a laugh about being away from home for 15 days. "No, but it is an adjustment. I have a 7-month-old daughter now, so for the past for four weeks, I have been spending a lot of time with her and my fianc. So, I've just got to get used to sleeping in a hotel room away from your family. " But the positive is you get to build that camaraderie with your teammates. We'll all be around the building all day, every day. There will be a lot of jokes going on in the locker room and guys having fun and starting to build that bond." Titans Tidbits Not yet having come to terms on his contract, first-round draft pick Chance Warmack, the former Alabama guard, did not show for training camp on Wednesday and was not on the field practicing Thursday. While his salary is slotted at 12 million over four years, the holdup appears to be concerning "offset language" in the contract. That allows teams to save money on the guaranteed part of a contract should the player be released and signed by another team. "Definitely want him here, need him here," Munchak said of Warmack, who is expected to start at right guard from game one. "He's a big part of, we feel, the offensive line so that's important to us. We're just going to have to see how that plays out and hope that's something that we see him real soon." Tight end Delanie Walker, the former 49er who signed a four-year deal worth 17.5 million as a free agent, started training camp on the PUP (physically unable to perform) list after having arthroscopic knee surgery several weeks ago. He is expected to return to the field midway through training camp and, hopefully, play in the last two preseason games. The Titans open the season Sept. 8 at Pittsburgh. "We knew he had some soreness and thought the time off would help him," Munchak said. "It did, but he still didn't feel quite good enough, so he went ahead and he got scoped a few weeks ago and again he'll just come into camp. "He'll definitely at some point play in preseason and do all that work well."
Original Story:
http://www.foxsportstennessee.com/nfl...
THE BACKYARD
BEST OF MAXIM
RELATED ARTICLES
Mike Munchak has made it very clear he wants Tennessee's offensive line able to take over games this season, words every lineman wants to hear. The Titans took their next big step toward that goal Thursday when left tackle Michael Roos, new left guard Andy Levitre and right tackle David Stewart all lined up for the first team snap at the first training camp practice. Stewart...
When new offensive coordinator Dowell Loggains calls a play for the Tennessee offense, the Titans face much simpler decisions at the line of scrimmage. It's all by design. Loggains met with some of his fellow coaches during the offseason as he compiled his first playbook. He put in plenty of rushing plays with coach Mike Munchak wanting a run-oriented offense, but Loggains...
Tennessee Titans wide receiver Kenny Britt received what he described as a "camp survival package" from his wife Sabrina which consisted of mostly candy and cookies. The package included a good assortment of candy, including Snickers, Pay Day, Starburst, Sour Patch, Fruit by the Foot, Gushers and some sour straws.  Talk about loading up for a sugar high. Photo...
We begin our trip around the Titans position by position as we approach the start of the 2013 regular season with a look at the quarterback position. Unlike last year, the depth chart at quarterback is absolutely clear. Jake Locker is the unquestioned starter, and the man with whom the 2013 Titans will sink or swim. Ryan Fitzpatrick is the backup. He will play if Jake Locker...
Chris Johnson refuses to spoil the ending, so everyone will just have to tune in come November to see how he fared against a cheetah. The Titans running back and Chicago receiver Devin Hester took part in the human versus animal race for a cable TV special. While most people don't give Hester or Johnson much of chance against a cheetah, Johnson says he ran at full speed. ...
Now I am no expert, but didn't the Tennessee Titans just go through a season they would just as soon forget? Wasn't this a 6-10 team that was supposed to make good on improving following a 9-7 season in 2011? Wasn't this a team that looked to be on the upswing, but almost saw its head coach Mike Munchak fired in the offseason by team owner Bud Adams?And do we expect this season...
Posted by Mike Wilkening on July 24, 2013, 9:31 PM EDT Getty Images The Titans bolstered their running back depth on Wednesday, signing former Chargers tailback Jackie Battle.Battle (6-2, 240) will compete for a depth chart spot behind Chris Johnson and Shonn Greene. Veterans Jalen Parmele and Darius Reynaud are the Titans' other backs.The 29-year-old Battle rushed for 311 yards...
Tennessee Titans running back Chris Johnson is used to facing Jaguars twice a year. In November, Johnson and Chicago Bears receiver Devin Hester will showcase their speed against an actual cheetah on Nat Geo Wild. According the The Wrap, both players faced off in foot races against the big cat for a special called Man vs. Cheetah, which will air as part of the network's fourth...
The Titans are starting training camp with their top draft pick still unsigned. Coach Mike Munchak hopes a deal with Chance Warmack is done quickly because Tennessee has big plans for him. The Titans reported Wednesday, and Munchak said there's no reason to think Warmack - the 10th selection overall - isn't the best right guard on the team if the former Alabama lineman doesn...
Titans News

Delivered to your inbox

You'll also receive Yardbarker's daily Top 10, featuring the best sports stories from around the web. Customize your newsletter to get articles on your favorite sports and teams. And the best part? It's free!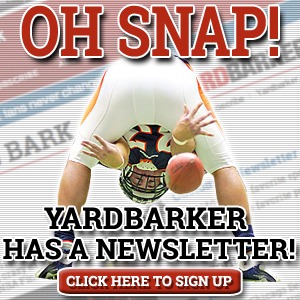 Latest Rumors
The Backyard

Today's Best Stuff

For Bloggers

Join the Yardbarker Network for more promotion, traffic, and money.

Company Info

Help

What is Yardbarker?

Yardbarker is the largest network of sports blogs and pro athlete blogs on the web. This site is the hub of the Yardbarker Network, where our editors and algorithms curate the best sports content from our network and beyond.