Found April 11, 2013 on Turn On The Jets:
PLAYERS:
Mark Sanchez
,
Austin Howard
,
Rex Ryan
,
Vince McMahon
,
Woody Johnson
,
Mike Francesa
,
Eric Mangini
,
Bart Scott
,
David Diehl
,
Ben Roethlisberger
,
Robert Griffin III
TEAMS:
New York Jets
,
New York Giants
,
Pittsburgh Steelers
,
Washington Redskins
Welcome to this week's TOJ Bag, where our staff answers your questions on the New York Jets, NFL, and things somewhat related to both. We are going to run this every Thursday so make sure to send questions in to TOJBagQuestions@gmail.com – Today we are talking confusing Jets fan hatred, drinking at MetLife, and the Mark Sanchez reclamation project. – On to the questions! Are there any players that you would be really mad about if the Jets drafted? – Chris, Sayreville Mike Donnelly – I'll limit my answer to just the first round since that's the most important and will obviously feature the most well known player. I'd be pretty bummed out if any QB is picked in the first round, because quite frankly I think they all stink. Geno Smith is the best of the bunch I think, but I certainly wouldn't be happy if his name is called. I would also be pretty bummed if one of the guards is selected only because I think this is the year the team badly needs to address the pass rush and take one of the edge rushers, and I do think that's where they'll go with the first pick. I'll protect myself and drink heavily though, so even if they break my heart I won't be too sad until the next day. Joe Caporoso - I'd be frustrated with the selection of Geno Smith at #9 for a variety of reasons, mainly because it is highly unlikely he'd be the best overall player on the board. The Jets need talent everywhere and should be looking to add the best player they can get their hands on at #9, not be reaching for a quarterback. Maybe I am gun shy because of how Sanchez has struggled lately but I'd feel more comfortable with Smith or EJ Manuel in the 25-50 range. Chris Gross - It is tough to say that there would be a player that I'd be upset with in round one, particularly with the amount of holes across the board on the Jets roster. The easy answer would be to say Geno Smith, considering there are a good amount of question marks about him and New York's immense need at outside linebacker, safety, guard, and tight end. However, I think Smith is being evaluated perhaps a bit too harshly after the strength of the quarterback class in 2012. The bar was set high last year with sure fire prospects like Andrew Luck and Robert Griffin III, and while Smith is no where near the prospects they were coming out, I think he will be a very good pro. That being said, taking a quarterback would not be the absolute worst thing for the Jets to do at 9, but I do not see it happening. Overall, I'd have to say drafting an offensive tackle at 9 would be a disappointment. While someone like Lane Johnson will make a fine pro, New York already has an excellent left tackle and a very capable, and still improving right tackle in Austin Howard. While the tackle prospects are all excellent, there will be much better players that would fill areas of need available in that spot. If Rex Ryan gets fired after this season, do you think he will get another head coaching job right away? I just have this horrible feeling that the Jets will fire him and then he will go and lead another team to the Super Bowl right away. – Jeffrey, Weehawken Mike Donnelly – Hard to say if he will, but he definitely should. I could absolutely see him taking a year off and doing some TV work if he's fired after this season and then try to get another head coaching gig the year after. I don't think he will jump right back in as a defensive coordinator, because he probably considers himself to be above that at this point, and quite frankly I don't blame him. Rex is a damn good coach, and another team will be lucky to have him if the Jets stupidly fire him. If the Jets really trade Revis before the draft then fire Rex after the season ends, I'm going to be really, really, really sad. Our best player and our best head coach in years gone, just like that. That's a real kick to the stomach, even for a Jets fan. Joe Caporoso - If Ryan is fired, he won't be out of work long. I do think he will immediately find another Head Coaching position and also have plenty of offers to become a Defensive Coordinator. I can't see Ryan going back to a Coordinator at this point and there will be a team anxious to improve their defense and publicity who will give him a shot as a Head Coach. Chris Gross – I doubt he will get a head coaching job right away simply because if he is fired, that will mean he would have missed the playoffs for a third consecutive year. That would be a tough sell to any fan base from any front office. However, if Ryan does get his pink slip, I think he will be like his brother Rob thought he would be, and out of work for about 5 minutes. I can almost guarantee that the moment he walks out of the doors at Florham Park, his phone will be buzzing off the hook with offers to take a defensive coordinator position with another team. Jets fans worst nightmare? Ryan teaming up with Belichick as the defensive coordinator in Foxboro would be reminiscent of when Vince McMahon revealed himself as the higher power, and the Corporation joined forces with the Ministry of Darkess to become The Corporate Ministry. It is BS that the stadium stops selling beer so early during games, isn't it? We are Jets fans, we need to drink. – Alvin, NYC Mike Donnelly – Absolutely. Usually it's so cold at home games that my tailgating buzz is gone by the middle of the first quarter and then in my head I'm just thinking about how little time I have left to go buy two beers at a time before they stop selling. It really messes with your enjoyment of the game. Or maybe I just have a drinking problem. Joe Caporoso - I do my drinking outside the stadium. I'll be damned if MetLife is getting 9 dollars from me for a Bud-Light. You can always smuggle in one of these Jack Daniels nips too, no? That is a TRUE Jets fan move. Chris Gross – It's a joke and ridiculous that we have to sprint to the concession stands at half time so we can buy two before the start of the third quarter. This is why tailgating is an absolute must and keeping a cooler packed for post game depression chugging is a necessity. I didn't think it was possible, but Woody Johnson is actually worse than Leon Hess was, right? – Terrance, Brooklyn Mike Donnelly – Wrong. THINK about the Leon Hess Era and you'll realize this is nowhere near as bad. Think about Rich Kotite. Think about Neil O'Donnell. Ugh. I don't care about the PSL's or the Revis drama or anything else. The Jets product under Woody has been far better than it was under Hess. Not even close, actually. Joe Caporoso - No way. You are forgetting just how truly awful the Jets were under Hess. They were Browns bad. Since 1998, the Jets have been one of the better franchies in the NFL in terms of wins, playoff appearances, playoff wins and AFC Championship Heartbreaks. Chris Gross – I'm not sure if my statistics are correct here, but I believe the Woody Johnson owned Jets have already surpassed the amount of playoff wins than the Hess owned Jets. No knock on Leon, but Woody has brought this team to relevancy. Remember in the late 80s and early 90s? Neither does anyone else in Jets land because it 87-97 was essentially a wasted decade for Gang Green. One playoff appearance over that time period – a Wild Card loss to the Houston Oilers. People will bash Woody for how he operates, but there is no doubting he has brought some star power to good guys in Gotham. Say what you want, but Johnson simply wants to win and I believe this franchise will see a Super Bowl under his ownership at some point. I mean, it's gotta happen eventually, right? Right?????? Rex is the best coach this organization has had in forever, why does it seem like the fans hate him so much? I mean the guy almost went to the Super Bowl with Mark Sanchez for crying out loud! He should be given a long-term deal. – Ryan, Long Branch Mike Donnelly – It is just because of the media, and crusty old fools like Mike Francesa who have this weird agenda to hate Rex Ryan because he had the audacity to say he thinks his team is good and can win games. Apparently that wasn't allowed, and now stupid people just take what these media hacks say as gospel. If you're the kind of person who listens to Mike Francesa every day and takes him seriously and form your opinions based on what he says, you should go find the nearest wall to you and headbutt it about a dozen times. Joe Caporoso - I can never understand a Jets fan hating Rex Ryan and then reminiscing for the good old days of Eric Mangini. Ryan has been the second most important and successful Head Coach in this franchise's history and I don't say that lightly. Beyond that, he is 'freakin Rex Ryan…how can you hate that guy? Chris Gross – It's easy. Ryan came into New York with a bang. Brash predictions from the moment he took the job, and then to the surprise of everyone, actually backing it up by winning in his first two seasons. Yes, the Jets fell short of the Super Bowl in those years, but the bottom line is, they had everyone holding their breath because no one wanted to see a loud mouthed, heavy set, guy who flips off fans at UFC events come in and actually back up his bold predictions. From the moment Ryan began to talk about bringing a winning culture to New York, everyone who wasn't a fan of the Jets prayed for failure so they could all say "I told ya so." The fact that Ryan has gotten this team close, but not over the hump, angered those people out of fear. Fear that this guy could take a marginal franchise and turn them into Miami in the 80s. The media hated Jimmy Johnson when he coached the Hurricanes, and they hate Rex Ryan for all the same reasons. The difference is Johnson won championships, so there was only so much negativity that the media could write about him. They do not want a repeat with Ryan, nor do fans of any other team. Why do people act like the Jets are such a circus and this terrible group of people, meanwhile other teams like the Giants or Steelers get called "classy" but they end up having all these criminals, arrests, DUI's, rapists, etc? I can't stand it. – JP, New Brunswick Mike Donnelly – Again, much like with Rex Ryan, it all comes down to the media. The media has anointed the Jets a circus and Rex Ryan a buffoon so now it's become a "fact" that the Jets are a team full of criminals and terrible people, which is actually far from the truth. The funny thing is when you call someone out on this nonsense and ask who the terrible people are on the Jets, they have nothing to say. "Ohhh, uhhh.. Bart Scott!". Yeah, wrong. Just because you are outspoken to the media doesn't make you a bad person. On the other hand, the "classy" Giants have had a player discharge a firearm in a public place while on the roster, while another player hid evidence and disrupted an investigation. CLASSY. They've also had David Diehl drive his car completely and totally hammered and drive into other people's parked cars because he was so impaired, but that was apparently fine. Ben Roethlisberger was out raping multiple women, but the Steelers are still the model franchise, apparently. Rex Ryan guaranteed he'd win some games, and that's by far the worst thing you can ever do. Joe Caporoso - Media perception. Media perception. Media perception. The Jets are the loud team who came close to winning a championship twice but never quite got there. Pittsburgh and the Giants have won championships, which is a cure all for everything. Chris Gross – The answer is simple. Those teams win championships and the Jets do not. Winning cures a lot of things, especially perception in the media. If the Jets were to pull of a Super Bowl victory in '09 or '10, the perception of Ryan and the entire organization would be viewed in a different light. But they didn't and here we are. Can Mark Sanchez be fixed? The answer is no, right? – Rex Ryan (I'm not really Rex Ryan), Florham Park Mike Donnelly – I may get some hate mail for this, but not only do I think Mark Sanchez is fixable, I think he's going to bounce back and actually have a solid season this year. I'll just leave it at that for now. I BELIEVE!!! Joe Caporoso - Fixed? That is a tough word to define in this situation. I think he will play better this year than he did last year, that is something right? Chris Gross – ……. that's really all I got.
Original Story:
http://turnonthejets.com/2013/04/toj-...
THE BACKYARD
BEST OF MAXIM
RELATED ARTICLES
ProFootballtalk.com reported earlier tonight that the Jets are trying to trade quarterback Mark Sanchez to the Buccaneers along with Darrell Revis. According to Newsday, the Jets won't be trading Sanchez to the Bucs. The Jets may be eager to unload Mark Sanchez's hefty contract, but the struggling quarterback won't be dealt along with Darrelle Revis, two sources told Newsday...
If Sanchez does go to TB with Revis, I will miss seeing this kind of stuff You read right, according to a report from Pro Football Talk, a deal sending Revis to Tampa prior to the draft could include AssFumble Sanchez: While poking around the question of whether the Jets could be trying to include quarterback-of-all-trades Tim Tebow in the package (which would keep the Jets from...
How the mighty have fallen. The Tampa Bay Buccaneers and New York Jets have talked a potential Darrelle Revis trade for a while. But a new name surfaced Friday in a possible package that would ship the four-time Pro Bowl cornerback to the Bucs, who are searching for an answer to help fix the NFLs worst pass defense last season. Mark Sanchez. Yes, Pro Football Talk reported that...
Mark Sanchez isn't wanted anywhere it seems. The New York Jets are probing a scenario where they can ship both Sanchez and Darrelle Revis out of town, but the only team interested in a deal for Revis, the Tampa Bay Buccaneers, have no interest in making such a move if Sanchez is in the mix, according to Pro Football Talk. Sanchez, a four-year starter with the Jets, has been...
According to Mike Florio of ProFootballTalk.com, the New York Jets have spoken with the Buccaneers about including quarterback Mark Sanchez in a trade that would send Darrelle Revis to Tampa. Per a source with knowledge of the situation, the discussions between the Jets and Bucs have included the possibility of the Buccaneers assuming the contract of quarterback Mark Sanchez. Yes...
Mike Florio of Pro Football Talk reports that a source with knowledge of the situation has informed him that the Buccaneers and Jets have discussed the possibility of adding QB Mark Sanchez to a trade for CB Darrelle Revis. Florio adds that it's unknown whether or not Sanchez would be given an opportunity to compete for the team's starting job if he were to be deal to Tampa...
The dance between the Tampa Bay Buccaneers and the New York Jets continues. While it appears that the Bucs are the only real trade partner in the Revis Sweepstakes, even willing to give up a first-round draft pick this year, the Jets have been reluctant to pull the trigger. Now comes a report from Mike Florio of Pro Football Talk that one of the sticking points may surround another...
The personal QB coach of Mark Sanchez, former NFL QB Jeff Garcia, wants the New York Jets to release Tim Tebow to create a real quarterback competition. He believes this should happen prior to the start of offseason workouts, according to a report from USA Today's Jim Corbett: "If there's going to be competition at the position, it's not going to come from Tim Tebow," four...
New insight seems to surface every day regarding the Mark Sanchez-Tim Tebow-Greg McElroy-David Garrard debacle of a quarterback situation in East Rutherford, and one former signal caller says it's time to stop the charade. "If there's going to be competition at the position, it's not going to come from Tim Tebow," former Pro Bowler Jeff Garcia told USA Today on Thursday...
Based on rumors of Tampa Bay willing to give up the 13th, 73rd (3rd round) and 181st (6th round) overall picks in exchange for Darrelle Revis, here is an outside the box strategy the New York Jets could consider 9) Geno Smith, Quarterback, West Virginia - Instead of taking one of the top 4 OLB prospects (Dion Jordan, Ziggy Ansah, Jarvis Jones, Barkevious Mingo) the Jets could consider...
1. Quarterback: The Jets have more needs than any other team in the NFL, so they should try their best to pick the best player available at all times. Unfortunately for them, that certainly means not taking a quarterback early, and going back to Mark Sanchez next season. New York will still probably try to pick up a young quarterback, but probably in the middle rounds. They'...
BY NICK ST. DENISAs far as on-field production was concerned, nothing good came out of the Tim Tebow sideshow in New York.Nothing good will come out of it in the future, either.Former NFL quarterback and four-time Pro Bowler Jeff Garcia, who is mentoring New York Jets signal-caller Mark Sanchez as he prepares to run new offensive coordinator Marty Morninweg's offense, thinks...
NFL News

Delivered to your inbox

You'll also receive Yardbarker's daily Top 10, featuring the best sports stories from around the web. Customize your newsletter to get articles on your favorite sports and teams. And the best part? It's free!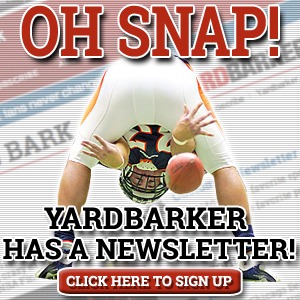 Latest Rumors
Best of Yardbarker

Today's Best Stuff

For Bloggers

Join the Yardbarker Network for more promotion, traffic, and money.

Company Info

Help

What is Yardbarker?

Yardbarker is the largest network of sports blogs and pro athlete blogs on the web. This site is the hub of the Yardbarker Network, where our editors and algorithms curate the best sports content from our network and beyond.