Found April 06, 2012 on Turn On The Jets:
PLAYERS:
Kenrick Ellis
,
Antonio Cromartie
,
Bryan Thomas
,
Rex Ryan
,
Mike Devito
,
Eric Smith
,
Bart Scott
,
Shonn Greene
,
Calvin Pace
,
Aaron Maybin
,
Wayne Hunter
,
Vladimir Ducasse
,
Santonio Holmes
,
Brian Schottenheimer
,
Mark Sanchez
,
Tim Tebow
TEAMS:
New York Jets
Assuming the New York Jets don't make any more major moves this off-season, it appears they will be relying on much of their improvement to come from within their current roster and whatever draft picks they add. What players in particular will need to bounce back from a rough 2011 season to take the Jets from 8-8 and out of the playoffs, to back to 11-5 and the AFC Championship Game (and hopefully beyond)? In descending order of importance…
12. Kenrick Ellis – The Jets didn't get anything from him in his redshirt season. If he can play to his potential in his second year, the Jets will have a huge addition to their defensive line rotation that will help stop the run and push the pocket on the passer.
11. Antonio Cromartie – He didn't have a bad year in 2011 but also didn't have a great one. We are still waiting to see a playmaker who can pull in more than 4 interceptions in a season and maybe create a defensive touchdown or two.
10. Bryan Thomas – Thomas missed the bulk of last season with an ACL injury. Even if the Jets spend a first round pick at outside linebacker, they will need Thomas to mentor him and on running downs. He is a valuable veteran who is productive in Rex Ryan's defense.
9. Mike DeVito – He missed 4 games last season and battled injuries all season. DeVito is a big part of the Jets run defense and the Jets need him healthy and productive for all 16 games next season.
8. Eric Smith – Hopefully after the draft, Smith will be relegated to being a role player on defense. Yet, you can be assured he will see significant time on defense next season and when he is on the field, the Jets need him to limit the big plays and at minimum be a sure tackler. This team really needs help at safety.
7. Bart Scott – Scott's value has always been stopping the run, being a sure tackler, and providing leadership on the field. He did none of that last season, missing a ton of tackles and creating issues in the locker room over his lack of playing time. Scott claims to be refocused and lighter this year, we'll see if that translates to him playing like he did in 2009 and 2010.
6. Shonn Greene – He didn't have an inspiring 1,000 yard season in 2011. Greene must do a better job of breaking tackles and occasionally popping a big play. He averaged 5.0 yards per carry as a rookie and has since fell down to 4.1 in 2010 and 4.2 in 2011. The Jets need that number to get closer to 5 again.
5. Calvin Pace – At the amount of money he is making, 4.5 sacks isn't cutting it. The Jets should give him some support on passing downs with their first round pick and Aaron Maybin in his second year so Pace shouldn't see many, if any double teams. Regardless of his production against the run, the Jets need 7-9 sacks from him.
4. Wayne Hunter/Vladimir Ducasse – As of right now, they are battling to be the starting right tackle. We can only hope Tony Sparano and his new system can move Hunter from being awful to mediocre or that Ducasse with a full off-season under his belt at right tackle can show some of the signs of why he was a second round pick.
3. Santonio Holmes – The Jets paid him to be their number one receiver and he didn't perform like one. Some of that was on Brian Schottenheimer and some of that was on Mark Sanchez, yet a share of blame goes to Holmes who dropped his share of passes and couldn't consistently beat double teams. If Holmes can produce like he did in 2010 when he returned from suspension, the Jets offense will be in much better shape.
2. D'Brickashaw Ferguson – The Jets Pro-Bowl left tackle didn't play like one last season. His struggles combined with Wayne Hunter's incompetence left Mark Sanchez constantly under pressure. Brick must return to his regular level of play, particularly if Hunter remains as the right tackle.
1. Mark Sanchez – On the whole Sanchez didn't have anywhere near the awful year that is portrayed by the mainstream media. However, he did something he had never done so far in his career…he struggled in the games that were the most important. Most notably, the final three games of the season. Sanchez is without question the most important factor in the Jets success this season. If he struggles, their season is going to turn into a quarterback controversy circus and Tim Tebow will be overextended as a full time quarterback. If he plays well, they have a shot to be a contender and Tebow can thrive as a role player.
Original Story:
http://turnonthejets.com/2012/04/toj-...
THE BACKYARD
BEST OF MAXIM
RELATED ARTICLES
The Jets continue to be the center of pre draft talk. They have already traded for Tim Tebow, and it was just a matter of time before Mark Sanchez requested a trade. Even though official sources has not reported on it as of yet, The DailyShootout.com tweeted about it… Only a handful of teams would take
A Georgetown, TX church -- Celebration Church -- will use Tim Tebow's visit to draw a crowd of 30,000 people -- which is expected to be larger than a late-season Cincinnati Bengals home football game -- to their 60-acre complex.According to KVUE, Tebow will visit the church for Easter Sunday, where he'll speak for 20 minutes, as the church service will be done outdoors. It...
Who knew that New York Jets quarterback Tim Tebow was into the entire male pampering regiment? Not I. But thanks to the persistence of TMZ, we have evidence of Mr. Tebow receiving a Mani-Pedi at West Hollywood's MB Nails salon on Tuesday. How fancy. Not that there's anything wrong with it. Any man who scoffs [...]
A central Texas church spokeswoman says New York Jets quarterback Tim Tebow is set to speak to an expected 20,000 people on Easter Sunday. Tebow is scheduled to address the Celebration Church in Georgetown, north of Austin. Church spokeswoman Tara (TAH'-ra) Wall tells The Associated Press that Tebow reached out to the church about a month ago and said he wanted to speak. People...
In an effort to to appease his new Jets head coach Rex Ryan, Tim Tebow was seen getting a mani/pedi in West Hollywood on Tuesday.  TMZ obtained a pic of Jesus 2.0 moments before the nail technicians got after it. Sources said that Tebow left a large tip while paying for the $23 procedure.  I've heard that many NFL and NBAers like to keep their feet well-groomed, but it extra...
An Easter morning service featuring an appearance by New York Jets backup quarterback Tim Tebow is expected to draw a huge crowd of worshippers at a central Texas church. Tebow is scheduled to speak at Celebration Church's outdoor ''Easter on the Hill'' service in Georgetown, about 20 miles north of Austin. Hundreds of school buses shuttled people to the sprawling...
If you want to draw a big crowd to your Easter worship service, you have to book a big name.  And there's none bigger than new Jets quarterback, and devout Christian, Tim Tebow.  On Sunday Tebow will be making an appearance at the Celebration Church in Georgetown, Texas, where he will speaking for about 20 minutes to a potential crowd of 30,000 worshipers. Good thing the church...
Tim Tebow is taking his talents to Georgetown, Texas. That's where the new Jets quarterback will deliver an Easter sermon before an estimated crowd of about 30,000, according to KVUE. It's well known that Tebow is a very religious guy, but it's unclear why exactly he'll be delivering a sermon at this particular church. Nevertheless, church members are excited; not...
Easter is this Sunday, and Celebration Church is preparing for the coming … of Tim Tebow. Tebow, the NFL's most notable devout Christian, is scheduled to deliver a sermon at the Georgetown, Texas, church during an outdoor worship service Sunday morning. In preparation for Tebow's arrival, Celebration has been erecting scaffolding and trellises for the 30,000 worshipers it expects...
As the Jets discuss the possibility of a return to HBO's Hard Knocks, it raises the question was the acquisition of Tim Tebow strictly a football decision or in part a public relations stunt?
The Jets were down for the count in 2011, but see why they went down under in search of a backup tight end in 2012.
The New York Jets continue their offseason straw grasping, signing former Rugby player Hayden Smith, according to his representatives. The Australian-born Smith worked out with several NFL teams in February. The Jets still have not confirmed the signing of the imposing 6' 7", 255 lb Smith, a former US World Cup rugby player who played briefly for the English rugby club the Saracens.
Jets News

Delivered to your inbox

You'll also receive Yardbarker's daily Top 10, featuring the best sports stories from around the web. Customize your newsletter to get articles on your favorite sports and teams. And the best part? It's free!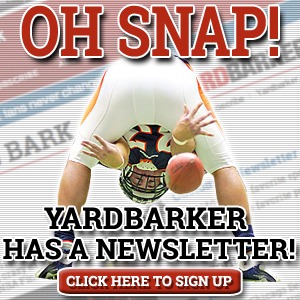 Latest Rumors
The Backyard

Today's Best Stuff

For Bloggers

Join the Yardbarker Network for more promotion, traffic, and money.

Company Info

Help

What is Yardbarker?

Yardbarker is the largest network of sports blogs and pro athlete blogs on the web. This site is the hub of the Yardbarker Network, where our editors and algorithms curate the best sports content from our network and beyond.