Found June 28, 2012 on Turn On The Jets:
PLAYERS:
Michael Lombardi
,
Tanner Purdum
,
Nick Folk
,
Josh Brown
,
Hayden Smith
,
Austin Howard
,
Stephon Heyer
,
T.J. Conley
,
Vladimir Ducasse
,
Bilal Powell
,
Terrance Ganaway
,
Antonio Allen
,
LaRon Landry
,
Yeremiah Bell
,
Eric Smith
,
Tim Tebow
,
Shonn Greene
,
Greg McElroy
,
Chad Pennington
,
Josh Baker
,
Josh Bush
,
Dennis Thurman
,
Ellis Lankster
,
Rex Ryan
,
Chris Johnson
,
Caleb Schlauderaff
,
Mike Tannenbaum
,
Ricky Sapp
TEAMS:
New York Jets
,
Miami Dolphins
Frustrated and confused after seeing the NFL's Top 100 player list? TOJ was as well. Due to that, we have decided to rank the current New York Jets on the roster from 50 all the way down to 1. Along the way, we will be classifying the players into the following five categories:
Bottom of the Roster (strictly a depth and developmental player)
Middle Class (Situational player, spot starter)
Quality Starter (Capable starting player)
Red Chip (Swiping this term from Michael Lombardi, an above average stater/borderline Pro-Bowler)
Blue Chip (Another swipe from Lombardi, an elite player at his position)
Just missed
Tanner Purdum - Long snapper goes 53 on a 53 man roster.
Nick Folk - On the thought that Josh Brown will win the kicking battle
Hayden Smith - Practice squad bound in TOJ's opinion
Garret McIntyre - Started at times last year…won't make team this year
Austin Howard - Went with Stephon Heyer over him as primary backup at tackle
BOTTOM OF THE ROSTER
50. TJ Conley, Punter - An average punter at best, who will likely be challenged at some point in training camp by a  free agent signing. He is no better than 50/50 to make the roster at this point and if he does, must be more consistent than he was in 2010.
49. Vladimir Ducasse, Guard/Tackle - Ducasse was easily beat out for the starting guard position in 2009 and when called into duty as a reserve tackle last season looked completely overwhelmed. At this point, it looks like his ceiling is a swing backup at guard and tackle…fairly disappointing for a 2nd round pick.
48. Bilal Powell, Running Back - Looked plodding and mediocre in both the pre-season and when given an opportunity in the regular season in 2010. It wouldn't be a shock to anybody if rookie Terrance Ganaway beat him out on the depth chart this year.
47. Antonio Allen, Safety - A good value pick for the Jets in the seventh round this season. Allen will have a tough time seeing the field in 2012 with LaRon Landry, Yeremiah Bell and Eric Smith in front of him on the depth chart. However, he has the skill set to project to being the team's long term strong safety.
46. Terrance Ganaway, Running Back - An intriguing sixth round pick from this year's draft. A power runner, with experience in the option, which could get him some looks when Tim Tebow is under center. With a strong pre-season, could work himself into getting some weekly carries behind Shonn Greene.
45. Greg McElroy, Quarterback - Showed promise in the pre-season and has the intangibles to be a capable NFL backup. He looks to be a poor man's Chad Pennington, with limited arm strength but very high intelligence and good decision making skills.
44. Josh Baker, Tight End/H-Back - Worked his way on to the field at the end of last season as a H-Back and finished with 3 receptions and a touchdown against the Giants. Baker is a natural pass catcher, who is versatile enough to line up at tight end, H-Back, and fullback. It will be interesting to see if he sticks on the roster and how Tony Sparano uses him, if he does.
43. Josh Bush, Safety - A sixth round pick who is the only natural free safety that projects to make the Jets roster. Defensive Backs coach Dennis Thurman has already pegged Bush as the team's fourth safety, which means he should get on the field in certain packages.
42. Ellis Lankster, Corner - A special teams player last year, who now appears poised to take over the fourth cornerback role on defense. In Rex Ryan's scheme that will get him on the field a decent amount of time. The Jets clearly have faith in him for now, as they haven't signed free agents like Drew Coleman or Chris Johnson who could have easily filled the fourth corner role.
41. Caleb Schlauderaff, Guard - The Jets traded for him last pre-season and Mike Tannenbaum randomly loves mentioning him all the time in press conferences as a developing player. He projects to being the top backup at guard and center
40. Ricky Sapp, Linebacker/Defensive End - Added to the practice squad last season, he has impressed this off-season and could be a factor in pass rushing situations. Sapp was a fifth round pick of the Eagles in 2010.
Check back tomorrow for our Friday 12 pack and for players 30-40
Original Story:
http://turnonthejets.com/2012/06/tojs...
THE BACKYARD
BEST OF MAXIM
RELATED ARTICLES
The Jets have officially announced they have waived quarterback G.J. Kinne and releasing veteran offensive lineman Ray Willis.Kinne signed with the Jets as an undrafted free agent out of Tulsa along with Matt Simms -- the son of former Giants quarterback Phil Simms. Signed after the team's rookie camp in May, Kinne appeared to be behind Simms as far as reps are concerned.Before...
  Is it Shonn Greene's time? In the 2009 NFL Draft, the New York Jets made headlines trading up to the number 5 pick in the first round to draft Mark Sanchez, quarterback out of USC.  One day later, the Jets, again, traded up to snag running back Shonn Greene in the third round out of theUniversityofIowa.  With all of the attention on newly hired head coach Rex Ryan, and newly...
  It's been about two months since the 2012 NFL Draft and while it's far too early to give a final take on the players the New York Jets selected, we have been able to start getting a feel for how they will fit in with the team. Is it too soon to be "reviewing" the Jets 2012 NFL Draft picks? Probably, but the 2012 NBA Draft last night got us in the mood to...
The anemic Jets offense can bear much of the blame for a 2011 season that ended without a trip to the playoffs. Mark Sanchez will enter his 4th NFL season in what many deem to be a make or break year (especially with Tim Almighty breathing down his neck). The Jets passing game ranked 21st last season but should get a shot in the arm with the addition of WR Stephen Hill (2nd round...
  New York Jets left tackle D'Brickashaw Ferguson took a break this offseason from preparing to protect Mark Sanchez's blind side to write a children's book titled "Brick's Way." The book is all about teaching kids about "going green," with D'Brickashaw Ferguson turning into Litte Brick to teach his friends. To promote the book, which...
GJ Kinne, down in the depth chart for QB, tweeted that he didn't get a fair shot.  So apparently the Jets have parted ways with the undrafted rookie. GJ had an incredible story if you remember, where he experienced an event where his Father and coach was almost killed.   GJKinne God has a plan 6/28/12 2:13 PM I definitely didn't get a fair shot,...
Ladies and gentlemen, Tim Tebow has finally arrived. How so? Because the New York Jets quarterback will be featured in a special on E!, set to air on Monday, July 2 at 8:00 ET. Entitled Tim Tebow's Wild Ride — the only time Tim Tebow and the word "wild" will ever appear in the same [...]
The New York Jets have released veteran offensive tackle Ray Willis and rookie quarterback G.J Kinne. Willis joined the Jets on May 29. He was previously with the Seattle Seahawks for six seasons after being drafted in the fourth round of the 2005 NFL draft. He spent the 2010 season on injured reserve, signing with the New Orleans Saints last season before being cut two weeks into his roster stint
This week's edition of the 12 pack is going to rank the top teams in the AFC, including sorting out where our New York Jets fit in heading into training camp. For your requisite Friday reminders before you crack into your 12 pack of reading and 12 pack of drinking, remember to follow myself, Chris Gross, Mike Donnelly, and TJ Rosenthal on Twitter. Nobody out there is rolling...
Getty Images Like many people, former Buffalo Bills great Jim Kelly doesn't know what the New York Jets were thinking when they acquired Tim Tebow from the Broncos. "I gotta be honest: I don't know what (the New York Jets) really were thinking," Kelly told NFL Network's "Total Access" on Thursday, per NFL.com. "Mark Sanchez is a quarterback who's going to be sitting...
Getty Images According to FOXSports.com, AshleyMadison.com recently released a survey that indicated that New York Jets quarterback Tim Tebow ranked second among athletes that married would cheat on their husbands with. Number one on the list is soccer star David Beckham. What is our world coming to, where there is a poll in which married women say which athlete they'd cheat on...
// ><!-- //--><! <![CDATA[// ><!-- //--><! <p> <a href="http://www.cincyjungle.com/2012/6/23/3111521/cincy-jungle-fan-poll-who-is-your-most-hated-bengals-rival">Recently the topic of Bengal rivalry</a> was raised and all the typical villains were trotted out as in a police line-up for the conversation. Here were all of...
NFL News

Delivered to your inbox

You'll also receive Yardbarker's daily Top 10, featuring the best sports stories from around the web. Customize your newsletter to get articles on your favorite sports and teams. And the best part? It's free!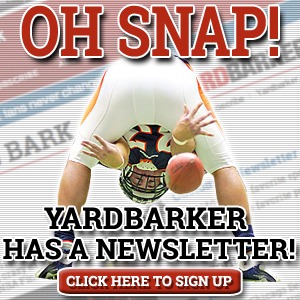 Latest Rumors
Best of Yardbarker

Today's Best Stuff

For Bloggers

Join the Yardbarker Network for more promotion, traffic, and money.

Company Info

Help

What is Yardbarker?

Yardbarker is the largest network of sports blogs and pro athlete blogs on the web. This site is the hub of the Yardbarker Network, where our editors and algorithms curate the best sports content from our network and beyond.