Found July 09, 2012 on Sports Blog Net:
[caption id="" align="alignnone" width="485"]
Tom Brady ranks #3 in Ron Jaworski's quarterback rankings is that too low or just right?[/caption] Tom Brady appears to have everything. He has won three Super Bowls. He has movie-star good looks and a beautiful supermodel wife. One thing he does not have, however, is the status as top quarterback in the league according to ESPN's analyst Ron Jaworski. While the countdown continues, Brady has placed third behind Aaron Rodgers and Drew Brees. Which quarterback ranks first remains to be seen, but it will not be Tom Terrific. When you start to discuss the merits of Rodgers, Brees and Brady, you begin to split hairs. All three are elite. All three have won the big game, and all three will likely end up in the Hall of Fame after record-setting careers. At 33 and 34 respectively, Brees and Brady are much older than Rodgers, who is without a doubt entering the peak years of his already amazing career at 28. Tom Brady may go down as the greatest quarterback to play the game when he retires, and surely has a few more elite seasons in him. However, father time catches up with all of us, and Rodgers will surpass Brady's abilities at some point in their respective careers as Brady declines with age. Brees is a phenomenal talent and an inspirational story given all he has overcome to enter the discussion of the league's best quarterback; however, he throws quite a few interceptions to go with his numerous touchdowns. As recently as the 2010 season, he chucked 22 picks, and has been near 20 each season for most of his career. Such is the life of a quarterback with an exorbitant amount of pass attempts each year, but it is a blemish on an outstanding resume. Brady is not without his blemishes either. He has now lost the last two Super Bowls he has played in, and has not looked nearly as invincible as he did in his early playoff career. However, one cannot deny that the ring is still the thing. Brady has three of them. That alone makes him the top quarterback in the league if he can maintain or surpass his modus operandi from the previous seasons. He has lost as many Super Bowls as Rodgers and Brees have been to. For that reason, he should be considered the league's top signal caller. Jaworski acknowledges that Brady could easily be number one, and forecasts that he just may occupy the top spot when the season closes. He will no doubt be playing with a chip on his shoulder this season, and with targets like Wes Welker, Rob Gronkowski, Aaron Hernandez and new recruit Brandon Lloyd, expect Tom Terrific to take the Patriots, and himself, to the top of the mountain again. Here is a full transcript of Jaworkski's take from ESPN:
"Number three on my big board entering the 2012 season is Tom Brady. Brady is outstanding in so many areas, but what really stands out is his total command in the pocket. Few quarterbacks in NFL history move within the pocket better than Tom Brady. Pocket movement is an essential attribute to play NFL quarterback at a consistently-high level. Think of it this way: the ability to move within an area no larger than the approximate size of a boxing ring. Sometimes it's a strain, just a step here or a step there. Other times, it's more pronounced. The corollary, and it's equally as important, you must maintain your downfield focus while you're moving. You cannot look at the rush. It's a far more important trait than running out of the pocket. "I don't think I've ever seen a more comfortable pocket quarterback than Brady. There have been times over the years he's literally been a statue in the pocket – static, stationary, motionless. I can tell you from experience that's a rare trait. Everything is happening very fast. The ability to slow down your body like that, that's remarkable. "Another attribute that Brady has mastered is controlling the game at the line of scrimmage. Brady is outstanding at the subtle nuances of quarterback play. It's a highly-disciplined craft, and Brady has expertly refined the small details. His ability to immediately locate mismatches in man coverage, like Wes Welker on a linebacker, and to move defenders in zone coverage is as good as it gets. Manipulating and controlling the defense is advanced quarterbacking. "Here, Brady read the cover 2. He had Deion Branch running the dig route. He had to get this linebacker out of the passing lane. He pumped to Rob Gronkowski. That's all it took. The linebacker moved and the window opened. I know this term is overused at times, but when I plug in a tape of Brady, I know I am watching a professional quarterback in every single way. "I'm not necessarily a big stat guy, but how about this? In Brady's last four full seasons – now remember, he missed the 2008 season with an injury – he has thrown 153 touchdown passes and only 37 interceptions. Brady is number three on my big board right now, but he could easily move up to number one."
Be sure to check out other great articles at Sports Media 101.
Original Story:
http://winyourleague.sportsblognet.co...
THE BACKYARD
BEST OF MAXIM
RELATED ARTICLES
PATRIOT GAMES
How long could you stare into Tom Brady's eyes without blinking? CVS customers found themselves answering that question recently when the Patriots quarterback served as the surprise challenger for a number of staring contests. Brady was helping to film a promotion for "Unreal" candy when customers were met with a proposition. They were knew going in that they'd...
Tom Brady ranks #3 in Ron Jaworski's quarterback rankings is that too low or just right? Tom Brady appears to have everything. He has won three Super Bowls. He has movie-star good looks and a beautiful supermodel wife. One thing he does not have, however, is the status as top quarterback in the league according to ESPN's analyst Ron Jaworski. While the countdown continues...
Tom Brady shows off staring-contest skills at CVS
He doesn't understand why people can't come to terms with that.
In order to understand the NFL, you first have to understand its history. I hear people say that the fans in New England are rabid. That may, or may not be, the case. You have to understand that the AFL is only fifty two years old. During those first forty five years the New England [...]
Getty Images According to Greg Bedard of the Boston Globe, New England Patriots tight end Aaron Hernandez won't accept the franchise tag as a tight end next offseason.  He'll likely put up the argument that he's more of a receiver then a tight end. The franchise tag at the receiver position ($9.515 million)  is almost double of what a tight end ($5.446 million) would receive...
As we slowly limp through the final three weeks of the off-season it's finally time to allow...
The Saints announced Tuesday they will work out with the Patriots for two days (August 7-8) before they play in a preseason game on August 9. The Patriots and Saints are no strangers to each other in the preseason, in 2010; they practiced the week prior to their preseason game. This is a great way for the Patriots and Saints to get a 'different" look, and for both teams to...
Hernandez will be looking to cash in when eligible following the 2013 season. Rob Gronkowski has been rewarded handsomely for his efforts and projected growth after two years in the NFL. The New England Patriots handed Gronk an eight-year, $55.23 million pact earlier this off-season. What about the other Patriots tight end? Aaron Hernandez goes with Gronk like peanut butter goes...
NFL News

Delivered to your inbox

You'll also receive Yardbarker's daily Top 10, featuring the best sports stories from around the web. Customize your newsletter to get articles on your favorite sports and teams. And the best part? It's free!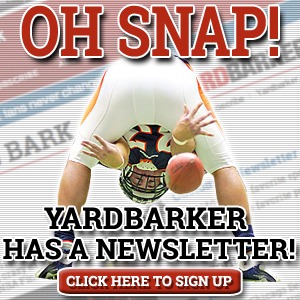 Latest Rumors
The Backyard

Today's Best Stuff

For Bloggers

Join the Yardbarker Network for more promotion, traffic, and money.

Company Info

Help

What is Yardbarker?

Yardbarker is the largest network of sports blogs and pro athlete blogs on the web. This site is the hub of the Yardbarker Network, where our editors and algorithms curate the best sports content from our network and beyond.