Found December 13, 2012 on Patriots Life:
How much does he respect this defense? Enough to start studying up on them back on Thanksgiving. Tom Brady went on and on yesterday about the 49ers defense, which of course, he does about every team every week. However, he doesn't often say stuff like "There's no real weakness on this defense" multiple times very often. I remember listening to a BS Report with Bill Simmons a few months ago and Simmons talked about how impressed Brady was by that 49ers defense. When Brady says they have no real weakness, he's right. While every other elite defense in the league has a weak spot you could point to (see: Houston, secondary) the 49ers might be the only one that are solid all the way from the defensive line to the back end. They have elite players at every level.Patriots fans might point to the fact that the 49ers have tied and lost to the Rams, a team the Patriots put over 40 points up on. However, can we please not get into that game? The NFL, maybe more than any other...
Original Story:
http://www.nepatriotslife.com/2012/12...
THE BACKYARD
BEST OF MAXIM
RELATED ARTICLES
We didn't think Tom Brady was going to be heading out for Black Friday deals the day after Thanksgiving, but we didn't think he was going to be doing this, either. Brady said Wednesday that he spent the day after the Patriots' Thanksgiving night stomp-down of the Jets doing some football prep work. But here's the catch — it wasn't against New England's next opponent...
A.B. Let's be honest though, every day is Tom Brady's day. Supermodel wife, 3 kids, millions of dollars, 3 super bowl rings and multiple MVP's and records. Not bad.
The Patriots go up against one of the NFC's best, the 49ers while the Jets move towards the playoffs against the Titans.
Tom Brady and company have no problem playing in weather conditions. In fact, the New England Patriots dominate in snowy weather. Snowy weather doesn't mean much to the Patriots as it's something they deal with on a regular basis in the later months of the NFL season in Foxborough. Dating back to 2001,  the Patriots have won 11 straight games with snow falling and that includes...
The ringleaders of the Patriots dynasty, coach Bill Belichick and quarterback Tom Brady, cover the spectrum of Patriots/49ers during their Wednesday news conferences before media that cover the Patriots.
This Sunday night the San Francisco 49ers will have to endure their greatest test of the season as they travel to take on the New England Patriots. With a win against the Patriots the 49ers will clinch the NFC west division and at least clinch a wildcard spot for the playoffs. What's even more important with a victory, is the knowledge that they can afford to rest some of their...
Did you hear? It's 12-12-12. Of course you did because your annoying high school friends on Facebook won't shut up about this historic day. Have you seen a post today about famous athletes who wore #12? Of course you have because that's the easy way out on the Internet. Take a subject, give 40% effort and pump out a post that features Tom Brady, Aaron Rodgers and Andrew Luck...
NinersDigest's Craig Massei and PatriotsInsider's Jon Scott go Behind Enemy Lines to preview Sunday's 49ers/Patriots showdown. What's made the Patriots dynasty the gold standard in today's NFL? What's the secret of Tom Brady's brilliance? What has the return of Josh McDaniels meant to NE's top-ranked offense, and what kind of impact has former 49er WR Brandon Lloyd...
NinersDigest's Craig Massei and PatriotsInsider's Jon Scott go Behind Enemy Lines to take an inside look at 49ers/Patriots. Are we still seeing 'Wow' moments from Randy Moss? Why was the move made to Colin Kaepernick at QB? What's behind SF's rushing success? How will the 49ers stop Tom Brady, and is Brady up there with Joe Montana among the greatest QBs of all-time?...
I hate Tom Brady. I hate Shayne Graham. I hate David Akers. I hate the fantasy playoffs. I hate Santa. And I especially hate Terry McAulay. So what if I'm in a bad mood. It's only been a few days since my team choked on a Monday night in Foxborough, Mass., when it looked like The Mojo Xpress had a berth in the conference championship game locked up. Instead of starting Akers...
NFL News

Delivered to your inbox

You'll also receive Yardbarker's daily Top 10, featuring the best sports stories from around the web. Customize your newsletter to get articles on your favorite sports and teams. And the best part? It's free!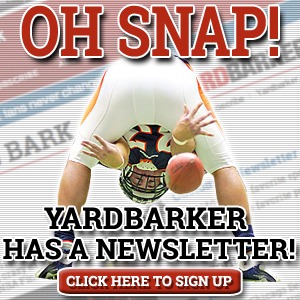 Latest Rumors
Best of Yardbarker

Today's Best Stuff

For Bloggers

Join the Yardbarker Network for more promotion, traffic, and money.

Company Info

Help

What is Yardbarker?

Yardbarker is the largest network of sports blogs and pro athlete blogs on the web. This site is the hub of the Yardbarker Network, where our editors and algorithms curate the best sports content from our network and beyond.