Found January 26, 2013 on BlackSportsOnline:
To loosely quote Drake 'Just bought a crib so big it came with a moat'. When you're Tom Brady rich, things like $10,000 fines for unnecessary roughness and such, are kinda like chump change. The Detroit Free Press obtained photos of the $20 million mega-mansion in Southern California. Here's some brief details of the near mythical in size abode Among the many features in its 22,000 square feet are a resort-style pool, massive play area for children and a common medieval fortification system. I think a lot of the Brady 'dislike' comes from the fact that Brady doesn't do things like the common man, the common man doesn't have the wealthiest super model in the world for a wife, wear uggs, have 3 Super Bowl rings and I guess, we can now add 'have a kick-ass home with a moat' to the list. All we can do is tip our caps to Brady, as he will have an ultra-cozy place to rest up during the off season. Yes, that really is a moat…  
Original Story:
http://feedproxy.google.com/~r/blacks...
THE BACKYARD
BEST OF MAXIM
RELATED ARTICLES
Tom Brady isn't the one to blame for Patriots' loss - Sports - The Boston Globe: Good perspective on...
There are times that I want Tom Brady's life. Ya know, when he isn't losing to the Giants in the Super Bowl. But this is definitely one of those times. The Detroit Free Press was paying very close attention to an overhead video showing the new property of the New England Patriots QB in California. Not only is 22,000 square feet with every single imaginable celebrity amenity,...
For those you wondering what New England Patriots quarterback Tom Brady's new Los Angeles mansion looks like, the fine folks over at The Detroit Free-Press got some pictures/video of Brady's new digs that cost about 20 million dollars to build. The images of the estate show some important features of the estate which include a resort style-pool, a children's play area...
Paul Kenyon of the Providence Journal writes that "there are signs the normal downhill trend has begun" in regards to the play from Patriots QB Tom Brady. Kenyon points out that although Brady's completion percentage was a respectable 63 percent this season, it was his lowest percentage since the 2006 season. Kenyon adds that the percentage of his passes that went for...
Tom Brady's NFL season ended earlier than anticipated when the Baltimore Ravens went into Foxborough and stunned the New England Patriots in the AFC Championship on Sunday. But, even though Brady is disappointed in the loss, I'm pretty sure he'll go on just fine. I mean, for one, he's married to Gisele. And now he gets to live with her in the awesome new mansion...
Hot News for QB Tom Brady
Who wants to see Tom Brady in an Arizona Cardinals uniform? Well, he pulls it off. Just like he does most things. And one writer from a Massachusetts paper says it would benefit the New England Patriots if he was actually in one next season. Yes, seriously. Now, before you call him crazy, let's look at his arguments, and then give reasonable responses that prove his...
One thing about being in the media is you have an outlet to editorialize whatever you like.  If I want to write Kobe Bryant should be traded to the Knicks no one can stop me from doing that. So, when Hector Longo from the Eagle-Tribune wrote his "Bye Bye Brady" article I didn't immediately dismiss it.  I was curious to read his rationale. Here is a part of it. Are Tom Brady's...
Tom Brady in a Cardinals uniform? Hey, Peyton Manning got kicked out of Indy. (Credit: Eagle-Tribune staff illustration/AP Photo) One of the top stories surrounding the NFL in the last few days has been the Jets' exploration of trade options for star cornerback Darrelle Revis. Many roadblocks present themselves in negotiations surrounding a star player. The team dealing the star...
Tom Brady is not playing in the Super Bowl. Neither is Ben Roethlisberger or either of the Mannings. This Super Bowl has a pair of fresh faces in Colin Kaepernick and Joe Flacco, one of whom will leave New Orleans as the latest and greatest at football's glamour position. For each, this is new territory. Flacco, the only quarterback to win a playoff game in each of his first...
Once the Baltimore Ravens knocked off the Denver Broncos and the possibility of a Peyton Manning versus Tom Brady AFC Championship was eliminated, the next best option for the Super Bowl immediately became a Baltimore-San Francisco match-up. In the AFC Championships second half Joe Flacco looked very Tom Brady-esque. Anquan Boldin shed years off his [...]
Patriots News

Delivered to your inbox

You'll also receive Yardbarker's daily Top 10, featuring the best sports stories from around the web. Customize your newsletter to get articles on your favorite sports and teams. And the best part? It's free!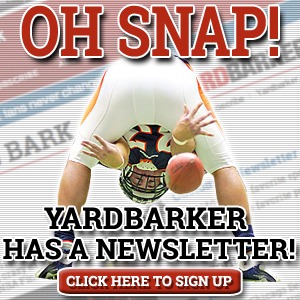 Latest Rumors
Best of Yardbarker

Today's Best Stuff

For Bloggers

Join the Yardbarker Network for more promotion, traffic, and money.

Company Info

Help

What is Yardbarker?

Yardbarker is the largest network of sports blogs and pro athlete blogs on the web. This site is the hub of the Yardbarker Network, where our editors and algorithms curate the best sports content from our network and beyond.