Found December 29, 2012 on Down and Distance:
PLAYERS:
Alfred Morris
,
Andrew Luck
,
Ryan Mathews
,
Eli Manning
,
Adrian Peterson
,
Toby Gerhart
,
LaDainian Tomlinson
,
Shaun Alexander
,
Roy Helu
,
Evan Royster
,
Tim Hightower
,
Randall Cobb
,
Greg Jennings
,
Reggie Wayne
,
Aaron Rodgers
,
Peyton Manning
,
Michael Vick
,
Darren McFadden
,
Maurice Jones-Drew
,
Larry Fitzgerald
,
Kevin Kolb
,
John Skelton
,
Ryan Lindley
,
Jimmy Graham
,
Philip Rivers
,
Robert Griffin III
TEAMS:
Washington Redskins
,
San Diego Chargers
,
New York Giants
,
Minnesota Vikings
,
New York Jets
,
Green Bay Packers
,
Indianapolis Colts
,
Philadelphia Eagles
,
Oakland Raiders
,
Jacksonville Jaguars
,
Arizona Cardinals
,
New Orleans Saints
,
Stanford Cardinal
Alfred Morris did a lot of celebrating in 2012, as he danced into the end zone for 10 touchdowns through 15 games. His fantasy owners were celebrating, too. (AP Photo/Rick Osentoski) Every year fantasy fanatics make two lists: sleepers and busts. But how many of those people re-visit those lists? 2012 certainly paid off for those who took a shot on a rookie, with running backs like Alfred Morris, Trent Richardson, Doug Martin, and (obviously) Rookie of the Year candidates: Andrew Luck, Robert Griffin III, and Russell Wilson. All of those rookies paid off big, but what about those sleepers who busted? Ryan Mathews? Eli Manning? We'll take a look at some of the most distinct surprises and busts of 2012. ———- Surprises Adrian Peterson, Vikings running back – Remember when Toby Gerhart was going above All Day because he was expected to begin the season as the starter? That's why you don't draft early. Peterson is well on his way to break 2,000 yards after tearing his ACL on Christmas Eve in 2011, remarkable by itself. Not to mention his many runs over 50 yards that have put the Vikings in contention for a Wild Card spot. In fact, Peterson has performed better than any running back that I have ever seen in my football watching days. Better than LaDainian Tomlinson in 2006, in which he scored 31 total touchdowns, breaking Shaun Alexander's single-season rushing touchdown record from the previous season. Peterson's season has been remarkable, and for early drafters who did not know of Peterson's determination in Week 1, it has come as a present surprise for those who drafted him Alfred Morris, Redskins running back – Roy Helu? Evan Royster? Tim Hightower? No. No. No. This humble sixth-round rookie from Florida Atlantic stole the show in Redskins' training camp and soon enough became a huge part o the Redskins' pistol set. He's the most likeable guy in the NFL for more reason's than one, his high school coach even called him "too nice". Yeah, too nice. Here's another play of names: Doug Martin? Trent Richardson? David Wilson? Morris has rushed for more yards than any of them, and continues to him improve on his pass-catching. On top of that, according to ProFootballFocus.com (PFF), Morris has broken the third most tackles by any running back in the NFL (52), behind just Peterson and Marshawyn Lynch. He's a remarkable guy on the football field and off of it, and he's going to be a part of this Redskins offense for many years to come. Randall Cobb, Packers wide receiver – Cobb was drafted as the 49th receiver in fantasy football drafts, according to FFToolbox. He's now become the most targeted receiver in Green Bay, and the most efficient too. According to PFF, Cobb has caught 78.4% of his passes this season. Cobb also has eight touchdowns and no penalties all season. Expect him to be a top ten wide receiver in the next couple of years, and Greg Jennings will no longer be in Green Bay after 2012. Reggie Wayne, Colts wide receiver – You can't exactly put into words what Wayne has been to this team. I feel like Wayne is the heart and soul of the offense. Among a plethora of young targets and a rookie quarterback, Wayne had one of his best seasons, which no small feat, considering he's been in Indy for 12 years. Wayne was drafted as the 29th receiver, so a WR3 or 4; he's been overwhelming for that price. Robert Griffin III, Redskins quarterback – It's time to stop doubting rookie quarterbacks. Cam Newton impresses us in 2011-12, but RG3 taken rookie quarterbacks to a whole new level this year. He's second in passer rating to only Aaron Rodgers, and has already achieved a perfect pass rating in a single game, something that has never before been done by a rookie. Griffin has been outstanding, and it's conceivable to see him as the top fantasy quarterback in 2012. Honorable mentions: Peyton Manning, Dez Bryant, Heath Miller, Michael Crabtree (PPR) ———- Busts Michael Vick, Eagles quarterback – Drafted as the 8th quarterback, he was the only one in the first 22 drafted to lose his job. Vick was sacked 27 times in just 378 dropbacks; Peyton Manning has been sacked 21 times in 580 dropbacks. It wasn't all Vick's fault, but if he's going to be successful he needs a strong line, and this year, Philadelphia just didn't have that. It's likely Vick will get another chance with another team in 2013 if the Eagles cut his contract short, but he probably shouldn't be a part of your fantasy team's plans. Darren McFadden, Raiders running back and Maurice Jones-Drew, Jaguars running back – The only reason these two are together is because of the injury bug: it nabbed both of them. You knew it was coming for McFadden, it does every year. However, this year, it was different for McFadden: he was ineffective even when he was healthy, which we hadn't seen before. He'll free-fall in rankings in 2012. Jones-Drew played in just five games before being injured in his sixth game, and the Jaguars season went to the dump (not as if we expected anything different). Ryan Mathews, Chargers running back – A major for many coming into 2012 (including me), Mathews was awful before going on IR after Week 15. After a 4.9 yards per carry average and six touchdowns in 2011, Mathews followed up with an underwhelming 3.8 yards per carry, one touchdown, and disappointed fantasy owners all over the world. In fact, Mathews never even hit 100 yards in a single game. What a shame. Larry Fitzgerald, Cardinals wide receiver – We all expected that Kevin Kolb and John Skelton (maybe even Ryan Lindley) would hurt Fitzgerald, but we didn't know it would leave a mark this big. Fitzgerald has just 69 catches all season, and has caught under 50 percent of his passes, according to PFF. Nonetheless, if the Cardinals bring in a semi-decent quarterback then Fitzgerald will shoot back up to the top 10, but time is running out on his career. Jimmy Graham, Saints tight end – I don't doubt that this is just an off year, and I completely stand by Graham's ability, so don't get me wrong. However, if you used a first, or even a second-round pick on Graham, I doubt you were playing in the championship this past weekend. Coming into Week 17, Graham hadn't scored in five consecutive weeks and has just one 100-yard receiving game all year. Again, it's not talent it's just the concern of if he will ever live up to the hype he had coming into 2012. Honorable mentions: Eli Manning, Philip Rivers, Rob Gronkowski (injury), Brandon Lloyd, Hakeem Nicks ———- And there you have it, the surprises and busts of 2012. Who will you never draft again after 2012? Who's that guyyou're targeting in the 2013 draft? Let me know in the comments below!   The post Top 10 Fantasy Football Surprises and Busts of 2012 appeared first on DOWN & DISTANCE.
Original Story:
http://sports-kings.com/downanddistan...
THE BACKYARD
BEST OF MAXIM
RELATED ARTICLES
Redskins tailback Alfred Morris had the game of his life Sunday against Dallas. He finished the night with 200 yards and three touchdowns on a career-high 33 carries as Washington clinched its first division title in 13 years.Fantasy Spin:Morris really picked the wrong year to be a rookie. Just about any other season, Morris' 1,613 rushing yards (2nd in the NFL and also a Redskins...
On the legs of Alfred Morris, Skins claim first NFC East title since 1999. [Boz] Morris stat line: 33 carries, 200 yards, three TDs. Workhorse. [CSNW] Playing second fiddle for perhaps first time ever, RGIII delivered. [USAT] Redskins' Haslett calls great game, including blitz in 4th quarter. [Insider] Skins host Seattle next Sunday at 4:30 in Wild Card playoff game. Yep. [RR]...
Tonight, the Redskins hosted the Dallas Cowboys in a de-facto NFC East championship game, and the Robert Griffin III led team ground out a a victory, their seventh straight, to win the division for the first time since 1999. The Redskins didn't throw the ball all over the field, but Griffin was efficient when he was called on to throw. Alfred Morris led the Redskins'...
Washington Redskins rookie running back Alfred Morris has broken Clinton Portis' franchise record for yards rushing in a season. Morris reached 1,524 yards for the season with a 10-yard gain in the third quarter against the Dallas Cowboys on Sunday night. Portis gained 1,516 yards on the ground in 2005. Morris was a sixth-round draft choice out of Florida Atlantic in this year...
LANDOVER, Md. -- And the rookies shall lead them. Usual second banana Alfred Morris ran for three touchdowns and 200 yards, and quarterback Robert Griffin III rushed for another score as the Washington Redskins captured the NFC East championship with a 28-18 victory over the archrival Dallas Cowboys on Sunday night at raucous FedEx Field. Washington (10-6) won its seventh consecutive...
At my fantasy drafts back in August and September, whenever someone was hemming and hawing over who to pick, I often rather arrogantly shouted out "Alfred Morris is still available." I generally was rewarded for my trash talk with some confusion, a couple of guffaws (unless it was the seventh or eighth time I brought up his name) or perhaps some ridicule. The drafter would usually...
On a night when rookies Robert Griffin III and Alfred Morris led the Washington Redskins to the top of the NFC East, team owner Dan Snyder sought out a long-suffering veteran during the postgame celebration. ''He said you've known how it's felt around here the last seven years,'' defensive lineman Kedric Golston said. ''So this is a sweet time.'...
Handing out labels following Skins games. Today, a 28-18 victory over Dallas. Winners Alfred Morris — That was one of the great games in NFL history. Two hundred yards and three touchdowns in a division championship game against Dallas. It was the most rushing yards in a game by a Redskins rookie, and gives him a) the most yards in a season by a Redskins running back, b) the third...
Now that the fake football season has come to an end, the team here at the Fix chimes in with our annual "End of Season Awards" In part one, we looked at the biggest bust, waiver wire pickup of the year, biggest injury and "Mr. Reliable." Here in part two, we will name the "biggest tease", "rookie of the year", "MVP" and an early top ten for 2013.    Biggest...
Robert Griffin III and Alfred Morris needed only four months to put the Washington Redskins in a place they haven't been this millennium - on top of the NFC East. Led by a pair of rookies serenaded loudly and lovingly as ''R-G-3!'' and ''Al-fred Mor-ris!,'' the Redskins claimed their first division title since 1999, beating the archrival Dallas...
I've been a Redskins for most of my 37 years on Earth.  I started rooting for them as a 7 year old and haven't stopped.  Needless to say that I was a bit giddy watching my Redskins win the NFC East for the first time since 1999 ... when I was a young newlywed all of 24 years old.My wife got me a Griffin III jersey for Christmas.  She also got my 5 month old son and almost...
NFL News

Delivered to your inbox

You'll also receive Yardbarker's daily Top 10, featuring the best sports stories from around the web. Customize your newsletter to get articles on your favorite sports and teams. And the best part? It's free!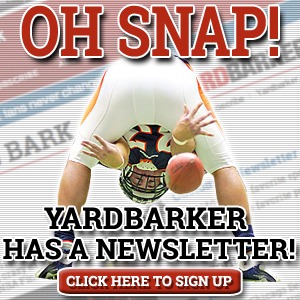 Latest Rumors
Best of Yardbarker

Today's Best Stuff

For Bloggers

Join the Yardbarker Network for more promotion, traffic, and money.

Company Info

Help

What is Yardbarker?

Yardbarker is the largest network of sports blogs and pro athlete blogs on the web. This site is the hub of the Yardbarker Network, where our editors and algorithms curate the best sports content from our network and beyond.