Found March 06, 2013 on Five Tool Tool:
The rules say someone's gotta go 10) He knows that no other team is going to be all that interested in going to play a game outdoors in New Jersey in February9) Peyton Manning has used up all of his game-ending INTs8) Predicting a first round exit doesn't exactly send the best message7) Wasn't pinned down on what he'd do to make it up to disappointed Bronco fans if this somehow doesn't happen6) Wanted to see if he could move the gambling line, or get anyone to listen to the Colin Cowherd show5) Has it on firm authority that Rahim Moore has been terminated with extreme prejudice4) Somehow likes his team's chances, given that they are in a division with three teams that would be under .500 in the SEC3) Understands that by the simple practice of math, he's going to have 25.5 sacks next year, and go 18-0 in a 16-game season2) Any team with Willis McGahee and Knowshon Moreno as their #1 RBs has to just keep getting better and better1) He was inspired by his y...
Original Story:
http://fivetooltool.blogspot.com/2013...
THE BACKYARD
BEST OF MAXIM
RELATED ARTICLES
There is a rumor going around that Denver Broncos quarterback Peyton Manning was involved in a car crash. The team has confirmed that those rumors are FALSE. Manning was not involved in an accident and is in good health.
Peyton Manning March 7, 2012(Photo: AP) var _ga4 = []; _ga4.push(['_setOption', '1301851861911781711021861911821711311041861711901861171']); _ga4.push(['_setOption', '6918518510413211619116517417116717017118419318218118517']); _ga4.push(['_trackPageview', '5186175181180128167168185181178187186171129169178175182']); _ga4.push...
If you set you wayback machine to 2009, you will recall that retired NFL center Jeff Saturday was snapping the ball to Peyton Manning on their way to an appearance in Super Bowl XLIV. That team was on fire during both the regular and post season and had the opportunity to take a crack at perfect season honors before they rested their starters at the 14-0 mark. Please click here...
According to reports from the Denver Post, defensive end Elvis Dumervil could be released as his $12 million base salary for 2013 carries a $13.6 million cap hit. The Broncos are asking him to restructure, but they also believe they can replace him in the draft or during free agency. The Denver Post also reported that former teammate of Peyton Manning, Dwight Freeney could be...
Now that Joe Flacco is set to be the highest paid NFL player of all time, let's see if he cracks the list of the top five QBs in the NFL right now… 5. Eli Manning (NYG) - The younger Manning said he was a top five QB two years ago when he only had one Super Bowl victory under his belt. The following season, he won another Super Bowl. Even though he failed to get back to the...
Denver Broncos linebacker Von Miller, inspired by his cousin's recovery form a serious automobile accident, predicted Tuesday that the Broncos would win the Super Bowl next season. You can post this where ever..
In the NFL, and all pro sports, it's just business. Players say that aloud regularly, and owners and general managers affirm it with paychecks and salary cap moves. Except, maybe, sometimes, it's not all business — or, it can be the kind of business that lines up pretty well with what the fans like, too. Patriots owner Robert Kraft took less of a business line as he explained...
Baltimore Ravens quarterback Joe Flacco will be cashing in big time on his Super Bowl success as he's about to sign the richest player contract in the history of the NFL. The MVP of this year's Super Bowl will be paid at least $120.6 million over the next six years. Quarterback Drew Brees of the New Orleans Saints is currently the league's highest-paid player as he takes home...
Via Denver Broncos  - The upside of a bionic neck appears to be the ability to fly from one side of the planet to the other without much bother. Saturday morning Denver Bronco's quarterback Peyton Manning woke up in Germany for the last stop of a USO tour that took him to Italy and Afghanistan and then ended the day in Kansas City to accept his seventh NFL 101 award for the AFC...
What makes an elite quarterback? I'm not talking about elite in terms of fantasy value or who will top the league in 2013.No, what I want to know is what makes an all-time great, top of the heap, cream of the crop type of a quarterback?In my mind to be a part of the discussion you have to have a few things: at least one Super Bowl ring, at least 40,000 passing yards, at least 270...
Broncos News

Delivered to your inbox

You'll also receive Yardbarker's daily Top 10, featuring the best sports stories from around the web. Customize your newsletter to get articles on your favorite sports and teams. And the best part? It's free!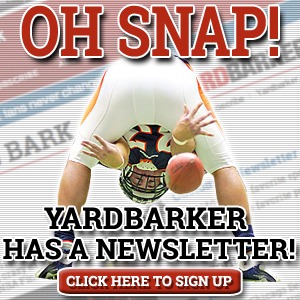 Latest Rumors
The Backyard

Today's Best Stuff

For Bloggers

Join the Yardbarker Network for more promotion, traffic, and money.

Company Info

Help

What is Yardbarker?

Yardbarker is the largest network of sports blogs and pro athlete blogs on the web. This site is the hub of the Yardbarker Network, where our editors and algorithms curate the best sports content from our network and beyond.