Found December 28, 2012 on Down and Distance:
PLAYERS:
Jason Garrett
,
Chan Gailey
,
Ryan Fitzpatrick
,
C.J. Spiller
,
Norv Turner
,
Andy Reid
,
Rex Ryan
,
Tim Tebow
,
Mark Sanchez
TEAMS:
Dallas Cowboys
,
Buffalo Bills
,
San Diego Chargers
,
Philadelphia Eagles
,
New York Jets
,
New England Patriots
5- Jason Garrett, Cowboys Photo credit: bullcitystateofmind.com   I don't think Jason Garrett has much to worry about. It definitely wouldn't hurt to get a win over the Redskins this week and clinch the very competitive NFC East. That being said, he IS the head coach of the Dallas Cowboys and will have to deal with Jerry Jones after the season ends. If Garrett's team makes the playoffs and gets a postseason win or two he should be a lock to be on Dallas's sideline in 2013. If the team doesn't make the playoffs and gets blown out by RG3 and the Redskins, Jerry Jones might be out on the warpath. This is "America's Team". The postseason is not only something the team hopes for, it's downright expected. Don't be surprised if things go bad for Dallas in week 17 and Jason Garrett is given his walking papers. Personally, I think he'll be back. But you never know when it comes to Jerry Jones.   4- Chan Gailey, Bills   photo credit: buffalonewyorktourism.com The Bills fanbase is calling for Chan Gailey's head on a platter. Every week, his play calls seem to make more and more people scratch their heads. a 15-32 record in three years (for a dismal 418 winning percentage) isn't NFL head coach material… especially after the team spent extravagant amounts of money on the defense this past offseason. He's been criticized heavily during the season for being conservative when he should be taking chances and taking chances when an effective coach would take it down a notch. Oh, and it doesn't hurt that Gailey prefers to let mediocre QB Ryan Fitzpatrick throw instead of giving the ball to rising star running back CJ Spiller. Fans are fed up, players are frustrated and Chan should be out the door at the end of the season.   3- Norv Turner, Chargers   Photo Credit: Bleacherreport.net Norv Turner basically lives on the hot seat. If he survives this offseason, he might as well start having his mail forwarded there. There's no doubt that offensively he knows the game. His problem lies in his lack of ability to inspire his players. An important part of being a head coach in the NFL is the ability to rally the troops. I think he'll get a job elsewhere, but his days in San Diego are over. He won't be the only one to go, though. It's being reported that General Manager AJ Smith might be on his way out too. This team needs a leader, and Norv Turner just isn't the man for the job anymore.   2- Andy Reid, Eagles   Photo credit: gcobb.com The hot seat is scorching for Andy Reid. The Eagles were supposed to be the real deal. After the "dream team" debacle last season, this was supposed to be the year that the Eagles proved that it was just a fluke and that they were real contenders. Instead, they sit at 4-11. They're the worst team record wise in the NFC. I almost feel… bad for Andy Reid. Not only is he about to lose his job that he has held since 1999, he went through the loss of his son during training camp. No parent should have to go through that, especially in the public eye like Reid did. Andy Reid IS a good coach. Unfortunately, time caught up to him. Not many head coaches can say that they were in charge of the same team for over ten years. Coach Reid should leave with his head held high. Although he never won a super bowl, he was a class act through and through. I think he should take a year off and deal with his family and personal problems before throwing himself into the chaos that is the NFL again. And yes, I DO think he'll be back in the NFL.   1- Rex Ryan, Jets   This was supposed to be the year for gang-green. With offseason improvements across the board and the acquisition of  possibly the most polarizing player in the league in Tim Tebow, this was supposed to be the year that the Jets finally overtook the New England Patriots. Not only did that not happen, but they took a big step backwards. This team is a mess. At 6-9, they underachieved in a big way. The Tebow experiment was a monumental failure. Mark Sanchez was a major letdown. Rex Ryan has lost his locker room in a huge way. One of the poster boys for hard work and a "team" mentality, Tim Tebow, has reportedly openly defied the coaches and refused to be a part of the team's wild card packages (although now Tebow denies this). Ryan has lost this team at a level that few coaches have before. If he's back next season, things are only going to get worse. The post Top 5 Coaches on the Hot Seat Going Into Week 17 appeared first on DOWN & DISTANCE.
Original Story:
http://sports-kings.com/downanddistan...
THE BACKYARD
BEST OF MAXIM
RELATED ARTICLES
The Dallas Cowboys have listed linebacker DeMarcus Ware as probable for Sunday night's NFC East show down with the Washington Redskins as he continues to nurse a shoulder injury. Ware will equipped with a shoulder harness to help stabilize his shoulder during the game. DeMarcus Ware had KT tape on his right shoulder Friday after practice. He'll have a shoulder harness on it come...
The Cowboys have only one way to make the playoffs this week. We've made it to the last week of the season.  There is still a lot to figure out in both Conferences and a couple teams still in the playoff hunt. Here's a look at the Week 17 Final Playoff Scenarios: NFC Locked-up: Atlanta Falcons (South, #1 Seed, home-field throughout); Green Bay Packers (NFC North...
Let's start with the obvious: when these Dallas and Washington teams met on Thanksgiving, the Cowboys were undermanned on offense. They had fill-ins working on the offensive line, lost Miles Austin early and were without DeMarco Murray. In the games final 20 minutes offense was hardly the problem as Dallas rallied to draw the game close but as Washington was pulling out to a...
Former Dallas Cowboys great Drew Pearson, the owner of the original number 88 jersey, thinks the Cowboys need to go after Washington Redksins QB hard, very hard, even if it costs them penalties. Dallas needs a big win against the 'Skins to win the NFC East, but let's be realistic. Purposely drawing penalties is never a good idea. "We need to let him know that it...
Jerry Jones gave Dez Bryant the number 88 when he drafted him. It is the same number worn by Hall of Famer Michael Irvin and should-be Hall of Famer (and recent Ring of Honor inductee) Drew Pearson. To old Cowboy fans like me, it is a pretty special number in Cowboys lore. On April 23, 2010, ESPN.com quoted Jones giving his reason for giving Dez the hallowed 88: "I think that Dez...
Dallas Cowboys outside linebacker DeMarcus Ware said he will play Sunday's game against the Washington Redskins with a brace on his right shoulder, according to ESPN Dallas. Ware will wear the brace because his dislocated right shoulder keeps popping out. He also has a hyperextended right elbow. Even though he has not practiced this week, he is listed as probable on the team...
The Dallas Cowboys and Washington Redskins will play each other on Sunday night for the NFC East title. NBC will carry the game which will have playoff implications. It is safe to say that the rivalry between the Cowboys and Redskins is back. What is the point spread in the Cowboys and Redskins game? The Redskins are 3.5 point favorites against the Cowboys. The over/under for this...
The hype that has already surrounded this match, you could be forgiven for thinking that there was something more than a division title up for grabs. Of course, throw in the added ingredient of one of pro sports most heated rivalries, and the fact that a playoff place is there for the winners, something that both franchises have been starved of in recent times, its easy to see...
The Cowboys and Redskins are playing for the NFC East this weekend, this is why people love the NFL. Entering the last week of the season I'm sitting at 153-87.  That's ok but not great.  I'd like to be over 170 for the season, but it is what it is at this point.  Let's finish strong. With teams resting players and teams out, I'll also take a look at the...
2012 is almost in the books. For the Dallas Cowboys, the tale of this football year has yet to be told. But for Silver and BlueBlood (SBB), the books are all but closed. And, thanks to our faithful readers, Facebook friends and Twitter followers, it was far and away the best year yet, as I will demonstrate with the following snippet taken from the admin page of the site:      ...
For the first time in recent memory, the Sunday Night Football game this week is possibly the best game on the docket. Perhaps not because of the quality of the game it might be, but for what is at stake; the NFC East crown. Nice work with the whole "flex" schedule…finally. With the defending champion Giants pretty much having their season ended the past two weeks in Atlanta...
NFL News

Delivered to your inbox

You'll also receive Yardbarker's daily Top 10, featuring the best sports stories from around the web. Customize your newsletter to get articles on your favorite sports and teams. And the best part? It's free!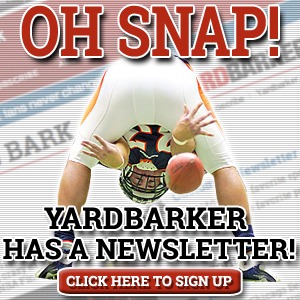 Latest Rumors
Best of Yardbarker

Today's Best Stuff

For Bloggers

Join the Yardbarker Network for more promotion, traffic, and money.

Company Info

Help

What is Yardbarker?

Yardbarker is the largest network of sports blogs and pro athlete blogs on the web. This site is the hub of the Yardbarker Network, where our editors and algorithms curate the best sports content from our network and beyond.