Found January 31, 2013 on The Sports Bank:
PLAYERS:
Colin Kaepernick
,
Joe Flacco
,
Jim Harbaugh
,
Ray Lewis
,
Alex Smith
,
Ray Rice
,
Randy Moss
,
Torrey Smith
,
Anthony Davis
,
Ed Reed
,
Aldon Smith
,
Tom Brady
,
Drew Brees
,
Steve Weatherford
TEAMS:
Baltimore Ravens
,
San Francisco 49ers
,
New England Patriots
,
New Orleans Saints
,
New York Giants
Notable Top Bing Searches · Team: The San Francisco 49ers were the search darlings this Super Bowl, receiving twice as many searches as the Baltimore Ravens. · Quarterbacks: The 49ers quarterback, Colin Kaepernick, appeared to be the fan favorite quarterback among Bing searchers, surpassing Raven's QB, Joe Flacco, by more than 50 percent. · Harbaugh Brother: The most searched for Harbaugh brother was Jim Harbaugh, coach of the 49ers. · Top Player: Soon to be retired Ravens player Ray Lewis was the top searched for player in the 2013 Super Bowl, according to Bing. · Top Player By Team: Alex Smith is the top searched for 49ers player, while Ray Lewis tops the list of Ravens players. Here are the top 5 most searched for players on each team: 49ers Ravens Alex Smith Ray Lewis Colin Kaepernick Ray Rice Randy Moss Torrey Smith Anthony Davis Ed Reed Aldon Smith Joe Flacco   And the man who predicted all 50 states and the District of Columbia in the Presidential electio...
Original Story:
http://www.thesportsbank.net/nfl/top-...
THE BACKYARD
BEST OF MAXIM
RELATED ARTICLES
It is the biggest media event in the entire world, there was no way that Chris Culliver was going to escape the barrage of questions from reporters once he arrived for what turned into a 45 minute interview session. The questions wouldn't stop, even though Culliver was obviously embarrassed and disturbed by the entire incident he created when he said this to comedian Artie Lange...
It's Day 3 of Mossgate, two days longer than it probably should have lasted. But, at any rate, here we are.  The latest development of this breathtaking scandal is Jerry Rice throwing shade at Randy Moss … again. A quick refresher. Moss on Tuesday, during the three-ring circus that is Super Bowl media day, proclaimed he was the greatest wide receiver "ever to play." Jerry...
San Francisco 49ers tight end Vernon Davis wishes he could go back and thank former 49ers head coach Mike Singletary for kicking him off the field a few years ago. "I remember the very first time he kicked me off the field," Davis said. "Tears were shed. I told him, 'I want to be traded Coach. He said, 'OK. I'll find another team for you.' That moment, it started to...
NEW ORLEANS — San Francisco 49ers cornerback Chris Culliver has apologized for anti-gay comments he made to a comedian during Super Bowl media day. Culliver said Thursday that's "not what's in my heart" and he was "just kidding around." He also apologized to the city of San Francisco and added he would welcome a gay teammate to the 49ers, a reversal of his remarks...
Chris Culliver is a second year cornerback for the San Francisco 49′ers. He was drafted in the third round. He's from Philadelphia and went to college at South Carolina. You may or may not have been familiar with his name before today. You most certainly hadn't heard his name in any of the main stories in the days leading up to Sunday's Super Bowl. But chances are good, you're...
Super Bowl week just heightened a bit, but not the way you'd expect.  Some bulletin board material was spoken by a 49ers players, but none that will motivate the Ravens.  Now you might hear some civil rights groups get riled up. San Francisco 49ers cornerback Chris Culliver was being interviewed by comedian Artie Lange on Tuesday during media day. Lange who kinda set the second...
Is it OK to feel sorry for San Francisco 49ers cornerback Chris Culliver? Can I say that? Because I do. He was asked during Super Bowl Media Day about his sexual plans for Super Bowl week and if they included any gay men, and he followed stupid with stupider. Instead of saying "WTF?" he said, "Ain't no gay people on my team. They gotta get up outta here if they...
Speaking today on the ridiculous case of 49ers CB Chris Culliver and his homophobic statement from yesterday, ESPN's Mike Ditka let us all know that this is America and because of that... "I... Full story at Bob's Blitz ~ http://www.bobsblitz.com
Super Week and the media circus is finally over; all that's left is The Big Game. Here are the five reasons I'm picking the Niners. 5. 49ers have the best players. They've had the best ensemble for the last two years (only missing out on the Super Bowl after two special team blunders by fill-in return man Kyle Williams in an OT game). They have better receivers (Michael Crabtree...
After Randy Moss' claim yesterday's that he's the greatest wide receiver ever, former 49ers receiver Jerry Rice was shocked and explained that he's the best ever because of his Super Bowl rings and his stats. Moss told ESPN's Rick Reilly today that he doesn't care about stats, he's the greatest. "I don't go by numbers. I'm the greatest. Next question," said...
Super Bowl XLVII: #4 Baltimore Ravens (13-6) vs. #2 San Francisco 49ers (13-4-1) in New Orleans, Louisiana, San Francisco favored by 3 1/2 The Super Bowl brings in millions of casual fans, that will probably be watching their first football game of the season. For people not interested in matchups, or which team has the better offense or defense, there is still plenty to become invested...
For Ed Reed and Frank Gore, winning a Super Bowl is the final piece to each's impeccable resumes. The post Ed Reed, Frank Gore And Miami's Golden Children appeared first on The Sports Fan Journal.
NFL News

Delivered to your inbox

You'll also receive Yardbarker's daily Top 10, featuring the best sports stories from around the web. Customize your newsletter to get articles on your favorite sports and teams. And the best part? It's free!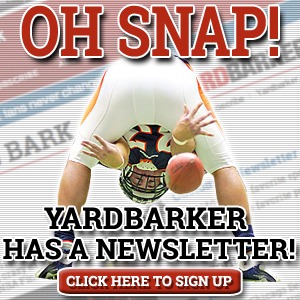 Latest Rumors
Best of Yardbarker

Today's Best Stuff

For Bloggers

Join the Yardbarker Network for more promotion, traffic, and money.

Company Info

Help

What is Yardbarker?

Yardbarker is the largest network of sports blogs and pro athlete blogs on the web. This site is the hub of the Yardbarker Network, where our editors and algorithms curate the best sports content from our network and beyond.