Found November 06, 2012 on Awful Announcing:
The same network that has brought you shows like Man vs Food, Bizarre Foods, No Reservations, and Ghost Adventures is now entering the NFL world.  The Travel Channel is partnering with NFL Films to follow one NFL team on their travels throughout the regular season. And that team is... the Cleveland Browns. The 2-7 Cleveland Browns. NFL Road Tested: The Cleveland Browns will debut Tuesday December 4th and take viewers on the road with the Browns through the process of preparing for various games during the NFL season including interviews, meals, stadium preparations, and frustrating losses... "NFL Films will provide unprecedented access to Travel Channel to unveil never-before-seen footage of what it takes to travel an entire professional football team from city to city, game to game, during the regular season. Every road trip requires a massive amount of coordination to haul the 150-person squad 20,000 miles a season. From feeding an entire team, to clothing and housing them, to how a stadium prepares and deals with more than 70,000 rabid fans, Travel Channel's cameras are there to capture this massive undertaking. In addition, viewers will see how the Cleveland Browns prepare each week through the eyes of the players and team management, including new owner Jimmy Haslam. They can expect to learn more about the history behind deeply-rooted team rivalries and other notable insights not typically covered in game-coverage news. Episodes will focus around the weeks leading up to games played against the New York Giants, Baltimore Ravens, Dallas Cowboys, Oakland Raiders, Denver Broncos and Pittsburgh Steelers. The announcement was jointly made today by Andy Singer, General Manager, Travel Channel, and Howard Katz, Chief Operating Officer, NFL Films.   "This series is a first-of-its-kind program providing an exclusive pass to NFL fans during the season. This is an emotionally-charged world. Now, viewers will get a never-before-seen opportunity to see what it's like for players to live on the road, often away from their families. We'll hear from the players themselves, coaches and scores of support staff in multiple cities," said Singer. "Working with the Emmy award-winning storytellers from NFL Films, 'NFL Road Tested: The Cleveland Browns' will take viewers beyond the gridiron and inside the action that happens between games as the storied franchise attempts to return to football greatness." This seems like a novel concept, and it'd be interesting to get a behind the scenes look at how an NFL team travels every week... I'm just not sure the Cleveland Browns are the most interesting subject matter to be profiled.  The prospects of following such a depressing, struggling, uninteresting team are pretty grim.  The Browns have been terrible this year, even by their recent standards.  Unless we find new owner Jimmy Haslam alone in his new office curled up into a ball on the floor shaking over the fact that he inherited a team with one playoff appearance since 1999 and a 29 year old rookie quarterback who has the lowest QB Rating in the league, this series is going to lack a sense of realism.   From a pure travel perspective, a trip from Cleveland to Pittsburgh or Cleveland to Oakland isn't one that jumps out of the television and excites you about travel.  I can't wait to see Greg Little drop his luggage, too.  In all seriousness though, it will be engaging to have a different angle going inside an NFL team and another fly-on-the-wall documentary style program to provide more behind the scenes footage for sports fans.  Plus, with NFL Films involved, you know the quality will be top drawer. When I think of great travel destinations and the Travel Channel, the city of Cleveland doesn't exactly come to mind.  But maybe, just maybe, this is the program Cleveland needs to change that reputation.  It's a great next step forward from "Hastily Made Cleveland Tourism Video"... [Fang's Bites]
Original Story:
http://www.awfulannouncing.com/2012-a...
THE BACKYARD
BEST OF MAXIM
RELATED ARTICLES
Browns head coach Pat Shurmur, from yesterday's session with the media- I can't tell you exactly. I know exactly why. There were a couple situations getting the right people in the game, getting the play to the quarterback in a timely fashion and then him calling it properly. That's the string of events. There were a couple times yesterday that didn't get done. I'm absolutely...
There's just no doubting how great Phil Dawson is at this point, and Peter King has his ticket for the bandwagon. Twenty-three straight field goals, 21 of them this year, and his consecutive kicks of 32, 28, 29, 33 and 41 in a 32-minute span between the second and fourth quarters gave the Browns a 15-14 lead late against Baltimore. Dawson's an unsung player, in part because...
Who caught your eye? Did someone stand out? Who blew it? That's what were interested in this morning. Winners and losers. The Browns kicked five field goals after falling behind 14-0. Unfortunately, they couldn't hold that lead. This morning we start picking it apart. LOSER: Communication. Unreal. Get your stuff together. The Browns continue to waste timeouts and opportunities...
As it is, the Browns are hardly must-see television; quite the opposite, in fact. But that stands to change, thanks to the influence of new ownership. According to the Cleveland Plain-Dealer, Dee Haslam, wife of owner Jimmy Haslam, is teaming up her production company RIVR Media with NFL Films to bring a Browns-centric documentary series to Travel Channel. Premiering December...
[The goal is] to win. If it's a 100-yard game, it's a 100-yard game. If it's a 50-yard game, it's a 50-yard game. As long as we are winning and as long as we are doing everything we can fundamentally to put our self in a better situation for winning the game. [...] I'm very excited about these last seven games because we can make a big difference especially when people...
Last week: 28 (+0) Record: 2-7 Once again the Browns played a team close and came up short this week. Against Baltimore, they actually scored more frequently than the Ravens, scoring 5 field goals, which Baltimore just scored 4 times, though they got 3 touchdowns and a field goal. The Browns imploded once they got into field goal range thanks to some bad play calling. They also had...
It isn't Hard Knocks, but it appears the Browns are going to be the stars of a television series- "The National Football League will announce a deal with the network to provide unprecedented access to one of its teams as it travels to away games. NFL Road Tested: The Cleveland Browns will premiere Dec. 4 at 10 p.m. and follow the Browns as it prepares to play in New York, Baltimore...
With time to reflect, Browns coach Pat Shurmur says he would change some play calls and reconsider other decisions he made in the fourth quarter of Sunday's loss to Baltimore. The Browns were beaten 25-15 by the Ravens, who put the game away in the final four minutes after stopping Cleveland on a fourth-and-2 play. Instead of punting from his own 28, Shurmur, who still had two...
Serving as a mid-season review that couples in ensuring he maintains his relevance throughout the regular season, ESPN draftnik Mel Kiper Jr has unveiled who he feels each team would select tomorrow if given the chance. Coupling this with the Cleveland Browns most recent loss, a ten-point beating at the hands of the Baltimore Ravens, the position of "need" labeled byKiper may...
1) Its always interesting to sit back and watch firing season. Guy loses, everyone cries for him to be fired. Guy loses two, more guys call for firings. Now, 19 losses in 24 games is a lot of losses and does not burnish the resume. And there have been some very shaky decisions on the sidelines for the 2012 Cleveland Browns, but some of them are shaky simply because they did not work...
Welcome to the latest edition of X's and O's with the Bros by X's and O's editor @rodofdisaster. This feature represents a basic attempt to look deeper into the game of football, learn something about the X's and O's that make it go, and better appreciate the games within the game. It's called "X's and O's with the Bros: because you don't have to be a player...
Head coach Pat Shurmur demands better execution in short yardage.
NFL News

Delivered to your inbox

You'll also receive Yardbarker's daily Top 10, featuring the best sports stories from around the web. Customize your newsletter to get articles on your favorite sports and teams. And the best part? It's free!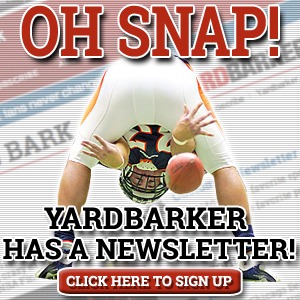 Latest Rumors
Best of Yardbarker

Today's Best Stuff

For Bloggers

Join the Yardbarker Network for more promotion, traffic, and money.

Company Info

Help

What is Yardbarker?

Yardbarker is the largest network of sports blogs and pro athlete blogs on the web. This site is the hub of the Yardbarker Network, where our editors and algorithms curate the best sports content from our network and beyond.