Found November 09, 2012 on Grits Blitz:
PLAYERS:
Travian Robertson
,
Peria Jerry
,
Drew Brees
,
Brian Orakpo
,
Zach Strief
,
Kevin Vickerson
,
Justin Bannan
,
Ben Grubbs
,
Jahri Evans
,
Jonathan Babineaux
,
Vance Walker
,
Corey Peters
,
Charles Brown
,
Chris Long
TEAMS:
Atlanta Falcons
,
New Orleans Saints
,
Washington Redskins
,
Denver Broncos
,
St. Louis Rams
As the undefeated Falcons march into the Superdome for a match up with the Saints on Sunday a question lingers. How are the Atlanta Falcons going to combat a very relevant and potent Saints aerial attack. The answer lies in one place and that is the interior defensive line. With Peria Jerry's status in doubt for Sunday the Falcons have a prime opportunity to give their 2012 seventh round pick and pre-season stand out Travian Robertson some potentially influential play time. The issue really boils down to Drew Brees himself. As we all know Brees is undersized as a QB. Standing in at only 6'0 Brees has trouble seeing over the OL and DL to get off passes. Sometimes he has to get on his tippy-toes just to see over the offensive line. This represents a problem when the Saints face teams that have taller DTs on their rosters. Just look at Brees' worst games this year. Those would be vs. Washington and @ Denver, and both teams have something in common. The majority of their interior lineman (In the case of Washington their NT and 5-techs) are 6'4 or taller. This presented a problem for Brees in both cases as he had to view and then elevate the ball over taller defensive lineman. This gave them prime opportunity to knock down passes at the line of scrimmage. That's exactly what the Redskins did when they played the Saints. Redskins' 5-tech Stephen Bowen (6'5) managed to get his hands on two passes at the LOS and ROLB Brian Orakpo also managed to get two balls patted down at the LOS. Size isn't the only factor in this equation though. Interior defensive linemen also have to be able to push the pocket and get pressure up the middle, making already tough throws even tougher for Brees. The Redskins tandem of Cofield and Bowen combined for 5 QB pressures and both graded out positively against the pass according to Pro Football Focus. This combination of size and pressure creates a precarious situation for Brees and the Saints passing game. Brees relies on his guards to keep the passing lanes open and allow him to see the field and go through his options. When the pocket is muddled this becomes an issue for Brees; forcing him to throw passes when he doesn't have a clear view of the field or scramble out and narrow his choices down to one side of the field. A muddled pocket also takes away Brees' ability to step up into the pocket and helps turn pressure from the edge into QB sacks and hits. That is what happened when the Saints traveled to Denver. Although the Denver defensive tackles weren't dominant in their match up against the Saints they were able to get some push in the pocket. This helped Von Miller to have a big day against the Saints. He didn't record a sack but Miller did record two QB Hits and 4 QB hurries. Miller took full advantage of his match up against Saints RT Zach Strief and good coverage from the Denver secondary combined with a decent interior pass rush gave him plenty of opportunities to harass Brees and stunt the vaunted Saints offense. Miller finished up with a grade of +5.7 (PFF) and the Saints finished with 14 points. The Denver interior which consisted of Derek Wolfe, Kevin Vickerson, and Justin Bannan did a decent job and yet again Brees had a pass knocked down by the 6'5 Vickerson. When the Saints opposition gets the edge on the interior the offense can be brought to a grinding halt. The issue for the Falcons is that they lack the size to clog up the passing lanes and the push to collapse or muddle the pocket on a consistent basis. What makes it even more difficult for the Falcons is that they are going against a very good guard tandem in Ben Grubbs and Jahri Evans. The Falcons have received great play from Jonathan Babineaux and Vance Walker, but Walker to this point has only has been in a rotational role . We've yet to see what Walker can do in a full time role, but we may get our first glimpse Sunday as Walker might be starting with Peria Jerry hobbled and Corey Peters still recovering from an injury. Babineaux has put in a phenomenal season but at age 31 he relies on rotations to keep him fresh. With Jerry dealing with an injury and Peters still recovering from one it only makes sense to give Travian Roberston his first slew of meaningful snaps. At 6'4  303 LBs Robertson is the biggest DT on the Falcons roster, and DL coach Ray Hamilton said that he may be the strongest defensive tackle as well. Robertson's combination of size and strength at the point of attack could be valuable for the Falcons this Sunday especially if they go into their sets that feature 3 DTs (one swung out at the DE position).Robertson has the size to clog up the passing lanes and the strength to push the pocket against New Orleans. Robertson proved in pre-season action that he could be a valuable asset to the Falcons as not only was he able to hold the POA but he was able to get penetration in both the passing and running games and did a great job of pushing the pocket. All these traits could come become very useful against a QB like Drew Brees who relies on a clean pocket to avoid pressure from the edges. Although Robertson hasn't gone against guards like Grubbs and Evans it's very possible that the Falcons could show some 5 down linemen looks against New Orleans and insert Robertson at the Nose and get him a one on one match up with New Orleans C Brian De La Puente. Puente has had a good year so far according to PFF (+7.7), but he gets a lot of aid from his guards in pass protection. With RT Zach Strief's status up in the air the Saints may have to start Charles Brown. Brown struggled mightily last year including a very poor performance against the Rams and Chris Long where he surrendered 3 sacks. As such RG Jahri Evans may be helping out Brown instead of De La Puente.  This would leave De La Puente isolated on an island with one of the DTs and if it's Robertson he could make his impact felt in a big way.
Original Story:
http://www.gritsblitz.com/2012-articl...
THE BACKYARD
BEST OF MAXIM
RELATED ARTICLES
DIRTY BIRD
Falcons wide receiver Roddy White said he has no love for the team's division rival and the city where it plays, but did compliment New Orleans on its cuisine.
Pepsi recently unveiled a commercial that depicted a showdown between Drew Brees and One Direction for the last can of Pepsi. The concept was decent, the execution was mediocre (why are fans of various NFL teams cheering for Brees? No Saints fans?) and the singing from Brees was, as expected, dreadful.  Now Pepsi has released the second part of the ad showing what happened if...
I have just one hope: that none of you had Doug Martin on the bench last week. I had Martin ranked 9th, which, come to find out, was just a bit low.  His 251 rushing yards and four touchdowns vaulted him to the number one spot in the running back rankings. Fear the Muscle Hamster. Obviously, Martin can't duplicate his monster performance this week against San Diego, but the moral...
Chris Ivory doesn't know why he didn't get his first chance to carry the ball until the eighth game of the season. The Saints running back figured the best thing he could do during the first seven weeks of the season was simply stay sharp and focused, so that he could be relied upon when his number finally was called. ''I still don't get it. I just played the...
Linebacker Curtis Lofton left Atlanta just in time to miss out on the Falcons' best start to a season in franchise history. Now a defensive leader for the struggling Saints, Lofton insists he has no regrets, did what was right for him and is eager to experience one of the NFL's more intense and longstanding rivalries from the other side when the Saints (3-5) host unbeaten...
Last week it was reported that Sean Payton's contract with the New Orleans Saints has been voided by the NFL and he'll be free to sign with any team he likes once the season is over. According to Dan Parr of ProFootballWeekly.com, even though both Payton and the Saints have indicated that they plan on working everything out, both sides haven't been talking. However, our sources...
The '72 Dolphins. Almost the '07 Patriots. Perfection is, and will always be, a headline in the sports world, due to its rarity.For the Atlanta Falcons, currently 8-0, perfection remains an option. But nothing is guaranteed. Last season, the 13-0 Green Bay Packers got clipped by the 5-8 Kansas City Chiefs, when freshly-interim coach Romeo Crennel neutralized Aaron Rodgers...
Andrew Juge of the Saints Nation stops by to explain if the pass rush we say against Philly is real, can running game stay consistent, and can the defense learn to tackle. Ralph then explains why a freak out over Sean Payton leaving is not warranted. Also it's Atlanta week which means let's bath in warm warm hatred.   Podcast Powered By Podbean
Fox Sports NFL and College Football scout Chris Landry talks with Amy and Ben on about the struggling NFL teams and their coaches futures. He also mentions the elite teams and whether or not the Atlanta Falcons are going to perform in the playoffs and become a new force in the NFL.
Week 9 Complimentary NFL Teaser Results This week we're featuring another sweetheart, 4-team teaser that offers 13 points per game. Indianapolis + 10 @ Jacksonville New Orleans + 15.5 v. Atlanta Detroit + 11 @ Minnesota Denver + 9.5 @ Carolina Why we like these games: An inspired Indy team has won three straight, while the Jags have only one win on the season. Coincidentally...
NFL News

Delivered to your inbox

You'll also receive Yardbarker's daily Top 10, featuring the best sports stories from around the web. Customize your newsletter to get articles on your favorite sports and teams. And the best part? It's free!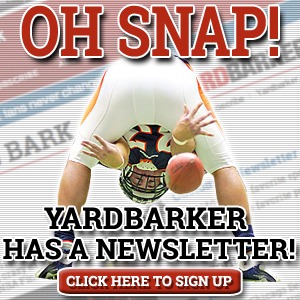 Latest Rumors
The Backyard

Today's Best Stuff

For Bloggers

Join the Yardbarker Network for more promotion, traffic, and money.

Company Info

Help

What is Yardbarker?

Yardbarker is the largest network of sports blogs and pro athlete blogs on the web. This site is the hub of the Yardbarker Network, where our editors and algorithms curate the best sports content from our network and beyond.