Found September 16, 2012 on Waiting For Next Year:
For all the explosion that Trent Richardson was missing against the Eagles, he seemed to have in excess this week against the Bengals. Sure the numbers were great. Over 100 yards on the ground, over 35 receiving and a touchdown in either category, but it was what you can't see in the box score which is most exciting. Trent Richardson made guys miss. He seemed quick to the edge. He was physical and domineering when he needed to be. Somehow with all the violence, there is something much smoother about watching Richardson than the last hopeful Browns running back Peyton Hillis. When Hillis ran you sometimes held your breath wondering if he was going to get hurt or fumble the ball. Hillis was electric, don't get me wrong, but it was so very unconventional watching a man of his size hurdle defenders. It just doesn't feel at all similar watching Trent Richardson, even at this early juncture in his career. It probably has a lot to do with him being drafted so high. Despite the Browns well-documented history drafting busts toward the top of the draft, it still feels much more comfortable to place expectations – even high ones – on a guy like Trent Richardson than it did on Peyton Hillis even after his extraordinary year. I know it's hindsight, but ask yourself if Browns fans would have overreacted to that same 1,177 yard season if it came from Trent Richardson. I know a lot of people liked to talk about the racial angle with Peyton Hillis. 1 but I think it probably had a lot more to do with the fact that he was an oversized guy who came out of nowhere than it did his whiteness. Obviously, Trent Richardson is only batting 50% in his first two games as a pro. Still, his track record in college looked a hell of a lot like what he put up against the Bengals as opposed to what happened against the Eagles in his first meaningful pro action after missing the entire pre-season. It's just exciting to say that. Trent Richardson put up a pretty impressive performance without any gimmicks – just hard, physical play – in only his second piece of NFL action.  The Browns might have finally found a truly special player. They might have finally found one that approaches the hype let alone lives up to it. Even in a loss Trent Richardson had the kind of day that makes you want to come back and watch them play again next week. The offense lacked that the entire season last year and while there are no "moral victories" in the Browns locker room, there appears to be watchable football forthcoming in your living rooms this year. That's something. It's something because Trent Richardson just might be something too. ___________________________________
Yeah, that's kind of vague, but I don't think I'm speaking out of turn.
Original Story:
http://www.waitingfornextyear.com/201...
THE BACKYARD
BEST OF MAXIM
RELATED ARTICLES
Cleveland halfback Trent Richardson wasn't particularly impressive in his debut last Sunday versus Philadelphia but he looked terrific this week in a loss to the Bengals. He tallied 109 yards and contributed two touchdowns for the Browns, including one touchdown rushing and one receiving score.Fantasy Spin:Richardson had surgery on his knee just a little more than a month ago...
CINCINNATI - Cincinnati Bengals middle linebacker Rey Maualuga said he and Cleveland Browns rookie running back Trent Richardson have no beef and that his comments last week about Richardson were taken out of context. Last week, Maualuga said Richardson "didn't do nothing spectacular" in Week One, when he rushed just 19 times for 39 yards in the Browns' narrow...
Dorothy once found herself stranded in a new land with no family or friends. All she wanted to do was go home. But she didn't know how to get there. She was shown a yellow brick road with the answer to her desire at the end of it. The only way to get home was to take that first step. Along the trip, she picked up life lessons and friends to help her get home.  The 2012 Cleveland...
Trent Richardson became the first Browns rookie to run for 100 yards and score on a run and a pass, according to STATS LLC.
Cleveland Browns 1st-round picks Trent Richardson and Brandon Weedenpulled off a rare feat for a pair of rookies on Sunday afternoon against the Bengals. Hopefully Weeden isn't the next Tony Banks They became the first pair of rookie teammates to throw for 300 yards and rush for 100 yards in the same game since 1996. The down side to this accomplishment? The previous duo doesn't...
Who caught your eye? Did someone stand out? Who blew it? That's what were interested in this morning. Winners and losers. The Browns fell to the Bengals, but looked better- at least offensively. Let's get it started… LOSER: Joe Haden. This will likely be a four week inclusion. Haden put his teammates in a tough spot. I certainly wouldn't insist the Browns win that game with...
Incredible improvements were on display Sunday in Cincinnati for the Browns offense. Trent Richardson put up monster numbers and Cleveland scored more points than all but one of their 2011 games. Yet, the Bengals were in control throughout and led coast to coast. The Browns secondary looked suspect at best without Joe Haden and the solid second-half offense was just too little too...
Cleveland Browns vs Cincinnati Bengals September 16, 2012 Brian   Browns 28 Bengals 10 Last week I said it would be a few weeks until our rookie-led offense started clicking. After the 5.1 rating disaster last week, Weeden needs to pick it up quicker than that. A few more performances like that and there will be...
I was able to take in the Browns at Bengals game this afternoon from the 30-yard line at Paul Brown Stadium, and despite a tough division loss, the Browns looked better than I thought they would.Defensively, Cleveland took a step backwards, giving up 27 points (the other Bengals TD was a punt return).  This was to be expected with star cornerback Joe Haden out due to a suspension...
In a game that was supposed to be one of the more boring games in the NFL this week the clash of Ohio turned out to be a high scoring barn burner.  Both teams wanted to come out and show that last weeks performances were just anomalies and they could really play. In a game with many heroes and no zeros I thought we would do an ode to Hockey giving out the three stars of the game...
I know many in Cleveland are tired of hearing from Jim Brown because his truth isn't always the easiest to hear whether he's talking about Trent Richardson or Art Modell. Brown seemingly also didn't appreciate Mike Holmgren's version of the truth that he didn't need Jim Brown in his larger adviser role that Randy Lerner had given him before "The Big Show" arrived. All...
1. That we keep using the word "historical" with the, um, achievements of the Browns offense can not be a good thing. How do the Browns go about getting it fixed? McManamon: Hope. Thats basically what the Browns are relying on at this point. Hope that Trent Richardson gets better quickly and revives the moribund running game. Hope that Brandon Weedens opener was just an...
Browns News

Delivered to your inbox

You'll also receive Yardbarker's daily Top 10, featuring the best sports stories from around the web. Customize your newsletter to get articles on your favorite sports and teams. And the best part? It's free!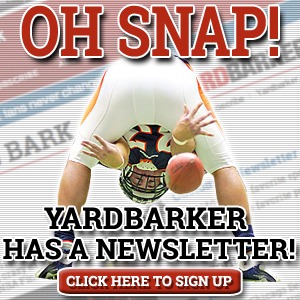 Latest Rumors
Best of Yardbarker

Today's Best Stuff

For Bloggers

Join the Yardbarker Network for more promotion, traffic, and money.

Company Info

Help

What is Yardbarker?

Yardbarker is the largest network of sports blogs and pro athlete blogs on the web. This site is the hub of the Yardbarker Network, where our editors and algorithms curate the best sports content from our network and beyond.