Found September 16, 2012 on Queen City Sports:
PLAYERS:
Eric Berry
,
C.J. Spiller
,
Fred Jackson
,
Ryan Fitzpatrick
,
Kendrick Lewis
,
Brandon Flowers
,
Matt Cassel
,
Mario Williams
,
Eric Winston
,
Marcell Dareus
,
Kyle Williams
,
Mark Sanchez
TEAMS:
Kansas City Chiefs
,
Buffalo Bills
,
Atlanta Falcons
,
New York Jets
Welcome to Week 2 of True or False. Before we look at this week's questions, here is a look at the current standings. Mike Straw: 4-1 Michael Bundt: 4-1 Brandon Hess: 3-2 Ryan Talbot: 2-3 Clearly I wanted to give the other writers a head start in this new weekly feature. This week Michael Bundt, Brandon Hess, Rob Quinn, and I answer this week's questions.
1. Eric Berry will take a cheap shot at Stevie Johnson at some point in the game. Brandon Hess: False.  Even though it's week 2, it's essentially a must win game for both teams. Last year is last year and Berry is enough of a professional to move on and focus on getting his team a win.  He should be more worried about covering Johnson than exacting revenge. Rob Quinn: False. Personally, I think it would be a bad move on Berry's part if he took a cheap shot on Stevie. He could be penalized, putting the team in bad field position, and I think he may have gotten over it by now. Michael Bundt: False. Berry obviously isn't happy about what happened last year when his season ended week one after being blocked by Stevie Johnson but that won't carry over in dirty play. If anything, Berry will just be more committed to trying to shut down Stevie. Ryan Talbot: I'm going with true here. I think he'll lead with his helmet once on Johnson and draw a personal foul. To me that'd be enough to be considered a cheap shot. 2. C.J. Spiller will rush for over 100 yards. Hess: True. Even though I expect Fitzpatrick to have success through the air, Spiller is going to put the offense on his back  and follow up his monster week 1 totals with a similar outing against the Chiefs. Quinn: True. Spiller proved his worth last week against a stout New York Jets defense, and with his increased role in Fred Jackson's absence, 100 yards should be attainable. Bundt: True. The Bills need more balance to their offense which means they have to start running the ball more. CJ is more than capable and will show his worth this week. Talbot: True. Spiller is one of those backs who can score anytime he touches the ball due to his speed. I see him breaking off enough big runs to gain over 100 yards. 3. Ryan Fitzpatrick will throw two interceptions or less. Hess:  True.  Fitzpatrick is nothing if not resilient, and he will have a bounce back performance against a much weaker Kansas City secondary than he faced in New York. Quinn: True. The Chiefs will be without safety Kendrick Lewis, and cornerback Brandon Flowers has been limited in practices after missing the first contest of the year. I think Fitz throws a pick or two, but nowhere near the three he had last week. Bundt: True. Fitzpatrick more than likely will throw an interception or two but I highly doubt he'll throw three interceptions in consecutive games. Look for a better outing from him this Sunday. Talbot: True. Fitzpatrick played well at home early in 2011 and I see him doing the same today.
4. The Bills will record two sacks. Hess: True.  Matt Cassel isn't the fleetest afoot and the much ballyhooed Bills front four is fired up to prove last week's disappointment was an anomaly. I see Buffalo getting to Cassel at least twice with Mario Williams racking up his first sack as a Bill. Quinn: True. With the defensive line struggles last week, I'm still optimistic about the Bills' chances to create a pass rush. Matt Cassel was sacked three times last week in the Chiefs' loss to the Atlanta Falcons. The sacks may not come from the defensive ends though, as Brandon Albert and Eric Winston are quality players. The interior line of the Chiefs is weak, and Marcell Dareus and Kyle Williams will create some penetration in the middle. Bundt: False. I'd like to be able to say they will but can't after seeing how they were man handled by the Jets O-line. I think the Bills could go out and record 4+ sacks. I'm just not willing to predict that they will. Talbot: True. The Bills have to record a few sacks today right?! The Atlanta Falcons only got to Matt Cassel three times in week one, but I think the Bills can get to Cassel twice. 5. The Bills will give up fewer than 25 points. Hess: True.  Buffalo's defense is angry after having been embarrassed by Mark Sanchez and the Jets.  Unfortunately for the Chiefs that means a relentless 60 minutes effort from Mario Williams and company on Sunday, and I don't see KC cracking the 20 point barrier. Quinn: True. After last week's defensive debacle, the Bills will be more focused on techniques and will hold the Chiefs to under 25 points. Bundt: True. The past few times, the Bills have taken on the Chiefs, the Bills defense has stepped up big. That continues today as they'll have a lot better performance against a mediocre Chiefs offense. Talbot: This is going to be close, but I'll go with true. I have the Bills winning 27-24. The post True or False: Bills v. Chiefs appeared first on Queen City Sports.
Original Story:
http://www.queencitysports.net/true-o...
THE BACKYARD
BEST OF MAXIM
RELATED ARTICLES
Kansas City running back Jamaal Charles struggled to just three yards on six rushing attempts Sunday against Buffalo.Fantasy Spin:Charles never got into a rhythm Sunday as the Chiefs quickly abandoned the running game after falling behind by three touchdowns. Also concerning is the fact that Peyton Hillis recorded 11 carries for 66 yards. It's unclear who the featured back will...
When Fred Jackson left what was a nightmare of an opening week for the Buffalo Bills with a knee injury, it appeared that things were quickly getting worse to begin the season. However, the one lone bright spot in a blowout loss was the play of third year running back C.J. Spiller who recorded his career best running the ball. But after yesterday's performance, some in Buffalo are...
ORCHARD PARK, N.Y. (AP) -- C.J. Spiller scored twice and had 123 yards rushing in sparking the Buffalo Bills' 35-17 rout over the Kansas City Chiefs on Sunday. Ryan Fitzpatrick threw two touchdown passes, including a 49-yarder to Stevie Johnson, and Leodis McKelvin scored on an 88-yard punt return -- the second longest in team history -- in the Bills' home opener. Buffalo...
Kansas City Chiefs running back Jamaal Charles dinged up the same knee that needed reconstructive surgery last season during Sunday's 35-17 loss to the Buffalo Bills. Charles, who tore his left ACL in Week 2, carried only six times for three yards against the Bills. He could be seen riding a bike on the sideline and asking to play the rest of the game. Kansas City coach Romeo...
Chiefs tight end Kevin Boss left Sunday's game after taking a blow to the head on a reception.Fantasy Spin:Boss caught a touchdown last week and had a 29-yard reception Sunday but he received an elbow to the head from a Chiefs defender and is unlikely to return.
Week 2 and 3 are some of the most interesting weeks of the NFL season. It's at this point in the year that fanbases begin to realize that their team may not be what they thought they had. On the other hand, some teams are stunning everyone by getting off to a quick start. No one is dead in the water yet, but this is the time of the season when panic begins to spread. That statement...
Kansas City tight end Kevin Boss has taken a shot to the head following a second-quarter catch and will not return to Sunday's game against the Buffalo Bills. After catching a 29-yard pass from Matt Cassel, Boss was falling down when Buffalo's Da'Norris Searcy's forearm hit the back of Boss' head. The receiver's head then hit the ground hard. Boss stayed...
  Well Chief fans, Here you have it, Last years chiefs have arrived, except this time ALL their players are healthy! In week 1 you atleast had the excuse that Tamba hali was suspended and Brandon Flowers was not playing! Well whats the excuse this week? That Defense on the field on Sunday was SAD. Chiefs Cant Run the ball.  Matt Cassel Cant throw the ball, Jon Baldwin...
Last week was an ugly showing for the Bills, but a lot of teams looked bad in their debut showings. One game won't make or break a season, but if the Bills want a shot to make the playoffs this season, they need to win three or four of their first seven games. The Chiefs are no slouches, but they are one of the more winnable games on the Bills early season schedule. Here are 10...
Talkamania 18 is here. I'm joined by The Scizz from Dear God, Why Us? Sports to review Bills/Chiefs. We talk about CJ Spiller becoming a star, tailgating, the defense and Fitzpatrick managing games. We also talk about the possibility of adding another Toronto game. Enjoy.     Talkamania18 by TalkamaniaX
ORCHARD PARK, N.Y. -- There was a lot of head-scratching when the Buffalo Bills used the No. 9 overall pick in the 2010 NFL draft on C.J. Spiller. With Fred Jackson and Marshawn Lynch already on the depth chart and a roster full of questions to answer, running back seemed to be the last position Buffalo needed to address. Two games into Spiller's third season, no one is scratching...
With two games in the books on the 2012 season, the Kansas City Chiefs are showing they're far from the team many felt defensively they'd be at this stage of the season. So who gets the blame?
NFL News

Delivered to your inbox

You'll also receive Yardbarker's daily Top 10, featuring the best sports stories from around the web. Customize your newsletter to get articles on your favorite sports and teams. And the best part? It's free!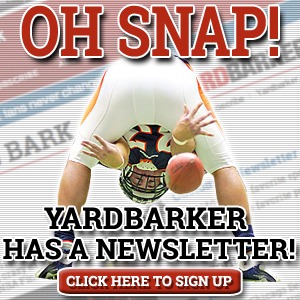 Latest Rumors
Best of Yardbarker

Today's Best Stuff

For Bloggers

Join the Yardbarker Network for more promotion, traffic, and money.

Company Info

Help

What is Yardbarker?

Yardbarker is the largest network of sports blogs and pro athlete blogs on the web. This site is the hub of the Yardbarker Network, where our editors and algorithms curate the best sports content from our network and beyond.