Being realistic, the Buffalo Bills are done for the year. At 3-6 it'd take quite a turnaround to even compete for a Wildcard spot. The Bills do face a weaker schedule for the next seven weeks, but to realistically compete they'd need to run the table. Heading into Week 10, here are our True or False standings. In parentheses are last week's records. Brandon Hess: 24-11 (5-0) Ryan Talbot: 27-18 (3-2) Michael Bundt: 25-20 (2-3) Mike Straw: 18-17 (1-4) Johnathan Snyder 3-2 (3-2) Can the Bills squish the fish? It's possible but due to the team's inconsistent play, it's far from certain. Speaking of things that are far from certain, here are this week's statements and answers! 1. C.J. Spiller will carry the ball at least 20 times against the Dolphins. Johnathan Snyder: True.. He has to if they want to win.  Plain and simple.  Time for CJ to show everyone on primetime national TV how much of a star he is. Brandon Hess: True.  Last week the combination of Jackson and Spiller carried the ball 25 times, I expect the Bills to run more this week with Spiller getting the lion's share of the touches. Michael Bundt: True. You'd think he'd have to with Freddy out, right? Ryan Talbot: True. I'd like to think they'll give Spiller all of the carries, minus a select few for Tashard Choice. 2. Stevie Johnson finishes the game with more receptions than Donald Jones. Snyder:  True.  Stevie will have a good game, and catch his 5th touchdown of the year.  A stat line close to 7 rec, 79 yards, 1TD… Jones has been receiving more targets lately but will wind up with less that Stevie. Hess: False.  Johnson's numbers have been much better on the road than at home, and Jones has been targeted 19 times in the past two weeks compared to 16 targets for Johnson. Bundt: False. It's starting to look like Jones is starting to become a valuable target for Fitzy and I look for him to have more receptions than Stevie once again. Talbot: False. Johnson will have a good game, but I think that Jones just edges him out. 3. The Bills defense creates at least 2 turnovers on the Dolphins. Snyder: False.  Besides last week, Ryan Tannenhill had gone 5 games without a turnover.  This team takes care of the football. Hess: False.  The Bills have only forced 11 takeaways in 9 games, and even though Miami has a turnover differential of -6 it's hard to guarantee Buffalo takes the ball away more than once. Bundt: False. The Bills defense can't do anything right now and that includes forcing turnovers. Talbot: True. The team will finally start forcing turnovers tonight. I actually worry that the defense will play really well the next seven weeks and Wannstedt will return in 2013. 4. Ryan Fitzpatrick will throw for over 250 yards. Snyder: PUSH! Yes I'm calling it 250 on the dot! Hess: True. Since their bye week the Dolphins have surrendered at least 250 yards to the opposing quarterback twice in three games.  In one of those games Mark Sanchez managed nearly 300 yards in the air, barring a plague of turnovers Fitzpatrick should be able to crack the 250 yard barrier. Bundt: False. The Bills will finally be forced to run the ball a little bit more. Talbot: False. The Bills will feature C.J. Spiller all night and Fitzpatrick will fall just short of 250 yards. 5. The Bills will score over 30 points. Snyder: False. 24-23 loss.  Both teams I believe will go through rough stretches offensively that will slow production. Hess: False.  Miami's defense has been decent enough to keep them in most games, and Buffalo has struggled to put teams away with insurance points ala the Cleveland game.  This will be a moderately low scoring affair. Bundt: False. The Dolphins have a decent defense and I expect the Bills to score in the 20′s. Talbot: True. I've said that the Bills score 31 points all week and I'm sticking with it! The post True or False: Buffalo Bills/Miami Dolphins Edition appeared first on Queen City Sports.
Original Story:
http://www.queencitysports.net/true-o...
MORE FROM YARDBARKER
NFL News

Delivered to your inbox

You'll also receive Yardbarker's daily Top 10, featuring the best sports stories from around the web. Customize your newsletter to get articles on your favorite sports and teams. And the best part? It's free!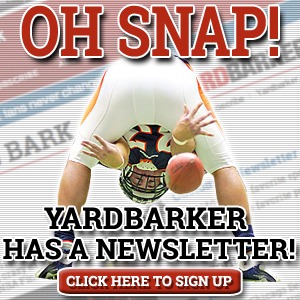 Latest Rumors
Best of Yardbarker

Today's Best Stuff

For Bloggers

Join the Yardbarker Network for more promotion, traffic, and money.

Company Info

Help

What is Yardbarker?

Yardbarker is the largest network of sports blogs and pro athlete blogs on the web. This site is the hub of the Yardbarker Network, where our editors and algorithms curate the best sports content from our network and beyond.