Found March 08, 2013 on Turn On The Jets:
PLAYERS:
David Garrard
,
Brady Quinn
,
Kevin Kolb
,
Tim Tebow
,
Mark Sanchez
,
Shonn Greene
,
Joe McKnight
,
Bilal Powell
,
Santonio Holmes
,
Jeremy Kerley
,
Stephen Hill
,
Braylon Edwards
,
Dustin Keller
,
Jeff Cumberland
,
Brandon Moore
,
Matt Slauson
,
Austin Howard
,
Mike Devito
,
Shaun Phillips
,
Darrelle Revis
,
Yeremiah Bell
,
LaRon Landry
,
Nick Folk
,
Vladimir Ducasse
,
Nick Mangold
,
Muhammad Wilkerson
,
Quinton Coples
,
Kenrick Ellis
,
Damon Harrison
,
David Harris
,
Demario Davis
,
Josh Mauga
,
Nick Bellore
,
Antonio Cromartie
,
Kyle Wilson
,
Aaron Berry
,
Darrin Walls
,
Ellis Lankster
,
Antonio Allen
,
Josh Bush
TEAMS:
New York Jets
,
Kansas City Chiefs
,
Arizona Cardinals
,
San Diego Chargers
With free agency basically kicking off this weekend, the Turn On The Jets 12 Pack is going to submit predictions for the New York Jets off-season at each position. It won't be a flashy off-season but it will be the beginning of a needed rebuild 1. Quarterback - The Jets are going to sign two veteran free agents, likely either David Garrard, Brady Quinn or Kevin Kolb if he is released from Arizona. They will release Tim Tebow and draft a quarterback somewhere between rounds 3-7. Prior to the season starting, the poorer performing veteran free agent will be released leading to an opening day depth chart of Mark Sanchez, Remaining Free Agent Veteran and mid-round rookie. 2. Running Back - Shonn Greene will leave in free agency, either signing in Detroit, St. Louis or Denver. The Jets will sign either Bernard Scott or Felix Jones and then draft a running back somewhere between rounds 1-3. It wouldn't be shocking if Joe McKnight doesn't make the opening day roster, as Bilal Powell, a free agent and the rookie will platoon. 3. Wide Receiver - The contract situation with Santonio Holmes will be resolved and he will be on the team in 2013, leading the receiving group along with Jeremy Kerley, Stephen Hill and Braylon Edwards who will sign a cheap deal. The team will also draft a receiver, likely in the later rounds. 4. Tight End - Dustin Keller is going to leave in free agency. Jeff Cumberland will be back on his recently signed tender. The Jets will sign Brent Celek if he is released and also draft a tight end before the 4th round. 5. Offensive Line - Brandon Moore is going to leave in free agency, leading to the Jets finding a way to bring back Matt Slauson. They will also sign Geoff Schwartz for depth purposes and as a veteran placeholder at Guard if they don't land one in the Draft who is ready to start. Austin Howard will be brought back. The team will end up drafting a Guard in the 2nd or 3rd round. 6. Defensive Line - Sione Pou'ha is going to be released. Mike DeVito is going to be brought back. The team will likely not Draft any player for the defensive line, if they do it will be late. 7. Linebacker - The Jets will use their first round pick on an outside linebacker/pass rusher. They will also spend a mid-round pick on another linebacker and sign a low cost veteran, like Antwan Barnes, Shaun Phillips or Victor Butler. 8. Secondary - Darrelle Revis is going to be traded, most likely to the San Francisco 49ers or the Tampa Bay Bucs. The Jets will get a 2013 first rounder, a 2013 mid-rounder and a 2014 conditional pick. The Jets will sign a veteran corner to help ease the transition into post-Revis life. In the secondary, Yeremiah Bell will be brought back on a cheap one year deal and due to the influx of safeties in the free agency pool, LaRon Landry will also be brought back on a 3-4 million per year contract. 9. Special Teams - Nick Folk will be brought back. 10. Potential Opening Day Offensive Depth Chart QB – Mark Sanchez, David Garrard/Kevin Kolb/Brady Quinn, Mid-Round Draft Pick RB – Bilal Powell, Bernard Scott/Felix Jones, Early Draft Pick WR – Santonio Holmes, Jeremy Kerley, Stephen Hill, Braylon Edwards, Late Round Draft Pick TE – Brent Celek (if released), Jeff Cumberland, Mid-Round Draft Pick OG – Matt Slauson, Geoff Schwartz, Early Round Draft Pick, Vladimir Ducasse OT – D'Brickashaw Ferguson, Austin Howard, Geoff Schwartz, Late Round Pick C – Nick Mangold 11. Potential Opening Day Defensive Depth Chart DE – Muhammad Wilkerson, Quinton Coples, Mike DeVito NT – Kenrick Ellis, Damon Harrison, Mike DeVito OLB – First Round Draft Pick, Antwan Barnes/Shaun Phillips, Mid-Round Draft Pick, Garret McIntyre ILB – David Harris, Demario Davis, Josh Mauga, Nick Bellore CB – Antonio Cromartie, Kyle Wilson, Aaron Berry, Free Agent, Darrin Walls, Ellis Lankster S – LaRon Landry, Yeremiah Bell, Antonio Allen, Josh Bush 12. Draft Pick Usage 1A – Outside Linebacker 1B – Running Back 2 – Offensive Guard 3 – Tight End 4A – Linebacker 4B – Quarterback 5 – Wide Receiver 6 – Cornerback 7 – Offensive Lineman
Original Story:
http://turnonthejets.com/2013/03/turn...
THE BACKYARD
BEST OF MAXIM
RELATED ARTICLES
LET'S MAKE A DEAL
The Jets reportedly are looking to trade cornerback Darrelle Revis, and one potential trade partner could be the Tampa Bay Bucs.
According to Connor Orr of The Star-Ledger the Jets have reportedly "made a qualifying offer," to Jeff Cumberland at a "low-level tender that will cost the team $1.32 million." This type of low-level tender does not allow for the Jets to receive a draft pick if another team signs Cumberland, it would simply give the Jets the right to match any offer another team...
Welcome to the new New York Jets, where ok is good enough. Where accuracy is not that important. In the words of recently released linebacker Bart Scott, "Can't wait" for next season. The Jets' new offensive coordinator Marty Mornhinweg touched on a few things in an interview on the Jets official website, and dropped this notable tidbit, brought to our attention...
The New York Jets have re-signed linebacker Josh Mauga, one of the team's four restricted free agents, to a one-year contract. Agent Michael Hoffman confirmed the deal on his Twitter page Saturday. Mauga is a key backup and special teams performer who missed 11 games last season with a torn pectoral muscle. The Jets decided not to offer Mauga a low tender offer of $1.32 million...
According to Kareem Copeland of NFL.com, the New York Jets have asked receiver Santonio Holmes to take a pay cut to help the team acquire some free agents. Good luck. Holmes has been one of the more selfish players, arguing with quarterback Mark Sanchez in the huddle, trashing teammates in the locker room, so if he agrees it will come as a big surprise. Copeland writes: 'The...
It's starting to be clear to the New York Jets that NO ONE in the NFL wants their quarterback Tim Tebow. Due to that, it's being reported by ESPN New York that the Jets [if all other options have failed to trade Tebow] will simply release Tebow."I don't see anyone trading for Tebow," said a NFL personnel director. "If the Jets get compensation, that&...
According to Rich Cimini of ESPNNewYork.com, the Jets have asked wide receiver Santonio Holmes to take a pay cut. The two sides are still talking, according to a source, with the Jets insisting that he reduce his $11 million base salary. The team needs the cap space as it heads into free agency. It's a bit complicated because Holmes is guaranteed $7.5 million whether he's on...
Jeff Cumberland, not Dustin Keller was the New York Jets' leading tight end in 2012. And Cumberland just might have a better shot at being on New York's roster this upcoming season.According to Connor Orr of the Star-Ledger, the Jets tendered Cumberland, a restricted free agent, Friday.They put the lowest-level tender on the second-year tight end, which is worth $1.32 million...
Adam Schefter from ESPN said that the Jets are "determined" to deal cornerback Darrelle Revis before next month's draft.Fantasy Spin:Revis' trade value would have been significantly higher if he hadn't torn his ACL last season. Atlanta, Detroit, San Francisco and Tampa Bay have all been mentioned as potential landing spots for the Pro Bowl corner.
Tim Tebow has been one athlete open about his Christianity and by doing so has received his share of backlash. His comments on Friday at Liberty University is sure to raise more talk. "In the end, football is just a silly game. Greatness comes from serving," Tebow reportedly told the crowd. Tebow will continue his stay at the university this weekend to participate in the Wildfire...
NFL News

Delivered to your inbox

You'll also receive Yardbarker's daily Top 10, featuring the best sports stories from around the web. Customize your newsletter to get articles on your favorite sports and teams. And the best part? It's free!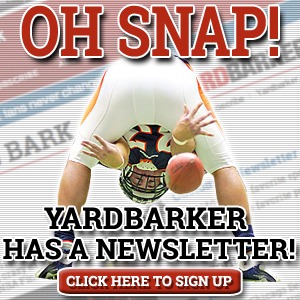 Latest Rumors
The Backyard

Today's Best Stuff

For Bloggers

Join the Yardbarker Network for more promotion, traffic, and money.

Company Info

Help

What is Yardbarker?

Yardbarker is the largest network of sports blogs and pro athlete blogs on the web. This site is the hub of the Yardbarker Network, where our editors and algorithms curate the best sports content from our network and beyond.