Found March 04, 2013 on Turn On The Jets:
PLAYERS:
Brady Quinn
,
David Garrard
,
Kevin Kolb
,
Jason Campbell
,
Drew Brees
,
Shonn Greene
,
Reggie Bush
,
Ahmad Bradshaw
,
Braylon Edwards
,
Josh Cribbs
,
Chaz Schilens
,
Mardy Gilyard
,
Geoff Schwartz
,
Cooper Carlisle
,
Austin Howard
,
Brandon Moore
,
Matt Slauson
,
Ben Watson
,
Dustin Keller
,
Jeff Cumberland
,
Mike Devito
,
Shaun Phillips
,
Manny Lawson
,
Gerald Sensabaugh
,
LaRon Landry
,
Yeremiah Bell
,
Darrelle Revis
TEAMS:
New York Jets
,
Kansas City Chiefs
,
Arizona Cardinals
,
Chicago Bears
,
New Orleans Saints
,
Miami Dolphins
,
New York Giants
,
Cleveland Browns
,
Minnesota Vikings
,
Oakland Raiders
,
San Diego Chargers
,
Dallas Cowboys
NFL free agency kicks off on March 12th, only 8 days from today. The New York Jets are not expected to be overly active considering their salary cap situation. This isn't necessarily a bad thing, considering how the team has been run in previous years, they need to sit out the first wave of overpaid free agents and settle for 2nd and 3rd tier players who they can get at bargain rates. The focus for this team needs to be on building through the NFL Draft. Regardless, there will be some measure of activity from the Jets in the coming months, here is the first version of our round-up heading into next week Quarterback Rumored Interest - Brady Quinn, David Garrard, Kevin Kolb Other Sensible Options - Matt Moore, Jason Campbell, Chase Daniel Garrard has already worked out for the team and the interest between both parties seems mutual, making a deal feel almost like a matter of time. Quinn has a history with new Quarterbacks Coach David Lee and his signing wouldn't have to be mutually exclusive of Garrard. Neither Garrard or Quinn are particularly exciting options but both will be cheap and cheap is what the Jets need right now. Matt Moore is the top quarterback in this free agent class and could be out of the Jets price range, as plenty of other teams will have interest. Daniel deserves a long look after learning under Drew Brees for a few years and his price tag shouldn't be prohibitive. Somebody to keep an eye on is Kevin Kolb if he ends up being released by Arizona for not restructuring his contract. He has a positive history with Marty Mornhinweg and could be a quality stopgap. Running Back Rumored Interest - Bernard Scott Other Sensible Options - Felix Jones, La'Rod Stephens-Howling, Rashad Jennings, Javon Ringer Bargain basement options across the board. Shonn Greene is going to walk and plod his way to 2.1 yards per carry somewhere else next season. Scott, Jones, or Stephens-Howling would add nice speed to a Jets backfield in desperate need of it. This position will also be addressed in the Draft. Don't waste your time thinking the Jets will pursue Reggie Bush, Ahmad Bradshaw or Rashard Mendenhall…they won't. Wide Receiver Rumored Interest - Braylon Edwards Other Sensible Options - Josh Cribbs, Julian Edelman It'd be surprising if the Jets did anything except bring Braylon Edwards back on a cheap, short-term contract. The only reason I list Cribbs and Edelman is because the Jets could see the dual value in them improving their special teams and offense. Couldn't the Jets use a player who can line-up at multiple spots on offense, create big plays and contribute heavily on special teams? Oh and good-bye to Chaz Schilens, Mardy Gilyard and hopefully Clyde Gates. Offensive Line Rumored Interest - Geoff Schwartz Other Sensible Options - Cooper Carlisle, Donald Thomas The Jets first order of business will be placing a tender on restricted free agent Austin Howard and then deciding what to do with Brandon Moore and Matt Slauson. Look for Slauson to walk and for the Jets to make an effort to bring Moore back on a short term deal. There has been rumored interest in Geoff Schwartz who was on the Vikings last season. He is a versatile player who can play both guard and tackle but is likely viewed as a replacement for Slauson when he leaves in free agency. Carlisle and Thomas are other Guards worth considering in free agency who won't break the bank. Tight End Rumored Interest - Ben Watson, Brent Celek Other Sensible Options - James Casey, Brandon Myers Dustin Keller is likely going to leave in free agency, forcing the team to place a tender on restricted free agent Jeff Cumberland. If Celek gets cut from Philadelphia, he immediately becomes a logical target for the Jets with Mornhinweg at offensive coordinator. Casey and Myers are both players who can be every bit as productive as Keller but at half the price. Defensive Line Rumored Interest - None Other Sensible Options - None The Jets focus here is going to be restructuring Sione Pou'ha and trying to bring Mike DeVito back. If both end up leaving than look for the Jets to add a veteran off the scrap heap heading into training camp. Linebacker Rumored Interest - Antwan Barnes, Shaun Phillips Other Sensible Options - Victor Butler, Manny Lawson It makes sense for the Jets to add at least one veteran at outside linebacker considering how thin the position is right now. They've had interest in Barnes in the past and both him or Phillips could provide needed depth and flexibility at the position. Butler deserves a long look and could develop into a more than capable starter in the right situation. Secondary Rumored Interest - None Other Sensible Options - Gerald Sensabaugh, Kenny Phillips, Drew Coleman There is a chance the market might break in a way that forces LaRon Landry to accept substantially less than the 6 million per year he expects. If that is the case, the Jets may be able to get him back on a reasonable deal. They also need to decide what to do with Yeremiah Bell at safety. Sensabaugh and Philips could help with the transition if Landry or Bell leave. Obviously cornerback is going to be dictated by what happens with Darrelle Revis but even if he is traded, the Jets won't spend big in free agency in replace him. Coleman is simply a cheap depth option.
Original Story:
http://turnonthejets.com/2013/03/turn...
THE BACKYARD
BEST OF MAXIM
RELATED ARTICLES
Tim Tebow is coming off the depth chart and the New York Jets are in need of a backup QB for Mark Sanchez. They're reportedly looking to add two QBs in the offseason, with one of them likely being David Garrard. A source, via Rich Cimini of ESPNNewYork.com, says "the Jets have kept open the lines of communication with free-agent QB David Garrard, but no deal is imminent...
Former Wisconsin soccer player Lauren Silberman tried out for the big boys league today at an NFL regional scouting combine, but her big day only lasted two kicks. Her first kickoff try at the New York Jets practice field went 19 yards, as more than two dozen media, including E! Entertainment network looked on.
According to the New York Post, Jets owner Woody Johnson, head coach Rex Ryan and general manager John Idzik will speak with season ticket holders on a conference call that's scheduled for today. Like any other organization, the Jets want to listen to their fans, the problem is they still seem to have no idea how to end the circus they created last offseason. "I think they did...
David Garrard? Brady Quinn? What kind of upgrade at starting quarterback is this? Heck the Jets might as well let Vinny Testaverde sling the rock around Florham Park, right? GM John Idzik is clearly looking to change the foundation of the Jets for the better now, by trading, restructuring, and bargain shopping. Room will be made soon enough for some flexibility, but not the kind...
Here's a brief synopsis of the Tim Tebow experience in New York: In March of 2011, Tebow was traded to the Jets and boy was he excited to be in New York. He reportedly believed that he could beat out Mark Sanchez for the starting job, but things began to head south pretty early for Tebow. Then, former NFL player after former NFL player began to question why the Jets even traded...
In this video posted to Youtube on Monday, Seahawks fullback Michael Robinson interviews Jets cornerback Darrelle Revis, who says it really 'hit home' when he heard the news that the Jets were trying to shop him at the NFL Combine. "I'm a competitor," Revis said. "I'm always trying to compete, whether it's on or off the field. This hit home. This definitely...
If the only reason the Jets acquired Tim Tebow was to have him be a publicity draw, then it only makes sense that the team would like to get a few more rounds out of the dog and pony show before releasing or trading the backup quarterback. Jets general manager John Idzik left that possibility open this week, saying on a conference call with Jets fans Monday that Tebow will remain...
Heisman Trophy winner Ron Dayne, the late Jerome Brown and LaDainian Tomlinson are on the final ballot for College Football Hall of Fame for the first time. The National Football Foundation on Tuesday announced the 77 former players and five former coaches who will be considered for induction. The ballot is distributed to the more than 12,000 NFF members and current Hall of Famers...
New York Jets tight end Dustin Keller hadn't missed a game or a practice until last season, the final year of his five-year rookie contract.Now, he's wondering if he'll get a chance to prove that it wasn't a fluke. Keller missed half of the 2012 season with hamstring and ankle issues, and the Jets' offensive production suffered. Much of quarterback Mark Sanchez...
Mike Florio of Pro Football Talk writes that a trade for CB Darrelle Revis may not come until about a week or so before the NFL Draft. Florio mentions that NFL teams would likely consider all of their options in the free agency before deciding to get seriously involved in a trade for Revis. On top of that, Revis would be able to demonstrate that his torn ACL has improving as expected...
With holes to fill on both sides of the ball, the New York Jets may look for offensive line help with their No. 9 overall pick. Find out why the Jets should take a two-time national champion and consensus All-American in the first round of April's draft.
Wednesday afternoon the reasonably accurate Yahoo sports reporter Jason Cole suggested the Atlanta Falcons may make a run at a Jets player.       DON'T NAVIGATE AWAY, IT WAS REVIS!   More on Revis potentially ending in Atlanta, and absolutely nothing on Tim Tebow and Mark Sanchez, after the jump.   Don't be surprised if Atlanta...
NFL News

Delivered to your inbox

You'll also receive Yardbarker's daily Top 10, featuring the best sports stories from around the web. Customize your newsletter to get articles on your favorite sports and teams. And the best part? It's free!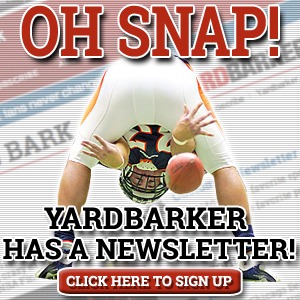 Latest Rumors
The Backyard

Today's Best Stuff

For Bloggers

Join the Yardbarker Network for more promotion, traffic, and money.

Company Info

Help

What is Yardbarker?

Yardbarker is the largest network of sports blogs and pro athlete blogs on the web. This site is the hub of the Yardbarker Network, where our editors and algorithms curate the best sports content from our network and beyond.