Found January 08, 2013 on Turn On The Jets:
PLAYERS:
Mark Sanchez
,
Kyle Orton
,
Michael Vick
,
Kirk Cousins
,
Greg McElroy
,
Tim Tebow
,
Jason Campbell
,
Rex Ryan
,
Norv Turner
,
Robert Griffin III
TEAMS:
New York Jets
,
Philadelphia Eagles
,
Washington Redskins
,
Chicago Bears
,
San Diego Chargers
Welcome to our off-season review of the New York Jets roster at Turn On The Jets. Each week we are going to attack a different position. We will have a roundtable discussion on it, Steve Bateman will submit a film breakdown examining it and our draft staff will look at potential prospects the Jets could add. This week, we start at quarterback… How should the New York Jets handle quarterback this off-season? Joe Caporoso - There are few people who were bigger Mark Sanchez defenders/apologists heading into this season than myself. However, at this point I truly think he cannot play quarterback for this team any more. There is too much vitriol from the fan-base towards him and players in the locker room have to question his ability to lead them to victories. New York has worn him down and he is in need of a fresh start elsewhere. Despite the cap hit, the Jets must completely cut ties with their quarterback situation from last year (which includes ridding themselves of the Tebow Media Circus). The recruitment of a capable veteran will be harmed by Sanchez's presence both because of his contract and how last season played out. Tebow's presence would also discourage veterans from signing here for obvious reasons. The answer isn't a sexy one. It likely involves finding a low cost veteran like Matt Moore, Kyle Orton, or Brian Hoyer and hoping he can hold the fort for a year or two. This year's draft is heavy on mid-round quarterback prospects and it wouldn't hurt to take one in the 3rd or 4th round in hopes of finding the next Russell Wilson or at least a developmental project. Overall, these decision are going to be heavily influenced by the offensive coordinator hiring and what type of system he runs. A few names Jets fans should forget about happening – Mike Vick and Alex Smith because of their price tags. Kirk Cousins because of RG-III's injury. Matt Flynn will also likely fall out of their price range. Greg McElroy because he simply doesn't have the physical tools to start in the NFL. Chris Gross - As the Jets continue with their rebuilding of the front office, the ultimate elephant in the room remains – what will the organization decide to do at the quarterback position? As the season ending press conference revealed today, all offensive personnel decisions will rely largely on who the new Offensive Coordinator will be. Personnel depends on system in football. It is mightily difficult to assume what the Jets will do at quarterback until they have an idea of what type of offense they will have next season. That being said, here are a few possible scenarios: Mark Sanchez – By now, it is no secret that Mark Sanchez will be the most difficult piece of this roster to move this offseason. His guaranteed $8 million + make him a very unappealing trade part, while the dead money in excess of $12 million to be left if he is outright released will make it extremely tough for him to be cut. Are the Jets stuck with the former 5th overall pick? Maybe, maybe not. The bottom line will end up being how the new General Manager views Sanchez as a fit in the new Offensive Coordinator's system. If he feels that a new coach and plan can resurrect his career, he will be on the roster to compete for the starting job heading into next season. If the GM feels that there is no way that Sanchez can make a turnaround, look for him to try and move the player who was once viewed as the franchise quarterback. Only time will tell. Tim Tebow – If I had to guess, I'd say Tebow will be released once the front office is put into place. However, like Sanchez, this could depend heavily on the new coordinator and how he views Tebow as a fit to his system. If the new GM is convinced that Tebow can be a vital piece of the Jets offensive plans moving forward, perhaps he could be brought back to compete in camp as well. On the other hand, if the new GM wants nothing to do with the media circus that surrounds the most polarizing figure in professional football, expect him to be moved rather quickly once he officially gets to work. Veteran – This is a very likely move. Regardless of who remains on the roster out of Sanchez and Tebow, a competent veteran will need to be brought in to compete for the starting job. Again, who that player is will depend on how he is viewed as a fit in the new offensive system. Possible names to keep an eye on include Matt Moore, Jason Campbell, Alex Smith, Matt Flynn, and Brian Hoyer. A trade for Redskins backup Kirk Cousins would be an ideal, low cost move, however with the recent injury to Robert Griffin III, it is highly unlikely that Washington will part ways with Cousins. Draft – The draft class of quarterbacks is average at best this year. Surely, many of these guys will see their stocks rise and fall as the Senior Bowl, Combine, and individual workouts unfold, but it is highly unlikely that the Jets use anything earlier than a fourth round pick on a quarterback, considering the vast holes all over the roster. We will have a more in-depth look at potential quarterback prospects later in the week. Ultimate Prediction – Sanchez is brought back due to the handcuffs his contract places on the organization. Tim Tebow will either be traded or released, paving way for a free agent veteran signing, or trade. Question is, what free agent will be willing to come here knowing how much Sanchez will be making next season, particularly looking at what happened at the position this past year. However, some players will need a job, and with a coach in Rex Ryan, who is clearly no longer committed to Sanchez as this team's starting quarterback, the Jets will surely be able to lure someone to come in and compete with him for the starting job next season. The Jets may look to draft a developmental player in the later rounds, but this need could get pushed until next year's draft when a stronger class of quarterbacks is expected to be in play. The Jets would be wise to focus on their other needs in the draft this year, while bringing Greg McElroy back to compete with Sanchez and a veteran addition in training camp. Mike Donnelly – As everyone knows, quarterback is the most important position football and arguable in all of sports. Unfortunately for us long-suffering Jets fans, it's also the position that our favorite team has failed to find a long-term answer at for going on four decades now. Our latest failed experiment was in the form of 2009 #5 overall pick Mark Sanchez, whose very name being mentioned these days elicits all kind of anger and hatred from this fan base. Well I'm here to tell you that you may as well get ready for one more season of the Sanchize. By now, we all know that the cap ramifications of cutting Sanchez are far too great to go down that road. What the team should –and likely will– do, is bring in a veteran like Matt Moore to compete with Sanchez in the offseason and have the best man play. Just as importantly, they need to get a REAL quarterbacks coach (Norv Turner!) in here to coordinate the offense and develop whichever guy is throwing passes for us, because for the past 4 seasons the offensive coaching here as been abysmal. Forget about drafting a QB at #9 because there really are no players entering the draft worthy of that spot. Forget about trading for a stud, because there are none available out there. Forget about signing an established player, because they don't exist. The Sanchez/mystery-decent-veteran-QB combo is going to be our best available option for 2013 and I full expect that to be what happens. I just hope the fans who wrote Sanchez off this year are able to let bygones be bygones and actually cheer for him when he wins the job next year rather than boo from day 1 and carry over the toxic atmosphere from this season. WIshful thinking, I'm sure… Rob Celletti - The New York Jets are at a crossroads with their quarterback, and in a league that requires stability and quality at that position to ensure consistent success, the decisions the Jets make in the coming months are crucial. The way I see it, there are three options for the Jets GM-to-be: 1) "The Obvious Option" – Acquire a middling, veteran, game-manager type quarterback and bring him in with the idea that he's probably going to be your opening day starter. Think along the lines of Alex Smith or Matt Moore. 2) "The Revolutionary Option" – Rehabilitate Mark Sanchez. I call this the "Revolutionary Option" for two reasons: 1) In order to do this, the Jets will need to revolutionize (see what I did there?!) their offense, i.e., new system, new players; 2) If the Jets choose this option, there's a good chance there's a fan revolution at Florham Park in August. 3) "The Nuclear Option" – Michael Vick. Odds are the Eagles will let him go. Vick turned the ball over about as frequently as Sanchez, and also plays a physically taxing style that leads to frequent injury. But acquiring Vick would be exciting, and his style of play does fit the modern NFL. At least if the Jets lose, they'd be scoring points while doing so. I probably like this option more than I should. As I wrote in my Sanchez wrap-up last week, none of these options is particularly appetizing.  It doesn't look like there's an Andrew Luck in the draft that's going to fall into Gang Green's lap.  Our new colleague Steve Hunter, who knows more about the X's and O's of football than I ever will, still gives Sanchez a puncher's chance at becoming a successful NFL quarterback. I could give the kid another year personally, but I know most Jets fans cannot. Steve Bateman - This won't make me popular amongst the masses, but despite enduring a season that was in parts nothing less than shocking, my belief is that Mark Sanchez is still equipped to lead the Jets offense in 2013. I think it's fair to say that personnel-wise the 2012 season was – in almost every imaginable way – a freak, and it's probably wise to bear that in mind and carry some perspective forward going into next season. Sanchez had a year to forget, that's way beyond dispute, but let's not suppose that his troubles necessarily herald the end of his career in the Big Apple. On the contrary, things may just be about to get interesting… If Sanchez is to survive this storm he needs to be supported – not in the sense of the tired old argument that "he needs more weapons" or the ridiculous tabloid caricature that he's some kind of feeble-minded kid trapped inside a man's body – but in a much simpler, and more obvious way. Essentially, it's time for the Jets to respect the fact that Sanchez is the hub of their offensive unit and finally begin to act according to that fact. Early indications suggest that this season's car-crash may have been the short, sharp shock that the Jets needed – long-time QB coach Matt Cavanaugh has already been shown the door, and it appears to be a matter of time until offensive coordinator Tony Sparano follows him. Now the front office has to get it right and acknowledge that for way too long they have been trying to ground and pound a round peg into a square hole. At long, long last it's time for the Jets to give the Californian what he needs and return him to the environment that made him a first-round draft pick in the first place. Sanchez can still succeed, but that can only happen when the West Coast Offense makes its way East. TJ Rosenthal - Mark Sanchez has dwindled into a mental molecule. A new Jets OC and QB coach will have to re-program his mind in order for Sanchez to face his own home stadium, let alone opposing defenses. Keeping Sanchez while he rehabs his emotional state as an experienced vet is added to compete for and hopefully win the job, makes the most sense. Sanchez as a backup who has won four playoff games already? We'd sign on for it. Give him a chance to repair but no way Rex. No pilot's license for 6. Even if that means changing your the jersey number on your tattoo.
Original Story:
http://turnonthejets.com/2013/01/turn...
THE BACKYARD
BEST OF MAXIM
RELATED ARTICLES
Rex Ryan continues to make news — odd news at that — away from the football field, as we found out last week. Vacationing in the Bahamas, the New York Jets head coach was spotted by the tabloids sporting an interesting tattoo on his right arm. Quickly, the tattoo — featuring Ryan's wife wearing a Mark Sanchez jersey — became a viral sensation and the butt of jokes across...
Tim Tebow suffered through one of the most bizarre season a professional athlete can ever experience, as the New York Jets seemed more concern with selling his jersey than putting him on the football field. That experiment failed, and Tebow will move on to a new opportunity.In 2013, he needs to find a head coach that has the confidence and patience to play him at the quarterback...
ANDREW THEODORAKIS/NEW YORK DAILY NEWSNew York Jets head coach Rex Ryan  told the media today that if quarterback Mark Sanchez doesn't improve next season, he'll probably have to change the tattoo he has of his wife wearing Sanchez's jersey."Obviously, if Sanchez doesn't play better, that number's changing," said Ryan per Manish Mehta of the NY Daily News.If I were...
Mark Sanchez's 2012 New York Jets season was full of interceptions and fumbles—and he even threw in an unprecedented buttfumble for good measure. Week after week, Jets Nation watched in horror as our starting quarterback severely underperformed, and even more alarmingly, was not benched. Rex Ryan stuck by his guy, saying that "Mark gives us the best chance to win." We all...
Last week Rex Ryan took a quick vacation to the Bahamas to escape the Jets mess as I like to proclaim it.  During the quiet vacation, things got really noisy again for Rex when he was photographed on the beach, and on his right arm was a tattoo of his wife wearing nothing but a Mark Sanchez jersey.   Ryan took it all in stride like he does everything, and knew he would have to...
When the trade was announced last Spring that would bring Tim Tebow to the New York Jets, many were left scratching their heads. Had the team lost all confidence in Mark Sanchez? Did Rex and Woody fall in love with Tebow after he led a comeback win against the stout Jets defense? Was it a ploy to sell PSLs? The answer to all those questions might actually be a resounding yes. But...
According to Mike Garafolo of USA Today Sports, the New York Jets planned on lining quarterback Tim Tebow up as a running back, but never got around to it. The team had visions of lining up Tebow at running back in traditional sets when they acquired him via trade from the Denver Broncos last March, according to a person with knowledge of the team's plans at the time of the trade...
Several teams had worse years than the Jets, but I don't think anyone had a weirder year. Turned into a circus in the offseason by the media, the Jets lived up to the hype. Neither Mark Sanchez nor Tim Tebow led a touchdown drive all pre-season, but after a blowout win over the Bills week 1 and another win against the Dolphins week 3, this time in overtime, the Jets stood at 2...
The New York Jets have informed quarterbacks coach Matt Cavanaugh he will not be retained when his contract expires later this month. Head coach Rex Ryan informed Cavanaugh of the move Monday, as first reported by The Daily News. Jets quarterback Mark Sanchez has 52 turnovers over the past two seasons and was benched in favor of Greg McElroy late in the season. Sanchez started...
Matt Cavanaugh will not return as the New York Jets' quarterbacks coach after four seasons with the team. Cavanaugh's contract was due to expire in a few weeks and he was told Monday he would not be part of Rex Ryan's staff next season. Cavanaugh was responsible for the development of Mark Sanchez, who took a step back in his fourth season and was benched late in the...
NFL News

Delivered to your inbox

You'll also receive Yardbarker's daily Top 10, featuring the best sports stories from around the web. Customize your newsletter to get articles on your favorite sports and teams. And the best part? It's free!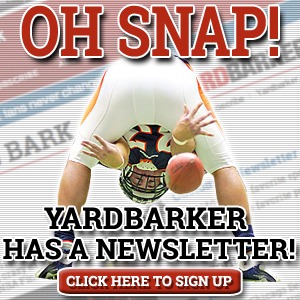 Latest Rumors
Best of Yardbarker

Today's Best Stuff

For Bloggers

Join the Yardbarker Network for more promotion, traffic, and money.

Company Info

Help

What is Yardbarker?

Yardbarker is the largest network of sports blogs and pro athlete blogs on the web. This site is the hub of the Yardbarker Network, where our editors and algorithms curate the best sports content from our network and beyond.